Lenze Americas
Excellence in motion
Global manufacturer of electrical, and mechanical drives remains one step ahead of the competition while keeping automation moving forward with ease
In a sector that is constantly evolving, staying one step ahead of the competition is key to maintaining a leading position in the automation industry. Providing products that are not only cutting edge but help clients seamlessly carry out their industry solutions is also paramount. Hitting these two criteria with ease and with the established reputation to back up its work, Lenze Americas stands out from the competition.
Established more than a generation ago, Lenze Americas is one of North America's leading manufacturers of products that power and control the industry from the drive shaft to the cloud.
The company is a vital arm of the German-based Lenze Group company: a global manufacturer of electrical and mechanical drives, motion control, and automation technology that offers products, drive solutions, complete automation systems, and engineering services and tools, all from a single source.
Founded by Hans Lenze three-quarters of a century ago now and today in its third generation, Lenze is well known for serving customers all around the world.
We recently spoke with Lenze Americas' Michael Harper, its vice president of sales; Paul O'Connor, its manager of marketing; and Riley Schroeder, the industry segment manager for material handling and logistics. Speaking from their stateside headquarters in Uxbridge, Mass. (the global HQ is located in Hameln in Lower Saxony), they told us more about Lenze's mission and intense activity these days.
Harper informs that Lenze's products may be found in many industries, including the automotive, packaging, material handling, and logistics fields, as well as in robotics, converting and printing, and industrial equipment. A global network of distributors and representatives makes Lenze Americas perfectly positioned to meet the motion-control needs of customers worldwide.
"The Lenze group is 76 years old now," Harper explains, further citing, in addition to Lenze's broader spectrum of products, its subsets of manufacturing electro-mechanical devices, such as motors and gearboxes, as well as inverters and motor-control products. "It's a very product-centered type of approach."
Creating products with superior control and capability is the name of the game for the Lenze company, he adds. Another facet focuses on higher-level control products that go into systems and various types of automation applications around the world. This includes everything from touch-panel HMI's (human-machine interface) to PLC (programmable logic controller) products to cloud-based data-gathering and analytics, as Harper informs.
"We like to say that we control everything from the shaft to the cloud within an automation system for a customer," he observes. "That's a broad brush of who we are."
Though Hans Lenze has been gone for 60 years now, he doubtless would be very proud of how his company has evolved and prospered. Harper says the company has been around now in North America for about 35 years.
"We were established as a remote-service organization for our German parent company early on," he adds, citing a close partnership between German and American operations, with different facets and functions of the company that worked well together and continue to do so.
With growth, says Harper, came the realization that the Americas were going to become a valuable player in the OEM (or original equipment manufacturer) market. Around 2000, Lenze made a key strategic investment in a Massachusetts-based company called AC Tech. By investing in AC Tech which specializes in providing sales and technical support for AC inverters, servo drives, and motor products, the business has been on an impressive upward trajectory.
This proactive approach reflects a direct push by Lenze to increase local manufacturing, which in time has resulted in reducing the company's lead times while further providing superior customer service. Keeping on top of supply chain issues has helped the already successful company to forge ahead to the leading position Lenze Americas enjoys in the market today.
"If we look at where we are a little over 20 years later, we now manufacture more than 80 percent of these products that are consumed in North America in our factory in Massachusetts," Harper points out.
He continues that Lenze staffers are now spread out from coast to coast. There are offices in Los Angeles, Chicago, Atlanta, and Detroit, as well as in Massachusetts of course. Recent expansions include a larger staff in Canada and a move into Mexico not long ago.
Begun two decades ago, Lenze's ongoing expansion efforts show no end in sight. Whilst of course, the North American operations maintain close ties with their German parent company, they are, Harper notes, mostly independent.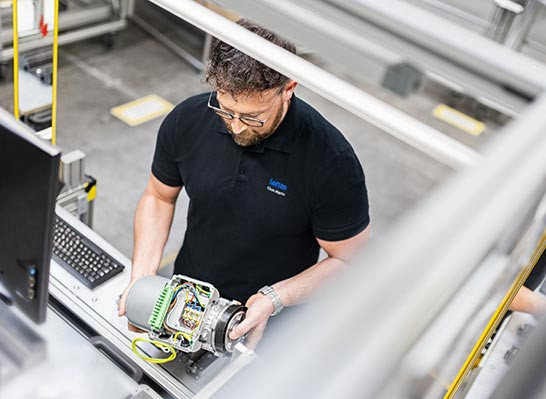 marketing in motion
As is the case with all successful companies, Lenze boasts an outstanding marketing wing that supports its global brand recognition. This involves, in part, trade shows and marketing content in North America. The marketing team ensures that Lenze's global brand is properly exploited, but it also puts an American spin on it.
The stateside version of the company maintains close ties with its sister manufacturing operations in Switzerland and Germany, as Harper points out. Shared technology and cutting-edge manufacturing practices make all the difference in Lenze's success story.
Also in the Uxbridge HQ are the human resources and finance departments, as well as the company's customer support organization. As well, there are the technical, repair, and field-service departments, as Harper reveals.
"We support the customer's journey from beginning to end," he adds. "We are a complete, cohesive organization, with a lot of strong interdependencies that we take advantage of. This results in high efficiency."
Harper says the company's future is a bright one. Anticipating new industry directions and staying ahead of the competition curve, the company is incorporating AI and paying special attention to digitalization and information technology while keeping its main focus on shortening lead times and maximizing efficiency, both cost and energy, with its continued product streamlining.
Then there's decoupling or the independence Harper cited. He says the American, Canadian, and Mexican arms are all moving very well and independently of each other, just as one would expect of such a vast, well-oiled machine that is the Lenze global organization.
An increased workforce demand presents Lenze with positive opportunities, as Harper notes. This is opening doors for fantastic solutions, he adds. He cites automation as one such solution, this means allocating human resources to other areas of higher-level tasks where they will be entirely better used.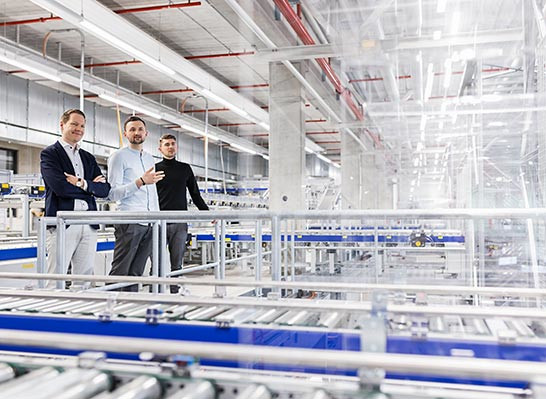 Going green
Harper is quick to point out that when it comes to helping its valued customers save energy, the solutions Lenze offers are second to none while its superior products have catapulted its positioning to the highest rankings of the industry. By ensuring that the best practices are put into place and providing the tools to keep energy savings streamlined, Lenze is driving the energy capabilities of its clients to maximize efficiency.
Pinpointing a product that is unique to Lenze and demonstrates its cutting-edge offerings, Harper draws attention to the company's i500 series panel mount VFDs.
"Lenze's VFDs are some of the most efficient solutions available. Combined with an extremely compact footprint, Lenze VFDs deliver unique advantages to customers facing challenging applications."
Another product that was developed to reduce customers' energy consumption is the i550 motec. The motec is a decentralized VFD which can either be mounted to the motor, or the side of a conveyor.
A unique feature of the motec is it comes standard with regenerative braking, meaning that when the load is slowing instead of excess power being burned off it is fed back to the main power supply, allowing it to be re-used later, an efficiency savings for the customer.
Harper highlights that it offers a modern and sustainable drive solution. It's a more eco-friendly solution, Harper adds, with applications for conveyor drives, traveling drives, winding drives, hoist drives, extruders, packaging machines, pumps, and fans.
"It's like an electric car," he observes, citing its recharging capabilities.
Schroeder says he likes where the company is going these days, especially concerning some innovative and truly cutting-edge new products like the motec. Motec's continued evolution will allow it to have built-in CIP Safety in 2024, a development that was expedited based on the feedback of customers in the North American market.
Always ahead of the curve and adapting its already successful applications, Lenze Americas is looking forward to the evolution of additional products coming down the production pipeline to market to its customers in the coming months.
"We're not in the habit of developing 'me-too' products and solutions for the industry," Schroeder continues, citing a balance between customer needs and industry needs. "We're listening to our customers' goals and trying to develop products that can help them reach those goals, and push the industry forward."
O'Connor says he has recently been meeting Lenze staffers from all over the organization.
"What I see in this workforce is passion," he observes, "from people who love what they do, are proud of what they do, and show up looking forward to doing it every day."
Harper concurs, citing a can-do attitude pervasive throughout the entire Lenze organization, along with the requisite dedication, commitment, and perseverance to solve customers' problems for them and do so better than anyone else can.
"We are passionately delivering innovation as an integral part of our customer's success," he remarks. "What we do is innovative products, and who we do it for is a customer base that needs us."
AT A GLANCE
Lenze Americas
What: a global manufacturer of electrical and mechanical drives, motion control, and automation technology
Where: Uxbridge, Mass.
Website: www.lenze.com