Hawaii Association of Independent Schools
Keeping private schools strong in the Aloha State
Business View Magazine interviews Phil Bossert, Executive Director of Hawaii Association of Independent Schools, for our focus on Advances in Education
One of the lesser-known facts about Hawaii is that it has one of the highest rates of private school attendance in the nation. With its origins in special schools founded by early Protestant missionaries, Hawaii's private school system had the distinct and unusual advantage of a decades-long 'running start' over public education – remaining a popular choice for families, despite the "Paradise tax" and high cost of living on the islands. Currently, 16% of K-12 students attend one of the state's 112 private schools, while the national average floats at around 8%.
Advocating on behalf of independent education in Hawaii for shared needs and issues of mutual concern, the Hawaii Association of Independent Schools (HAIS) has, for over 50 years, provided services to strengthen its over 100 member schools and engage them to achieve educational quality and excellence. With its primary activities consisting of perpetuating school renewals through licensing and accreditation, delivering on professional development opportunities, and assisting parents in learning about independent education as a whole, HAIS exists to encourage high educational standards, as well as to preserve the independence of Hawaii's private schools.
HAIS was officially founded in 1969 following a series of meetings involving Dr. Roderick F. McPhee of the Punahou School, Dr. James Bushong of the Kamehameha School, Reverend David Coon of the Iolani School, and Joseph Pynchon of the Hawaii School for Girls.
"The story goes that back in the days when we circulated 16mm films instead of streaming them on the Internet, one of our heads of school received a film canister that they were going to use for their instruction," shares Executive Director Phil Bossert. "The label on it was slightly peeled off, so he could look under it and see that the film had been at another school on the island the week before. That meant that the film had been shipped back to California before it had arrived to him, which meant pretty hefty postage costs had been incurred. So he said, 'This is crazy,' and he invited about 15 other heads of schools to lunch where he told them, 'We're competitors, but let's informally agree to cooperate on things like inviting speakers and circulating resources.' And the group accepted to share information and identify practical ways to strengthen their cooperation. They met quarterly to talk about other things they could do and they realized they could get certain types of funding for private schools in Hawaii by incorporating. That's why they formed the legal entity in 1969."
Over the next 20 years, those 15 schools went on to serve as the founding membership of HAIS, helping to inspire the structure, goals, and initiatives of the group. By the 1980s, the association had built up enough momentum to warrant hiring its own part-time Executive Director, the unduplicable Robert Witt. "He was a local teacher that some of the founders knew," Bossert explains. "Originally, I think the schools just thought they'd get somebody in to do the paperwork and help organize the films coming in and out – things like that. But Robert had a much loftier vision for what the organization could do for the schools. He really built it from almost nothing."
Witt secured them a small office space close to Downtown Honolulu. He eventually hired a secretary and together they brainstormed ways to help others around the community. "Robert was the one who represented us to the media and supported us at legislature," Bossert recalls. "The next two big steps came in the early '90s, when they realized that private schools were paying a small fortune to fly people in from California to do their accrediting."
Witt had the Western Association of Schools and Colleges (WASC), which was the accrediting commission for Hawaii-based schools at the time, sign an agreement that would allow their schools to be accredited jointly by HAIS and WASC. He also convinced the state legislature to give the licensing of private schools to HAIS. "Since 1996, we've been licensing all private, independent, and parochial schools in Hawaii," affirms Bossert. "That initial little group of around 15 schools has grown to the current number of 112 private schools in Hawaii that are licensed by HAIS – 98 of the 112 are members that pay dues to participate in HAIS workshops and events. And 47 of them are accredited by HAIS."</
To be a Full Member, a school must be both accredited and licensed by HAIS. Affiliate Members are those licensed, but not accredited, by HAIS. "We also have Associate Members, which are non-K12 schools—preschools and universities— that simply want to benefit from the events we organize," adds Bossert.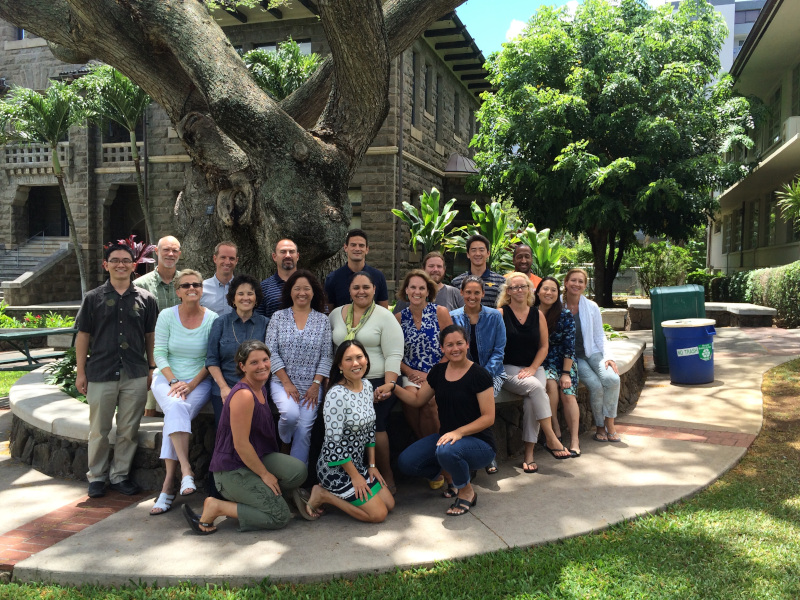 Events run by HAIS include workshops and professional development opportunities, often led by trained educators with classroom and curriculum design experience. The Early Learning Wellness Series, which guides early learning program directors and leaders through a process of "Relief, Recovery & Reform" aimed at building wellness and resilience in the wake of COVID-19, is one of several available programs providing the resources and tools necessary to tend to the wellbeing of all members of the school community. HAIS is also very proud of its annual Schools of the Future Conference, a weekend-long event that takes place in the Fall and features keynote speakers, on-demand sessions, breakout sessions, and workshops, as well as networking spaces with facilitated conversations.
"When COVID hit, it was a major challenge because that professional development piece of what we do for our schools had to be put on hold, or be somehow reimagined," Bossert admits. "This year, the conference is back in-person and we're in our 14th iteration. The event started back in 2008 with about 10 or 12 schools, and it's now co-sponsored by the Hawaii Department of Education and ourselves. We attract around 2,200 public and private school teachers for three days, every year. We have featured speakers and about 100 breakout sessions for teachers to share their best practices. It's a major source of income for us. During COVID, we couldn't do it the same. We had to figure it out online, which we've done for two years and been somewhat successful."
Bossert says the pandemic forced him to reflect on HAIS' role as a gatherer within the 'tribe'. He collected as much information as he could about COVID, both nationally as well as locally, and turned that research into a rich listserv resource for all their heads of school.
"Since we couldn't hold workshops, we created listservs for all the Business Officers, Admissions Officers, all the Advancement Development Officers, the chaplains, the nurses, and we called them constituency groups," Bossert recounts. "We introduced them all to each other and that evolved into monthly constituency group meetings via Zoom, where they could all share information with each other. That transitioned us from primarily being a professional development provider to being a convener of other groups within our school system. Now that's become a major focus of our efforts and it appears to be very well received."
Every other week, HAIS also sends out their E-News blast, an amalgam of information supplied to them by their schools and intended for general distribution. "That currently goes out to about 2,500 recipients," Bossert remarks. "We advertise scholarships from foundations, we advertise theatrical events that are open to anybody, professional development opportunities provided by other schools, and so on. We also have an annual report that goes out, along with a couple of publications just to talk about who we are and what services we offer. That way, if people are trying to decide whether they want to start a new school, they'll know who to contact."
As for how he sees Hawaii's private schools moving into the future as a sector, Bossert confirms HAIS will continue to play the role of convener, host, and facilitator for public events, diving back into the business of professional development programs with a wider perspective. "Private education in Hawaii has a very good future," he insists. "Because of our cultural history, I would say probably 50 to 60% of our schools are religiously affiliated in some way. That's a lot. And it's often very difficult for the public schools to deliver that same kind of quality education. To move fast enough into the future with new practices like project-based learning and social emotional learning. I think a lot of parents really make great sacrifices to send their kids to private schools as a result."
AT A GLANCE
Hawaii Association of Independent Schools
What: A member-based organization advocating on behalf of private schools in Hawaii
Where: Based in Honolulu, Hawaii
Website: www.hais.us