Town of Poughkeepsie, New York
"It's a good time for us"
Business View Magazine interviews representatives of the Town of Poughkeepsie, New York for our focus on Economic Development in U.S. Communities
The Town of Poughkeepsie, New York is a community in transition. The largest town in Dutchess County, this thriving community of 44,000 has several major developments underway and has set a plan to repurpose its older and underused properties to help bolster an already bustling area.
"We're very busy," says Michael Welti, Director of Municipal Development for the Town of Poughkeepsie. "There's a lot of construction going on in the town, and some very exciting development projects that are underway or that are in the pipeline. So, I think it's a good time for us."
Their biggest new development is the Eastdale Village project, off of Route 44. "It's basically building a whole community," says Jon "Jay" Baisley, Poughkeepsie's Town Supervisor. "It's a village setting with walkable streets, there's a medical facility and over 300 units of housing currently under construction." The development will also include about 40 spaces for businesses – five of which are already up and running. "It will be mostly small, locally-owned restaurants, clothing stores, and many other interesting amenities," Baisley adds.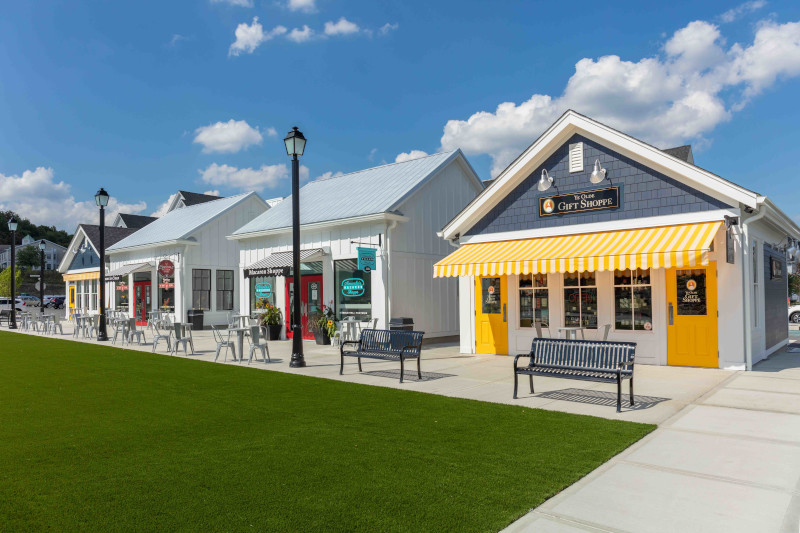 On the west side of town is the Hudson Heritage Project – a 156-acre, mixed-use site that will include 16 parcels to be developed into residential, hotel, medical, and other-use properties, as well as a 153,000- square-foot retail shopping village. The project will eventually include up to 750 residential units, the adaptive reuse of six historic buildings, and restoration of the Great Lawn on the former Hudson River State Hospital campus. "That's also going to be a walkable community, but a different kind of walkable community," Baisley explains. "It's more of an urban setting, as opposed to a small village setting. There will be a variety of businesses with many different amenities."
The town's Arlington Business District has two significant new projects in the works. Vassar College's Inn and Institute and the Arthur S. May Redevelopment project. The Inn and Institute is a $34-million multi-story structure that will include 5O guest rooms, a restaurant and convening space, as well as being home to the college's Institute for the Liberal Arts. The goal for the property is to include programing that will attract people to the area to advance discourse on topics of local, regional, national, and global interest. "It will be a state-of-the-art green structure that will attract people for educational conferences and events," says Baisley.
The Arthur S. May project is one of many redevelopment projects that are repurposing buildings that have outlived their current use. The redevelopment centers on the former site of the historic Arthur S. May Elementary School, built in 1922 and left vacant since 2014. The old school building will be repurposed, as Baisley reports, "Approximately 198 apartments will be built with a retail section facing Raymond Avenue. That will rejuvenate the Arlington business district with the added density in a walkable community."
The redevelopment continues at the Poughkeepsie Business Park, which will soon be home to AP Packaging. "They will be relocating from New Jersey," says Baisley. "This is the first location they purchased and stated a strong commitment to the area. They have purchased the Laval site and will be relocating here in the near future, employing close to 100 people – a mix of new employees and ones that will be relocating . This is the first manufacturer of this size that has relocated to the town."
Repurposing former buildings is a priority for the Town of Poughkeepsie. They are currently in the process of finding a new use for a former K-Mart site and other vacant retail locations. They recently took down an old hotel on Route 9 and replaced it with a new one. The restaurant next to it was taken down and is becoming a car wash. "Our goal is to repurpose vacant properties, when possible" Baisley notes.
The plan moving forward is to continue to find new uses for old sites. According to Welti, "We are looking at trying to repurpose some sites – especially the older commercial ones – that aren't in use. We have some retail that's gotten a bit stale and we recognize that the retail economy is changing. We want to provide for some more flexibility and a little more opportunity in terms of how those areas are being developed. That's one of those things we are actually focusing on in our Comprehensive Plan Update. The idea is, if we can be a little bit more flexible in terms of what kind of development happens there, there will be a good incentive for businesses to come to those places."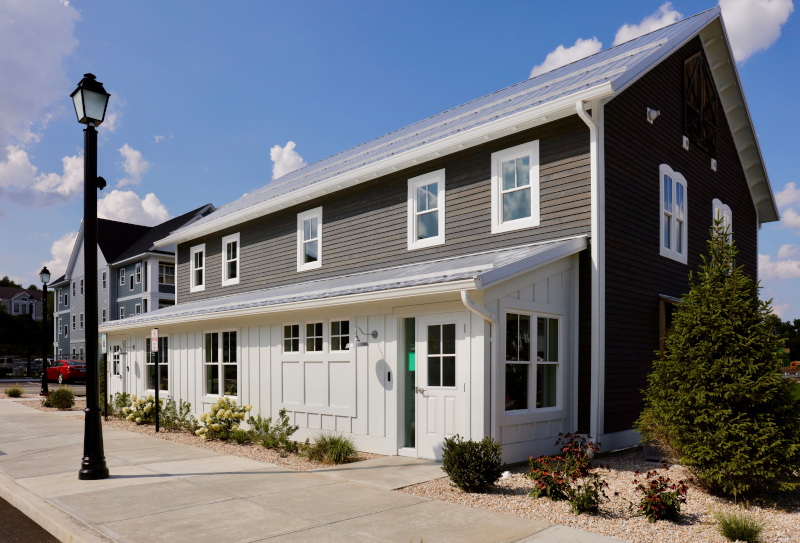 Development aside, the Town of Poughkeepsie already has a lot to offer. "There's a lot of different features," Baisley says. "The town has 100 percent access to municipal water and about 60 percent of the town is on municipal sewer, making it easier for businesses to locate in the town. Our business corridor has municipal water and sewer, this makes it feasible for larger-scale restaurants and businesses to open.
When it comes to housing, Poughkeepsie has that covered, too. "For homeowners, we have everything they want," Baisley explains. "If they want to live in a house, apartment or condo, it's all here and it's still affordable at this time. It's the place to come live, work and play – the area has a lot to offer."
The Town of Poughkeepsie boasts four public school districts and four private schools. It is also home to Vassar College, Dutchess Community College, and Marist College, with the Culinary Institute of America just a short drive away. The town is also a home to many commuters working in New York City, making it an ideal commuter hub with train access on the Metro North line. "We are one of the last two train stops coming out of New York City, so we have a very heavy commuter base going back and forth to the city," says Baisley. "We are also a feasible commute to Danbury, Connecticut, which is another business hub. We are close to just about everything."
The Town of Poughkeepsie's major employers are IBM, Vassar College, Marist College, tourism and the medical industry, with many other people employed in small businesses and private ventures. Some of the colleges have commented that students used to come here and then leave the area after graduation. That trend has been changing and more graduates are staying in Poughkeepsie and the surrounding area. There is still a shortage of skilled blue collar workers and the town is actively looking to draw in more talent to fill that void.
It's not all work and no play for Poughkeepsie. The community is home to a variety of cultural and recreational activities, and if you can't find them directly in the town, you're only a short drive away from everything you desire. "We are close to so many different attractions," shares Baisley. "Samuel Morse Estate, Mohonk Preserve, and the Catskill Mountains and Mount Beacon are just a few. If people want venues, there is Vassar's Powerhouse Theater and there are many museums and historical sites available."
He adds, "So if a person is into hiking and climbing, they go to Mohonk. And if someone wants to see summer theater, they can go right to Vassar College. There are many restaurants serving a wide variety of food. The Town of Poughkeepsie offers a taste of everything here."
AT A GLANCE
Town of Poughkeepsie, New York
What: A progressive, historic town of 43,000
Where: Located in Dutchess County, New York
Website: www.townofpoughkeepsie.com
EFG/Saber Heritage SC, LLC –hudsonheritageny.com
Live, work and play – all in one place!
Welcome to Hudson Heritage, a $300 million-plus, 156-acre mixed-use community underway on Route 9 across from Marist College in the Town of Poughkeepsie. Here you will find the best of all worlds: an unparalleled lifestyle, essential amenities, historic charm, and contemporary comforts plus more than 50 acres of open space overlooking the beautiful Hudson Valley.  Designed to appeal to all generations – millennials, families, boomers, and retirees – Hudson Heritage will offer a host of housing, dining, shopping, entertainment, and health-care options. Residents can relax, refresh and recharge in an atmosphere conducive to social, emotional, and physical well-being.
EFG/Saber Heritage SC, LLC is developing the site for housing, a hotel and conference center, retail, a ShopRite supermarket, restaurants including Chipotle and Smoothie King, arts and entertainment, and medical office space. The grounds  will feature walking trails,  lush open parkland, and access to Quite Cove Park and the Scenic Hudson trail for walking and bicycling.
Set against the backdrop of the majestic Hudson River, Hudson Heritage offers spectacular views and historic buildings with magnificent architecture that are undergoing renovations for adaptive reuse. The grounds were designed by Frederick Law Olmsted and Calvert Vaux, who designed Central Park in Manhattan.
Visit hudsonheritageny.com for a look inside the area's first-of-its-kind lifestyle community.