Hazel Park, Michigan
Sharing the community spirit
Business View North America interviews representatives of Hazel Park, Michigan for our focus on Economic development in U.S. Cities
The city of Hazel Park, Michigan has a long history of community spirit and civic-mindedness, beginning years before its incorporation in 1942. Although the first settlers arrived in the 1830s, it wasn't until Henry Ford opened his Highland Park plant in the area in 1914, that the community saw major growth. This growth was somewhat problematic, as Hazel Park was lacking in infrastructure to support the influx of residents. The citizens took it upon themselves to initiate improvements, leading to traffic management, schools, and police services. Many businesses were also opened in the area, creating a thriving community.
The construction of I-75 through Hazel Park in the 1960s brought change once again, with the destruction of the business district as part of the freeway expansion. Through it all, Hazel Park has retained the welcoming, friendly, and close-knit community spirit that has carried through from its early beginnings to the progressive city it is today.
Edward Klobucher, City Manager, shares, "Hazel Park is unique. We are a very hardworking, resilient place with a great sense of unity, which is one of our strongest attributes. People who live in Hazel Park are proud to be here." With a population of close to 15,000, the city spans 2.8 square miles and is experiencing what Klobucher describes as "a bit of a renaissance", as new developments are underway in both the commercial and residential sectors. He reports, "We are excited about the direction that Hazel Park is now taking, and about what we have worked hard to bring to the community and to our residents."
Jeff Campbell, Hazel Park Community Development Director adds, "Basically we're 10 minutes from everywhere in the metro Detroit region. We are a tight-knit community and that's what we try to market to new residents. What we try to market to businesses is that if you invest in the community, the community will invest in you."
The redevelopment of the Hazel Park Raceway has been a significant project, creating two million square feet of light industrial space in only six years. Real Estate investment company, Ashley Capital, purchased the former raceway, bringing in tenants such as Akasol, a German manufacturer of high energy batteries for large vehicles, and LG Electronics which is currently manufacturing batteries for Bolt, an electric vehicle produced by General Motors. The complex is also home to an Amazon distribution centre and is a major source of employment for the city. According to Campbell, "At Ashley Capital's Tri-County Commerce Center, there are over 3000 new jobs. It is sort of a green economy hub that's forming at the Center . There is probably more electric car battery manufacturing there than in any other area in Michigan."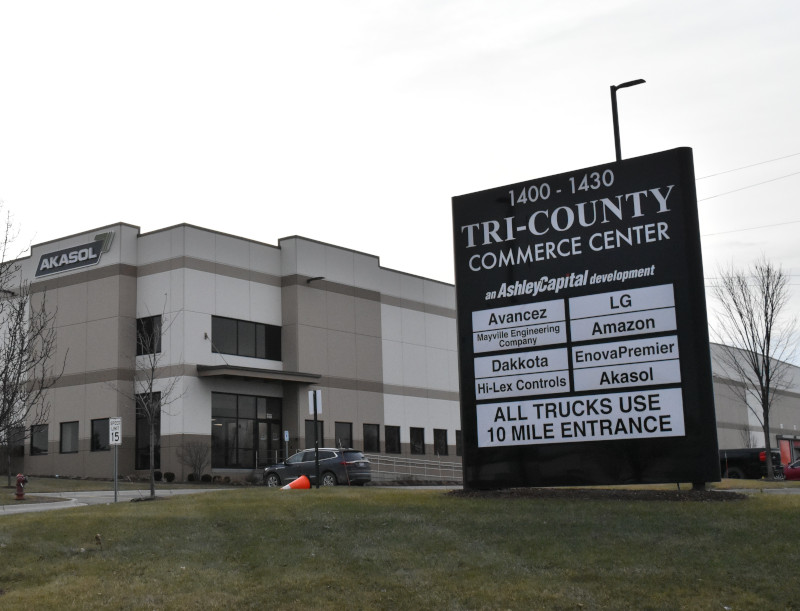 The city is also home to Exlterra, a technology company that works to develop sustainable technological solutions with a positive environmental impact. "This exciting high-tech company is currently involved in neutralizing radiation from the Chernobyl disaster in Ukraine back in 1986," explains Klobucher. Hazel Park's decision to embrace the medical and recreational marijuana industry has provided another excellent employment opportunity. "It has brought hundreds of well-paid jobs, in the area of about $20 an hour," says Klobucher. "Those jobs are coveted. Embracing this new industry has been a driver of economic prosperity here in Hazel Park." He adds that the cannabis sector offers several different employment opportunities, from sales and marketing, processing, transportation and logistics, all the way to the highly-skilled lab and grow operator positions.
Other additions to the community include the successful restaurant, Mabel Gray, owned by renowned chef James Rigato. Frame, another popular new restaurant, offers an innovative experience, where guests can participate and enjoy everything from cooking with guest chefs from around the globe to art events, and cocktail pairings. Ink Detroit, an apparel company creating unique Detroit and Michigan themed apparel and accessories is also based out of Hazel Park, along with Ideation Orange, a branding and signage company, and Color/Ink, an art studio and gallery.
Klobucher notes, "We've been able to attract an arts and cultural community. We work really hard to try to create a cool eclectic place that's welcoming to everybody at the same time." Supporting existing business is also a priority for the city, with companies like Tony's Ace Hardware reinvesting in the community. He adds, "They have been in the city of Hazel Park for more than 60 years. They have redone their façade and it is just beautiful. It looks like the kind of business you would see in a classic downtown. It's so cool as a reinvestment."
As part of the city's commitment to quality education, a program was introduced in 2010 to ensure all resident graduates of Hazel Park have access to post-secondary education. The program, called Promise Zone, guarantees a tuition-free path to an Associate's degree through pre-existing scholarships or funding directly through the organization. Students can use this opportunity at any accredited trade school, community college, college, or university in the state of Michigan.
"There is no reason why someone who graduates Hazel Park High School who wants to go to college, can't go to college," Klobucher reports. "If we can't find you a scholarship, Promise Zone will pay for your tuition. We make that promise, and we know that it's changed the culture of our high school, because almost every student fills out the financial aid form, and every student has an opportunity to go to college." With only 11 Promise Zones in the state, Hazel Park is proud to offer this program. The city has also partnered with Michigan Works, to offer workforce training initiatives and job connections to help provide a skilled workforce for local industries.
For a primarily urban community, Hazel Park is a walkable city. Campbell shares, "Our walkability score is amazing, and that's simply because we are the second or third most dense community in the state of Michigan. We should have improved in the last year, because we have  brand-new pedestrian bridges which makes walking much easier and safer. You can walk anywhere in Hazel Park in half an hour." With walking trails in many local parks, residents can also enjoy outdoor workout equipment, a brand-new disc golf course, and a state-of-the-art children's playscape. This playground was an example of the Hazel Park community spirit.
"We got a grant from a private foundation for $350,000," says Klobucher. "That was only for the materials, the community actually came together and built it a couple years ago. We brought in a bunch of community volunteers, and literally, the whole town came in and built that facility in one week." Construction of a bike lane system was recently delayed, due to 1-75 construction, but Campbell adds, "There will be bike lanes up and down the major corridor where we are working to build the downtown now."

Short term infrastructure updates for the city include street repairs and replacing lead pipes leading into private residences, a mandate from the State of Michigan. Klobucher emphasizes that Hazel Park is always looking for grants which can be used to improve parks and recreation within the city. A recently organized sustainability commission has been set up to help find ways to implement sustainable solutions in the community. E.V. chargers are one future possibility, but as Campbell explains, "We are not quite there yet. We are also trying to figure out how rideshare will work for the future. We are big future believers, but we are not to that point within the community. I want to make it clear, we're not a community with tons of dollars but we do amazingly well."
Main Street redevelopment is a focus of future plans in Hazel Park, as Campbell recounts, "Hazel Park is pretty unique. Basically, in the 1960s, what was the traditional downtown was destroyed by urban renewal and the I-75. We have been recreating a downtown, and we've become major partners in Main Street Oakland County, which is part of Main Street America."
Improvements to the John R. corridor, which is part of this downtown development, is a priority going forward. Klobucher shares, "We have two underutilized parcels on John R., which we are hoping will be redeveloped to enhance the walkability of that particular section, and really create a downtown area." Campbell offers his thoughts on what this project can offer to the community: "We want to create a functioning downtown area where people are not only coming to Hazel Park to go to dinner, but they are hanging out afterward, and walking around, and our residents are out as well. Basically, exporting how tight-knit the community is with the rest of the world, as much as we can."
AT A GLANCE
Hazel Park, Michigan
What: A community of 15,000, with a growing industrial sector
Where: Oakland County, Michigan
Website: www.hazelpark.org
Trucenta | Trusted Source for Cannabis – https://www.trucenta.com/
In 2015, Trucenta was founded on an idea and handshake. Today, our privately held cannabis company employs 200 team members in cultivation, processing, manufacturing, wholesale distribution, and our BREEZE retail locations. The city of Hazel Park is home to our processing, manufacturing, and wholesale distribution business units. We have the ability to process close to 100,000 pounds of cannabis biomass per month, utilizing both hydrocarbon and ethanol. We also manufacture and wholesale cannabis brands including The Clear, Dazed Extracts, Godflower, and Sweet Spot from our Hazel Park locations.
In March 2020, BREEZE Hazel Park opened as the first recreational cannabis retailer in Oakland County. The city and community of Hazel Park have been incredibly welcoming and supportive. In fact, 11% of Trucenta's workforce resides in Hazel Park, creating a sense of pride for the ways we support their community. Over the past few years, Trucenta has collaborated with the Hazel Park Promise Zone, Hazel Park Animal Shelter, Hazel Park School System, the City of Hazel Park, the Hazel Park Fire Department and Police Department to provide financial and volunteer support.
Trust is core to who we are. Being a part of the Hazel Park community has enabled us to continue to strive to establish trust with our community of team members, customers, neighbors and brands.
Ashley Capital – www.ashleycapital.com
Ashley Capital partnered with the owners of the Hazel Park Raceway in 2015 to develop a 575,000 square foot distribution facility. The building is situated on the northwest corner of a 120-acre site located near the intersection of I-75 and I-696. The 36-acre site was surplus land for the thoroughbred horse race track that has since closed. This is a perfect location within the Detroit Metropolitan area and is considered "ground zero" for any business needing to quickly access major expressways heading north, south, east, and west. The first building was completed in the spring of 2017; the second building in the fall of 2019; and the third building in 2020, bringing the total size of the park to 2.1 million square feet.