Steel Erectors Association of America
Connecting erectors, fabricators, and contractors
Business View Magazine interviews representatives of the Steel Erectors Association of America, as part of our focus on the American construction sector
The Steel Erectors Association of America is on mission to promote safety, education, and training programs for the steel erector trades; the development of standards; and cooperation with others in activities that impact the commercial construction business. In 1972, a small group of North and South Carolina steel erectors formed a non-profit organization focusing on the need for sharing information and industry updates. The organization grew quickly. In 1992, the group officially became the Steel Erectors Association of America (SEAA). Currently, there are 243 SEAA members nationwide, representing a broad spectrum of construction expertise. Members range from small businesses earning under $3 million per year, to large corporations generating more than $10 million per year. Many are award-winning organizations, recognized for their contributions to the industry, the environment, and safety. Other members include fabricators; general contractors; construction industry service providers; specialty services such as trucking, lodging, and insurance; and manufacturers and suppliers.
According to Tom Underhill, Executive Director of SEAA, "When our group was founded in the early '70s, OSHA (the federal government's Occupational Safety and Health Administration) had come out with new rules regarding jobsite safety for steel erectors. At the time steel erection companies were adhering to their own individual safety programs, which varied widely. The original North and South Carolina members felt that having an association to share knowledge about compliance on the latest regulations would benefit everyone in the industry. Toward that goal SEAA members participated in the OSHA negotiated rulemaking process, SENRAC, to craft a practical OSHA set of standards for regulating the entire steel erection industry including fall protection, requirements for rigging (including Christmas Treeing/multiple lift rigging), and General Contractor requirements to enable steel erectors to safely perform their work.  SEAA provided Subject Matter Experts (SME) for the SENRAC process, the SEAA/NISD Detailing for Safety and Efficiency manual and the NCEER Ironworking Curriculum."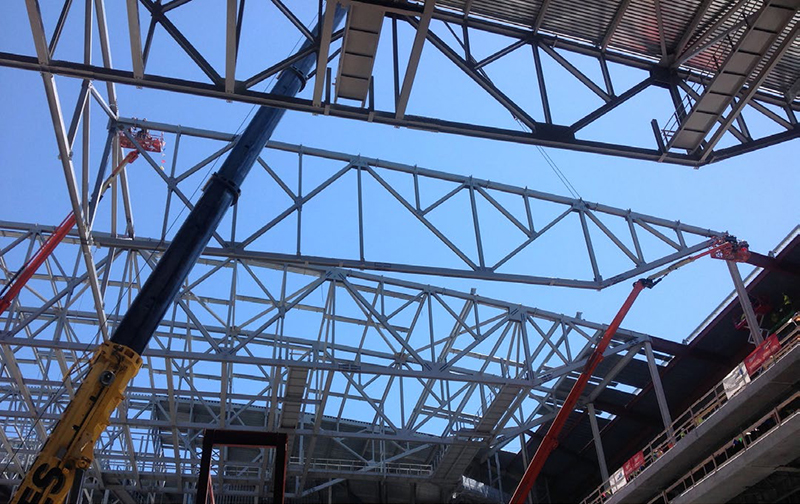 Then, as now SEAA seeks to improve the safety, productivity, and profitability of the steel erector industry. Among SEAA's most important and successful programs is its Ironworker Craft Training program, created in partnership with the National Center for Construction Education & Research (NCCER). "As an Accredited Training Sponsor of NCCER, our members have access to the ironworker curriculum as well as more than 70 other training programs. SEAA provides the administrative services to assist our members with implementing these valuable workforce development programs," says Underhill.
In addition, SEAA has developed safety training products to assist organizations, contractors, engineers, steel detailers, architects, and other safety personnel with OSHA compliance, workplace safety, and professional/craft-worker development.
Since the craft training program launched in 2014, SEAA has established a nationwide network of 27 participating companies. "In 2014, we had a goal of having three training/assessment locations implemented per year," says incoming SEAA President, Geoff Kress. "We ended up with five that first year. As the network of accredited training and assessment sites grows, the more resources smaller companies have to provide quality training for their employees." In addition, the U.S. Department of Labor-approved Ironworker Apprenticeship Standard provides members a tool to create and register formal apprenticeship programs that meet both State and Federal government requirements. Participation in registered apprenticeship programs allows merit shop contractors the ability to utilize government approved apprenticeship wage rates on Davis Bacon Wage Projects.
Kress, who owns Gardner-Watson Decking, Inc., a full-service, metal roof decking company headquartered in Oldsmar, Florida, and who is a former Board member and Treasurer of SEAA, believes that the greater the availability of training programs, the stronger the steel erection industry will be in the future, as the current generation of workers retire. "Most of these companies are run by Baby Boomers," he notes. "Some of these craft professionals are going to be gone in five, six, seven years. So, it's very important to reach out and teach the younger generation. In addition to ironworker training, the association has programs for welding, shop fabrication, reinforcing steel, rigging, and crane operation. The money in these fields is incredible for a young person just starting out in construction. Beyond these skilled trades, there are opportunities to continue on a career path into project management, site safety, and other leadership positions."
Kress also wants to see SEAA's membership increase. "There is likely less than 1,200 structural steel erection firms in the U.S., but as a specialty contractor group, we serve a unique need in the construction process. This organization brings together both small and large companies. The culture is one where best practices are shared in a way that improves the industry as a whole." He continues, "I'd also like to see the membership numbers increase among fabricators. Strong working relationships between fabricators and erectors is essential to improving productivity on the job. The Association provides a prime networking opportunity for fabricators."
Underhill, SEAA's Executive Director since 2012, is also a past president of the association. In addition to administering the SEAA/NCCER Ironworker Craft Training program, the Association produces Connector, a quarterly, national trade magazine focused on issues relevant to erector execs, managers, and operations personnel. The SEAA website, with a new job board, monthly eNewsletters, and social media platforms keep the steel erector community informed about emerging regulations, technologies, and safety issues relevant to the $8 billion industry.
SEAA also sponsors a series of annual awards, including Project of the Year Awards in four categories: Erection Contract of up to $500,000; Erection Contract of $500,000 to $1 Million; Erection Contract of $1 Million to $2.5 Million; and Erection Contract of $2.5 Million and above. In addition, there are awards for safety excellence and craft training. The SEAA Safety Excellence Awards are presented to steel erection companies who go above and beyond in the effort to provide their ironworkers a safe place to work. These companies are proactive in their safety mindset and, when compared to their steel erection peers, excel at protecting their employees. The SEAA Craft Training Recognition Awards feature companies who have developed exceptional training for their ironworkers. These companies are playing critical roles in the development of ironworker craft professionals at a time when trade worker shortages are at an all-time high.
SEAA holds an annual convention and tradeshow, which is an opportunity for members to network and find solutions to shared challenges. The convention features insightful speakers, expert advice, educational workshops and sessions, and hands-on demonstrations. Attendees take home valuable information, new connections, and proven strategies to promote their businesses. "Unfortunately, our convention was cancelled this past year due to COVID-19," Underhill reports. "We're making every effort we can to maintain next year's convention April 28-30, 2021, in Orlando, Florida. Hopefully, the pandemic will be behind us by then."
Meanwhile, Underhill notes that SEAA's quarterly Board of Director and committee meetings, are happening remotely, which has enabled greater member participation "COVID-19 has also exposed the need for more online learning opportunities. The future is going to be training with videos," he states. "It's happening faster now than it would have, had we not gone through the pandemic."
"When it comes to safety, ignorance is not an excuse, Underhill says, in conclusion. "If you don't know, SEAA can help. We produce and sell the publications, videos, and certification programs you need to run a safe, smart operation. SEAA has an interest in serving the whole industry, and we are willing to share with anyone at a minimal cost. We aren't looking for accolades. Our Board members are all volunteers. They are really helping the industry and–. they love what they're doing. This is a great group. Together, we're filling a need and making a difference."
AT A GLANCE
Steel Erectors Association of America
WHAT: A trade association representing steel erectors and fabricators
WHERE: Winston-Salem, NC
WEBSITE: www.seaa.net