Building Research Systems
An innovator in the metal construction industry
Business View Magazine interviews representatives from Building Research Systems as part of our focus on best practices in the construction sector.
Building Research Systems (BRS) is a product development company specializing in roof systems for the metal building industry. The company was founded in 1994, by Leo Neyer, whose creativity and insight helped him design standing seam roof systems to replace outdated, existing metal products with 21st century technology. "Few firms (if any) at that time had successful product research and development departments, and we elected do the heavy lifting of R&D for them," says current company President, Cody Rodden. "With additional new and upcoming stringent building codes in the industry, BRS continues to fill the void of developing new and improved products for the metal standing seam roofing construction market to meet those changes."
"We've developed two roof systems," Rodden continues. "One is TS324, which is a trapezoidal, three inch tall, 24-inch wide panel system. The second one is PanelCraft, which is two inches tall and either 16 or 18 inches wide. Both mechanical field seamed systems utilize a very unique, patented panel hook design that is superior to anything else for performance, longevity, and weather-ability on the market. We designed the roof systems so that we could give smaller, regional companies and other building manufacturers, as well as component manufacturers, an avenue to compete with larger national and international companies. We take great pride in knowing that through our licensing of Superior Seam Technology, we have given an opportunity for the smaller companies to be able to compete in a market that would otherwise cost millions of dollars to enter into."
Other products in the BRS portfolio include high capacity rake/eave plates, ancillary parts, accessories and a variety of clips for complete high performance roofing systems utilizing the patented panel side joinery. "Where most companies only have four types of clips, for example, we have thirty unique purpose designed ones," Rodden states. "We also have developed industry leading improvements and benchmark innovations. We developed the wind clip for roofs requiring high edge/corner zones for coastal high or wind location areas. The wind clips have a longer tab to perform better in high wind conditions and reduces the need for additional roof framing, attachment steel parts, or heavier gauge panel cladding. The wind clip requires less steel to be added for closer roof attachment points, which saves the company and/or owners money. Our extended clip design helps with green design projects which allow for single layer, thicker fiberglass faced blanket insulation to be traditionally installed during the roofing process. The use of extended clips allows for thicker insulation products which now can compete with dual skin foam insulated panels. We have placed up to 18 inches of fiberglass blanket insulation between the purlin attachment point and panels utilizing extended clips with satisfactory results. That's impressive and it helps cut down utility costs while saving the contractor and erector labor time due to the ability to integrate thicker fiberglass insulation systems during the initial installation process when correctly installed.
"Our newest technology is a High Capacity Rake and Eave plate, which, on the rake side allows up to seven inches of thermal expansion and contraction travel. This extended rake plate travel ability allows companies to not require expensive step-down features in the main frame rafters when used in conjunction with the long base eight inch wind clip; they can have a single panel run up to five hundred feet. It's been independently, third-party tested to be up to four times the strength of what's currently out there in the market." Rodden adds that the new high capacity rake plate was designed to meet upcoming, new ACSE-7 standards and edge/corner zones building codes for all standing seam metal roof manufacturers.
Rodden is quick to explain that BRS, itself, does not do any manufacturing. The company has a network of thirty- three manufacturing companies which have purchased panel systems licenses. "We've done all the design, the product manuals, and supplied the technological data including the testing – everything that they need in order to meet certain specifications and FM/ UL codes," he says. "The license holders, per the license agreement, need to purchase equipment that meet the very specific design criteria for the panel lines. Licensees are required to purchase the patented clips and ancillary accessories from certain strategic partners – the stamping companies – to get their required system-specific designed and tested components." Those strategic partners are, likewise, held to closely-monitored, tight tolerances regarding the equipment they employ in the manufacture of BRS design required components.
"One of the things we like to do on the front end when a licensee has joined our program, is to work very closely with the roll forming manufacturers that manufacture the equipment which the licensee is going to roll the panel with," adds Trey Herren, Vice President & General Manager. "We're able to help with their quality control to make sure they're rolling the panel the way we designed it. We sign off on the panel system as it's being manufactured – as they're building the equipment for our licensees. We ensure that the panel is being run to our specifications before it ever hits the licensee's floor to be part of their manufacturing process. We control the dies on the stamp clips that are integral to the design of the roof system, so that we can control the quality of the clips, as well, which is very important."
"We go in and inspect it when it is being manufactured, as well as when they get it delivered," Rodden says. "We'll come in and do an onsite inspection to ensure that the quality is consistent, whether you buy it from ABC manufacturer or XYZ manufacturer – quality and performance must be there, regardless who is manufacturing it. That's how we make sure that what we tested, what is built, and what we designed is what's out there in the field, so we can tell an architect, or especially an owner, that what they received is the highest performing, longest-lasting, and most weatherable roof system that's currently on the market, today."
Further testing of actual components takes place within the company's onsite lab for licensees that participate in its QC Program and send in samples. "We document it, cut it apart, and break it down to design criteria on radii, and so forth, so that we can tell that licensee that they need to make adjustments," says Rodden. "The field samples products sent for examination will undergo a very thorough inspection program and then the license will be provided a written report. It's a very intense lengthy process." "We remove sample portions out of the panels and we put them on an optical comparator so we can see where the tooling is wearing and radii are starting to grow, and they can take that report back to the tooling manufacturer in addressing issues," adds Richard Starks Jr., P.E., Vice President for Engineering & Product Development.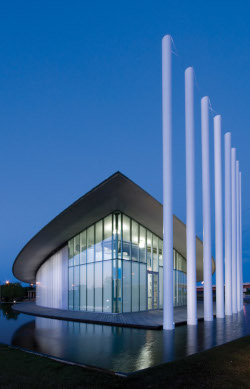 For a relatively small company – BRS has only six employees – Rodden maintains that it actually has a very large impact on the industry. "We currently have 33 licensees – across the United States, with two in Canada and one in China," he reports. "So we have the largest licensed network of standing seam manufacturers than any other company. And we've got a program, now, that we're actively pursuing called '50 in 5.' We want to have a minimum 50 licensees in the next 5 years. We also want to begin to create a more intimate relationship with all the licensees that we currently have, and new ones coming onboard, with new service programs, and new ideas on technology to help them grow their businesses.
"We are utilizing our Superior Seam Technology on one exciting particular new innovation at the present time that will have a major impact on the entire industry if we can work out the design details.  As in any R&D company, you've got to have several prototypes and numerous fails before you find the right final design. If we can get those things accomplished, it's a patentable process that we feel that all others will want to participate in, including our competitors. As far as expansion – we have several regional, national, and international folks we're currently talking to about license purchases and we expect those to grow. We also look forward to attaining the licensing goal of the '50 in 5' program success. We expect our capital expenditures will be mostly related to expanding tooling capabilities as licensing demand for our roof systems continues to expand, as well as additional R&D equipment required to handle the designs of the new idea we're working on as it moves forward into market reality."
When it comes to the benefits that BRS provides to its licensees, Rodden maintains that "all the hard work's been done as far as design, tooling, testing, and technical data. The initial setup and ongoing problem solving assistance is something that we pride ourselves on. If someone has an issue, for example, if they have a field difficulty and none of their tech personnel can figure it out, and they call us, we will work on it until we figure out a solution that is satisfactory to everyone involved. We are committed to our license holders to have outstanding sales and tech support, including ongoing industry leading product development once they become part of the Superior Seam Technology family. BRS has the flexibility to do many things for all our licensees."
Check out this handpicked feature on Why Warehouse Automation is Gaining Momentum in Supply Chain Management.
AT A GLANCE
WHO: Building Research Systems
WHAT: A product development company specializing in metal roof systems
WHERE: Edmond, Oklahoma
WEBSITE: www.brsusa.com