National Roofing
"Thinking on Top"
Business View Magazine interviews Jackson Johns, President of National Roofing, for our focus on the U.S. Construction sector
From schools and stores to hotels and hospitals, National Roofing has covered it. Over the last four decades, the Albuquerque-based company has installed roofing systems all across the southwestern states of New Mexico, Texas, Arizona, Utah, and Colorado. The plan over the next few years is for National Roofing to enter a new side of the construction business.
"Now our goal is to not just be a roofing company, but to become a total building envelope company," reports National Roofing President Jackson Johns. "We do the horizontal really well; keeping people's stuff dry, and conditioned air inside the building, so we figure we can tackle the vertical plane as well."
Since being founded in 1976, National Roofing has already grown to a company with about 140 employees that expects to reach $20 million in revenue this year. The aim is to reach $50 million in the next decade. New services and mergers with related entities will help, but at the core of National Roofing's growth plan is a commitment to quality that has guided the company since the beginning.
The firm's origin story is baked into Johns' memory through continual retellings from his father, Tom Johns. In the mid-1970s, Tom Johns and a partner were doing piece work, shingling houses for another roofing company. The pair decided to set out on their own after one too many payment disagreements with their employer. "And so they started National Roofing," Jackson recalls. "They picked the name on the auspices that it would be a name that a housewife flipping through the phonebook would trust. These are all direct quotes because I've heard this story a million times."
In the mid-1980s, at about the time Jackson Johns was born, his father decided it was time to move into commercial roofing. His partner wanted to keep shingling houses, so Tom Johns bought him out. Shortly thereafter, a Las Vegas, Nevada company called Universal Roofers approached Tom Johns about acquiring his company. Universal Roofers was buying up similar companies as part of its growth strategy.
National Roofing was part of that consortium for a few years, but then Universal ran into issues with cash flow and solvency. So, Tom Johns decided to buy his company back and essentially start over from scratch.
For a short time the company was nothing more than Tom Johns and an estimator. National Roofing offered only one type of roofing system, something Tom could do on his own. Jackson relates, "And then they started to get really big quite rapidly and actually hit their peak in terms of size. But they realized that the quality had started to suffer, that it had become just too big and too unwieldy. That was in the early 1990s, and so it was time to draw back and focus on being good at it, not just being big at it. That's when we really started to earn our reputation. We won several Firestone Master Contractor awards and became known for providing very high quality but not necessarily the low bid."
At this time, Jackson Johns graduated from high school and went on to study experimental psychology at Beloit College in Wisconsin. It seemed as if he'd set out on a path that would lead him away from his father's business, but the Great Recession forced him to change his plans. Graduating college in 2009, jobs were tough to come by. The only position Jackson could get was driving a forklift for his father. He eventually worked his way up to safety inspector, when an opportunity presented itself after a hail storm came through, damaging the roof of a school. There was no one immediately available to manage that project, so Jackson took on those duties. He admits, "I started doing some project management, and then, while talking with a girl who told me she was going to get her master's degree, I decided I would also get a master's degree to impress her." Jackson laughs, "Unlike many things I've said after one too many beers, I actually did it. I got my MBA from the University of New Mexico here in town, while working."
Following through on that promise was one of the best decisions Jackson Johns ever made. It obviously impressed the girl because she and Johns were married and the couple just had their first child in December. The degree also put Johns in a position to take the reins of the company. He notes, "After I got my MBA, we wound up losing terribly on a project at a ski valley and a bit of our confidence was shaken. I ended up taking over as the interim President after the then-President stepped down, and I focused briefly on, let's not try to do as much volume of work, let's try to do the work that we have really well."
Most of what the production arm of the company does today is commercial roofing. However, National Roofing also has a 24/7 service department that does repairs, as well as housing. The service department helps feed the production side of the company by creating relationships that sometimes result in opportunities to negotiate total re-roofing projects. Establishing and maintaining relationships among National Roofing's peers is something Jackson attributes to the company's success. He is a member of the Western States Roofing Contractors Association Board of Directors, and the company actively supports the National Roofing Contractors Association's Legal Resource Center.
The roofing industry has been subject to the demands of ever-changing trends, and National Roofing has consistently adapted to customer preference. The company has installed plenty of green roofs, mostly in the late 2000s, when demand peaked, although requests to incorporate plants and vegetation on the top of buildings have waned in recent years. National Roofing also has plenty of experience installing photovoltaic systems. Solar panels for those systems come from another New Mexico-based company National Roofing has partnered with. "Affordable Solar was a great partner on those projects, and still a fantastic company," Jackson reports. "They're doing some really exciting stuff. I'm a bit envious of how they're going to save the world and the efforts that they're taking."
The roofing industry isn't known for being environmentally friendly. One of the most long lasting and sustainable roofing systems is thatch. The problem is thatch roofs are not fire rated. They also aren't designed to support commercial grade HVAC units. "So it's kind of interesting and a bit regrettable that, as other things have typically gone greener and greener, our industry has yet to really come back on that," says Jackson. "But there are certain materials we use that I think are more environmentally friendly than others. Certainly, the rubber systems, due to the fact they can be recycled, or maintained for such a long amount of time that they wind up being much more sustainable than other systems."
The COVID-19 pandemic has presented a mixed bag of pros and cons for National Roofing. Public health guidance that calls for people to stay home and avoid travel has hit the hospitality industry hard. But closures have simplified some re-roofing operations. For instance, National Roofing is working on 23 buildings for a private school in Albuquerque. Before the pandemic began, a substantial amount of planning and resources went into diverting people from areas of danger. That was suddenly unnecessary when students and teachers were sent home. One surprising effect of the pandemic was its impact on National Roofing's service department. Normally during economic slowdowns, businesses go into maintenance mode and the service department gets busy. That didn't happen during the pandemic-induced recession because, with so many people working from home, no one was in the office to notice leaks and other signs that repairs were needed.
Looking ahead, Jackson wants National Roofing to continue growing. He's already in the process of merging three strategic partners – Midtown Metal, Building Envelope Services, and Colibri Media House – with National Roofing. This will help create efficiencies and put the company in a better position to achieve its goals over the next decade. There's a good chance many of the same employees working there today will be there to see those initiatives through. People who are hired at National Roofing tend to stick around. They also encourage their family members to apply, and the company has rewarded that loyalty.
"One of the interesting things is that I am not the only second generation employee at the company," says Jackson. "There are multiple people whose parents worked at National Roofing, or another family member in the generation ahead of them had a career at National, and now they're contributing, themselves. And in virtually all cases, they have actually risen above where their parents were in terms of their title and position."
As the company progresses, the foundation is held by the company values Jackson and his team have put into practice: "We say G.R.A.C.E, for what we have learned and continue to learn along the way", Jackson says with pride. "Gratitude, Resilience, Achievement, Consistency, and Excellence are the values we stand behind and put into practice each and every day."
AT A GLANCE
National Roofing
What: Award-winning roofing contractor
Where: Albuquerque, New Mexico
Website: www.nationalroofing.com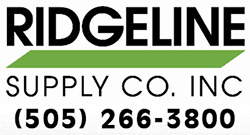 Ridgeline Supply Co. Inc. – www.rscnm.com
Ridgeline Supply has been serving the New Mexico Construction Industry for over 12 years. When it comes to the Built Environment, we're here to support the ever-changing Building Envelope.