Miralis
Quality, innovative workmanship, and sophistication meet unbeatable kitchen standards
For more than 45 years Miralis has been a manufacturer of high-end kitchen cabinets. Based out of Saint-Anaclet, in the province of Quebec, the company takes innovation and quality seriously and is a well-known name in Canada, and throughout the industry. With a focus on European style, each Miralis kitchen is one of a kind,with materials that are meant to stand the test of time.
Innovation is at the heart of the company, and a part of its mission, which is why twelve years ago Miralis changed its direction, taking a bold step that has brought much growth and success. CEO Daniel Drapeau explains, "We were making components for other cabinet makers, and we were also making our own kitchens in parallel to that. We had two kinds of business models at the time, but the core business was components, and the one that was growing was cabinets. It was difficult to innovate just with components."
With this in mind, the company slowly began to shift toward the cabinet-making model, focusing on building the brand as a maker of quality cabinets. "We used the analogy of the plane that is landing slowly while the other plane is taking off," says Drapeau. "It took 10 years to have the component plane hit the ground. 12 years ago, 70% of our revenues were components, and now we're at zero since 2019. When the plane hit the ground, and during that time, the cabinet side saw 500% growth. So, that was a good move."
Part of Miralis' commitment to innovation is also evident in their 36 product evolutions per year promise. "This is not a huge innovation, it's just evolving in line with what ourclients are asking for," says Drapeau. As all clients are business-to-business dealers, who are designing, reselling, and installing the products, the company relies on feedback from them to make these changes and improvements. Building 2 new innovations per year is another part of the promise to clients. "An innovation is something that is kind of a wow, plus can help them to generate volume to generate success," he asserts.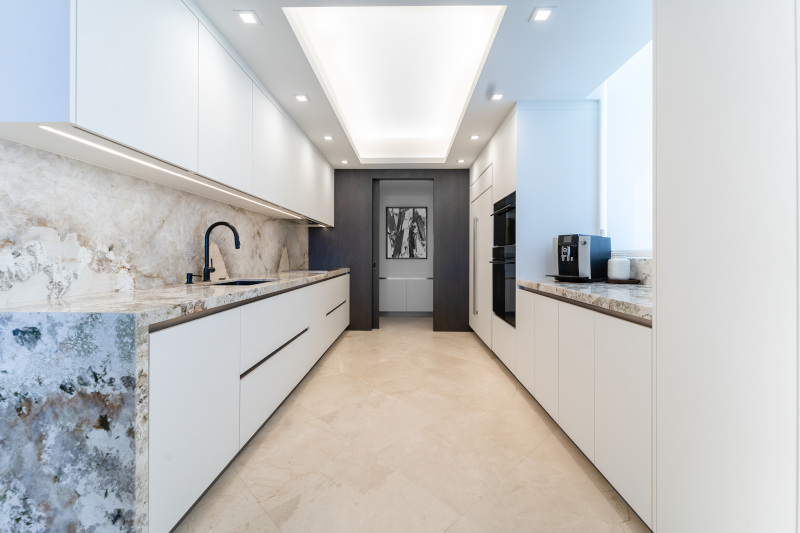 Every three years, the company takes things a step further, adding a bold innovation that Drapeau says is meant to disrupt the industry in North America. He conveys, "It is something like an invention, something that maybe doesn't exist here, or exists, but is not really successful. So, we're inventing it." Most recently, Miralis partnered with Fenix, a laminate manufacturer from Italy. "Durability is the keyword. The material itself helps us to offer products that will stay nice in time and stay beautiful because of the durability," maintains Drapeau.
With this material Miralis created a seamless shaker-style cabinet door, resulting in The Best of KBIS People's Choice Awards innovation that wowed the judges at the KBIS Kitchen and Bath show. "It was so well done from an engineering standpoint, that it looked like a painted product, but it was not. It's way more durable than a painted product," he boasts.
Although it is not common practice for a manufacturer to market directly to consumers, Valerie Briere, Brand and Communication Director, explains why Miralis elected to go against the norm. "That's one thing that we decided to do a few years ago because we believe in our brand. We wanted to push forward our brand so that consumers when they go into the showroom, they ask for Miralis products. We're a small company, but in Quebec and Ontario, in Canada, our reputation is getting better every day, and people are starting to know Miralis."
One of the primary ways that the company gets the word out about its products is through social media. A new website is also in the works, which will link customers with product and design information. Training is available to all Miralis dealers including a class focused on digital marketing. Briere notes, "We try to train our dealers so that they are also very visible on Instagram, and on all those digital platforms that are so important in our market and in the design industry right now." She adds that collaboration with influencers, especially those in Quebec and Ontario are another way the company builds its notoriety.
Although Drapeau admits the company felt the effects of the supply chain issues that are challenging the industry, Miralis has faced the situation head-on and with intention. He recounts, "In early 2021 we started to experience major issues with the supply chain. We decided to build a team that we call the crisis cell. It was an urgent plan that we built for managing the supply chain, managing inventory, and supplies. This helped a lot."
"Every day we were getting together, I was with them for the first month and a half every day with the team just to make sure that we were putting in the right level of effort that was needed to manage the situation," he adds.
"We had to find many alternatives to many suppliers, many products."
Although it was frustrating for many of Miralis' clients to be faced with substituting colors or recommending alternate products, Drapeau reports that the crisis cell helped to keep things under control. "That was difficult, because in their showrooms, they have the samples, and they have the kitchens that they're showing. They're showing the product, so it was difficult for them to manage," he relays.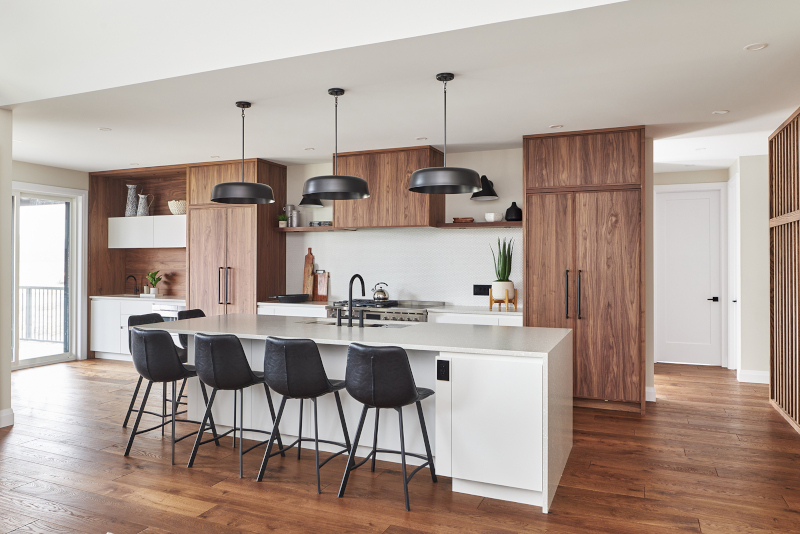 With over 270 employees, Miralis works to maintain a family spirit, which is one of the company's core values, and something which is taken seriously, as Drapeau maintains, "We want to develop this family spirit value not just with our people inside the company, but also with our suppliers, with our business partners, our financial partners, and our clients. This is really something that we want to build on, and sometimes if one of our partners or our clients is not totally aligned with this, we have a discussion with them because it's really important for us to have this family spirit."
Along with its commitment to family spirit and innovation, the company also holds to the core values of rigorous agility, commitment, and a positive attitude. About these values, he offers, "When we do something, we make it happen. We have a tendency to maybe talk less, but do more, or make things happen. We are doers, we like to innovate, truly innovate, and truly do what we say we are going to do. So those are the key."
Looking to the future Miralis is once again taking a leap, and bringing change to the company.
"In 2021 we figured out that it was time to do something special to increase capacity, and to also help the business model to be more sustainable long term," says Drapeau. "It was in July that we made that decision to move forward by presenting an investment plan to banks and financial partners, and to my board as well, so we could realize this growth plan." The plan involves a $45 million investment in two new plants, one in Saint-Anaclet and the other in Quebec City.
The Saint Anaclet plant will expand the current offerings of the company, but Drapeau stresses it will be a more automated and efficient process that focuses on added value jobs, using approximately 5 times fewer people to produce the same quantity of cabinets.
The Quebec City plant will bring a new type of business, introducing countertops to the portfolio, something Drapeau believes Quebec clients will welcome. He says, "We do the doors and the cabinets themselves, but we don't do the countertops. We want to jump into this business because we believe our network of dealers and contractors and promoters will like to also get a countertop with the kitchen provided by us, as a one-stop shop."
In alignment with the company's focus on innovation, this new plant will work with new technologies, bringing the products of the future. "We'll work with a sintered stone instead of quartz, and instead of natural stone like granite, and the reason is that sintered stone is very durable. You can put something very hot on top of it and it will stay intact. You can also have wine or blueberry juice or things like that going on top of it, and it will not stain." The manufacturing of the product is also healthier for employees, as it presses minerals together using high temperatures and pressure, instead of the glue that is required for products like quartz.
As for what else the future holds, Drapeau says automation is the direction for all manufacturing moving forward. "We will probably have one of the most automated plants in North America in the kitchen cabinet industry. This is risky to go that far in automation, but I hope we will become a model so others can also jump into automation. This is the key to the future."
AT A GLANCE
Miralis
What: Manufacturers of high-end kitchen cabinet solutions
Where: Saint Anaclet, Quebec
Website: www.miralis.com
FENIX™ Innovative Materials – www.fenixforinteriors-na.com
FENIX™ INNOVATIVE MATERIALS FOR INTERIOR DESIGN
With low light reflectivity, the FENIX™ material is extremely opaque, soft touch and anti-fingerprint. Thermal healing of superficial micro-scratches is also possible. FENIX is suited for vertical and horizontal interior design applications: kitchens, hospitality, healthcare, transportation, bathrooms and furniture.
Since December 2021, FENIX™ innovative materials are carbon neutral.
Italian design since 2013.