Phoenix REALTORS®
Pioneering Inclusive Homeownership in a Changing Landscape
With a clearly defined mission to reshape the local real estate industry, Phoenix REALTORS®'champions diversity and innovation for a brighter, more inclusive future.
In the dynamic landscape of Phoenix real estate, Phoenix REALTORS® is a shining example of excellence and innovation. This esteemed association, nestled in the heart of Phoenix, offers more than just a local affiliation. It's a gateway to a vast expanse of resources, benefits, and expertise that spans across state and national terrains.
What truly sets Phoenix REALTORS® apart is its unwavering commitment to its members. With exclusive access, members are empowered with the best market statistics in the Valley. The association's dedication doesn't stop there. It offers a plethora of benefits tailored to cater to the diverse needs of its members, from complimentary continuing education and listing media services to exclusive store discounts.
Furthermore, Phoenix REALTORS® takes immense pride in its members, who are recognized as experts in their field. The association actively showcases its industry knowledge, market analysis, and community involvement, ensuring its expertise resonates far and wide.
Navigating the Real Estate Roller Coaster
Butch Leiber, the President of Phoenix REALTORS®, offers a seasoned perspective on the market's fluctuations and the pivotal role of interest rates in the real estate industry.
"Our market in the last year has been a roller coaster, and it's entirely tied to the interest rates," Leiber notes. He paints a vivid picture of the market's ebb and flow, highlighting the direct correlation between interest rate shifts and buyer activity. "When interest rates go up, buyer activity drops off. When they drop down, activity picks up again," he explains.
Leiber recalls the frenetic pace of buyer activity when interest rates hovered in the high twos and low threes. However, as rates escalated to four, five, and even seven percent, a palpable decline in buyer enthusiasm was evident.
"Between September last year through the end of the year, we had the fewest each week and set a record for the fewest number of new buyers in escrow than any time in the last ten years," he shares. Yet, with the dawn of the new year, a resurgence in buyer activity was observed, a phenomenon Leiber attributes to buyers acclimating to the new interest rate landscape.
Leiber is a staunch advocate for consumer education, recognizing the media's penchant for sensationalism. He diligently crafts monthly market videos for his clients, aiming to provide a grounded perspective amidst the market's tumult.
"Consumer education is so important," he reiterates, addressing the need to dispel myths and counteract sensationalist headlines. Leiber recalls a recent story predicting a major market crash akin to 2006, challenging its veracity with a simple question: "Show me the data that indicates that's going to happen."
A Deep Dive into Market Dynamics and Member Support
Transitioning from the fluctuating interest rates, the conversation with Leiber goes deeper into the specifics of the association and its unique positioning in the market. "Phoenix REALTORS® is an association in the Phoenix area. We're part of three local associations, including the West and East Valley Association of REALTORS® and Scottsdale Association of REALTORS®,"
Leiber explains. As a part of the National Association of REALTORS®, Phoenix REALTORS®' primary mission is to support its members in achieving success in the ever-evolving real estate landscape.
Leiber emphasizes the association's commitment to equipping its members with the necessary tools and services to understand the market dynamics.
"We provide access to some data tools, one of which is called FastStats. It tracks actual data of what's happening in the market, such as the number of sales per week, new buyers in escrow, and new sellers listing their houses," he shares. This data-driven approach allows agents to stay updated and make informed decisions, especially in a market where the number of new listings has seen a significant decline.
Beyond data tools, Phoenix REALTORS® is dedicated to the continuous education of its members. "We offer monthly classes, covering topics of interest in the marketplace," Leiber states.
However, he also acknowledges the fine line between the association's role in education and that of the brokerages. "Different brokers have different opinions about how they want their agents to operate. Our job is to ensure they remain educated on market happenings."
Leiber's involvement extends beyond the local scene. He actively participates in national committees, bringing local issues to the National Association's attention. "Every market is different," he notes, recalling a conference where he engaged in discussions with presidents of local associations from across the country. While some markets were thriving, Phoenix faced challenges with high inventory and low buyer activity.
Drawing a comparison with Flagstaff, a smaller town in Arizona, Leiber observes the differences in market dynamics. "Flagstaff doesn't have the same level of disparity between buyer activity and inventory as Phoenix," he remarks. The size of the market, according to Leiber, plays a significant role in dictating these disparities. Phoenix, being one of the fastest-growing cities, witnesses a continuous increase in demand, even when the market faces challenges.
Real Estate Trends and Advocacy Efforts
In the ever-evolving landscape of real estate, understanding trends is crucial for both buyers and sellers. Leiber highlights the significant shifts observed in the Phoenix market. "As we've transitioned from a strong seller's market to a more balanced, buyer-friendly market, seller concessions have dramatically increased," he observes.
He points out that in the past 30 days, nearly half of all transactions involved some level of seller concessions. More strikingly, the amount of these concessions has almost doubled. "Typically, we'd see sellers contributing about 1% of the sale price towards buyer closing costs. Now, it's closer to 2%, with the median last month being $9,000 of seller assistance," he adds, emphasizing the stark contrast from the pre-Covid figure of around $4,000.
Leiber also touches upon the advocacy efforts of Phoenix REALTORS®, particularly in the realm of lobbying. "We have an extraordinarily strong state association that lobbies effectively to our state legislature," he says, praising Arizona's business and homeowner-friendly stance. At the national level, the focus shifts to broader issues, such as lending laws and affordable housing initiatives.
He highlights the recent changes to VA lending laws that benefit veterans. However, at the state level, the emphasis is on protecting homeowners. Citing an example from Rio Verde, Arizona, where certain communities face water shortages due to builders exploiting legal loopholes, Leiber underscores the association's commitment to safeguarding consumers. "We aim to pass laws that prevent such situations from arising," he adds.
Membership Dynamics and Addressing Local Challenges
Phoenix REALTORS® boasts a robust membership base, with over 11,000 members, making it the second-largest association in the state. "Local issues affect local Arizona real estate laws, but doing business in Phoenix is very different than in Sedona, Tucson, or Flagstaff," Leiber points out. With 14 associations across the state, each is tailored to protect its local real estate market, the realtors operating within it, and the consumers they serve.
A pressing concern across all areas is the rise of short-term rentals. While Phoenix grapples with this issue, it's more pronounced in places like Scottsdale, Paradise Valley, and Sedona. Investors are snapping up properties for short-term rental purposes, leading to housing shortages and pricing regular consumers out of the market. Leiber shares a personal anecdote,
"My neighbor sold her home to an investor who turned it into a short-term rental property. Every weekend there are new people, some noisy, some not. It has impacted my way of life." This scenario underscores the challenge of balancing homeownership rights for both investors and residents.
Leiber emphasizes the importance of local representation in addressing such issues, as different markets are impacted in varied ways. "Those are the kind of issues where your local representation makes a difference," he asserts.
When it comes to expanding the association's membership, Phoenix REALTORS® doesn't actively solicit members from other associations. Instead, it focuses on enhancing its services and offerings.
"We continue to try to provide better services, more opportunities for our members, and want more agents to join our association," Leiber mentions. He recalls a moment when he proudly shared a new feature, FastStats, on social media, suggesting that those without access might consider joining Phoenix REALTORS®.
Highlighting the composition of the board, Leiber notes, "We always look for practicing agents, people that are in business, doing business." The board prioritizes active agents who can stay attuned to the market's pulse and understand members' needs. "All of our board right now are full-time. We've got three brokers on our board, and all the rest are fully active real estate agents, Realtors," he concludes.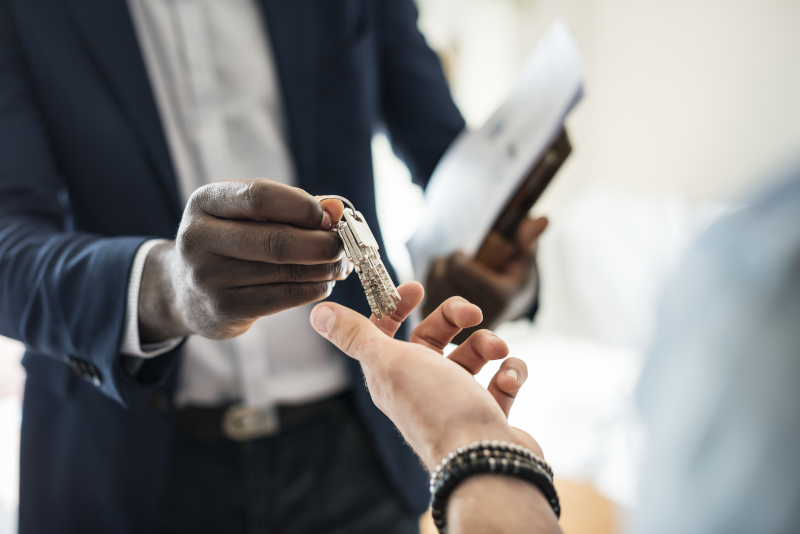 Navigating the Future with Inclusivity and Innovation
When asked about the overarching mandate of Phoenix REALTORS®, Leiber responds, "Our mandate is to educate our members, support our community, and further homeownership as part of the American dream." He cites statistics that homeowners possess 35 times the wealth of renters, underscoring the association's commitment to promoting the benefits of home ownership.
Phoenix REALTORS® has also forged key partnerships to bolster its mission. "We have an exclusive educational partnership with Desert Sage Seminars," Leiber shares, highlighting their role in offering free continuing education classes to realtors across the state. Additionally, the association is collaborating with the Denver Association of Realtors and the National Association of Realtors to invest in new technology, ensuring its members get first access to innovative tools.
Looking ahead to 2023 and beyond, Phoenix REALTORS® is set on a path of community involvement and inclusivity. "We want to be more actively involved in creating more affordable housing in the community," Leiber states.
He also expresses a personal commitment to diversifying the real estate community, noting the current disparity between the real estate community and the broader demographic landscape. "The real estate community does not match the racial diversity of our community," he observes. Leiber's vision is clear: "I want to see more youth get involved in real estate as a career. I want to see more people from underserved communities get involved in real estate."
AT A GLANCE
Name: Phoenix REALTORS®
What: A leading real estate association dedicated to supporting its members with market insights, educational opportunities, and tools for success in the Phoenix area.
Where: Phoenix, AZ
Website: www.phoenixrealtors.com