Taylor, Texas
Where good change is happening
Business View interviews representatives of Taylor, Texas for our focus on Economic Development and Growth in U.S. Cities
Big things are happening in the small town of Taylor, Texas. The city of 20,000 has some huge projects on the go over the next few years that will change its landscape for the better.
"There really is a lot going on," says Tom Yantis, Taylor's Assistant City Manager and Director of Development Services. Those changes include upgrades to housing, infrastructure, and some major new industrial projects. The biggest change is one that made international news: The City of Taylor, located in Williamson County, was recently selected by Samsung Austin Semiconductor LLC to be the site for its newest semiconductor plant. The company is investing $17 billion into the project, which includes $6 billion in property improvements and $11 billion in machinery and equipment, as well as the purchase of over 1000 acres of land for its six million-square-foot facility. It should be fully operational by 2025.
"Jurisdictions across the country and in other countries competed for the ability to have that facility locate in their community, and Taylor became a finalist in that competition among sites in Texas, Arizona, New York, and South Korea," Yantis reports. "Ultimately, Samsung chose Taylor as the site to move forward. It was a very intense process with 10 months of negotiations, and the city, the county, the state, and the school district had to pull out all the stops. It was really impressive to see how all those entities came together to make that project work."
The process was worth the effort as the manufacturing facility will create up to 2000 employment positions and is estimated to create somewhere between 6000 and 10000 construction jobs while the facility is being built. Taylor is also projected to take in $52 million in tax revenue from the facility over the 30-year term of the agreement.
In addition to the financial benefits, Samsung signed an agreement with the Taylor Independent School District to commit to offering paid internships to students each year. Yantis explains, "They will have a pipeline of students coming out of the Taylor schools that will have an opportunity to experience interning with Samsung as part of their high school experience." The Samsung facility – and its internship opportunities – will allow more Taylor residents to stay in the community, which is a priority for the city. Previously, many residents had to find work outside of the city and commute.
"One of the things that I think really sold the community on this concept of trying to bring Samsung to town was that it offers an opportunity for people to stay in Taylor throughout their lives, which was one of the challenges," Yantis says. "If you don't have employment, then as your population grows, more and more people are commuting to jobs outside the city. This gives us the opportunity to keep a lot of people locally. And not just through jobs that Samsung is going to create, but all of the other employment that's going to come as a result of Samsung."
Workforce development efforts are also taking place at Taylor's Temple College campus, which offers an early college high school program in conjunction with the school district to help train students for jobs available in the city. "Taylor Independent School District and Temple College are important partners for education infrastructure and workforce development and will become increasingly more important as Samsung starts training new employees for their new facility," says Stacey Osborne, Communications Director for the City of Taylor.
In addition to Samsung, the city has created even more industrial growth through its new RCR Taylor Logistics Park, a master-planned logistics and industrial park that is served by Union Pacific and BNSF Railway. "The developer constructed a rail spur off the main Union Pacific rail line into the property and it is a major improvement that will allow for businesses that need access to rail to be able to utilize that rail as a place for loading and unloading rail cargo," Yantis says. "They are leasing and selling portions of the property to other businesses that are needing access to the rail line on a permanent basis." The first building on the site will be a 350,000 square foot rail-served distribution building . In the future, the 750-acre park will be able to accommodate buildings anywhere from 50,000 to 1 million square feet.
With all these new employment opportunities available, as well as the city's close proximity to nearby Austin (a mere 29 miles), Taylor is projecting huge growth in its future. And that means a need for more housing. The city has several housing projects in the works right now, having issued 260 single family residential permits in 2021. That number is up from an average of 50-60 permits per year in previous years. Like most communities in the country, Taylor is facing a shortage of affordable and mid-range housing. To combat that, the city has updated its comprehensive plan to focus on the issue and come up with solutions.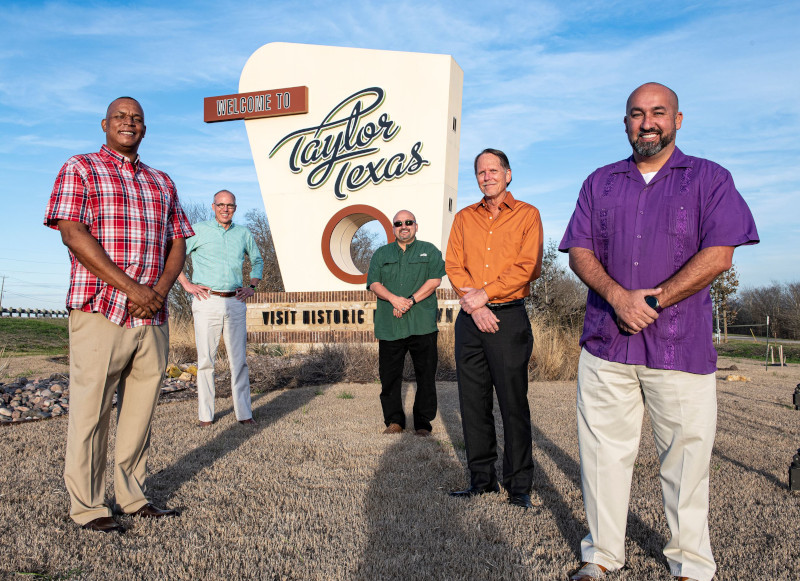 "The median household income is not keeping pace with the median home prices in Taylor and the Austin region," Yantis notes. "One of the big goals in the plan is to diversify housing production in the community to create more types of housing products to try to address this affordability gap. We are in the early stages of implementing the tools to try to achieve that through rewriting our zoning and subdivision regulations to ensure that the new neighborhoods include a variety of housing product types. To make sure we've got things that are affordable across the income spectrum."
Despite its big changes, Taylor is a quaint community that has worked hard to maintain its small town roots and historic charm. "The city works really hard to create a nice quality of life for its residents," Osborne explains. "Our City Council enacts fair, good policies for the city that always have the residents in mind. It's a charming city with a busy and vibrant downtown, and we have a lot of amenities that make it a really pleasant place to live."
The city boasts barbecue restaurants that are popular throughout the state, a skate park that draws visitors from throughout the county, 22 athletic fields, a community pool, an art center, theater, and a museum. Taylor also features a robust parks and trails system that makes use of local creeks and drainage ways, and also hosts special events and live music on city stages throughout the year. The downtown is filled with historic buildings, beautiful architecture, and plenty of retail and restaurant options that are easy to access and walkable from surrounding neighborhoods. Some of the downtown structures date back more than a century and are being carefully restored to their former glory and adapted for new use.
"Taylor itself is a well-preserved, historic small town that people gravitate towards because it really has that hometown feel," Yantis says. "I think once people discover Taylor, they fall in love with it and want to be here." As the city continues to grow, preserving that historic small town charm has been top of mind for most residents. To help ease their concerns, the city is recently completed a comprehensive planning process called Envision Taylor, that relied on community input on the future of the community.
"It's not a small feat to try to maintain your community's identity as you grow very rapidly," Yantis admits. "What we have seen, unfortunately, with a lot of our neighbors and surrounding towns that have grown really quickly is that they end up not having that small town character and quality of life that the community loved prior to the growth boom happening. So we spent a lot of time talking about the specific things that make the character real in the community. It has a lot to do with physical infrastructure and how the community is developed and built out, but it also has to do with cultivating relationships and ensuring that mom-and-pop businesses are able to continue to grow and thrive."
Despite some concerns, the residents of Taylor have been supportive of the growth and can see the potential it has to make the city an even greater place to be. "They understand the need for it and they understand that you don't go anywhere if you don't progress," Osborne shares. "The majority of people in Taylor love their town, see its potential, and really, truly understand that big changes can bring big improvements, which ultimately makes Taylor a great place to live, work, and play."
AT A GLANCE
Taylor, Texas
What: A resilient city; population 20,000
Where: Williamson County, Texas
Website: www.taylortx.gov