Paulding County, Ohio
Rural living at its best
Business View Magazine interviews Tim Copsey, Economic Development Director of Paulding County, Ohio, for our focus on Growth in U.S. Cities & Counties
Paulding County is a strategic hub in the heart of Ohio's major consumer, agricultural, and industrial markets. Fifty percent of the U.S. buying force lies within 500 miles of this progressive county, which boasts convenient interstate and turnpike access and two metropolitan airports just minutes away. From an aesthetic perspective, Paulding County's scenic rural landscape is a dream… populated with unique villages and an abundance of charm. What's not to love?
Tim Copsey, Economic Development Director for Paulding County, reports, "One of the things in the last year that we have identified as critical is our workforce. We felt that most of the workforce in our area is either already working or retired. So we started discussing different options with our schools, and each school came up with a very innovative way to work with our students to help them develop into tomorrow's skilled workforce."
With that in mind, the board of the local Antwerp school system decided to spend $1.3 million on a new Innovation and Aquaponics Center. The campus site is available for grades K – 12 to visit and do innovative projects supported by local businesses. The mutual goal is to help those businesses with their endeavors or workforce needs. The Aquaponics Center came into play because Paulding County is highly agricultural and some of that ag community has stepped forward to help the students understand and learn more about the aquaponics sector.
Not to be outdone, Wayne Trace Schools, another school system in Paulding County, developed a robotics team. That team is taking what they learn and putting together robots for competitions against other schools – they actually competed at the national level. Copsey explains, "All of those pieces are going to lead into what kind of jobs and employment are offered in our community's businesses, and that includes manufacturing. For the students to have hands-on knowledge of that in elementary school right through to high school is outstanding and gives them a step up on other students in the area."
With a steady population of about 18,600, Paulding County is open to growth in the residential housing market. "A young man has purchased the second half of what we call the "Countryside Estates" development, plus another eight acres," Copsey says. "Phase 1 has been complete for many years and now the gentleman has plotted out 44 home lots there, which they hope to start developing soon."
Another residential complex in Payne, Ohio just sold 24 home lots in a second phase and they are hoping to have three homes started there before the end of the year. In addition, the Antwerp Community Improvement Corporation has the option on 53 acres in Antwerp. They have a tentative master plan drawing that would bring in several multi-family, senior housing, and single family homes – a great boost for that community.
On the recreation front, the Friends of the Paulding County Parks District are actively improving all of the county facilities – many of which are on the Auglaize and Maumee rivers. "They are doing tremendous things in making them more accessible, cleaner, and just overall better for residents and visitors to enjoy," Copsey says. "The volunteers that they bring in to make all those exciting things happen deserve a lot of thanks." Given the idyllic natural surroundings, recreational tourism is a big draw in Paulding County. Especially in the summer because of the rivers and the accessibility for kayaking, canoeing, and other types of boating.
Proximity to the interstate and the turnpike plus two airports has Paulding County perfectly poised for growth. According to Copsey, "We reach out to promote our area through the Paulding County Business Weekly radio podcast, where we talk to individual businesses about what they offer and what they do in the county. That goes onto Spotify and we hope that people are learning more and more about Paulding County and all the very unique and neat things that we have to offer – not only in manufacturing but also in retail and leisure. Because of Intel coming into Ohio, as a chip manufacturer, that is drawing a lot of attention to the state right now, so we have jumped on board with all that type of marketing that's going out from Ohio standards – making sure they know that we're in Ohio and we're a viable piece of that action."
Paulding County is blessed to have large employers such as Cooper Farms, Baughman Tile, Spartech, Havelin Plastics, Paragon Tempered Glass and Lippert Components as significant members of the business community. That being said, the Paulding County Economic Development office instigates some pretty remarkable outcomes from its efforts. Most notably, Mercer Landmark is a farmer-owned co-op facility that invested $15 million into the county to bring all of their different fertilizer, spraying, and grain hauling operations into one location in Laddie, Ohio. They bought a grain holding facility from the Mormons, where they host all of the county at that one site. They can now load trains direct into the Norfolk Southern system – something that hadn't done in the county for 20 years.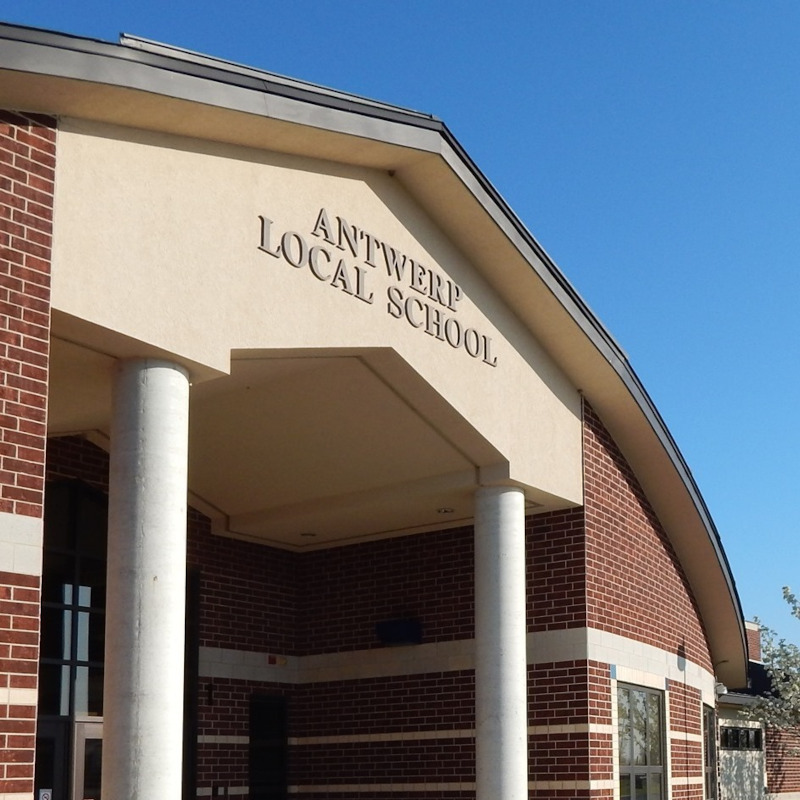 There is also space available in the county industrial park, in fact, they are currently putting the utilities infrastructure into another 53 acres that are being developed in that park. Of particular note, the Pioneer Railroad line just invested $9 million into the short line track that now connects the Norfolk Southern track with a CSX track. Copsey admits, "Beefing that up into a more usable state after years of deterioration, and being able to play those two Class 1 railroads against each other in pricing, has been a tremendous benefit to county businesses. As gas and diesel prices increase, rail is becoming a much more viable option for transportation of goods. Pioneer Railroad is also looking to invest funds in a drop site here in the county that would allow even some of our industry that isn't right on the line to use the train car for transportation and have it dropped on a site where it could be picked up by truck. It's a much shorter span than having to go to Chicago or North Baltimore or some of the bigger drop sites around us."
In an exciting step forward in the goal for broadband for all, the county committed to use some of their ARPA funds for broadband development with some of their small local users, if they were to bid on these projects. "We've heard presentations in nine of the twelve townships so far that have said they will use a portion of their funds for broadband improvement in their township," Copsey says. "The county has committed to match that amount, as have several of the local users. So we are now putting miles and miles of extra fiber optic infrastructure in the ground."
Already recognized as the greenest county in Ohio, Paulding County is currently in the process of installing a 49.9 megawatt solar field over more than 250 acres. The solar array will generate power that has been designated by Amazon for putting into the grid. They also have 265 privately-owned wind turbines in operation.
In the realm of water and sewer management, the county is looking at options for next steps, as their treatment plants age. "The state and federal governments have both said they need more collaboration instead of each individual town or suburb running their own facility," Copsey explains. "And with the lack of water treatment facility operators and supervisors, we need to work together to go after grants that would help fund the establishment of a single treatment plant for more than one community.
When it comes to storm water management and climate impact concerns, the Paulding County EMA Director is heavily involved with those type of discussions. Our mitigation plan is coming due again and he will be sitting down with smaller sub-committees to discuss what we already have in place and where and how do we strengthen it."
Summing up his favorite attributes about the county, Copsey shares, "The thing I love most about Paulding County is the willingness to collaborate and the support that every community gives to each other. This is an exciting county. It really makes for good rural living, with city amenities that people look for but don't even realize we have."
AT A GLANCE
Paulding County, Ohio
What: A charming, progressive county; population approx. 18,600
Where: Northwestern Ohio along the Indiana border
Website: www.pauldingcounty.oh.com   www.pced.net