Citrus County
Florida's sweet spot
Business View interviews representatives from Citrus County, Florida for our focus on Economic Development in U.S. Communities
Citrus County, Florida is a little different from most counties in the Sunshine State.
"One of the things you notice when you come to Citrus County is it's a lot less hectic than what most people know Florida to be," says Miles Saunders, Media and Content Manager for Discover Crystal River Florida. "We are about an hour and 45 minutes from Orlando International Airport and about an hour and 15 minutes from Tampa, but other than that, we have very little in common in terms of lifestyle with those two very busy places."
Life goes at a slower pace for the west-central Florida county, which includes Crystal River, Inverness, Floral City, and Homosassa. The semi-rural community has a population of around 154,000 with about half of its land dedicated as publicly held property including state forests, national wildlife refuges, and the 28,000-acre Crystal River Preserve State Park. "Even if we were fully developed out, we would still be a smaller place than say, Hillsborough County where Tampa is, or Pinellas where St. Petersburg is, or Orange and Osceola Counties where Orlando and Kissimmee are," Saunders explains.
Things are so different in Citrus County that they are one of the rare places in North America to not have a Starbucks. "That gives you a sense of how small we are," Saunders says, "but not too small. You get all the comfort and all the services you are used to – minus Starbucks. But you also have this rural feel."
Inverness, the county's biggest city with around 8000 people, is located along the Tsala Apopka and Henderson lakes. On the other side is Crystal River, made up of about 3400 people and situated around Kings Bay near the Gulf of Mexico. "The county basically goes from the gulf to the lakes," Saunders explains. "This part of Florida is so different than every other part of the state. There's forest, there's beautiful spring-fed rivers and lakes. It's a special place and people here really enjoy the quality of life."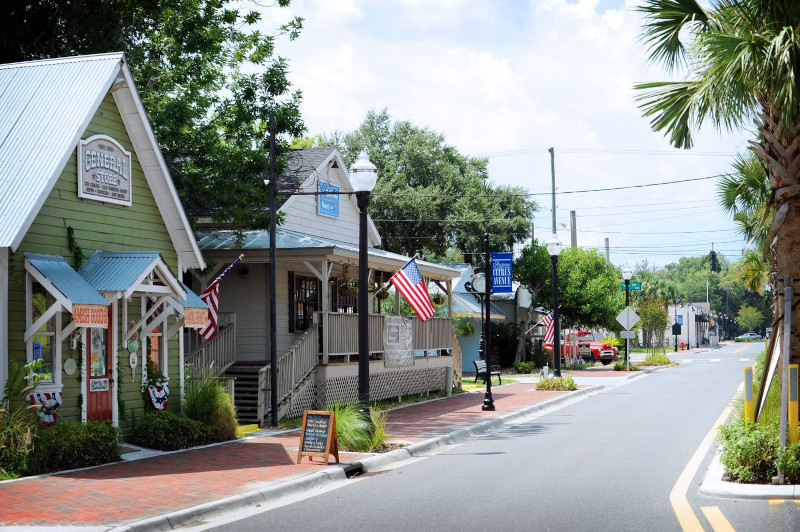 Aside from the relaxed pace, the area's unique geography and wildlife also make Citrus County stand out – thanks to the 600-acre Kings Bay. Connected via Crystal River to the Gulf of Mexico, the freshwater bay is fed by about 70 freshwater springs that maintain a constant temperature of 73 degrees Fahrenheit, year-round. According to Saunders, "What makes Kings Bay unique is that it is essentially a freshwater body within seven miles of a saltwater body… usually anywhere else in the world that would make us an estuary, which would be a place where fresh and saltwater mix. But because we have those 70 springs in Kings Bay, there's 225 million gallons of fresh water coming out every day. So, we have a freshwater environment just seven miles from the Gulf of Mexico and that makes us the Manatee Capital of the World."
Manatee season runs from about November 15 to March 31 of each year, which is when the Crystal River National Wildlife Refuge puts up manatee sanctuaries. Around 6000 to 8000 manatees flock to the area each year due to the warm water temperatures that are maintained throughout the winter months. The manatees – and the landscape – make Citrus County a prime place for ecotourism. About 20 per cent of the county's winter business comes from international tourists coming to see the manatees. "Our activities are mostly nature-based, and swimming with the manatees would be top, for sure," says Saunders. "We're one of the only places in the world where you can actually be in the water with the manatees in their own environment."
The area's second-biggest tourist season is in the summertime when boats take visitors out into the shallow waters of the Gulf of Mexico to dive into the seagrass bed to search for scallops. "It's an amazing experience that draws families and other folks in year after year," Saunders says. "The scallops draw in people from the region, from Alabama, Georgia, and, of course, Florida. That's usually most people's first introduction to Citrus County."
The area is also home to a thriving manufacturing and medical sector, with more than 6000 jobs that are medical, alone, associated with the two primary hospitals – Bravera Health Seven Rivers and Citrus Memorial. Florida has a slightly older population and a lot of retirees, so healthcare obviously plays a significant role. Accessibility Services Inc. is a prime example of the county's successful medical industry. The Homosassa-based business provides assistive technology for the severely disabled, as well as products for patients with spinal cord injuries or diseases like ALS. "I can tell you that in the 11 years we've been here, we've grown substantially – about 600 per cent," says Lisa Swiger, President of Accessibility Services.
Citrus County is prime for businesses thanks to its central location near Miami, Tampa, Jacksonville, and Orlando, as well as being less than eight hours from Memphis, Tennessee and Atlanta, Georgia. David Pieklik, Citrus County's Economic Development Director, reports, "You've got a significant amount of land that can still be developed from a commercial and industrial point and you're in the geographic epicenter of activity within reach of these larger markets. So it's very strategic from a distribution standpoint, from a supply chain standpoint, and from a growth perspective – attracting and recruiting these industries we are going after. There's a lot of opportunity to find a suitable location and expand."
The surrounding cities will soon feel even closer, as the project to expand the Suncoast Parkway into Citrus County is expected to open in the first quarter of 2022. The highway is a major toll road corridor that will soon connect Homosassa up to Lecanto and Crystal River. It will also provide a direct link to the Tampa International Airport. Funding is in place to eventually extend the highway all the way to US19. "It's a game changer," says Pieklik, "connecting these larger metro areas to Citrus without getting the gridlock impact. You can still work wherever you want in the county, go home, grab your kayak, go out on the bay and be back at it that day and not be caught up in the hustle and bustle that you might be in bigger areas."
To attract more business, the county is currently working on designing a business park that will be complete by 2023. The new park will offer about three million square feet of industrial space and will be a huge addition to economic development in the area. One of the industries they have their eye on is aviation. The county has two municipal airports, Inverness Airport and Crystal River Airport, which are ready to grow. The Inverness Airport is currently utilizing a grant that will make its business park "pad ready" for future growth.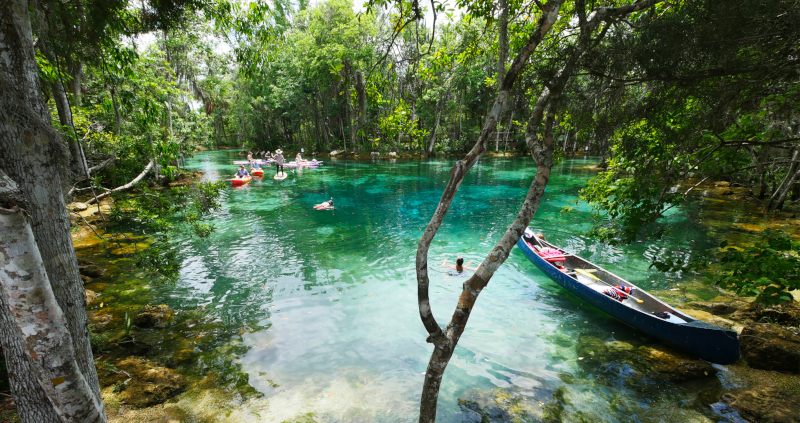 "We see opportunity there," says Pieklik. "If you look at the nationwide trends for the amount of airports that are being built, the expansions in the aerospace and aviation sector, we certainly see where we can position ourselves to compete in that arena."
In preparation for all the new business the county hopes to attract, there are plans in place to help set up the local workforce to enable future success. The county is working with K through 12 schools, as well as the local Withlacoochee Technical College and the College of Central Florida, to make sure their classes keep up with the workforce demand. Pieklik notes, "We're looking at things that haven't been thought of. In another three to four years there is going to be new technology, new advances, that are going to create jobs that we don't even know exist right now. The ultimate goal is to have that endless stream of talent pipeline where we could feed into the existing industry and then bring in support companies that feed into or feed off of those."
As Citrus County prepares to welcome new growth, the word "balance" is top of mind. "You have to support your small businesses and love your small businesses," says Pieklik. "They're the backbone, they are why we are here and able to do what we do. And once you get that set, you've got a solid foundation to go after those industries that complement, that create that added synergy."
AT A GLANCE
Citrus County, Florida
What: A semi-rural county of 154,000
Where: Located in west-central Florida, along the Gulf Coast
Website: www.citrusbocc.com
Aimco – https://www.aimco.com/
Aimco is a diversified real estate company primarily targeting the U.S. multifamily sector. Aimco's mission is to make real estate investments where outcomes are enhanced through our human capital so that substantial value is created for investors, teammates, and the communities in which we operate.