Atlantic City, New Jersey
Just getting started
Business View Magazine interviews the Mayor of Atlantic City New Jersey, Marty Small Sr., for our focus on Growth & Economic Development in U.S. Cities
Long before Atlantic City became the World's Favorite Playground – gambling Mecca and go-to place for entertainers, from Vaudeville to Hollywood, to come and grace the famed stages of the Steel Pier – this bright and breezy locale on the New Jersey Atlantic coast had the spirit of the morning sea; it held the promise of a great day.
That vision and continued commitment are what have allowed the city to mend and rebuild, whenever and however the foundation happened to have been destroyed. From Hurricane Sandy and the growing number of floods along the Jersey Shore, to the urban blight caused by the rapid construction of casinos, Atlantic City has certainly been dealt its fair share of bad hands in the past. Still, the city comes out winning, because it knows how to get up and move on.
Amid the crises, challenges, and opportunities confronting it today, Atlantic City is confidently settling into its new character and heading forward with an attitude of resolve and necessary determination. "As we say, it's a great day to be here in Atlantic City," affirms Mayor Marty Small Sr. "We're transitioning to diversify our offerings, to become more than a casino town. Investor confidence is at an all-time high. We have a lot of projects on the books, many of which are going to be neighborhood development. Our planning department has done a yeoman's job of coming up with those strategies, and some announcements we'll soon be making are going to involve big names."
With a residential base of over 38,000, there are already "thriving" and "historic" communities co-existing with the resort aspects of the area. "We make it plain and clear that the residents are our priority," Small continues. "We're doing things for the residents, with this administration, that haven't been done before."
Programming incentives to support local capacity building combined with a consistent tax decrease over the last three years are proof positive that the dynamic is shifting in Atlantic City. "I've lived here my whole life," shares Small. "I have a saying that I'm Atlantic City born, Atlantic City bred, and when I die, I'll be Atlantic City dead. We're changing the culture here, and as I tell everyone: we're just getting started."
The Mayor is getting the word out about the city's movements via the Great Day Gazette, a monthly report he created to keep residents apprised of all the local action. He also hosts a weekly radio show called In the Mixx w/ Mayor Marty Small, streaming live every Saturday on 96.1 FM "The Touch", and Sunday on 99.3 FM "The Buzz". "We don't want to give people an excuse to say, 'Oh, I didn't know about that'," says Small. "We're very active on social media, with the city's web page, and with myself, personally, getting information out to the residents."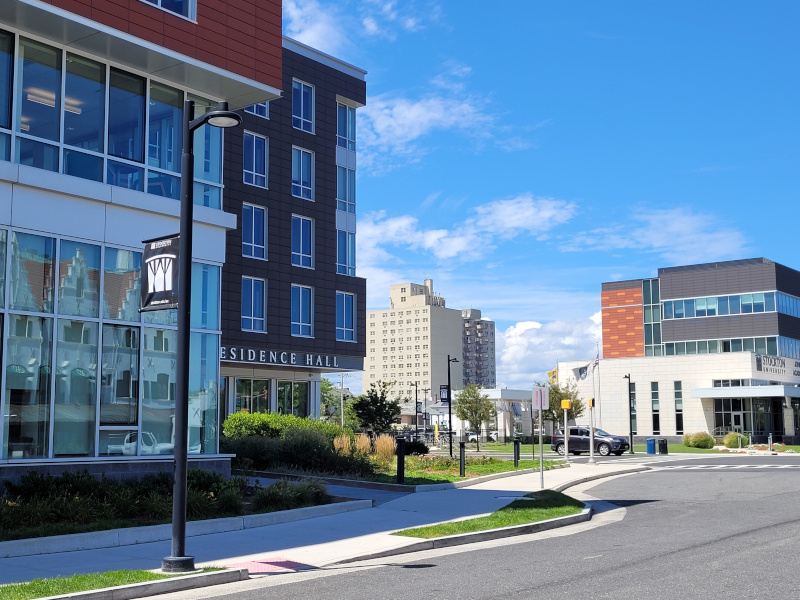 With some major issues facing the local economy, Small insists that the administration under his watch is going to be "aggressive" in what it does, "for the greater good and for the good people of Atlantic City." Part of the plan involves educating residents through the city's quality of life programming. The Mayor's office has a nine-week Small Business Academy, which is run by the New Jersey State African American Chamber of Commerce. They are about to wrap up their second cohort of the program – that's business and investments – which has been highly successful. In the fall, they'll embark on assisting residents with credit repair and financial planning.
Small says he's always looking for ways to give residents free programming, to cultivate their entrepreneurial spirit so they can succeed on their own. "I just happen to be married to the Superintendent of Schools, Dr. La'Quetta Small, who is the first African American female Superintendent in the history of Atlantic City," he shares. "Businesses in the city, particularly minority businesses, and specifically African American businesses, have been a dying breed. So, we've got that in mind. We're trying to give people opportunities to live their dream. If there's one thing the pandemic has taught us, it's that you can't take a job, a career, or a profession, for granted."
Also on the Mayor's radar are means of transforming Atlantic City into "that family destination," enhancing the community by bringing in something it hasn't yet heard or seen. "Atlantic City is going to be a totally different place," Small contends. "We have tremendous partnerships with our stakeholders, starting with the State of New Jersey. In addition to the Steel Pier, we have North Beach Mini Golf. We have the largest arcade on the East Coast, the Lucky Snake, which now has a new raceway. And next year, we'll all be sliding down those waterslides at the $100M Island Waterpark."
Already dubbed the largest beachfront indoor waterpark in the world, the 103,000-square-foot attraction at 801 Boardwalk – the brainchild of Philadelphia developer and founder of Tower Investments, Bart Blatstein – will be connected to the Showboat hotel's Premier Lite tower, and feature a waterpark, retail, dining, and spa options, all under a retractable glass roof.
"That's our biggest project currently under construction," confirms City Grant Consultant, Jim Rutala. "It's fully financed and set to open summer of 2023. Mr. Blatstein was very much responsible for the renaissance of the Fishtown area in Northern Philadelphia. Now, he's 100% invested in Atlantic City, with the goal of moving things forward. Not just for his own Showboat hotel, but for other pockets of the city as well."
The Small Administration is making a concerted effort to redevelop the areas along 'the beach blocks' that, surprisingly, given the city's coastal location, have been ignored for some time. "One area, which was the most rundown of the city, we called it the Dead Zone, is now the Orange Loop," says Rutala. "It's a mix of New York Avenue, Tennessee Avenue, and St. James Place, just like in the Monopoly game. Now it includes one-of-a-kind restaurants, bars, and also housing and other services. Phish was in town for three days for a beachfront concert, followed by the three-day TidalWave Music Festival beachfront concert the following weekend, and the Orange Loop businesses were packed. It really does appeal to a younger generation, and the developers involved have been very successful in sourcing the right ingredients."
There are even more housing developments planned, such as Boraie's recent construction NoBe,a market rate rental apartment community situated at 600 Atlantic Avenue, near the Ocean Casino Resort. "Wasseem Boraie has been very aggressive; he's a well-known developer in New Jersey," Rutala notes. "He now has a joint venture deal with MGM Resorts International to complete an upscale condo development. So, there's lots of housing on the horizon."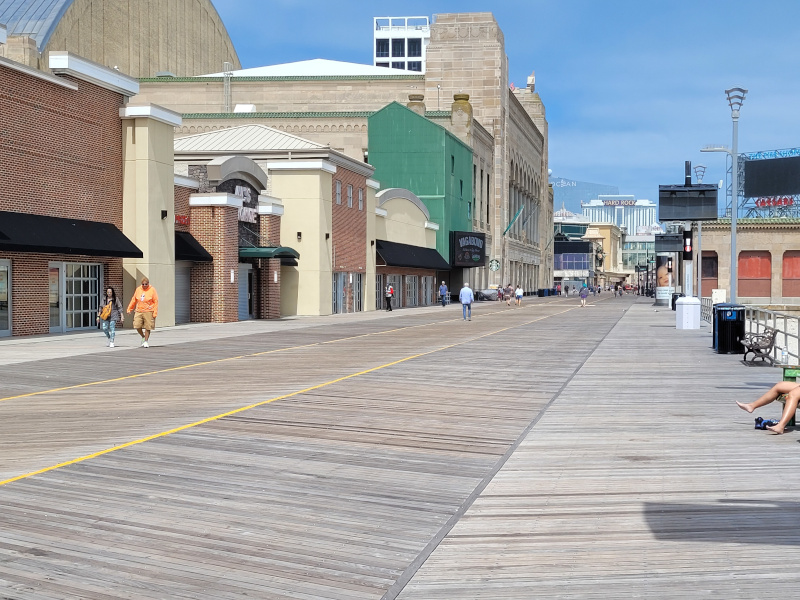 Each neighborhood has or is developing a neighborhood-based plan, getting into a position where they can receive State funds to implement their proposals. "Those plans can fund housing rehab, facade improvements, a number of different things," Rutala adds. "Atlantic City is really diverse – that's one of its charms and the strength behind its people. And these neighborhoods are really starting to tap into all of these wonderful qualities."
As for the city itself, it's latching onto several clean energy projects, hoping to make resourceful good use of its offshore wind farming capacity. "What's happening all along the East Coast right now is not just about resiliency, but about flexibility and adaptability," Rutala says. "The city has two offshore wind projects – Orsted and Atlantic Shores – that are off the coast, with their operation and maintenance centers located in the city. So, that's going to be a major employment driver. The Atlantic Cape Community College also applied for and won a $3M grant from the State to build New Jersey's only offshore wind training center. That's going to be located at their campus in Atlantic City."
The center will be where basic training and mandatory certification for new wind employees will take place. As an offshoot of the city's ever-evolving quality of life project, council is also accepting proposals to develop a workforce development program specific to the wind industry. "We'd love to reach into the elementary schools and high schools and get people prepared for a career in offshore wind," Rutala says. "Because the industry is going to bring thousands of jobs to the Atlantic City area, and it doesn't require a college degree. It requires some skills and training, and the training is available. So, it's a real opportunity for many of our residents."
"Between climate-related issues, the diversification of employment and economic bases, the housing issues and social issues, everything has a cumulative effect on what we're calling shared prosperity," says Interim Director Planning & Development, Jacques Howard. "What's taking place now will have positive repercussions into the future. This is a comprehensive strategy that is sustainable, building upon the city's most valuable asset, human capital. We want new construction and rehabilitation of existing infrastructure to preserve our neighborhoods, creating walkable, vibrant communities. I think that's really the goal here."
"Please be patient with us," Small says, in the name of the city. "Because God isn't through with us yet."
AT A GLANCE
Atlantic City, New Jersey
What: A popular coastal resort city; population approx. 38,000
Where: Atlantic County, New Jersey
Website: www.atlanticcityng.com    www.acnj.gov

Envision Innovative Solutions, Inc. – www.envision-is.com
Envision Innovative Solutions has served federal and commercial customers for over 15 years with software, systems, IT, and cybersecurity services. Envision provides endpoint-to-endpoint solutions leveraging emerging technologies like AR/VR to enhance learning, training, simulation, and real-time maintenance. Headquartered in Manasquan, NJ, we are ISO 9001:2015 and CMMI DEV/3 Certified.
Archer & Greiner, P.C. – www.archerlaw.com
Founded in 1928, Archer is a full-service law firm serving Fortune 100 clients, small to medium-sized businesses and individuals. The firm provides litigation and transactional services in nearly every area of law. With 175 attorneys, Archer has nine offices, including Voorhees, Hackensack, Princeton and Red Bank, NJ; Philadelphia and Harrisburg, PA; Wilmington, DE; New York, NY; and Houston, TX.