Town of Lancaster, New York
Bountiful opportunities
Business View Magazine interviews Ron Ruffino, Supervisor of the Town of Lancaster, New York, for our focus on Economic Development in U.S. Communities
Over the past few years, the Town of Lancaster, New York has seen a lot of positive changes. The community of 45,000, has welcomed a large influx of new business, new growth, and bountiful opportunities. Millions of dollars have been invested into the town, which has made for sustainable growth that will continue to give back to the community.
One of the most unique new additions to the Erie County community is the Premier Dog Sports & Event Center, a 28,000 square-foot facility that sits on five acres of land in the town. The facility offers agility training five days per week and hosts competitions and events. "This business is a dream come true for (Premier owner) Shelly Gordon and I'm so happy that she decided to locate here in Lancaster, New York," says Lancaster's Town Supervisor Ronald Ruffino. "I know she had looked at other areas and wasn't having much success, and when she came to us, we welcomed her here with open arms because it was a tremendous opportunity for both her and the town."
The Premier Dog Sports & Event Center facility is unlike anything else in the state and has drawn people in from all over the U.S. and even parts of Canada. Ruffino knew from the moment the facility was proposed that it would be a boom to the community. "I viewed her vision as an opportunity for the Town of Lancaster," he recalls. "As a former travel hockey coach while my son was playing travel hockey, our family was travelling to places like Detroit, Cleveland, and parts of Canada for tournaments. When you are travelling with your whole family, what are you doing on your spare time when not attending a game? You're out eating at their restaurants or visiting one of their attractions. In addition, you are staying at their hotels and gassing up at their gas stations. So overall you are spending your hard-earned dollars at the businesses in that community, and I viewed Shelly's business the same way. These dogs are children to these people that are heavily involved in this type of activity. These are their hockey tournaments."
Premier has helped make Lancaster a destination for tourists, and businesses are seeing the benefit.
"I have people come in from out of town for weekend shows and the next day they'll say 'Oh, I went to the greatest restaurant last night'," Gordon explains. "We held a basset hound fundraiser at my building and we had 300 people and 200 basset hounds and we had so many people from out of town. The Vice President of the group said to me, 'I took my mother in law to Ripa's and she said it was the best Italian food she's ever had in her life and she's 80.' And they go to Clarksburg Cider and they hang outside with their dogs. I just love hearing how my customers are exploring the town, and with all the new projects coming, we'll have even more places to refer our customers to."
Many new businesses are taking advantage of the influx in tourists and residents, with unique offerings popping up all over town. A new 6,000 square-foot brewery and taproom is slated to open in late 2022. Brazen Brewing, LLC is a father and son venture that will employ four full-time and 10 part-time employees. "The brewery is a new type of business for the Town of Lancaster and will produce, sell and distribute their own personal brews," Ruffino explains. "This is a much-needed service for the northern part of town and will complement the area."
Then there's Glassco Management, which has recently embarked on a three-phase project to bring multi-use housing to the community. Phase one broke ground last March and is already up and running.
The building is a 27,000 square-foot apartment complex that includes 18 units, as well as six retail spaces below. Seventeen of the units are traditional apartments, with the remaining unit being used as a short term rental. One of the traditional apartments is ADA compliant. "People that come in for temporary stays can be comfortable there," says Tom Sweeney, the project's developer. "They have all of the comforts of home, the place is fully furnished with everything you would need. It has a full kitchen and all the facilities to cook and everything you need to live there."
When the short-term rental unit hit the market it booked up instantly for three months straight, and the traditional apartments filled up in six weeks' time. "We thought the stabilization rate would be about three per month, which is pretty typical, but with the type of market we are in and the demand for apartments, it's been crazy," Sweeney adds. "We still get calls and we have waiting lists for all our apartments. The building is 100 percent full."
On the retail side, the complex has a range of shops that are meeting the needs of Lancaster residents and tourists alike. There's 716 Athletics for children and teens to purchase athletic wear and equipment, a family-run bakery, handmade bath goods store, hometown coffee shop and deli, a well-stocked wine bar, and a third-generation jeweler. Five of the six shops are women-owned businesses, and they have already proven quite successful. "The Bathe Store had so many people that they're actually running low on some products, so she has to start creating again," Sweeney exclaims. "It's been a great problem to have. They are very surprised by how much demand they are seeing. They're doing phenomenal."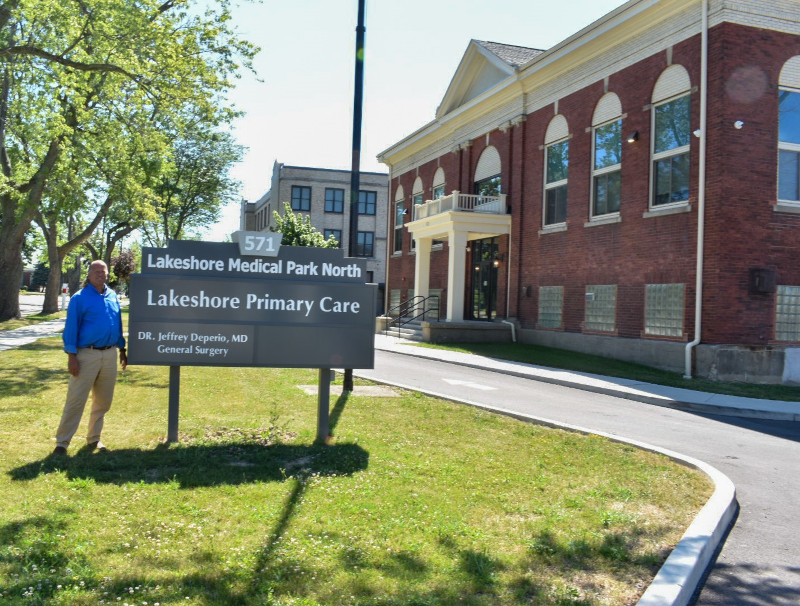 Phase two of the three-phase project is scheduled to begin soon, and Ruffino cannot wait to see the continued impact it will have on the community. "It's mixed use and that allows people to move in, but it also means that the hard-earned dollars that are made in our community are being spent right back locally with the opportunity that they have created here with this multi-purpose structure," he explains. "This is going to continue on with the next phases and I'm sure phase two, which is the next portion, will be every bit as successful. From our standpoint, it's very important to keep our local dollars spent locally so that we get credit for our tax base."
As the Lancaster community grows, so has the town's demand for water. Complaints have begun to come in about water pressure due to old piping, so the town has been focused on replacing old lines to bring better service to its residents. Lancaster is investing $2.6 million into waterline infrastructure using money from the COVID Relief Fund. "We felt that was where we would best use the funds," Ruffino says. "We have a pretty long list of water line projects that need to be taken care of and this helps reduce that list. It should make a lot of people happy."
Ruffino has been working hard over the past few years to set the Town of Lancaster up for glory and keep those residents happy. He helped land the new 270,000 square-foot warehouse opened by Derek Corporation after they debated locating to Texas, and he convinced the Tops grocery store chain to keep its' warehouse in town after they were purchased by Price Chopper. Keeping Tops here helped save at least 750 jobs in the community.
"Losing the Tops warehouse would have been a tough thing to recover from in our community," Ruffino reflects. "People don't realize how much of a ripple effect that would have on us. Down the street from Tops is a pallet company that produces specialty pallets for them and that would have wiped out that whole production line. It may have affected Tom's businesses because of those 750 people, most of them are local. Now all of a sudden they can't shop at the stores, they don't have the money or are moving somewhere else. These are the things I'm thinking about. They are key to our survival."
Ruffino's passion for the Town of Lancaster is unending, and he plans to keep fighting to maintain the community as a true destination and a place residents can take pride in calling 'home'.
"I love what I'm doing. It means a lot to me and in my heart to be giving back to my community that I love so much," Ruffino shares. "I want to make sure we are known as a well-rounded community. We have a Youth Bureau and Senior Center providing activities for both the young and the elderly. Our parks and recreation opportunities are also very important. We have the Heritage Trail where you will always find people walking, biking, jogging, etc. We offer a lot of great amenities here with soccer, baseball and football fields, we have a lot of things going on. Keeping all of these things up and running is extremely important to me."
AT A GLANCE
Town of Lancaster, New York
What: A business-friendly, growing community of 45,000
Where: Erie County, New York
Website: www.lancasterny.gov