West Seneca, New York
Embracing art, history, and community
Business View Magazine interviews representatives of the Town of West Seneca, New York, for our focus on Economic Development in U.S. Communities
West Seneca, a suburban community in Western New York, is a town with a vibrant past, dating back over 10,000 years, when the area was inhabited by the Seneca People. West Seneca's rich history includes the arrival of German Lutheran immigrants known as the Ebenezers in the mid 19th century, and a strong connection to arts and culture. Since its incorporation in 1851, West Seneca has grown and evolved into the welcoming, thriving town that it is today.
Centrally located in Erie County, West Seneca is just 10 minutes away from downtown Buffalo and only 15 minutes from the Canadian Border. Accessible from major highways, I-90, 219, and 400, the town is gaining attention as an ideal location for development. Gary Dickson, Town Supervisor shares, "People in the development community are starting to realize that West Seneca is located practically in the middle of Erie County. We have good transportation infrastructure, and as far as the developers are concerned, we have a more streamlined process."
Joe Kirchmyer, Executive Director of the West Seneca Chamber of Commerce, adds, "We've been really fortunate coming out of the pandemic that the desire for commercial space has gone through the roof." With several new restaurants, including a brewery, a Rachel's Mediterranean Grill, and a Burger King coming to the community, along with a variety of new retail offerings, Kirchmyer asserts, "People have always said they want more restaurants, they want more entertainment venues. I think now that we've turned that corner, we are going to be giving them a lot of those community assets."
Cycling has become a popular recreational activity in West Seneca, where a bike pump track, built by Pinto Construction, was opened in 2021. The track was the vision of Free Wheel Mobile Bike Shop owner, Chris Holmes, who is also a member of the West Seneca Bike Group. This track, along with a new splash pad, have been a draw for residents, who may soon have the use of a Kayak launch pad that is in the discussion phase.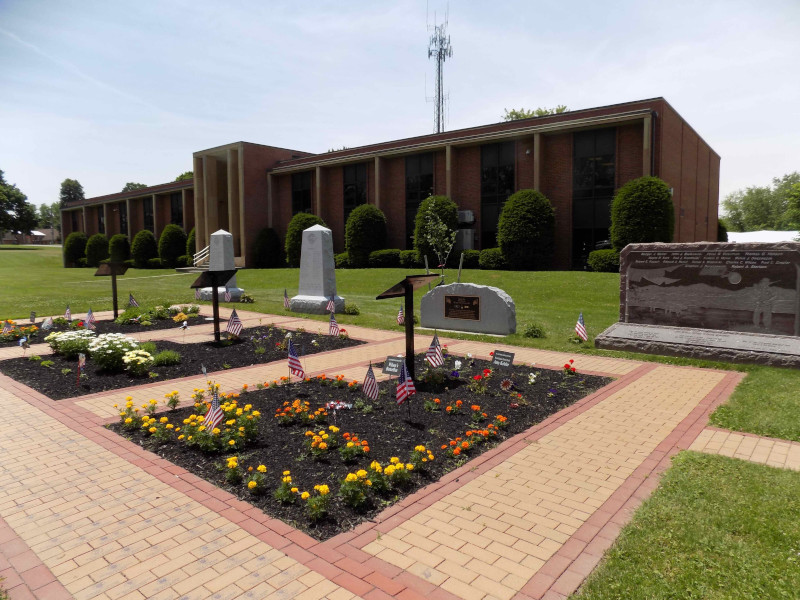 As for housing, Dickson reports that a new development, Queens Landing, will bring 75 new duplexes to the community at a price point of under $250,000. He shares, "New developments over the last 10 years have been at the upper end of the housing market, which in this area is $400,000 and up. I realize that in other parts of the country that would seem to be a bargain, but here that's the beginning of the high end." Luxury homes are also being built throughout West Seneca, with developers Greenspring Development and David Homes bringing 50 luxury homes and more than 40 luxury patio homes to the community. The Midtown Apartment complex, through Young Development, is expected to be completed in the summer of 2022, bringing even more residential options.
With new businesses opening along two major corridors, and expansions to existing businesses such as WNY Federal Credit Union, workforce housing is not a concern. Cheri Forsythe, Community Development Coordinator with the West Seneca Chamber of Commerce, describes, "We are central, so, housing isn't an issue. We can be easily accessed from people who live all around Erie County, which is a benefit to us." Kirchmyer explains that West Seneca's central location means there is also a larger draw for employers to source skilled workers. He shares, "In Western New York, you can get anywhere in 15 minutes. That's especially true of West Seneca, being so central. Our location is really key for residents and businesses."
Proximity to the Canadian border is also beneficial, drawing businesses such as Worksport Ltd., that has purchased 222,000 square feet in the town's industrial park for their new truck bed cover manufacturing facility. "They're from Mississauga, and they were looking for something that's easily accessible from Canada and into the U.S.," Forsythe says. "They chose West Seneca and I think a big part of it was our location."
As the town continues to see growth in commercial investments, Kirchmyer believes that this is partly due to the fact that commercial property has not kept pace with the rising costs of residential real estate. "People saw it as an outstanding opportunity to begin to invest in the town, and in many cases, purchase buildings that had been vacant for a number of years," he explains. "Now, we're seeing all these new businesses pop up, and it's wonderful. We are excited about all the development; we couldn't be happier right now."
Putting the town on the map as an arts destination is part of the plan, with sites such as the Charles Burchfield Gardenville District attracting fans of Burchfield's work. A watercolour painter known for his unique style, Burchfield spent the later part of his life in West Seneca and is a celebrated part of the town's history. "The Charles Burchfield Gardenville District has really taken off. The success that we've had over the past year has actually been pretty incredible," says Kirchmyer. "The key piece of property is the Charles Burchfield home and studio. The couple that owns it, the Millers, are adamant about making it a showcase for Burchfield's work. There are going to be art enthusiasts coming from all over the world that are interested in his work."
The district is also home to the Burchfield Nature and Art Center, which is currently experiencing a revitalization. Christian Metz House, an original Ebenezer house, and the oldest building in West Seneca, is located in the same area of the town and will be open to visitors after undergoing some renovations. Forsythe reports, "There are a lot of separate sites within that area and we wanted to work together to promote it as one, so that we could take advantage of all we have to offer. From creating social media presence for it and just starting to promote it, it's really taken off."
Kirchmyer agrees: "Once we get those buildings open, it's going to be a game changer for West Seneca. You are going to see us really flourish as an arts and tourism destination." Walking tours of both the Burchfield District and the historic Ebenezer district are available through Explore Buffalo, an organization offering tours of cultural and historic destinations throughout Western New York.
Further promoting the Burchfield legacy, the town has renamed the atrium of a new community center after the artist's daughter, who was also a painter. The Martha Burchfield Richter Atrium will be used as a gallery, which thanks to a benefactor will feature the artwork of its namesake, among others. Dickson recounts, "When the building at the nature and art center reopens, hopefully later this year, we'll have a multigenerational show of Burchfield, which will include the atrium and include the building." As a public/private partnership, Dickson emphasizes that the public part is in the supporting role and the West Seneca Chamber of Commerce and the volunteers have been the lead, with the town offering assistance when needed. "I think, especially in this kind of project, that is a good thing, because administrations come and go, but the people who are passionate about projects remain," he says.
Awarded a preservation award for their efforts in the Burchfield Gardenville District, the West Seneca Chamber of Commerce were also the first Chamber to receive a Torch Award for Ethics from the Better Business Bureau of Upstate New York. Kirchmyer offers, "To be awarded something for your ethics, I can't think of a higher, or a better award to receive. It just shows that every dealing we are involved with is a partnership, whether it's with the town, or the business community, or the residents. We have to be honest and transparent in everything we do, and to be recognized for those efforts says a lot about the West Seneca Chamber of Commerce, how we do business, and how we deal with not only the West Seneca community, but the entire Western New York business community."
As for what comes next for the town, Dickson relays, "I'm cautiously optimistic that the economic environment is not going to cause us too much difficulty. I think most governments in the U.S., at least, are headed into this period relatively flush with cash for various reasons, including federal aid and increased economic activity." He shares that there are plans to replace a community pool with a community space, based on input from residents. "Personally, I'd like to see something that's multi-purpose, a large concrete area that can be used for ice skating in the winter, roller hockey, pickle ball courts in the summer, perhaps even concerts there."
While celebrating a fascinating history, West Seneca continues to move into a future filled with possibility.
AT A GLANCE
West Seneca, New York
What: A refreshing, historic suburb of Buffalo; population 45,000
Where: Erie County, Western New York
Website: www.westseneca.net
West Herr Auto Group – www.westherr.com
New York State's largest vehicle retailer
A proud contributor to the Western New York community since 1950, West Herr Automotive Group is dedicated to absolute excellence in customer service provided by honest, responsible and respectful people. Along with supporting individual pride, company spirit, and community involvement, we provide a safe work environment that encourages creativity, innovation, clear career paths, and personal growth with sound financial performance.
West Herr has been voted Buffalo Business First Best Places to Work for 18 consecutive years and is an 8-time recipient of the Better Business Bureau Torch Award for Ethics – every year that we were eligible since 1998! West Herr strives to be the auto dealer of choice for our customers, the employer of choice for our co-workers, and a model of integrity and excellence for our industry and our community.
With the recent completed purchase of Ontario Mazda in Canandaigua, West Herr Automotive Group now has 35 locations across New York State with 11 dealerships in the Rochester area, representing 24 different brands.
West Herr Cares!                     
Without the support of the people in this city, West Herr could never continue to exist as one of New York's favorite car dealership groups. We are proud to give back to the community through many great charities and organizations within Western New York State, including Botanical Gardens of Erie County, The Buffalo Zoo, Child and Family Services, Cradle Beach, ECMC, Erie Community College, Erie County SPCA, Explore & More Children's Museum, Family Justice Center, FeedMore WNY, Hospice Buffalo, and Roswell Park Comprehensive Cancer Center.
What sets us apart?
Our customers come first and we will make sure you leave 100% satisfied with your experience. You can even buy your vehicle online and West Herr will get it delivered to you!
West Herr's multiple award-winning dealerships and staff are continuously recognized, by nearly every major vehicle manufacturer we represent, for the quality of service our staff delivers to our customers.
West Herr offers many products and protections, and our dedicated team of finance professionals are ready to review options that will suit your individual needs. We will get you pre-approved, regardless of your credit situation.
You can buy with confidence at West Herr. We use SMART technology to scan the market for every comparable vehicle offered for sale within 500 miles of the area. Then, we price our vehicles according to a number of market factors.
West Herr Automotive Group – we are here for you!