Berthoud, Colorado
Enjoying life on the Front Range
Business View Magazine interviews representatives of Berthoud, Colorado for our focus on Economic Development & Growth in U.S. Towns and Cities
For those looking for picturesque mountain views in a place that takes conservation to the next level, Berthoud, Colorado is a town waiting to be discovered, enjoyed, and called home. This community on the Front Range of the Southern Rocky Mountains is full of friendly folks who have their eye on environmental and technological innovation. From water conservation, ecological diversity to technological advancements in space, Berthoud has environmental progression down to a science.
It's a special place to those who live and do business in the town that sits in both Larimer and Weld Counties because they're encouraged to have their own personalities show in everything they do. They are also supported to continue growing, progressing, and evolving with the help of the municipality and the community.
Curt Freese, Community Development Director, believes Berthoud is a one of a kind place. He shares, "It's kind of rare. It has a really mature tree canopy in the old part of town… I don't know of any other town around here that has so many mature trees. It's something that definitely sets us apart – and we look straight at the mountains. We have an unimpeded east to west view toward the mountains. That's a very nice selling point."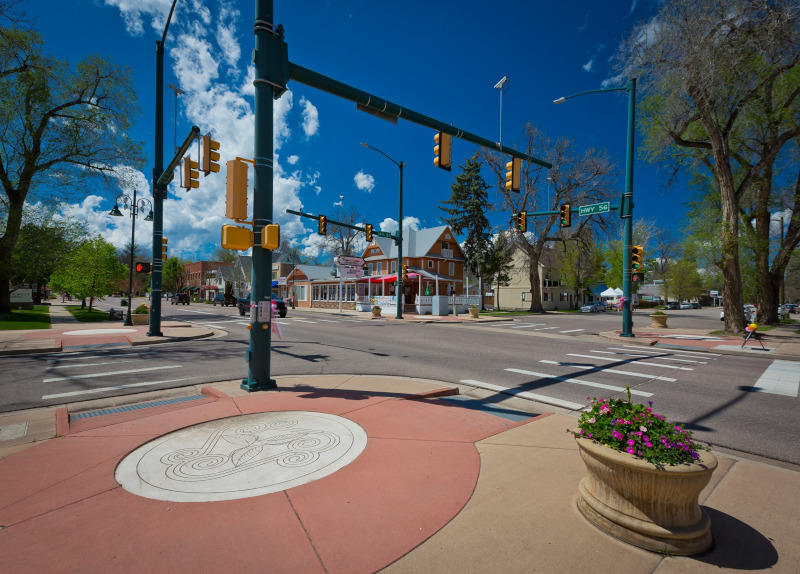 In the 2020 census, Berthoud's population was 10,332, but a steadily growing influx of people and businesses since just before the beginning of the pandemic has pushed the population to more than 13,000. As Town Administrator Chris Kirk reports, "We're changing so fast that when we got the U.S. census numbers from the 2020 population data, by the time we received it, it was already pretty significantly out of date."
Kirk believes one of the major contributing factors to the migration to Berthoud is its location. "We are so close to these larger municipalities, but yet we've still maintained this really small town feel. The town is growing rapidly, roughly doubled in the last five years in population, but we still have a great core in our downtown, wonderful local businesses, good schools, and we're just a great place to live along the Front Range. We have access to everything you could want, but then you come home and relax a little bit."
One of the things that makes small businesses in Berthoud successful is community support of the downtown, but also a lot of the business owners know the town inside and out. Walt Elish, Business Development Manager for Berthoud, says a lot of small business owners that need to expand want to stay in the town. He notes, "A lot of them have lived here, and their kids go to school here and so, when they look to expand, they look to stay."
So many people are moving to Berthoud that it's difficult to keep their housing stock up, but they have several subdivisions being developed and built rapidly. The town is also looking to redevelop part of downtown to accommodate more residents. Those new subdivisions and developments come with a requirement that a variety of housing types be constructed to create more financially attainable housing options.
Kirk says over the last four years staff have worked tirelessly to comprehensively rewrite major sections of the development code to improve open space, park involvement, land use types and mixes. Last year they adopted a new comprehensive plan that outlined the town's desire to maintain it's small town feel, while continuing to enhance growth in already developed areas, and also protecting a rural belt around the town for the next 20 years. Kirk states, "One of the great things about Berthoud is you get out on I-25 and head west into town and drive through four miles of farmland. It's a unique setting as you approach our community, and the town really wants to maintain that."
Those regulations take the environment in to consideration with regulations for new and finished developments to create water efficiencies, pollinator gardens, and they also plant hundreds of diverse tree species throughout the town annually. With a nod to the future of transportation, there are EV chargers in the town and every new commercial development must have one, including multi-unit residential developments.
Although a lot of Berthoud residents commute to nearby municipalities for work, the community's main industries focus on aerospace. Ursa Major Technologies creates and tests rocket engines and their headquarters are located in town; Agile RF Systems, who make satellite antennas, also have their headquarters in Berthoud. In addition, there is a variety of long-standing machine shops that service those and other companies. Most of the businesses are located in the town's industrial area on First and Second Street, but they've hired a consultant to help develop the area into an Innovation District. The District will enhance businesses and expand the area with higher density and mixed-use allowances, while adding retail, commercial, and residential allowances. Kirk acknowledges, "It can all exist within the same sphere and we hope that as that develops it will be a lower barrier to entry for some development opportunities and development areas, and then also be a place for growing businesses and new businesses to start and expand."
The town supports entrepreneurs with annual events and strong relationships with Front Range Community College, Aims Community College, Larimer Small Business Development Center, and the Centre for Workforce Development. But they don't stop there. They also hosted an entrepreneurial event at TPC Colorado to encourage business owners and give them tips for success. Berthoud also has a great partnership with the Thompson School District, which helps its high school students get workplace ready with vocational instruction and healthcare professions in concurrent education programs. They are now hoping to add a program to help offer municipal career program development for things like water and wastewater operations.
The town is also working toward enhancing its historic downtown with facade and sign grants and redeveloping one of their own properties with the Mountain Avenue Overlay plan. They plan to redevelop the former town hall and the public works garage, currently the site of the skate park, which was already moved when the town built a new recreation center last year. According to Kirk, "The plan is to have a mixed-use center, with some retail and office space and potentially some new residential. Having folks that live in the downtown helps to strengthen the business climate down there and provides extra traffic and residents."
The town does have broadband internet, but in the next three years they hope to have fiber to every home and building. They are also working on a Transit Master Plan. Although Berthoud does have a dedicated transit system, Kirk notes, "We want to stay ahead by developing a rapid transit that will run from Fort Collins to Denver and just integrating those systems to make it easier for folks that live here to get to their places of work or other destinations, and also make it easier for folks to come here for work from other locations."
In the coming years, town staff would like to see Berthoud develop and connect the downtown to the industrial area, as well as in-filling areas to create a dense and vibrant community. Kirk hopes to continue their growth, while maintaining their small town roots, investing in parks, as well as more retail. He shares, "We're starting to see the retail/commercial come along behind. I know the desired services and products are coming to our community, so that folks don't have to head out of town quite as often."
AT A GLANCE
Berthoud, Colorado
What: A scenic town on the Front Range of the Southern Rocky Mountains
Where: Larimer and Weld Counties, Colorado
Website: www.berthoud.org
ProCode – www.procodeinc.net
Power Your Permitting Productivity with Cascade
Cascade software was developed by municipal planning and building department specialists just like you, and designed specifically with your needs in mind. Cascade dramatically streamlines the permitting function enabling citizens, contractors, inspectors, and departmental staff to communicate efficiently and transparently throughout the process.
Born from real-world experience serving many Northern Colorado communities, Cascade is designed to drive efficiency, productivity, and accuracy across your permitting processes. This powerful cloud-based solution is now available to cities and towns all across the country.
Cascade automates, monitors, and expedites applications, plan reviews, inspections, and approvals, supercharging your department's productivity while saving you astonishing amounts of time and effort in the process. You'll be amazed how much time Cascade saves you entering data, calculating fees, and generating reports—all in one secure, easy-to-use environment.
Cascade is robust, highly customizable, and ideally suited to small and medium-sized communities. Best of all, it works with any permit-issuing department such as building, planning, fire, public works, and other municipal offices.
For a full list of features or to schedule a demo of Cascade software, visit our website at www.cascade4me.com.