Poughkeepsie, New York
Business-friendly urban vibe
Business View Magazine interviews representatives of the City of Poughkeepsie, NY, for our focus on Sustainability & Community Development in American Cities.
As charming as it is dynamic, the City of Poughkeepsie, New York lies in the Hudson Valley midway between New York City and Albany and is part of the New York metropolitan area. Poughkeepsie was settled in the 17th century by the Dutch, became New York's second capital shortly after the American Revolution, and was chartered as a city in 1854. The name is derived from the Wappinger word, roughly U-puku-ipi-sing, meaning "the reed-covered lodge by the little-water place," referring to a stream feeding into the Hudson River, northwest of the present downtown area. Today, the city's rich architectural history and natural beauty draws tourists from around the world, while its business-friendly urban vibe attracts entrepreneurs and people of all ages to work, live, and enjoy all Poughkeepsie has to offer.
Business View Magazine recently interviewed City of Poughkeepsie Community Development Co-ordinator, Paul Hesse, and Senior Planner, Natalie Quinn, who discussed the attributes, challenges, and exciting future of this flourishing Hudson Valley community. The following is an edited transcript of that conversation.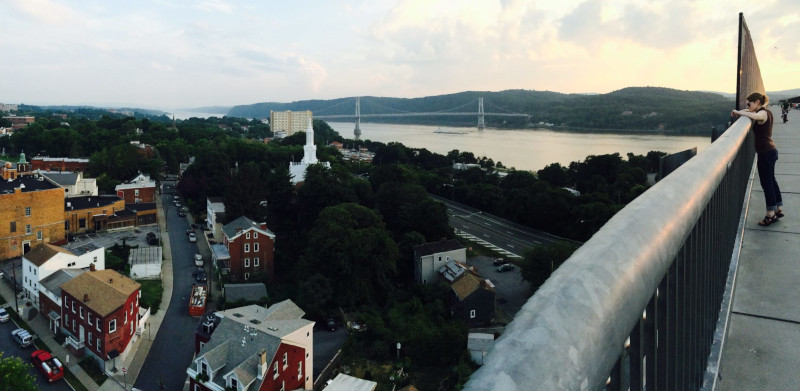 BVM: What would you say are Poughkeepsie's greatest attributes?
Hesse: "Definitely, our location along the Hudson River. We are historically a river and rail town, so we still have a direct rail connection to the New York City area – the Metro North. We also connect to the broader northeast region via Amtrak. Poughkeepsie's station serves both train operators. We are a traditional, historic, compact, urban city and those attributes are increasingly desirable for people looking to live in an urban environment. Having a walkable, bikeable, intimate environment is more attractive to young professionals or people looking to get out of the NYC area, but who still want the conveniences of urban living.
"The population of the city, itself, is about 30,000; the Town of Poughkeepsie that surrounds us is another 40,000. This is New York State, after all, so we have various layers of cities, towns, and villages. Within a five to ten mile radius of the downtown area, there are 100,000 to 150,000 residents, with increasingly converging needs and desires – from younger people to empty nesters looking for that urban feel and transit accessibility. Poughkeepsie has always been an immigrant community and, like a lot of other communities, we're seeing a large influx of folks coming from Latin America, particularly Oaxaca, Mexico. So there is a shift there in terms of ethnicity."
Quinn: "The Hudson Valley has a lot of cute, rural, more suburban areas, but Poughkeepsie sets itself apart with its very compact urban center. It feels like you're still living in the city, but in 5-10 minutes you can be out of that and into the Valley. Another huge asset is our architecture. We have a huge range of historic buildings from different periods – an eclectic mix that welcomes new architecture but gives a nod to Poughkeepsie's past, which residents really love. We're surrounded by academic institutions (Vassar, Marist, Dutchess County Community College, the Culinary Institute of America), so we've never had a shortage of young residents living in and around Poughkeepsie."
BVM: What are the major economic drivers for Poughkeepsie, New York?
Hesse: "Over the last ten years, the healthcare industry has had the largest share of jobs – close to 50 percent, now. We have a lot of healthcare professionals living and working here – many doctors' offices and medical facilities, and Vassar Brothers Medical Center which is undergoing a $500 million expansion to the campus on the city's south side. We also have Westchester Medical Center in the Town of Poughkeepsie just over the town/city border. Administration for education and government institutions is the second biggest employer. As the county seat for Dutchess County, we have the courthouse, the DMV, many county offices, as well as the local government and the institutions around us.
"Like the rest of the Hudson Valley, we're also closely linked to the tourism industry. If you haven't heard of Poughkeepsie for our academic institutions, you probably know us for the Walkway Over the Hudson. It's a historic state park that opened in 2009; an adaptive re-use of a former railroad trestle that had been left derelict for decades and was converted into a pedestrian bridge that spans the Hudson River. A mile and a quarter long and 212 feet high, the bridge connects Poughkeepsie with Highland on the west side of the river. Tourists come here to visit that and our waterfront. We're also in close proximity to well-known Dutchess County hotspots like the FDR Presidential Library and the Vanderbilt Mansion in Hyde Park, just north of here."
BVM: How is the housing situation in Poughkeepsie, New York?
Quinn: "Right now, in terms of what's moving through the land use approvals process, we're seeing an even mix of rehab of existing structures, especially on Main Street, as well as new infill development. Poughkeepsie is pretty built out at this point, but the city is moving forward to infill some of the gaps in our downtown with a new zoning code that's attached to the Poughkeepsie Innovation District."
Hesse: "While we're seeing a lot of new apartments come online, and we're also seeing real estate sales of single-family homes increasing over the last five years. The grand old homes are starting to move now; average days on the market are going down; percentage of sales are going up. People are seeing the opportunity and potential in the City. Compared to the amount of home you can purchase in nearby Westchester County, you can get a much better deal here."
BVM: Do you have major infrastructure projects in the works?
Hesse: "One of the biggest city-driven infrastructure projects we've seen in decades is to our water distribution system. We're installing a new water reservoir to replace our nearly 100-year-old outdated reservoir. Along with that, we're doing upgrades to the distribution system, and sewer upgrades. All told, this is more than a $20 million project that's been ongoing for a couple years and will continue for the next few. The Mayor is also focused on parks upgrades, which feeds into improving quality of life for Poughkeepsie residents."
Quinn: "The city recently won a PSAP (Pedestrian Safety Action Plan) grant from New York State, so we'll have $2.4 million to invest in pedestrian crossings and safety measures, in addition to the sidewalk improvements we do annually. We want to make people feel comfortable and safe walking around the streets. There are also discussions about greening our city-owned surface parking lots and, potentially, creating bio-swales and natural water retention systems in those lots."
Of particular note: The entire Hudson Valley region has been supported for 40 years by
Architecture-Engineering-Planning firm Clark Patterson Lee (CPL) through vital infrastructure
improvements, healthcare, K-12 and municipal design, as well as grant writing assistance. Most
recently, CPL expanded their Eastern New York market by acquiring the Poughkeepsie-based
engineering firm Morris Associates, cementing their footprint from Albany down to Westchester
County. "We thrive on meaningful projects that make a tangible difference for communities,"
commented CPL Principal Tim Moot.
BVM: What are the plans for downtown revitalization?
Hesse: "Poughkeepsie, New York was a former manufacturing powerhouse that saw a lot of disinvestment after World War II. The downtown was the region's commercial corridor – Poughkeepsie was well known for its department stores, but over the years they declined, and the malls absorbed a lot of the business. Eventually all those stores disappeared in a hollowing out of the downtown."
Quinn: "It left us with some really good bones, in terms of beautiful architecture. But there are challenges. We did a study that showed our downtown had the highest concentration of building vacancy. That, plus the fact that the downtown is meant to serve our entire community, told us that this was the place to focus our energies. It's the heart of the city. The new economy of smaller-scale, light industry and maker businesses requires updated zoning that allows for mixed use inside a single building, as well as inside of a district, so that's what we tried to do with the code – focus on how a building encourages people to walk and shop and live in the downtown. We now have a lot of interesting enterprises in the core including a violin maker, a cobbler who does custom soles, a few breweries, and a grower of indoor micro-greens."
Hesse: "There are a number of restaurants that are chef-owned by Culinary Institute grads. And the Poughkeepsie Underwear Factory – a former manufacturing facility on main street – was repurposed to feature an open commercial kitchen that food entrepreneurs can rent. There are 24 chefs, right now, using it as an incubator before they move on to a full-on restaurant. Hudson River Housing owns the building. They are a great community partner involved in affordable housing, youth employment, and small business development. We're fortunate to have many dedicated, community-focused organizations in all industries and sectors. It's amazing."
BVM: What lies ahead for the future of Poughkeepsie, New York?
Hesse: "The most important thing local governments can do to be good environmental stewards and support sustainability is to encourage development within existing urban centers and fight the suburban sprawl. We're trying to make Poughkeepsie liveable, walkable, bike-friendly, and easy for people to invest here, start a business here, and live here."
Quinn: "The City has a new branding campaign called "PKGO" (Poughkeepsie Go) that's emblematic of the City moving forward. People can really feel it. The excitement is definitely out there!"
Check out this handpicked feature on Elkhart County, Indiana – It all starts here.
AT A GLANCE
WHO: City of Poughkeepsie, New York
WHAT: Duchess County Seat; population 30,000
WHERE: Hudson Valley, New York State
WEBSITE: www.cityofpoughkeepsie.com
Clark Patterson Lee (CPL) – www.CPLteam.com
CPL is a 400+ person multi-disciplined architecture, engineering and planning firm specializing in Healthcare, Transportation, Municipal and Academic design.  With fifteen offices across four states, our passion is to give back to the communities where we live and work, creating transformative projects that improve the quality of life.