Glasgow, Kentucky
Agricultural Scottish roots with a modern focus
There is a long history of Scottish influence in Glasgow, Kentucky, which should not come as a surprise based on the city's name. With a population of nearly 15,000, Glasgow is a dynamic agricultural community that is one of the state's most active producers of beef cattle. All of this ties into the city's reputation of being the home to residents with a strong work ethic.
In the short-term Glasgow is looking to rebrand as part of its strategic plan to include references to its heritage while displaying a focus on high-tech improvements, industrial, commercial and residential developments, and more. A big focus of that rebrand will be on strengthening the downtown from a retail and beautification standpoint, says Barren County Economic Authority President and CEO Maureen Carpenter.
Retail has grown immensely in recent years. National brand retailers like Marshalls, Five Below, and Jersey Mike's recently opened in the city. Combined with other newer retailers, employers in the downtown district have added more than 100 new full and part-time jobs in the last couple of years. Several new locally-owned small businesses and restaurants have opened as well.
These retailers support a growing tourism industry, spearheaded in part by property owners renting their properties online. Several second-story mixed-use properties in downtown Glasgow were purchased and renovated by local investors and are rented as vacation and getaway properties for visitors.
"We have a number of historical buildings that have been bought and those owners are making upgrades to them," says Carpenter. "They see Glasgow as a great opportunity for (property investments)."
Carpenter confirmed there are several plans underway to increase infrastructure investment in Glasgow to benefit residents, business owners, and visitors. One is a 10-year plan for water and sewer upgrades around the city. Electrical capabilities and user needs will also be expanded.
A second is to extend the broadband reach beyond the downtown and adjacent neighborhoods.
Glasgow is a "gigabyte city" which means a large portion of the city has access to 1GB of online connectivity. Extending that to more rural areas along the outskirts of town can help to provide more affordable broadband to those residents.
Another newer infrastructure addition is related to the increase in electric vehicle usage. According to Carpenter, Glasgow is noticing the presence of more EVs in town from its residents and visitors. Glasgow leadership wants to capitalize on this trend by being on the leading edge of automotive technology through the installation of charging stations throughout downtown.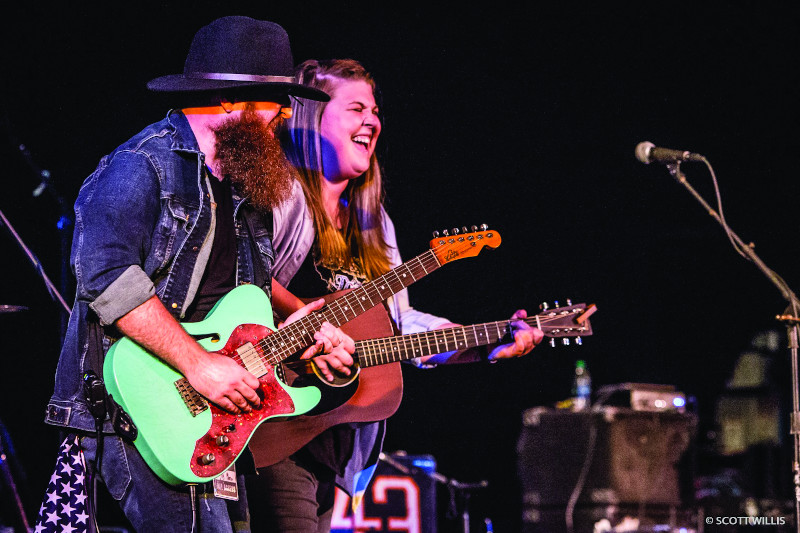 These efforts will help Glasgow keep more young professionals in the community, which is key for future growth. Many of those young professionals eventually get married, have kids, and establish roots as long-term taxpayers and residents. Other ways to attract young professionals include the establishment of three-disc golf courses in conjunction with the city's parks and recreation department, the growth of arts and entertainment options, the opening of new restaurants, and more. Additional outdoor recreation plans are also key, Carpenter says.
Strong attention is paid to industrial development as well. The Authority has built the 152-acre South Cooper Industrial Park with the help of over $6 million it raised from investors and grant funding. Two sites are graded and ready for development, US 68/80 has been widened and turn lanes added for trucks and transportation on Beltline Boulevard, an access road leading into the park.
As the front 152-acre space is being filled in by employers, Glasgow has started to build out the back 100 acres, starting with designing and making it ready to build ready. Carpenter expects more employers to move into the park over the next few years.
The chamber of commerce for Glasgow and Barren County are combined with its Economic Authority to provide seamless business and industry services. The organizations market to its audience through a print magazine published once a year, online videos, and more. One of the authority's major efforts is promoting both the downtown area and its many outdoor recreational opportunities for people of all ages and interests.
"We have biking and hiking trails, dog parks, boating and fishing on Barren River Lake, and much more," she says, referring to the high number of bass fishing tournaments held at the lake. Having a walkable downtown along picturesque South Green Street will help encourage both residents and guests to return to Glasgow.
"We want to have a (robust) downtown with plenty to do whether you live here or are just visiting. Investing in our downtown is extremely important," Carpenter relays.
The downtown's historic district includes large, prominent homes on South Green Street that attract visitors and onlookers. But in 2021-2022, many businesses invested in façade upgrades by adding new awnings and fresh paint. Other beautifications and landscaping plans have been instituted to spruce up other parts of downtown as well.
Glasgow's Community Plaza Theatre is not only active but thriving. Former American Idol star Phillip Phillips and the extremely popular Kentucky Headhunters are among the many recent musical acts to perform in the city.
Glasgow's Entertain Glasgow hosts a free concert series outdoors on the square in the summer for several months as well. It has hosted the popular Groove and Glow Hot Air Balloon Festival in mid-September since 2021. At these events, food trunks are a staple, as well as kids activities, and local vendors adding to the downtown charm.
The community also has top rated school systems, like Glasgow Independent High School which is consistently ranked as one of the top ten high schools in the state of Kentucky. One reason is that the schools proactively work with local businesses to set up co-op opportunities for students to connect with employers and learn about various occupations. This emphasis has improved the chances for students to prepare for future jobs. The support also increases the chances they will remain in the community following high school and/or college.
Among the co-op programs offered by local high schools are mechanics, engineering, robotics, healthcare, marketing and more. Students also have the opportunity to earn industry certifications before they graduate while employers can communicate directly with high school and middle students.
"The key is that we can engage with students before they have left the area about opportunities here," says Carpenter. But regardless of students' future plans, they have access to the background and extra education designed to help make them more successful in their chosen field.
Glasgow is also minutes from the campus of Southcentral Community and Technical College, which boasts the top-ranked nursing program of all institutes of higher education and is also known for other curriculum programs in such majors as automotive technology, business administration, culinary arts, medical information technology and more. Right next door is Western Kentucky University in Glasgow campus, which just announced its new early education program for high school students that at conclusion of high school they will have earned one year of college credit.
As Glasgow looks to its future, its leaders are focused on supporting a number of goals and initiatives to help lead the city into the next decade.
The retention of its residents and recruitment of future employers is near the top of the list, Carpenter says. To keep and bring in new residents, it plans to institute new workforce and economic development programs, increase housing availability, focus on downtown development and mixed use as well as recreation opportunities. The same can be said of attracting entrepreneurs and commercial and retail investors.
Finally, city leaders are committed to a comprehensive beautification effort of its downtown area and finding ways to market Glasgow as a destination community to visit. "We are confident that we can execute all of these efforts to make even more people aware of all that Glasgow has to offer," Carpenter says.
Dwayne Pierce Realtor – www.dwaynepierce.com
We have streamlined the process of buying or selling Commercial, Farms, Land, and Homes to make it easier for you! Dedicated to providing the most up-to-date market data in the area, our team of industry experts is made up of caring, knowledgeable professionals that work tirelessly to help you with the home buying and selling process. Contact us today!