Fairfield, Iowa
the biggest small town there is
With an impressive array of amenities, Fairfield, Iowa has drawn many, while setting its sights on its prized residents
Nestled in the heartland of America, Fairfield, the biggest small town you'll ever find, is quietly stirring a revolution. Melanie Carlson, the city's Public Works Director, describes it as a unique blend of rural tranquility and urban sophistication.
"Located in southeast Iowa, surrounded by farming communities, Fairfield has so many features of a larger community, including our diversity, the presence of Maharishi International University, the entrepreneurial spirit, and our commitment to sustainability," she says.
The city's commitment to its people and the environment is not just lip service but is reflected in the residential developments sprouting on its edges.
As part of this developmental revolution, towards the north edge of Fairfield, Vastu Partners, LLC is spearheading a multi-phase project known as North Campus Village.
Joshua Laraby, Executive Director of Grow Fairfield Economic Development Association, explains that the project, which includes a combination of duplexes and triplexes, has already added approximately $18 million in new valuation to the city.
"This project resulted from a strong city partnership with tax increment financing and successful awards from the Iowa Economic Development Authority's workforce housing tax credit program," Laraby adds.
The Lincoln Court subdivision, an owner-occupied multifamily development, is another noteworthy project, bringing in an approximate valuation of $2.5 million. Both these residential developments are born out of necessity, as Laraby acknowledges. "We are no different from any other rural American community needing significantly more workforce housing. These projects are meeting that demand."
Fairfield's vision is also evolving and expanding, establishing it as an attractive destination for businesses and families. The city's economic development is taking center stage, catering to various sectors and working towards serving all housing needs.
Laraby notes, "Our largest employing sector is manufacturing, providing over 1000 jobs, about one-sixth of our community's employment. Our single largest employer, Cambridge Investment Research, employs about 700." The healthcare sector is also a significant contributor to Fairfield's economy.
The city is not just growing economically; it's also evolving physically. Carlson is particularly excited about a gateway project underway in the south end of Fairfield. "We're putting a roundabout at the intersection near the hospital and converting the rural highway section into a curb and gutter street. We're adding a ten-foot-wide trail on one side, connecting the community to the developments happening on the south side of town."
Fairfield boasts a 15.8-mile loop trail encircling the city, offering multiple scenic views, but lacks an excellent connector to the southern part of town. This new project aims to bridge that gap.
"The addition of the trail will finally connect the south portion of our community to the loop trail," Carlson explains, highlighting the city's commitment to walkability, outdoor recreation, and sustainability.
While Fairfield is not currently a hotbed for 5G technology, it boasts a commendable accolade. Carlson reveals, "We're recognized as one of the most connected cities in the U.S., with high-speed internet available to a large portion of our community," quite an achievement for a city of Fairfield's size and location.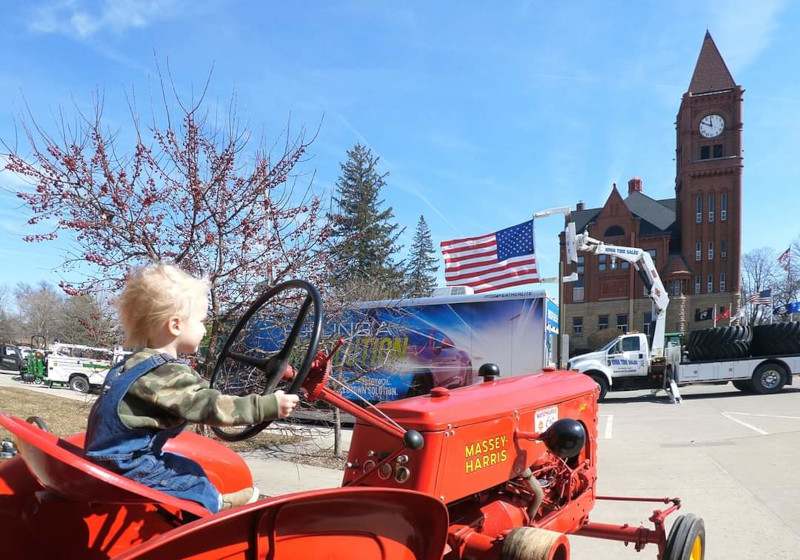 Infrastructure-wise, Fairfield is far from standing still. "We are successfully navigating an EPA compliance order to remove sanitary sewer overflows in our system," Carlson shares. The city is in the third stage of a four-phase process that includes expanding the sanitary sewer plant to handle overflows and provide ample room for growth. Fairfield is ready for substantial residential and commercial development for the next 40 years with the recently completed plant.
Joining the conversation, Mayor Connie Boyer highlights the crucial role of community involvement in managing the city's growth. "It's about having many people involved and relying on each other to do certain projects," she says. Over the last 20 years, Fairfield has successfully planned strategically, using data to guide its next steps and ensure steady progress.
During the pandemic, Fairfield demonstrated its resilience. "Nobody was coming from the outside to save us," Boyer admits. "It was incumbent upon each business to maneuver and change as needed." The city supported its local businesses as much as possible, but ultimately, the success lay in the hands of the business owners themselves.
Boyer also champions volunteer stewardship, noting that city council members and staff alone can't handle everything the community desires. The ebb and flow of volunteer activities have been heartening, and the city eagerly anticipates the fruits of their collective labor.
Sustainability is not just an abstract ideal in Fairfield but a pragmatic approach to community betterment. Mayor Boyer explains, "We have a segment of the population that is lower income. If there are ways that we can help them save money through sustainability, we want to take full advantage."
She cites an example of a resident whose electric bill averages just $12 a month due to the incorporation of solar panels, proving the tangible benefits of sustainable living. The city is also exploring a pilot project for food waste, an initiative that could keep waste management costs at bay.
Safety, undoubtedly, remains a cornerstone of any thriving community. Despite the challenges of hiring for the police force, Mayor Boyer affirms that Fairfield is inching closer to full staffing. She shares, "Hopefully, over the next year or two, we will be fully staffed, which will greatly enhance our public safety."
An issue often overlooked in the narrative of economic development is the matter of childcare. In Fairfield, however, the city has taken a proactive approach to address this challenge. Laraby recounts how in 2017, following feedback from employers across sectors, it became clear that the lack of access to quality, affordable childcare was a barrier to attracting and retaining a workforce.
The city embarked on a data-driven initiative, starting with a market feasibility study that revealed a shocking shortage of over 500 childcare spaces in the county. A 22-person steering committee composed of community leaders devised a strategic plan. The plan focused on expanding existing childcare centers, helping home providers start or expand, and creating a new childcare center if necessary.
The initiative was met with overwhelming success, significantly impacting the community's childcare landscape. Laraby elaborates, "In total, we've had an impact of creating or retaining over 400 childcare spaces in our community."
As a part of the initiative, a collaboration of businesses, organizations, and individuals came together to raise $4.8 million to construct a new 14,000-square-foot childcare center capable of accommodating an additional 185 children.
In the heart of every great venture, you will find partnerships that serve as the bedrock of success. Fairfield's childcare initiative is no different. A vast network of more than 50 partners came together to transform the city's childcare landscape.
Two organizations stand out as the linchpins of the project: Fairfield Economic Development Association and Early Childhood Iowa for Iowa, Jefferson, and Keokuk Counties. These organizations acted as project managers, orchestrating the collaboration and pouring an estimated $500,000 of in-kind contributions into the initiative. "I often refer to it as the glue of the overall initiative and bringing people together and facilitating it," Laraby shares.
Yet the power of this initiative lies in its breadth of support. Several vital partners stepped up to the plate with significant contributions to the capital campaign. Cambridge Investment Research donated $1.25 million, while Dexter Laundry and Agri Industrial Plastics each contributed $125,000. The Greater Jefferson County Foundation added $250,000 to the funding pot.
However, the support didn't stop at the community level. Iowa's state recognized this initiative's importance and made a considerable investment through multiple programs, estimated to be around $1.5 million.
Fairfield's childcare initiative is, at its heart, a story of partnership and community – a testament to what can be achieved when a community comes together for a common cause.
Mayor Boyer outlines her top priorities moving forward into the latter half of 2023 and beyond. "We've got a lot of balls that we're juggling, and certainly infrastructure is part of that. It's going to be a long construction season," she shares with a sense of urgency, her eyes on the prize.
Housing initiatives are also at the forefront of the mayor's mind. She hopes these will be well underway by year's end, again underlining the city's commitment to teamwork and collaboration. "All of that is done through this collaborative piece. Josh is so important in that," she adds, highlighting the role of Laraby in these pivotal projects.
Beyond the essential services and amenities, Fairfield's leadership is also focused on enhancing the city's quality of life. Exciting additions are in store for the Parks Department, including public restrooms in two parks and a new community garden. The city is also eyeing a potential art project that promises to add a dash of creativity and color to Fairfield's aesthetic.
Carlson highlights a fundamental principle driving the city's forward momentum, "City officials are constantly using data to make decisions instead of only listening to the squeaky wheels"
Laraby adds two more feathers to Fairfield's cap — a new business and industrial park, another successful public-private partnership, and an ambitious housing study to build 220 new homes over the next decade.
"Our private partners are very interested in their investment in Fairfield in terms of their business and their employees, so they're willing to participate in community growth projects," he notes, reinforcing the spirit of collaboration that underpins Fairfield's growth.
As the town continues to grow and evolve, it's clear that the future of Fairfield is bright. Fueled by a potent blend of collaboration, data-driven decision-making, and a commitment to community development, the city is poised for a promising future. The story of Fairfield is still being written, and each new day brings fresh opportunities to add another vibrant chapter to its ongoing tale.