Monmouth, Oregon
A positive sense of place
Business View Magazine interviews representatives of Monmouth, Oregon for our focus on Economic Growth & Development in U.S. Towns and Cities
The State of Oregon is an adventurer's dream, boasting some of the world's most unique landscapes and wilderness waiting to be discovered, enjoyed, and shared. The City of Monmouth is one of Oregon's favorite educational locales, with a long history of catering to student populations – welcoming them and ensuring the municipality can offer great living, dining, transit and event opportunities.
Monmouth Mayor Cecelia Koontz describes her community as "a charming small town with a lot of heart." She adds, "It has been our main identity throughout our history. We've been tied to what is now known as Western Oregon University – the first public university in Oregon – and it remains a vital part of Oregon's higher education landscape."
Monmouth is located in Polk County in the mid-Willamette Valley, just 12 miles west of Salem on Oregon Route 99W and about an hour from Portland, which allows residents to tap into the amenities that larger cities have to offer.
The town was settled in 1853 with the purpose of setting up an institute of higher learning. Town founders allocated 640 acres to build a city and a college with Christian values. The sale of the city land was used to fund Monmouth University, now known as the Western Oregon University. These settlers with their Christian principles brought prohibition with them. That law saw to it that the sale of alcoholic beverages was banned in supermarkets, restaurants, and bars. Prohibition persisted until 2002, making Monmouth the community with the state's longest standing prohibition law.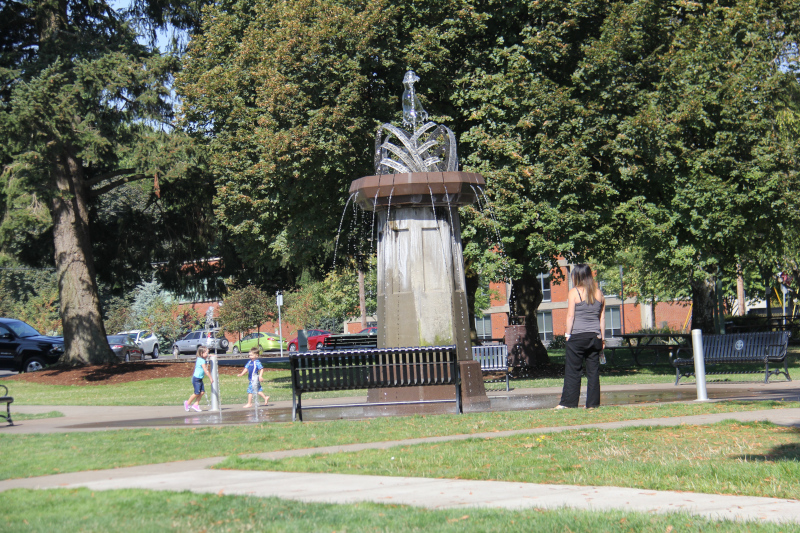 Today, the city's population is growing and changing. In 2020 the population was around 10,000 and now it's risen quickly to more than 11,500. According to Koontz, "The council is working toward including all members of the growing population because everyone contributes to the success and bright future of Monmouth. Our current council is very focused on making sure that Monmouth reflects the values of diversity, equity, and inclusion. We have added, with some city support but mostly volunteer-led, celebrations of Black History month, of Women's History Month, our Latin and Hispanic Heritage Month. We're really celebrating the diversity that we have. Particularly, we have a large population of developmentally disabled adults and so we're honoring all of our different residents and making sure that everyone has opportunities for personal growth, for economic viability, and opportunity."
The municipality isn't just hoping for a bright future, they're actively bringing it to fruition by getting in front of a nationwide housing crisis with local builders who are creating not only single detached dwellings in new and existing subdivisions, but also creating diverse housing options for many different income levels.
Monmouth City Manager Marty Wine reports, "Edwards Addition, a series of subdivisions built by local Monmouth developers Olsen Communities over the last 20 years, has created thoughtfully designed signature residences in the southeast of our city. It is a destination place where people want to live, and with spaces where people can gather." Hoffman Meadows is another 67-home development with five local and regional builders creating a new neighborhood in the northeast.
The Southtown Apartments is a new apartment complex, consisting of 119 units that were targeted to income-qualifying individuals and it filled up quickly. Another 80-unit multi-family development is in progress on Riddell Road, with multi-unit residential buildings of one, two, or three bedroom apartment units. The past five years has also seen a number of new triplex and fourplex units being built within infill areas of town. Suzanne Dufner, Community and Economic Development Director, explains, "We are fortunate to have a mix of housing units available, as we know there are housing shortages, so it's great to see that development continue."
Koontz says all these developments speak to the dedication of residents, noting, "One really important thing about all those developers is that most of them are very local. Either they are literally here in town, or in the mid-Willamette Valley. We're getting folks developing here who have a long history of investment in our community. We're not just seeing people drop in and develop and leave, so that's pretty exciting."
Monmouth is also well on the way to ensuring its infrastructure can sustain an increased population for years to come. They've recently upgraded water and wastewater master plans. Wine explains, "We need to be ready for anything. We're making investments in our future water system by ensuring the health of our well field." The stormwater master plan helps protect both public and private assets by managing drainage.
Part of those plans for the future consist of public transit, bike and pedestrian traffic. One of Monmouth's features is Highway 99W, which runs right through the city, but it's not just used by vehicles. Monmouth completed a bike and pedestrian study to ensure all modes of transportation can safely travel on the major thoroughfare. Wine clarifies, "The plan defines future projects for our transportation network."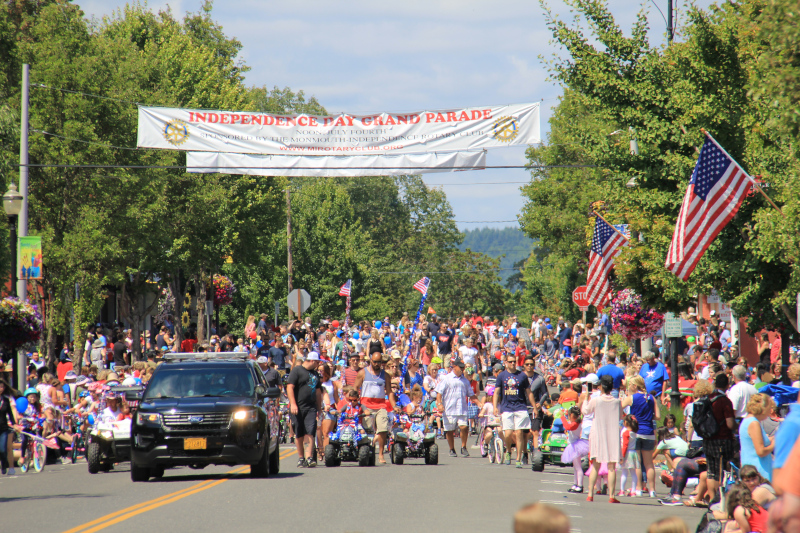 The region's largest industry is agricultural, so Monmouth is privy to some of the best local produce and dining opportunities in the area with many local producers, restaurants, and shops located in the historic downtown. The downtown is undergoing a revitalization and most of the storefronts have been completely updated but maintain their historical feel. Wine says it's one of the best places to gather in the city.
In addition to their DEI goals, the council has established a community value of sustainability and pursues that value by building on local assets. The City of Monmouth owns its electric utility and is building capacity within it. The city police department stepped up and has become one of the first to have a Tesla outfitted as a police cruiser, but they're also looking at a variety of other ways to reduce emissions, including asking private garbage collectors to offer compost bin programs and to take on additional recycling methods.
Monmouth and their neighboring municipality of Independence received a grant from the state legislature and the American Rescue Plan to operate a trolley transit service between the two cities, a 3.5 mile route from the Willamette River on the east to Western Oregon University on the west. Monmouth also co-owns a fiber internet company with Independence.
Dufner admits that in order to do most of the small city's big projects they look to partnerships, and one of the most important ways to promote the town and its benefits is partnering with the Western Oregon University – the major draw for new residents. She notes, "We see the University as a partner in our economic development. That goes back to the history of our town and the founding of it. It continues to be a very important part of our economic development story. We are always looking for partnership opportunities to help promote each other and local events, and ways to encourage new and entrepreneurial startups; using our assets to build the workforce and keeping recent graduates in our area. These are key areas of our economic development strategy."
The city also partners with the Monmouth Business Association, the Chamber of Commerce, the Polk County Tourism Alliance and the City of Independence. While courting students and planning to grow, the city is also reviewing its local codes and plans for livability. "A key component of that is creating more livable communities, to be able to have those green open spaces," Dufner says. Recognizing a shortage of parkland, the city is working to acquire more land with the goal of having green spaces every half mile. One of the larger, most-used parks, the Monmouth Recreation Park, includes sports fields, a dog park, and tennis courts. They've also invested local funds and received grants to revitalize their skate park, and update and create trail connections. Dufner says they are working with Independence to make that a reality.
Koontz is proud to say that right now most of the recreation activities in the town are run by dedicated volunteer groups. Many of the activities are for children, but there are a few adult leagues that run completely not-for-profit.
In the future, they hope to see Monmouth continue on its progressive, future-forward path. Wine envisions the downtown core growing with new residents, and becoming more vibrant and creating more spaces to connect. Dufner shares, "In the next three years you're going to see a lot of continued positive changes and transformations happening. I'm absolutely thrilled and honored to be working in this community to see those changes happen. It's fun to be working with folks who are very passionate and love the sense of place that comes from living and working here."
Ron Wilson Center – www.ronwilsoncenter.com
Ron Wilson Center for Effective Living, Inc.
Supports people with Intellectual & Developmental Disabilities in Monmouth, Oregon. Where our Mission is to inspire people to build a life they love one choice at a time. To join us in our Mission please visit our website: ronwilsoncenter.com
Olsen Communities – www.olsencommunities.com
Centered around tree-lined streets, urban farms, and pocket parks, Olsen Communities continues to build welcoming neighborhoods with community at the core. Designing, Developing, and Building for more than 20 years, Olsen Communities has been customizing homes to suit the individual needs of our diverse buyers, leading to equally diverse and unique neighborhoods.

PCL – www.pclpartnership.org
In eight Oregon counties, Partnerships in Community Living (PCL) is committed to helping people that live with a developmental or intellectual disability grow, work, and play in the communities in which they live. Help PCL bring our mission to life.
JOIN OUR TEAM TODAY!