City of Logansport, Indiana
Big things are happening
Business View Magazine interviews representative City of Logansport, Indiana for our focus on Economic Development & Growth in U.S. Cities
Things are moving so quickly in Logansport, Indiana, it could make your head spin.
"Every end of Logansport has a project going on," says Logansport Mayor Chris Martin. "When you really think about that, it's very impressive. I've lived here for 31 years and I can tell you right now, this is the most development I've ever seen. I have never seen more live entertainment. You've got progress in every end of town, and then you also have the downtown currently growing just as much as the rest of Logansport. We have so much economic development right now. It's insane, in my opinion, to see the downtown growing the way that it is."
The Cass County seat of 18,000 has had projects on the backburner for years, but now that the pandemic is beginning to settle, Logansport is finally making good on their promises. Schools are being developed, roads are being reconstructed, new businesses are going in at rapid pace, and cleanup is being done on older buildings and gas stations. "As the planner, I've been working here for 17 years and a lot of the things we have planned and talked about over the years, I'm actually seeing moving forward now," says Arin Shaver, Executive Director of the Logansport/Cass County Planning Department. "It's a really exciting time."
Perhaps one of the most exciting developments is The Junction. The former Logansport Mall has undergone a massive redevelopment to become a modern, outdoor shopping center that draws on the local landscape and traditions. Complete with large windows, stone accents, and a rustic design, the new facility is a huge change from the old indoor-style mall that was originally built in 1968.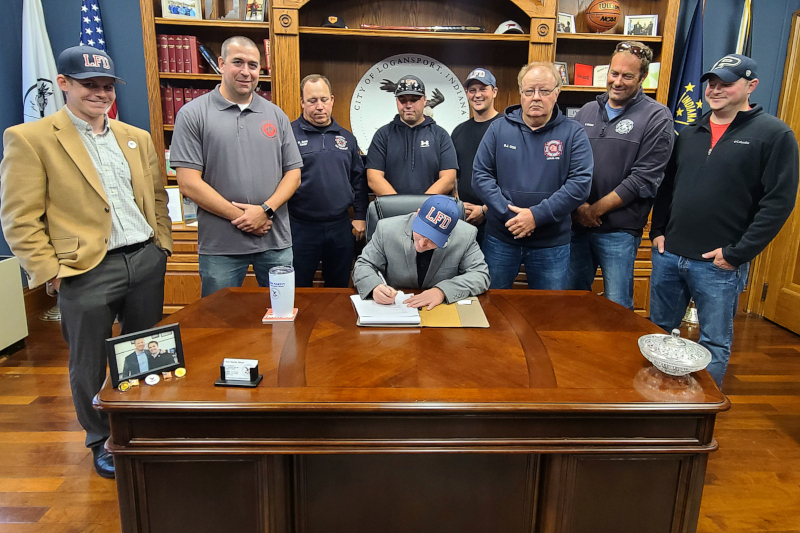 "It's been about a $12-million project that is starting to get a lot of momentum," says Bill Cuppy, Executive Director of the Logansport/Cass County Chamber of Commerce and Executive Director of the Cass Logansport Economic Development Organization. "There's been a lot of demolition, a lot of new construction. New infrastructure is being done to completely renovate the area, along with a new hotel that will be right next to it." A new sewer system was put in to allow for both the mall and its accompanying hotel, and a new parking lot will be added in late July. The Junction is just starting to accept new tenants, with Planet Fitness and Harbor Freight Tools already signing leases. "We have three other LOIs – letters of intent – with franchises right now that are doing their due diligence," Cuppy reports. "I expect them to sign on, so it's starting to fill up. It's going well."
Chicago-based redevelopment firm, Park Development Group, purchased the property in early 2020 after it had sat nearly abandoned for a decade. Their ambitious plans to redevelop the mall to attract new life were welcomed by the city with open arms. Joe DiCosola, one of Park Development's managing partners, has been thrilled with the experience he's had working with the City of Logansport ever since.
"As real estate developers who have worked with numerous municipalities in multiple states, we can say that engaging with Mayor Martin's office, the Logansport Planning Commission, and the head of Cass County's economic development has been the least complicated in our careers," DiCosola says. "Their unwavering support and enthusiasm has been integral in moving The Junction forward. Part of the reason for the success is because we see eye-to-eye on the scope of the development and collaborate more like partners than separate entities with different goals and intentions. The experience has been memorable, enriching and without the challenges that commonly bog down construction in overly bureaucratic cities." Construction on The Junction is expected to be finished in late summer, and the adjoining hotel – a Home2 Suites by Hilton – will be finished in October.
Another major project on the city's docket is the creation of an urban park at Little Turtle Waterway. "Back in the day, an urban park was only an idea that was never really brought to fruition," Martin explains. "Our administration came in, dusted off the plans and simply adjusted it a little bit." The new gathering place will be called The Rail Yard at Little Turtle Waterway, and it will include added greenspace, an at-grade fountain and a former rail car-turned restroom facility. Martin adds, "We have a company here in the City of Logansport that repairs rail cars called Transco Railway, and they are donating two rail cars to the city. We will bring them back to their original state on the outside and make it look like a real rail car, and then turn them into restrooms and a concession stand for non-profit organizations to utilize during events."
The new park will involve some changes to the downtown, primarily moving the entrance to Little Turtle Waterway, as well as relocating the current farmers' market. This will also allow for the development of new apartment housing in a prime location downtown. According to Shaver, "The housing complex and the new community park will become an active space for downtown. Interestingly enough we don't have a city square, and this is our opportunity to create a modern day square for the city. These projects as well as the new businesses and renovations have really changed the vibe of Downtown Logansport."
Even without the park, Logansport's downtown is seeing a resurgence in popularity. "Statistically, we are growing businesses downtown, but I think it's more of a buzz that is going on," Cuppy says. "There's a lot to do downtown now. We've got four new businesses specifically that are creating a lot of that buzz and people are coming downtown for it." New additions to the core business district include a brewery, a coffee shop gathering place, a new restaurant that not only features live music and outdoor seating, but also doubles as an old vinyl record shop, and a winery. "The People's Winery is pretty cool. It's a nice, indoor winery where people can go to in the evening," Cuppy says. "It's going really well downtown."
Drawing even more attention to Logansport's downtown is Bird. The electric ride company recently partnered with Logansport to bring its electric scooters to the community. Users can download the Bird app, scan a QR code, and hop on to one of the community scooters to get around town. Scooters are then returned at any Bird location throughout the city. "This will cost the city of Logansport zero," Martin says. "The taxpayers had to pay nothing for it but get all the enjoyment of using it. People are taking these Bird scooters and riding on bike lanes from the south side to the north side, from the west side to the east. It has really helped downtown because there's more people there, in my opinion, partly because the scooters have attracted them."
Development is happening at a rapid pace for the City of Logansport's basic needs, as well. A new 50-plus housing subdivision is going in north of The Junction, the city's first standalone police station is set to open in 2023, and the county-run hospital is constantly upgrading its facility with a new birthing center, rehab center, and cancer unit. "The hospital is always under construction," Cuppy says. "They have been able to locate a lot of doctors here because some still like that small town, not huge, hospital-owned facility. They're very forward-thinking and a big part of our community."
When it comes to workforce development, Logansport also has plans underway to start up a healthcare and manufacturing initiative with nearby Ivy Tech Community College. "That will assess the needs, create the curriculum, and start getting these skills more throughout our community than they were before," Cuppy says. "We have a career center, we have Ivy Tech, but we have to find a better way to utilize the Ivy Tech facility to match up with our local industry."
The City of Logansport hopes to maintain its development momentum and growth as the years move forward. Up next, they are hoping to invest in some much-needed infrastructure improvements, which will include new roads and seven miles of new sidewalks.
Mayor Martin shares, "We want to continue that economic growth, while continuing to focus on the importance of local municipal government. It's our priority to make sure that our public safety is where it needs to be, while making sure that our streets are good, and our parks are great – the basic necessities of a municipality."
AT A GLANCE
City of Logansport, Indiana
What: A progressive small city and county seat; population 18,000
Where: Cass County, Indiana
Website: www.cityoflogansport.org