Spanish Fork, Utah
Great opportunities
Business View Magazine interviews Dave Anderson, Community and Economic Department Director of Spanish Fork, Utah – best business practices of American cities.
The City of Spanish Fork is situated in central Utah, in the south central portion of Utah County. The indigenous population of Spanish Fork was composed of members of the Ute Indian tribe, nomads who established no permanent communities. Two Franciscan Friars from Spain, Silvestre Vélez de Escalante and Francisco Atanasio Domínguez, were some of the first explorers to pass through the Spanish Fork area, when they were searching for a direct route from Santa Fe, New Mexico to the Spanish missions in Monterey, California. After traveling down Spanish Fork Canyon, they camped somewhere near the present day city limits on September 23, 1776.
The area along the Spanish Fork River was first settled in 1851 by members of The Church of Jesus Christ of Latter-day Saints as part of the Mormon Pioneers' settlement of Utah Territory. By the end of 1852, the population had grown to over 100 families. In 1854, a fort was built in Spanish Fork to meet the needs of existing settlers, and in January 1855, Spanish Fork was incorporated as a city. Soon after incorporation, the first Icelandic immigrants emigrated there, establishing the first permanent Icelandic settlement in the United States. By 1860, Spanish Fork's population, made up of English, Scottish, Welsh, and Scandinavian émigrés had grown to 1,069; in ten years, the population had reached 1,450. The first commercial industry was a saw mill which began operation in 1858. One year later, the first flour mill opened its doors for business.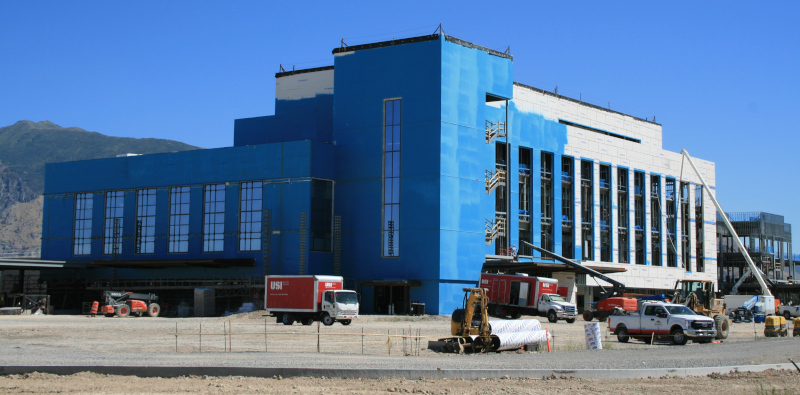 Today, Spanish Fork has a population of approximately 45,000, up from 20,000 at the turn of the 21st century, and is still open for business. "We are a growing community," says Community and Economic Department Director, Dave Anderson. "And Spanish Fork is not just a bedroom community," he adds. "There are thousands of jobs here; a good number of those involve very specialized, advanced types of manufacturing. We have manufacturers in the community that are suppliers to companies such as General Dynamics, Raytheon, Boeing, and Airbus, using composites and very advanced machining technology. Also, Utah County, where we're located, is becoming something of a tech center – Silicon Slopes is the moniker that's been associated with a lot of the recent development in the tech industry here, and, certainly, a good share of the growth that we enjoy is a result of very strong job growth that's happened throughout our particular part of the world."
"In addition to strong residential growth that we've seen over the years, we've seen considerable growth with new retail development in the community," Anderson continues. "Costco built here several years ago and Wal-Mart built a Supercenter a few years ago. That was followed by a neighborhood Wal-Mart, and Lowes is currently under construction and will be open in November. That really has changed the community – our residents no longer need to leave Spanish Fork to shop and to do the other day-to-day things that we do.
"The most significant project that's happened in Spanish Fork, probably in the community's history, is a retail development called Canyon Creek. In that project, the city is a partner with the Woodbury Corporation, the largest retail developer in the State of Utah. Right now, there's about 700,000 square feet that is complete or in construction. When the development is done, it will be about 1.1 or 1.2 million square feet, so there's another third of that development to go. Our focus, as city staff, along with our elected officials, has been trying to make sure we had a balanced tax base and, largely because of that, we put considerable effort into helping to make sure that the Canyon Creek development happened and to make sure it happened as expeditiously as possible.
"The community has loved having additional shopping opportunities in Spanish Fork, and it's been great to read the emails and comments from folks that have appreciated having additional restaurants and entertainment, and things they simply hadn't enjoyed before. Of course, along with that, the stability that it has brought the community through additional sales tax revenue and jobs has been great to see, as well. Intermountain Healthcare, the largest healthcare provider in the State of Utah, is building a full-service hospital in Spanish Fork that will be open in November 2020. And that will be the last piece of the puzzle that the community has needed to be a fully self-sufficient city."
With mounting new jobs and residents, housing starts have also been ramping up. "We issued about 480 building permits for new homes in 2018; we think we'll be right at that same number in 2019," Anderson reports. "And those homes are largely being constructed in a variety of different projects throughout the community. The largest residential development in the city, which will have some 600 homes at buildout, is called Legacy Farms. Fieldstone Homes is the primary homebuilder building in Legacy Farms, today. In addition to Fieldstone Homes, some of the other significant homebuilders working in Spanish Fork include Ivory Homes, Salisbury Homes, Arive Homes, Richmond American Homes, Lighthouse Homes, and Flagship Homes.
"Spanish Fork was a sleepy little town for a long, long time with, primarily, single-family, detached homes on individual lots. Over the years, there really hasn't been a significant amount of multi-family type home construction here in the community, but we are starting to see that change. The city council approved the first apartment development in nearly 20 years, this past year. It's called the Rees Apartments, and we're working with some other developers now that, likely, will be doing some similar multi-family type developments, aimed a little more at workforce housing than the other homes that have been the backbone of what's been built in Spanish Fork in recent years."
Spanish Fork's historic downtown district has lost some of its luster over the past several decades, as the community has expanded outward, and in order to revive some of the area's vibrancy, Anderson says that in 2014, the city teamed up with a group of volunteers called the Community Planning Assistance Teams, sponsored by the American Planning Association. "That was a wonderful experience for the community," he recounts. "The city made a pretty significant effort to try to do things to help make sure that what was the center of commerce, not only for Spanish Fork, but for an entire region up until the 1980s, remain vibrant and active. It's a part of the community that really hasn't suffered greatly; we've never had a high vacancy rate or other things that might be telltale signs of an area that's in distress. At the same time, I think most people here would agree that it really hasn't lived up to its potential for many decades and that group that we worked with gave us a road map as to things that we could do as a municipality, and things that business owners and property owners could do to try to help our historic downtown be the best that it could be."
"With that being said, really the heart of Spanish Fork's commerce, today, is at the junction of Interstate 15, which goes right through Spanish Fork, and U.S. Highway 6," Anderson adds.  I-15 travels through the intermountain west from northern Idaho all the way to Los Angeles, via Las Vegas, and U.S. Highway 6 is the best route to get from the Wasatch Front and cities such as Salt Lake, Provo, and Ogden, which contain most of Utah's population, and cities on the eastern side of the Rockies, such as Denver and Colorado Springs. "The junction of those two roads is in Spanish Fork and our new shopping district also has blossomed right around that junction. That's where the Canyon Creek development is located; that's where Intermountain Healthcare is building a hospital; and that's where we anticipate robust growth for a number of years to come."
Powering Spanish Fork's homes, businesses, and retail centers is the responsibility of the city's municipally-owned power department, part of the Utah Municipal Power Agency (UMPA). "That agency is working to do a number of different things to develop renewable energy production for their portfolio," Anderson says. "One of those involves the prospect of building a solar farm on an 80-acre site that Spanish Fork City owns. The site is a capped landfill and we think that's a great location and a great use of that property that, otherwise, we might struggle to find a productive use for. That is probably a couple of years off before that becomes a reality, but all indications are that's going to happen. We're very encouraged at the prospect of UMPA being able to add that to their portfolio. Currently, the power production in Spanish Fork is a little bit geothermal, a little bit hydro, a little bit coal, and the windmills that we have here in the city provide power to a number of different agencies, and we love having them in the community. They really have put Spanish Fork on the map in terms of providing a landmark that draws visitors to tour the site or otherwise view the windmills." (In September 2008, the Spanish Fork Wind Project was completed. It included nine wind turbines that are capable of producing up to 18.9 megawatts at full production, enough electricity to power up to 6,000 typical homes.) The solar farm, though, is the most likely thing that will happen here, short term, to create a new source of renewable energy that our community will tap directly into."
Municipal power is one advantage that Spanish Fork has in its package of incentives to help lure businesses to relocate in the community. Another is its municipally-owned internet operation, the Spanish Fork Community Network. "Spanish Fork is unique in Utah in that we own and operate our own internet service providing company," Anderson explains. "So, we can deliver fiber throughout the community – 100 Megabytes up and down kinds of speeds. And oftentimes, for a company, we can design a system to meet their specific needs in an affordable fashion – more affordable than other service providers that exist in the community, and with a higher level of service. And that's something that a number of companies have found very appealing over the years. So, we have utility capacity that some other communities in our part of the world simply don't have – whether it's power or water, or our ability to treat wastewater effluent. Part of our ability to be open for business is our ability to provide those basic utility services that companies need. That's the result of good planning and some great decisions that my predecessors and others made here to help put us in a very competitive situation, now, in terms of being able to provide a very high level of service while having some of the more affordable utility rates in the State of Utah."
In addition, Spanish Fork, like many communities in the State of Utah, utilizes Tax Increment Financing (TIF) as yet another tool to support new and existing businesses. "We have seven or eight projects that are operating, right now, where the city and other taxing entities have agreed to utilize TIF to incentivize companies either to locate here or to expand here in the community. We've used Tax Increment Financing as robustly as any community of our size in the State of Utah. As we continue to talk to businesses about locating here, that's the thing that always comes up, first. We also rely on the Economic Development Corporation of Utah, which is a quasi-public/private entity that, for a number of years, has served as the State of Utah's economic development arm. They are charged with managing the recruitment of new companies to Utah as well as expansions. They deal with incentives at the state level – again, primarily, tax increments, using withholding and sales tax and different things like that to generate the increment that, I think, exclusively now, is remitted to companies in a post-performance fashion. In that respect, oftentimes, it's Spanish Fork City providing some type of a local incentive as part of an incentive package for a company, but then, there's also the State of Utah, making up the other part of that incentive package, with their part, typically, being more significant scope-wise and scale-wise than what we put on the table."
Finally, Anderson maintains that one last, and very important incentive for new businesses who wish to relocate to the city, is the high quality of Spanish Fork's workforce. "Our workforce is the best anywhere," he declares. "We hear that from companies that have facilities in other parts of the United States and from plant managers that have worked in other parts of the United States. Companies thrive in Spanish Fork for a variety of reasons, but, probably the biggest one is the quality of our workforce. We're an up-and-coming community with a lot to offer: a very high quality of life, and great opportunities for employment and great opportunities to do business."
AT A GLANCE
WHO: Spanish Fork, Utah
WHAT: A city of 45,000
WHERE: In central Utah, in the south central portion of Utah County
WEBSITE: www.spanishfork.org