Clinton, Mississippi
Rich in Charm, Character & Culture
Business View Magazine interviews Daniel Lang, Director of Economic Development for Clinton, Mississippi, for our focus on Growth in U.S. Cities
Designated as a Main Street City, Clinton, Mississippi is one of the most livable, family-friendly areas in the state. Located in Hinds County within the Jackson Metropolis, the population is just above 28,000, making it the tenth largest city in Mississippi. Less than 200 miles from New Orleans, Clinton offers the opportunity to experience a number of attractions. From the Natchez Trace Parkway to Brighton Park and The Civil Rights Museum, plus a bevy of recreational offerings to enjoy year-round.
While Clinton is a sought-after place to retire, there are still plenty of bars and restaurants around for all ages, in addition to 303 Jefferson Restaurant – a great place for locals to catch live music acts and more. Originally known as Mount Salus, this subtropical city is proud to host highly rated schools, including Mississippi College – the second oldest Baptist college in the U.S.
Daniel Lang, Director of Economic Development for Clinton, describes the city's small-time charm and character, noting, "It has tons of history and influence, whether it's through art and music or the Civil War. We have the oldest university in Mississippi, and a character that's unique to this area. We are different from other communities because they are relatively new for the most part. Clinton has been around since the early 1800s and was almost the capital of Mississippi back in the day. What makes us unique is that we're still a small family-oriented community, but we're right outside the metro area. So, we can still have the quality of life and the feel of knowing everybody in the community, while still having access to a large market of activities, being so close to the capital city of Jackson."
In terms of industry, Clinton has a great industrial park that's home to international companies. "They enjoy our access to the interstate, being right at the logistics corridors of Interstate 20 and the school systems where we have our K-12 program," says Lang. Clinton has one of the best-rated school systems in the entire state, in addition to a 4-year university, Mississippi College, located right in the heart of the city with a population of around 5,000-6,000 students which bring in a lot of revenue for the city. He adds, "What's unique is we are a certified retirement city and a college town. So, we try to play on the 'town and gown' words, that's something I'm working on integrating more as Director of Economic Development."
The expectation is that the city's population will grow over the next 10 to 15 years, especially as they attract new companies that are bringing in more employees to live and work in Clinton. According to Lang, "What we have to offer is primed for exponential growth."
Shifting to the topic of housing, the city is looking at what is available now, what the current infrastructure can cover, and how they can expand that. There aren't any specific plans, although they do have new developments going up. But as far as large-scale neighborhoods and housing suburbs in the city, Lang says, "We're still working on that to gauge where we could be in the next few years. We're starting that process now. There aren't many square blocks in our downtown, but there are buildings we are redeveloping right now into restaurants in our Olde Towne Clinton District, only 100 yards away from Mississippi College. And we're building a loft complex which will house 95+ apartments and a 4500 sq ft commercial space on the bottom floor for a bakery or a small-town restaurant."
There are also some older houses that have inspired discussions about event spaces for weddings and other types of events. Currently, the city doesn't have a large supply of venues, but there are some small venues that the university students frequent.
In terms of workforce development and training, Lang explains, "We are collaborating with the Clinton Public School District and our industrial park tenants such as Continental Tire, Milwaukee Tool, Taylor Power, and McNeely Plastics. We're connecting our 8th and 9th grade students with those companies, so they understand that when they get to be a junior or senior, they'll have those opportunities to be able to work right out of school. Or they can go to Hinds Community College and get a trade degree in two years and start making very good money with one of our industrial park tenants. What I like about Hinds Community College is they can tailor whatever the company needs and train these students to work on the exact equipment they'll see when they get out of community college. We're tying in our industrial park with our education systems and it's proving to be very beneficial to all parties involved."
When it comes to specific businesses, Continental Tire has around 1,000 employees, and their goal is to increase to 2,500 employees soon. In Clinton's Industrial Park, McNeely Plastics is right next door to Taylor Power Systems and has been in Clinton for 20-30 years among other industrial park tenants. Milwaukee Tool recently announced an expansion into the industrial park and the other companies are excited to have another member added to their family. It is very tight knit in the industrial park. Just like in the community, everybody knows everybody and strives to take care of each other. Another company called Ergon owns property in Clinton and they're working on marketing that property for purchase.
Lang notes, "The Greater Jackson Alliance is a fantastic partner and I'm thankful to be a part of their alliance with other economic developers in the metro area – Rankin County, Madison County, Vicksburg, Clinton, and Hinds County are all a part of this alliance. It allows us to work together, finding out how to recruit companies in this area."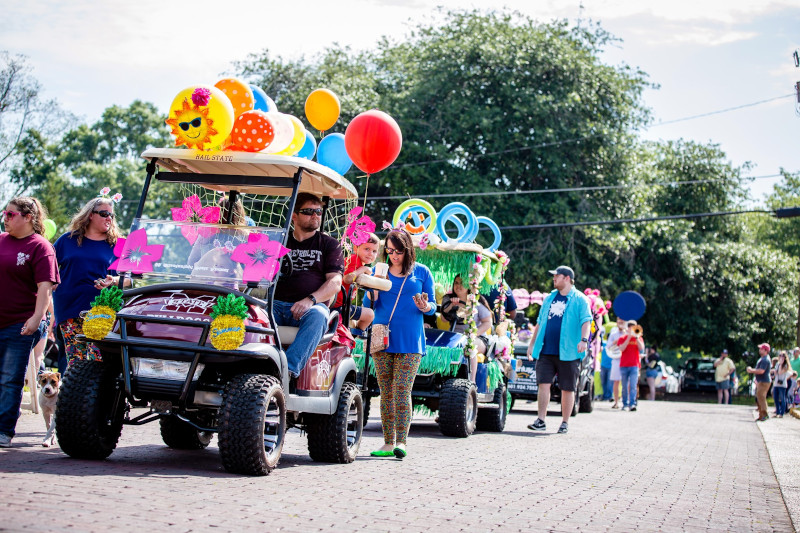 Moving on to infrastructure development, the city is looking at expanding water and sewer capacity due to the large amount of growth that's been happening. "Expanding to the Big Black River will be a catalyst for the City of Clinton to grow," says Lang, "allowing us to expand our reach and get those utilities in place to expand our industrial park right along the Interstate 20 corridor. It's a huge project but if we aren't working with the legislature to get the money to do these huge improvements then it will set us back further on growth. It'll allow us to think 30, 40, or 50 years down the road. We have the plans, we just need to make sure we have the funding in place."
Broadband connectivity is a necessity these days, and Clinton is pleased to have a fast and reliable connection throughout the entire city – something they don't have to worry about as much as other rural communities because they have the advantage of being close to the metro area. The city is also planning on having electric vehicle charging stations within a year at certain locations along the interstate for people to hop off, charge their car, and spend time shopping and dining in town.
Clinton is a Certified Retirement City that boasts many types of entertainment for seniors. Lang reports, "We have the Wood Center and its recreation offerings geared towards the older population. They have weekly events catering towards the mental and physical interests of older people. This includes softball, dances, mind games, and activities on their calendar daily that bring in people not just from Clinton, but from all parts of the metro area. Clinton is blessed to have this kind of therapeutic recreation department with three licensed, Master's-educated therapeutic staff, and it is owned by the city. I want to showcase that facility to the older generation looking to retire. That way they can stay in Clinton, while being close to the business where they worked."
Looking three to five years down the road, Lang shares what he looks forward to most: "I would like to expand our industrial park, making sure it's set for future industry to come and locate great jobs… I'm currently looking for the best uses for that land near the industrial park. Also, along those lines, not just for manufacturing but for quality of life, we're already taking great steps in revitalizing our Olde Towne District, but really expanding on that – providing something new and innovative, eventually having technology centers and entrepreneur events downtown that partners with our university because it's within walking distance. I believe those two are our most important visions."
AT A GLANCE
Clinton, Mississippi
What: 10th largest city in the state; population approx. 28,000
Where: In the Jacksonville Metropolitan area
Website: www.clintonms.org