Sun Prairie, Wisconsin
A special place to belong
Business View Magazine interviews representatives of Sun Prairie, Wisconsin for our focus on Growth & Economic Development in U.S. Cities
For those who are seeking a dynamic community that is set for growth over the next few years, and yet also crave a small-town way of life, there is no need to look further than the beautiful City of Sun Prairie, Wisconsin. With an abundance of green space for families to enjoy, top-notch recreational facilities, and access to the 125-acre Patrick Marsh Wildlife area, an extensive nature preserve that offers residents an unparalleled outdoor experience on their doorstep, there are few places that rival Sun Prairie.
With a thriving school system, top-quality healthcare infrastructure, and a selection of homes that suit any lifestyle, it is no wonder that Sun Prairie is continuing to grow at an impressive pace. "Since 2012, we've increased our population about 22% which averages out to about 700 people per year coming to the city," Taylor Brown, Economic Development Director with the City of Sun Prairie, reports. "Depending on how you calculate it, we are the fastest growing city in Wisconsin."
Highlighting the notable increase in population, the city has recently built two new elementary schools in the last five years and in fall of 2023 opened a new high school to accommodate the growing number of families that have chosen to call Sun Prairie home. "We were the largest school district in the state and although the high school has been split into two, it is obvious that this is someplace that people continue to want to live," Brown offers. "The city is working on creating a community that is open to everybody."
The City of Sun Prairie is also very conveniently located for its population base. "Highway 151, which runs right through the far west side of Sun Prairie, and then County Highway N comes into the east side of Sun Prairie off of I-94, both of which connect to State Highway 19," Colleen Burke, Sun Prairie Downtown Business Improvement District and Tourism Manager, explains.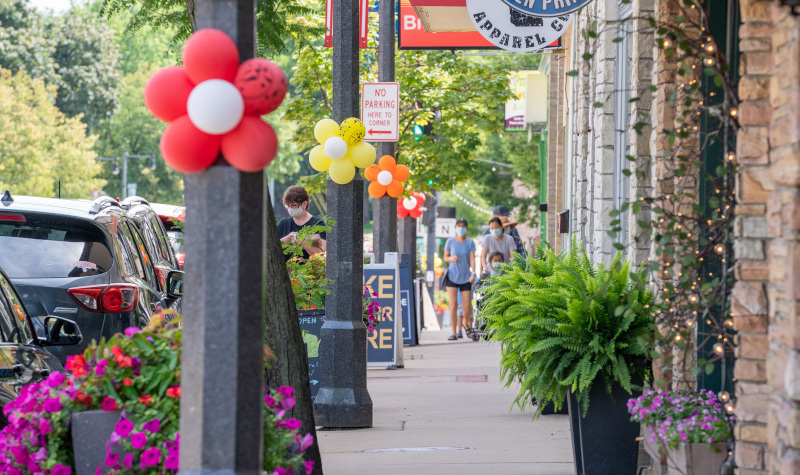 Surrounded by plentiful greenspaces, the city center has preserved its charming heritage and represents a relaxing gathering spot for residents. "Downtown Sun Prairie is a historic district with about 70 businesses," Burke describes. "There is greenspace throughout the downtown, and Cannery Square Park is right in the center across from the city hall. We also have a Dream Park which has won Best of Madison awards for the facilities located there."
Angel Park is also available to residents and boasts a great location for weddings and various community festivals held throughout the year, including the annual Sweet Corn Festival that takes place in August.
Along with the addition of schools and increasing population base, Jake King, Communications and Diversity Strategist for the City of Sun Prairie, points out that the changing demographics represent a growing diversity among the new residents coming to the area. "Just in the school district alone, there are 60 languages spoken, and along with that comes a lot of different talent or businesses or community involvement too," King notes.
Encouraging the development of new businesses, or expansion of existing businesses, remains at the top of the agenda for the city. One such project that has been given special attention is Park 151 located on the west side of Sun Prairie. It is a private business park that is slated for expansion. "They are actually building on two of the final lots, leaving only one remaining lot available. The tenants occupying those buildings are existing businesses that have chosen to expand," Brown outlines. "With additional space available, Milwaukee Tool/Imperial Blades and Trachte Building Systems have the ability to stay in Sun Prairie- they have found a reliable workforce here."
Another business of note that has set up shop in Sun Prairie is the Quarra Stone Company, representing a boost for the city profile. The company just broke ground in the city's business park located in the northeast corner of the community. Quarra Stone Company purchased 24 acres last year and they will put up a state-of-the-art stone cutting operation," Brown states. "They do both CNC machining, hand carving stone work and they are world-renowned. They were actually in the White House being consulted on the Obama Library, and they have a special designation where they are advisors to the Smithsonian."
As families continue to move into the area, Sun Prairie is turning its attention to child care initiatives stemming from a vocalized need from its residents and businesses for adequate and flexible solutions. The city has stepped up to the challenge and was awarded a Childcare Grant to help boost their overall efforts. "The grant represents a certain amount of funds that help us with strategic planning for childcare in a hurry and also help in the experimental factor of what this looks like," King explains. "There are things that we're exploring on what it would look like to work with the private sector and developing new childcare opportunities that are affordable and accessible. But it's still in that planning phase right now."
Housing development is also high on the city's list of priorities as it looks for ways to better accommodate its growing residential base. "We have six multifamily developments that have pulled permits this year and that equals about 368 multifamily units that are actually under construction right now in Sun Prairie," Brown reports. "On the single family front, we are not slowing down there either. Right now, we're on pace to hit our record. We had around 212 single family housing permits last year."
With a superior building inspection department, the surge in residential construction has been facilitated with the use of drone inspections and other types of virtual inspections. The city also has two Low Income Housing Tax Credit projects in the works. The first project is a project geared toward seniors and the other is a housing project geared toward families. "The senior project will finish in November and the other one will finish next June or July. We are very excited about that and the city council has invested in those projects," Brown says.
Transit is also on the city's radar. Preliminary talks are underway to build a bus rapid transit system that will come into the city and specifically head toward the business parks. Although in the planning stages, the addition of such a transit system will be welcomed by residents, businesses, and the city council when it does come to fruition.
Burke draws attention to the ongoing events and cultural offerings the city has to offer visitors and those that live in the area. Among the celebrated traditions for Sun Prairie is the annual Fire and Lights holiday event and Groundhog Prognostication event. Special attention is also being paid to the city's Historical Museum situated in the downtown. "A Board oversees the operations for the Historical Museum and we try whenever we are doing downtown events to include them in that. There is talk of maybe having historical preservation plaques on all of the downtown buildings that qualify for historical recognition," Burke states.
It is clear that there is continued optimism about what Sun Prairie can offer its residents, now and through the years to come. "I think that it's the people and the passion that the community has for the community itself," Burke concludes. "So whether you live in the community, work in the community, or visit the community from time to time, no matter what your connection is to Sun Prairie, when you spend time here, you can tell that there's something special happening here."
Taylor echoes her colleague's views, acknowledging, "There is a shared recognition that Sun Prairie is a special place and I think that there is kind of this true sense of belonging."
AT A GLANCE
Sun Prairie, Wisconsin
What: A thriving city of approx. 35,000
Where: Dane County, northeast of Madison, WI
Website: www.cityofsunprairie.com
Sun Prairie Chamber of Commerce – www.sunprairiechamber.com
The Sun Prairie Chamber of Commerce is a member-led 501©6 organization which advocates, promotes, connects, and provides educational opportunities for our members which range from large manufacturers to sole proprietors to non-profit and civic organizations. We also work with city to statewide government to improve the business climate. To learn more, please visit: www.sunprairiechamber.com