Aurora, Indiana
Where History Meets Progress
A charming riverfront community with a commitment to progress.
With a story that goes back over 200 years, the city of Aurora is located in the Southeast corner of Indiana, with deep connections to the Ohio River. Situated just 40 minutes from Northern Kentucky and the Greater Cincinnati metropolitan area, and less than 30 minutes from the Cincinnati/Northern Kentucky International Airport, the city has convenient access to various destinations, making Aurora an attractive place to live and visit. Known for its unique and well-preserved historic buildings, Aurora reveals a wealth of attractive architectural details that warmly welcome and invite visitors to stay and experience its rich history.
For the generations of families who call Aurora home, the unique charm and character of the community are complemented by the town's commitment to continued progress and the addition of quality-of-life amenities to be enjoyed for years to come.
Highlighting some of what makes Aurora special, Mayor Mark Drury says, "We're a riverfront community, so water is a key element to the area that we live in. We have a very vibrant and cozy downtown. We currently host 13 restaurants, we have shops and boutiques, from ice cream shops, coffee shops, specialty stores, and even a microbrewery right here in the downtown. Being on the water, the downtown has parks and bicycle trails."
Revitalized Downtown: Preserving History and Enhancing Connectivity
Drury shares that in recent years, Aurora has undergone a significant downtown revitalization effort including the reconstruction of old and deteriorated streets and sidewalks, introducing attractive brick crosswalks. Efforts have also been made to enhance connectivity by repurposing underutilized alleyways into attractive pedestrian areas. Although this is an ongoing initiative, Mayor Drury notes that it has created a more walkable downtown, while protecting the distinctness of the oldest part of the community.
"We have a historic preservation commission that has existed here in town since the 1990s. They saw the value of preserving the beautiful architecture that we had. As you look at our Main Street, you'll see a walk through history, if you will, with the different styles and the activity that goes on there," he portrays.
One historic gem, which acts as an anchor to the district, is Hillforest Mansion, an exquisitely restored Victorian house, which has been recognized as a National Historic landmark. Now a museum, the mansion is open to the public for tours and events.
For businesses who are looking to do improvements to downtown buildings, Aurora introduced a façade improvement program, which matches 50% of costs up to $10,000. Describing a recent meeting with the façade grant team, City Manager, Austin Woods elaborates, "There's a criterion that we rank and vote on. One of the pieces of that criteria is the building's history and what it brings to the city of Aurora. We have over 10 different projects that we're hosting. So, we're putting $70,000 back into the city, and we're getting $150,000 out of repairs, painting, roofing, and different things like that. So, that's going to go before council at our next meeting for approval, but we were able to do nearly every single project that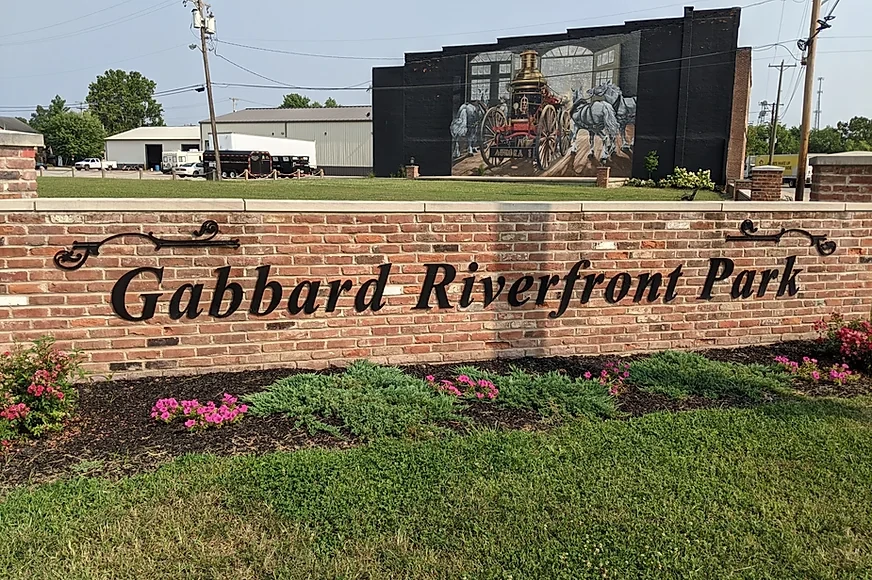 was requested."
Diverse Attractions and Culinary Delights in and Around Aurora
For a community of its size, Aurora boasts a surprising array of high-end restaurants, including Third & Main, a popular destination that has been known to attract celebrities and fill the available parking downtown on weekends. Great Crescent Brewery, a microbrewery located in the heart of downtown is another Aurora hotspot. "One thing that impressed me with our microbrewery is that the majority of what they sell there is brewed in-house with local ingredients, and their food is all made with local ingredients made in-house. It's really impressive. I feel like you won't see that very often," Woods remarks.
Having three casinos in the region benefits Aurora, even though they are not situated within the town itself. Despite only receiving a small portion of the proceeds, Drury suggests these casinos still have a substantial impact on the local economy, as the revenue generated plays a crucial role in funding quality-of-life initiatives and supporting larger projects in the community. "It is vitally important that they're here," he maintains. Aurora is further enriched by attractions such as the Perfect North Slopes, a ski area, which is a draw for visitors from the region and beyond.
"People come from as far as Chicago and well into Ohio and Kentucky, to come to Perfect North Slopes to ski. It's the only facility within 500 miles or more," he relays. Other destinations in the community include the Creation Museum and The Ark, a replica of Noah's Ark, both of which bring visitors from across the United States, contributing to the success of local bed and breakfast accommodations and rental facilities.
Balancing Growth while Maintaining Cozy Charm, Aurora is Working to Expand Housing in the City
To address increasing housing demands, Aurora is actively exploring expansion opportunities. Mayor Drury recounts, "We're looking at annexing some areas around us that probably should have been annexed a long time ago, to increase the possibilities for growth. But it is going to be controlled growth so that we keep that small town cozy feel at the same time that we're expanding out."
According to Woods, the city is also working to bring more housing inventory, including the development of high-end condominiums, apartments, and a new subdivision, known as the Kopp Farm Development, which will bring single-family homes. "87 homes is the limit, that's the end goal," acknowledges Woods.
"They're going to start with 10 houses as a feeler to see how people would appreciate that kind of neighborhood and area."
As for mixed-use options in the downtown, Woods conveys, "We actually have an ordinance where unless you're grandfathered in, every single first floor of the downtown area is business. That's the key, as you walk down the streets and you're enjoying the historic sites, it is just business after business, mom-and-pop shops, small diners, just that small-town feel. That's one thing that an ordinance was made to preserve."
To enhance the housing opportunities in the city core, Aurora has recently formed a partnership with Indiana Landmarks, an organization that represents the entire region. Together with the neighboring city of Lawrenceburg, they have submitted a grant application to secure funding for the development of second-story residential units above ground-floor shops. "We keep looking at ways to improve that niche so that folks can come in and live above their specialty shop," asserts Drury. "So, that's a high priority and one of the things that we are seriously looking into."
Partnerships and Collaborations for Economic Development
Major employers in Aurora include Consolidated Grain and Barge Co., who ship grains by barge down the Ohio River to New Orleans, where it is loaded on ships for international destinations. Another prominent employer is Stedman Machine Company, a manufacturer of crushing equipment used in mining operations across the globe. Located near the airport and with major highway access, Aurora's location makes it favorable for business expansion, although Drury admits, "We're a little limited in the space that we currently have within our borders, and that's another reason why we're looking at annexation."
Discussions are also underway with Dearborn County to explore the potential of developing a port. Plans include dredging a large piece of land outside the city to facilitate barge operations. "One of my ideas there is to look at the possibility of container on barge shipping because, with the ever-increasing truck traffic on the highways, I think it's important that we look at alternatives to get goods up and down the river," he says.
Collaborations with the county are crucial to Aurora's success, along with partnerships with Indiana's READI program, which has helped to inspire a regional approach in terms of how to put Southeastern Indiana on the map, while also providing funding for infrastructure work as the city prepares for new housing. Aurora has also partnered with One Dearborn, an organization that Drury says represents the city on an economic forefront statewide.
"There's a lot of regional collaborative effort and working with private individuals to see if we can join together for a greater cause," describes the mayor. "Currently, we're trying to do that with some riverfront development. There's a property owner down there and we are partnering with him to see if we can set up some docking straight into the river."
He adds that local organizations like the Lions Club, Eagles, Moose Lodge, and Main Street, play a vital role in fostering community engagement and bringing together businesses and residents.
Looking toward the future, Drury says that infrastructure improvements, connectivity, and quality-of-life enhancements will continue to be a focus. Undertaking projects such as expanding a bicycle trail and starting a long-awaited road construction, along with housing and park upgrades will enhance the community and attract more development.
In summary, he offers, "We have a lot of irons in the fire, but activity breeds activity, and we're going to keep our nose to the grindstone and keep moving Aurora forward to the vibrant community that it is, and that it can be."
AT A GLANCE
Aurora, Indiana
What: A progressive and historic city built along the Ohio River
Where: Dearborn County, Indiana
Website: www.aurora.in.us