Kentucky Cabinet for Economic Development
Center of Success: How Kentucky is Continuing Unprecedented Economic Momentum
Riding a wave of economic momentum since the start of 2021, Kentucky continues to pave the way in creating a dynamic, innovative economy, attracting quality job opportunities, investing in speed-to-market initiatives, and growing key industries such as EV/automotive, site selection and business development, and manufacturing/logistics.
In 2021, state records were set for both private-sector investment — $11.2 billion – and job creation – 18,100. And that has carried over into 2022 in a significant way, with nearly $7.5 billion invested and more than 13,000 full-time jobs created through September. Private-sector companies are locating and expanding at a higher rate than ever in Kentucky's history, creating quality jobs and long-term investment in the state's economy.
"The unprecedented economic momentum we are seeing throughout Kentucky is no accident," Gov. Andy Beshear says. "From our key industries seeing continued growth, to investment in our site selection and workforce training initiatives, we are investing in and attracting quality companies and jobs in every corner of the commonwealth. We're all moving in the same direction as Team Kentucky and I could not be more proud of our continued success."
At the forefront of this momentum is the commonwealth's rise to prominence in the electric-vehicle (EV) industry and the rapid growth of companies directly supporting this new market. The combination of large-scale projects from some of the industry's largest companies, coupled with various announcements directly contributing to the supply chain and logistical support of the sector, has established Kentucky as the new EV battery capital in the United States.
In August, Gov. Beshear joined state and local officials and representatives from Japan-based Envision AESC to break ground on a $2 billion, state-of-the-art gigafactory in Bowling Green's Kentucky Transpark. The 30 GWh plant is creating 2,000 skilled jobs in South Central Kentucky to produce battery cells and modules that will power up to 300,000 next-generation EVs by 2027 and will be manufactured for multiple global automotive manufacturers.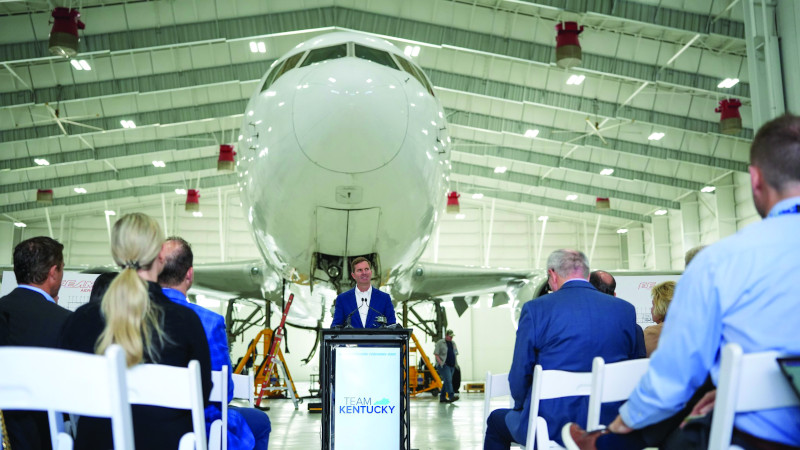 The announcement of the Envision AESC investment came just months after Kentucky's first game-changing EV battery project. In September 2021, Gov. Beshear and executives from Ford Motor Co. and SK On announced the BlueOvalSK Battery Park in Hardin County. The transformational $5.8 billion project is set to create 5,000 jobs in the heart of the state and will be home to two battery plants to power the next generation of Ford and Lincoln electric vehicles.
These major announcements are at the forefront of Kentucky's newest key industry, and they also are generating additional investment and job creation from a growing supplier network made up of both new and existing Kentucky businesses.
Additional projects from Ascend Elements and LOTTE Aluminum will further strengthen the state's EV and automotive industry. Ascend Elements is investing up to $1 billion and creating more than 400 full-time jobs in Hopkinsville, where the company will recycle EV batteries and salvage reusable components for further battery production. LOTTE is located in Elizabethtown with a $238.7 million investment and creating 122 jobs to manufacture ultra-thin aluminum foil, which serves as a core material in lithium-ion batteries.
Overall, the automotive industry employs more than 100,000 Kentuckians full time. Kentucky produces the iconic Chevrolet Corvette in Bowling Green, hosts two Ford assembly plants in Louisville and is home to the world's largest Toyota manufacturing facility, located in Georgetown. Collectively, those facilities rank Kentucky as the No. 1 producer of passenger vehicles per capita in the nation, according to data provided by Automotive News.
And the state's automotive landscape encompasses far more, including 550-plus automotive suppliers, trailer and truck body makers and accessory and aftermarket equipment producers.
Speed-to-Market Initiatives
Aiding the state's recent growth and sustained economic momentum has been the continued investment in site development initiatives. The commonwealth has taken an aggressive approach to the speed-to-market demand, matching companies' sense of urgency and expediting project timelines in a way many other states cannot.
One of these initiatives is the state's Kentucky Product Development Initiative (KPDI) which allows companies to quickly locate in Kentucky while mitigating risks and delays associated with the construction process. The program was created in partnership between the Kentucky Cabinet for Economic Development and the Kentucky Association for Economic Development (KAED) and is supported by $100 million in funding approved by Gov. Beshear and the state legislature.
Through KPDI, local governments and economic development organizations may seek funding to assist with site development efforts, and after coming online in 2022, more than 70 applications have already been submitted. This is just the latest effort by the commonwealth to boost the number of quality locations available to businesses looking to quickly expand or relocate to Kentucky to keep up with demand.
Further investment in the state's Build-Ready program has also helped continue strong statewide economic growth through increased investment and job creation. With a Build-Ready site, much of the work – aside from construction – has already been completed. That includes control of the land to be developed, completion of archaeological, environmental and geotechnical studies, construction of a building pad, preliminary design work completed, approved site plan permits obtained and necessary infrastructure in place. On a Build-Ready site, construction can begin immediately.
The commonwealth is home to nearly 20 Build-Ready sites with multiple other locations across the state currently working toward certification. To date, six former Build-Ready-certified sites, including tracts located in Graves and Laurel counties and four sites in Warren County, have been selected by companies for new location projects, allowing companies to bring their operations online in a cost-efficient manner while creating jobs for local Kentuckians.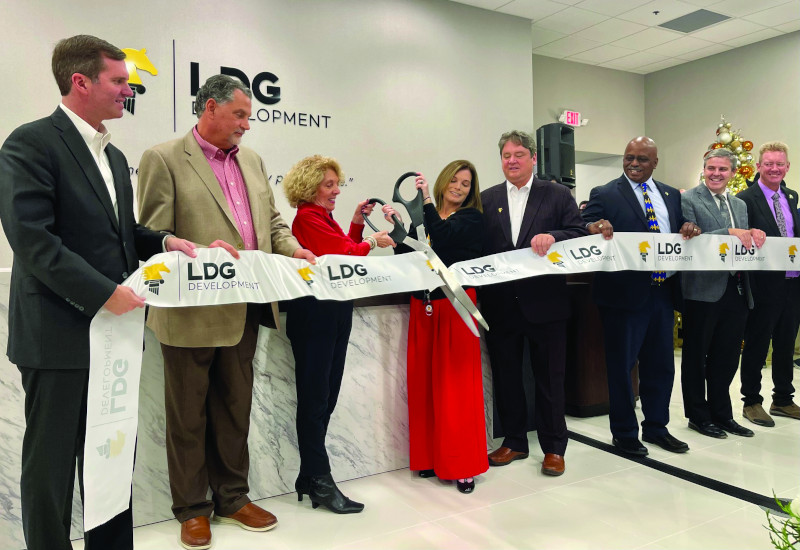 The Center of Success
Kentucky's central geographic location makes it ideal for manufacturing and distribution of products throughout the United States and around the globe. Kentucky's central location puts manufacturers within 600 miles – or 1,000 kilometers – of two-thirds of the U.S. population.
That centrality enables manufacturers to quickly distribute their products to key markets, while global air cargo hubs operated by UPS, DHL and Amazon provide fast and reliable distribution overnight to anywhere in the world. Industrial employers also benefit from various reliable, air, road, waterway and rail shipping options.
Kentucky's Entrepreneurial Ecosystem
An economy is only as good as the environment it creates to foster growth. That is the mindset behind KY Innovation, the commonwealth's catalyst in creating an atmosphere that identifies, develops, retains and attracts talented entrepreneurs to the state.
Their goal is to make Kentucky a go-to destination for entrepreneurs and investors who seek to start or grow an innovative startup. KY Innovation is committed to startup companies seeking to make a difference and are not only an extremely knowledgeable source for information and connections, but also can help companies obtain grants, partnerships and resources to create a thriving culture of success.
These programs and resources include incubators and accelerators, the SBIR/STTR program, Angel Investment Tax Credit, and partnerships with local and state colleges and universities to provide opportunities to the next generation of entrepreneurs and small business owners.
Kentucky continues to position itself as an innovative, forward-thinking state, and continuing to invest in and support these companies is paramount in creating a dynamic economy and the workforce of the future. With the help of KY Innovation, the commonwealth has become an ideal landing spot for young professionals and entrepreneurs looking to grow or start their startup or small business.
With record-breaking economic momentum, continued investment in some of the state's most important and fastest-growing industries, and continued focus on workforce training, speed-to-market initiatives, and startup companies, it's easy to see how the commonwealth is building a foundation today for a future that works for all Kentuckians.
AT A GLANCE
Kentucky Cabinet for Economic Development
What: The association at the forefront of economic development and innovation for the region
Where: Frankfort, Kentucky
Website: https://ced.ky.gov/