Pittsburg, Kansas
On the Map as a Great Place to Live and Do Business
With a host of amenities for its residents to enjoy, Pittsburg, Kansas is poised for growth
As the most populous city in Crawford County and all of southeast Kansas, Pittsburg is a community that has been experiencing steady growth, both in population, and residential and commercial development. A low cost of living, low unemployment, excellent broadband connectivity, walkability, and a rural landscape with proximity to big city amenities, make Pittsburg the kind of place that checks all the boxes. An ideal place to live, work and play.
With a population close to 21,000, the city boasts a trade pull factor of 1.9. Deputy City Manager, Jay Byers explains this in layman's terms, "That is a measure of how many people come from out of town to shop here. A factor of 1.9 means that almost every other sale in the city is from somebody from outside of town. We are about half an hour away from Joplin, which is a metropolitan area about four times our size. So, to have a 1.9 trade pull is pretty significant."
For the last two years, Pittsburg has had double-digit growth in sales tax, and Byers notes that the community also reported strong sales growth through the pandemic. He says, "Our economy is strong. Our city revenues and expenditures are structurally balanced, and our revenues and expenditures in our projections are balanced as well."
As a regional hub for healthcare, education, retail, and manufacturing, economic growth in Pittsburg is supported by the Pittsburg Area Chamber of Commerce. Blake Benson, Chamber President recounts, "We're pretty proud of the unique economic development team approach that the city has built here in Pittsburg. It's paying off because we've been able to announce or complete close to $600 million in economic and capital improvement projects just since 2013." Most recently, a FedEx Ground distribution center was opened, a $30 million investment that brought 165 jobs to the region.
"The entire project from the first call to the opening was 18 months. That is something that we're pretty proud of," Benson admits. The city has also seen several manufacturing expansions, including one at Avail Enclosure Systems, one of Pittsburg's oldest employers. "Last year, they landed their largest order ever and that necessitated an expansion," he relays. Other expansions in the community include those at battery manufacturer EaglePicher Technologies and Kendall Packaging Corporation.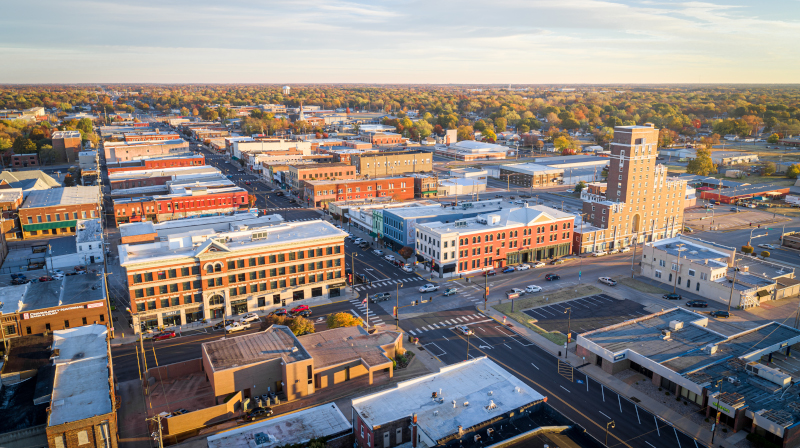 Healthcare is another growing sector in Pittsburg, where Ascension Via Christi Hospital has invested over $50 million in improvements to their facility. The Community Health Center of Southeast Kansas is headquartered in the city, employing almost 800 people. Benson reports that the health center will soon be opening a medical education facility in Pittsburg, which he believes will be of tremendous value. He shares, "That facility will allow doctors to do their medical residency here in Pittsburg. The numbers show that the majority of doctors end up practicing within 50 to 100 miles of where they do their medical residency. The fact that those students will be able to finish their schooling here in Pittsburg, we think it'll make it even more attractive for Pittsburg and southeast Kansas, for those doctors to stay here." The city is also home to Pittsburg State University, which is in the final stages of adding a nursing building and simulation hospital, a project totaling $8 million.
Six years ago, the last state-sponsored casino, known as Kansas Crossing Casino, was built in Pittsburg, bringing with it a hotel, restaurant, and entertainment venue, an $80 million investment, and further adding to the diversity of the city. Benson says, "That's one of the best things about our economy, it is diversified. Manufacturing represents 18% of all of the projects that have been completed in the city in the last 10 years. The rest is made up of healthcare, infrastructure projects, and projects at Pittsburg State. What that does is it really helps insulate our economy from big swings, because we're not necessarily tied to just one sector of the economy."
To support the small and medium business community, an economic development incentive fund was introduced. Benson offers the example of Limelight Marketing, which started out as a one-person operation in Pittsburg. As the only marketing firm in southeast Kansas, operations quickly grew, and the need for expansion was soon realized. Reaching out to the city, the owner was granted some funding to help purchase and revitalize a dilapidated property downtown, with a goal of growing to 50 employees within the next two years. In 2022, Limelight made the Inc. 5000 list, and was recognized as one of the fastest-growing independent companies in the county.
"When you're a small business owner, and you're looking at a $400,000 investment, that's a big jump. If the city is able to step in and reimburse some of that, it's not only helpful for our local businesses, but it's a great sign that the city is behind them and wants to do anything they can to help them succeed," he asserts.
Along with its small-town charm and entrepreneurial spirit, Pittsburg has also noted increased interest from national chains, with well-known names like Buffalo Wild Wings, Panda Express, Marshalls, and IHop located in the city. "Those chains weren't interested in Pittsburg previously," Byers conveys. "I think we're certainly on a map somewhere, we are getting the attention."
The relocation of Pittsburg State University's business school into downtown Pittsburg will be another positive change to the landscape of the city. This $34 million project will be completed in 2026, coinciding with the city's 150th anniversary. As well, the results of a recent feasibility study have indicated that as the city continues to develop, it would benefit from a conference center in the downtown core.
As a popular hunting destination, Pittsburg has a number of hunting lodges, bringing people in from across the country. "We have a decent-sized airport, so we have a lot of people fly in to do hunting and fishing excursions here in town. There's a lot of outdoor activity in that regard," Byers says. Hiking and biking opportunities have been improved throughout the community, through the efforts of the city's Active Transportation Advisory Board. A feasibility study is also underway to determine the need for an outdoor sports complex focusing on soccer and baseball. "It shows a strong indication that a sports complex would be very beneficial, given our location, and our lack of current facilities," Byers reveals, "We have to decide exactly how to do it, but the demand is here, the need is here."
On the housing side, Kim Froman, Director of Community Development and Housing says there are several exciting residential projects in progress throughout the city. A development known as Silverback Landing will bring 133 new homes to the community, ranging from $250,000 to $350,000. Creekside East will see 26 new houses, priced between $200,000 to $210,000. The Villas at Creekside will be a 29-villa gated community for those 55+, offering zero maintenance. The development will feature a dog park, walking trails, recreational courts, and on-site storage.
"There are a lot of things planned for that, in hopes of bringing more individuals back to the community, or as an option for those that live in the community that are looking for less maintenance, which would then open up their homes for families to purchase," describes Froman. In terms of other development opportunities, she acknowledges, "We do have lots that have opened up in our land bank for new builds, those would be in the moderate-income housing range, which would be great single-family homes. In our downtown, housing is constant. We are currently looking at a development group that will bring 37 units to our downtown, renovating buildings that were at risk for dilapidation. That's a really exciting development we're looking forward to, for those that want the downtown lifestyle."
Pittsburg also recently created a Community Development Corporation called "Point Forward" devoted to advancing projects to help grow the community
With so much happening throughout the city, Pittsburg is poised for continued growth and success.
As for what the future holds, Benson summarizes, "As much success as we've had over the last 10 years, it's all been leading up to the growth that we'll see over the next few years."
"Things like infrastructure and incentive policies take a little while to develop, and I think it's all going to break out over the next two to three years. The city has put together a great team here. The goal is, regardless of who you call, you're going to get helped and the city is going to do everything it can to help make your project happen. It's an exciting time to be in Pittsburg, it's a very business-friendly community, and it's city leadership that moves at the speed of business."
AT A GLANCE
Pittsburg, Kansas
What: A growing city and a regional hub for the Pittsburg micropolitan area and southeast Kansas
Where: Crawford County, Kansas
Website: www.pittks.org
Freeman Health System – www.freemanhealth.com
Locally owned, not-for-profit and nationally recognized, Freeman Health System includes Freeman Hospital West, Freeman Hospital East, Freeman Neosho Hospital and Ozark Center – the area's largest provider of behavioral health services – as well as two urgent care clinics, dozens of physician clinics in three states and a variety of specialty services.