Ozark, Alabama
a unique history and a bright future
With its beautiful historic downtown, Ozark, Alabama beams with economic growth
"Ozark is a historical city, with small-town charm, " Mayor Mark Blankenship explains, his voice echoing with pride. "We have a great downtown and a unique historical street leading to it, lined with older homes that have been lovingly renovated over the years."
Ozark's rich history isn't confined to its charming architecture but extends to the military. It is the home of the formidable Fort Novosel, formerly known as Fort Rucker, one of the town's most significant assets. The base's gate leads directly into Ozark, creating a unique fusion of military and local life. "We're a big aviation-related city, given our proximity to Fort Novosel," Mayor Blankenship shares, a testament to the symbiotic relationship between Ozark and its military base.
Perhaps one of the most unique attractions is Ozark's downtown entertainment district. Here, locals and visitors can freely meander from one business to another with a drink in hand, creating a relaxed, social atmosphere.  "It's been a big attraction for us," Mayor Blankenship admits, illuminating the town's ability to combine traditional Southern charm with a contemporary twist.
In addition to its vibrant downtown and military roots, Ozark's geographical location lends itself to an impressive array of outdoor amenities. The 92-acre Dale County Lake, is surrounded by a 3.1 mile walking trail, providing a serene backdrop to the hustle of daily life.  "The lake is a big attraction," says Mayor Blankenship, " the popularity increased considerably during COVID." But the lake isn't just for strolling or fishing; Ellis explains that the park around the lake also hosts a mountain bike trail, an archery course, and an upcoming disc golf course. It's a place where families can spend an entire day basking in the joys of outdoor pursuits.
Sports and art enthusiasts aren't left out either. The historic Eagle Stadium, one of the oldest baseball fields in Alabama, promises a nostalgia-laden game experience. Ozark Leisure Services also offers a variety of sporting options from soccer to swimming.  Additionally, there is the Ozark Civic Center, a spacious venue that can accommodate 4,000 people for events and gatherings. The Ann Rudd Art Center and the Flowers Center for Performing Arts offer an array of artistic opportunities.
 As the economic heart of Dale County, Ozark is a hub of business and industry, striking a balance between its rich historical identity and the modern economic landscape.
"We're in charge of recruiting industrial and retail businesses," shares Holle Smith, the President of the Ozark-Dale County Economic Development Corporation. "Aviation is a target industry, but we also aim to attract and support diverse businesses in the area."
Ozark recently welcomed a significant new addition to its industrial landscape – Ecore International, a rubber flooring manufacturer that uses recycled truck tires to create its products. This green industry initiative represents a $25.5 million investment, creating a wealth of employment opportunities. " To date, all their positions have been filled with local individuals," Smith reveals, underlining the company's commitment to the community and its contribution to the local economy. In addition to Ecore, Ozark is home to Brittanie's Thyme, an organic skincare company that presents another facet of the town's diverse business scene.
Aviation is deeply ingrained in Ozark's identity. The town's municipal airport, owned and controlled by the city, forms the heart of its aviation hub. "Our airport makes us unique because we have full control over what happens here," explains Denise Ellis, who oversees the aviation portfolio for the city.
A unique symbiosis exists between Ozark and Fort Novosel. Ellis and Blankenship elaborate on the relationship that the city shares with 'Friends of Army Aviation,' an organization based at the airport with a purpose that is twofold: to educate the public about the Vietnam War and foster a love for aviation in younger generations. " Our airport businesses are helping with the pilot shortage," Ellis affirms, outlining how the city is home to four flight schools. These schools play an instrumental role in transitioning helicopter pilots from Fort Novosel into fixed-wing pilots. This skill adds tremendous flexibility and potential to their careers in the industry.
Ozark's ambition to attract and sustain businesses goes hand-in-hand with its commitment to robust infrastructure. At the helm of this endeavor is Mayor Blankenship, who shares, "We have an annual paving project in place that is funded by a city and state gas tax that improves quality of life for our Ozark citizens."
The city's infrastructure commitment extends beyond paving. Ozark boasts of a standalone utility board that handles water and sewer, another crucial aspect of infrastructure. "We're constantly looking at areas that we need to expand," Blankenship asserts, alluding to an imminent project along Highway 231, which will expand water and sewer lines to the south end of town, creating further opportunity for development.
Ozark works closely with its Emergency Management Agency (EMA) group in response to potential emergencies. "We have people within the city assigned to the EMA group,"
Blankenship says, explaining that in an emergency, key individuals including representatives from the Public Safety Department, gather at a central location to manage the situation effectively. This approach ensures Ozark's readiness to tackle any potential storm, literally and metaphorically, in its path.
Ozark's school system is dynamic and evolving, fostering an innovative environment. This sentiment is encapsulated in the words of Smith, who shares, " The Ozark City School Board started a #ONEeagle' campaign – Ozark Needs Everyone. We're trying to communicate the positive attributes and get everyone on board." This campaign aims to promote community positivity, inclusivity, and the mindset that 'United we are ONEeagle'.
Workforce Development is a priority in Ozark, especially considering the prevalent employment shortages across the nation. "We have several partnerships that focus on addressing workforce needs," Smith confirms, mentioning collaborations with local community colleges, Southeast Alabama Works, and our K-12 school systems.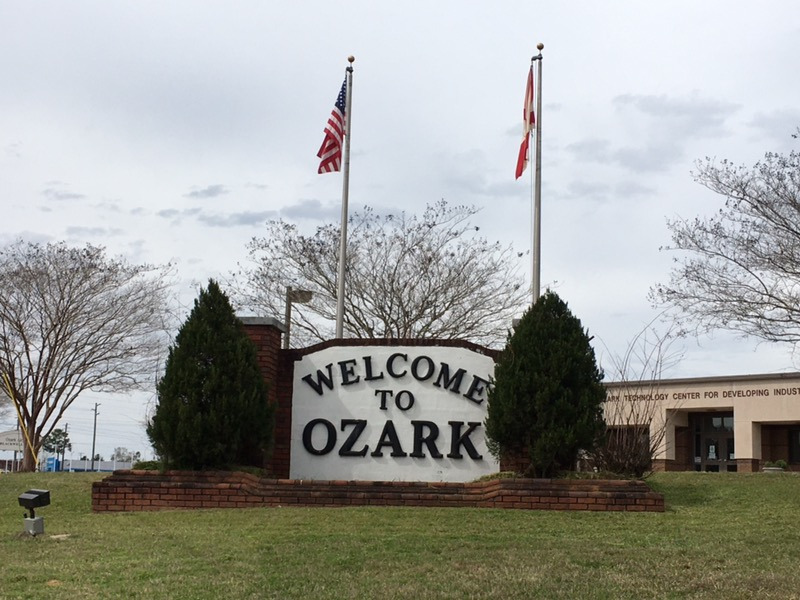 Another unique element to Ozark's workforce development is its connection with Fort Novosel, which provides an influx of retiring soldiers ready for new careers. Smith views these individuals as fantastic additions to the workforce, noting their leadership training, physical fitness, and soft skills. Through various programs, these transitioning soldiers are given support to enter the workforce as entrepreneurs or industry employees, ensuring Ozark's talent pool remains diverse and dynamic.
Ozark's penchant for outdoor recreation is exemplified by its passion for pickleball, a rapidly growing sport that's captured the city's heart. The game initially found its place on the tennis courts, which soon brought about a dedicated indoor facility when the courts underwent renovations.  "We turned a city-owned building into an indoor court, with eight courts and a half-court for solo play," Blankenship reminisces. Notably, this transformation was largely driven by the community spirit, with city employees and volunteers playing a significant role in its development.  Now a buzzing hub of activity, the facility boasts 124 members with 24-hour access to the courts. The fervor for pickleball culminates in a highly anticipated annual event, the Pickleball Festival, set for the end of July.
Another defining aspect of Ozark's character is its deep sense of patriotism, which materialized through community-driven events. One notable initiative is the flag program, where families can buy flags in honor of a veteran. These flags, adorned with the veteran's name and their service branch, fly proudly along the town's main thoroughfares for two weeks surrounding July 4th and Veterans Day.
The city's accomplishments are a testament to their successful partnerships. "It takes a village" says Ellis. The town works harmoniously with utility partners like Alabama Power, Pea River Electric, Southeast Gas, and local entities like Ozark-Dale County Economic Development Corporation, the local school systems, the community hospital, and the Ozark Area Chamber of Commerce. It's this united front that has propelled the city's progress.
As Ozark moves towards the latter half of 2023 and into 2024, Mayor Blankenship outlines various projects in the pipeline. "We're working on several housing projects, and we have a new farmers market that is near completion" he shares. The city also looks forward to key annual events like the Ozark Crawdad and Music Festival in April and the Claybank Jamboree Arts and Crafts Festival in October.
An intriguing development in the city's plan revealed by Mayor Blankenship for its historic Holman Mansion is the construction of an outdoor entertainment area behind the mansion and its function as the new home of the Ozark Area Chamber of Commerce allowing it to be regularly open to the public.
The preservation and celebration of Ozark's historic buildings and downtown hub is a priority. "We recently established a historic preservation commission," shares Smith. The city is setting up historical districts and putting guidelines to protect its architectural heritage.
Ozark's story is one of a city tirelessly working to enhance its residents' quality of life, preserve its rich history, and continuously innovate for a bright future.  It's a city where each day promises outdoor adventures, community connection, and a deep-rooted love for the place they call home.
AT A GLANCE
Ozark, Alabama
What: Historical town with economic initiatives to match its anticipated growth
Where: Located in the county seat of Dale County, Alabama
Website: https://www.ozarkal.gov/

Brittanie's Thyme – https://brittaniesthyme.com/
Brittanie's Thyme is a family owned and operated company recently relocated to Ozark. We are dedicated to manufacturing and distributing luxury personal care that is safe and effective, yet affordable. Using pure botanical ingredients ensures we offer the best skin care products while keeping the integrity of being Made in America.