Hickory, North Carolina
Life. Well Crafted
Business View Magazine interviews Warren Wood, City Manager of Hickory, North Carolina, for our focus on Economic Development in U.S. Cities
Sitting picture perfect in Catawba County, North Carolina, the City of Hickory offers the scenic beauty of parks and trails, lakes, and mountain views in all four seasons. The community traces its roots back to 1850, when Henry Robinson built a log tavern under a hickory tree in the area. The town was first known as Hickory Tavern, officially becoming the city of Hickory in 1889. A forward-thinking community, Hickory would go on to be the first city in North Carolina to have a council-manager government in 1913. The city was also ahead of the times by installing electric lights in 1888 and a complete sewer system in 1904. In 1944, during a major polio outbreak, the town of Hickory joined forces with the March of Dimes to build a hospital which could adequately care for the region's affected children. Within 54 hours of making the agreement to build the hospital, doctors were already inside, with equipment, treating patients.
Hickory's population of 41,000 swells to over 80,000 during the day. As City Manager Warren Wood explains, "We are the hub of the greater Hickory metro area, which is a four-county region, encompassing about 365,000 people. We are the geographic center of that region, the employment hub. We abut the Charlotte metro area and refer to ourselves as Charlotte's great northwest, although we are our own metro area." Hickory has an ideal location on Interstate 40, which spans eight states from North Carolina to California and is the third longest highway system in the U.S. And Charlotte Douglas International Airport is a short drive from Hickory, another advantage for residents and visitors to the area.
With the tagline 'Life. Well Crafted', the City of Hickory gives a nod to its long history of entrepreneurial spirit. Many of the community's major corporations are homegrown, along with a variety of small businesses within the city. Family-owned Hickory Springs Manufacturing (HSM), a leading supplier to the bed industry, has been a part of Hickory since 1944. For many years, the city relied heavily on manufacturing, which made up 50 percent of its employment base. With intentional effort, Hickory has diversified its workforce, which is now 28 percent manufacturing based, still four times the national average.
Trivium Corporate Center, an advanced manufacturing business park in the city, has recently announced the addition of American Fuji Seal. The manufacturers of shrink sleeve labels for consumer products are investing $52 million into their new facility, employing more than 100 people. Other Trivium tenants include ITM, manufacturers of radiopharmaceuticals for cancer treatment; Cataler, a Japanese company specializing in automotive catalysts; and Corning Incorporated, manufacturers of optical cable systems. While these projects are in various stages of development in the Trivium location, there is continued interest and growth expected. Wood admits, "The problem is going to be, now that we have three or four parcels left, we are going to have to start thinking about expansion. That means either buying additional property or recreating that concept somewhere else."
Aside from manufacturing, Hickory has other large companies who bring employment to the city, including the corporate headquarters of CommScope, a Fortune 400 company (#381), specializing in communications technology. Logistics management specialists, Transportation Insight, is one of the largest privately owned companies in North Carolina. They are based in Hickory, along with Merchant Distributers Incorporated (MDI), a grocery store distribution company. "MDI is one of the largest companies in the state, and they are doing $120 million expansion, which is the largest single economic development project we've had," says Wood.
Catawba Valley Community College, one of the top five community colleges in the U.S., has built an 80,000 square foot workforce development complex, offering training programs in the areas of computer engineering, electrical engineering, computer integrated machining, electronics engineering technology, automotive systems technology, welding, mechanical engineering, mechatronics and robotics, and heating/ventilation. Wood reports, "They are set up to train the workforce. They even work with individual industries to train workers on specific equipment within that business. They do a tremendous job at that facility, and they are a vital piece of our economic development efforts. The beauty of it is they are about a mile down the road from the Trivium Corporate Center. And that's one of the reasons we've been so successful landing businesses out there."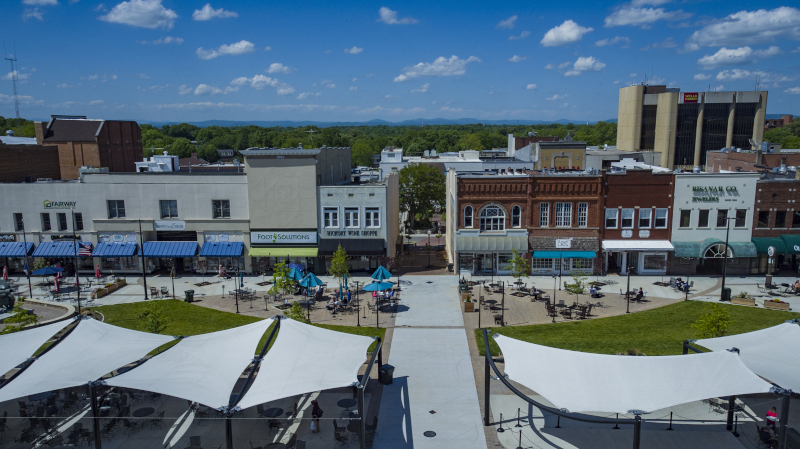 Hickory is also home to Lenoir-Rhyne University, a private Lutheran university offering a range of undergraduate, graduate, and continuing study options with a focus on liberal arts and sciences. Starting with only 12 students, in a one room school 1891, the university has grown to an enrollment of more than 1800 students, and a campus spanning 100 acres. They are also a valuable contributor to community development.
Along with Hickory's determination to build a skilled workforce comes a rising demand for housing, especially single-family homes. With several developments in the works, home values are going up and houses are moving quickly. Currently the average for home sales is 30 days on the market. Wood acknowledges, "We have available land. We have a very strong water and sewer utility system that is regional, we have great infrastructure. Our city council is very pro growth, and we are focused on three things, growing the population, growing the workforce, and growing our tax base. We have to have quality of life. We have to have housing, and we have to have jobs. We are creating the jobs, so we just need to make sure we are creating housing."
Development in the city's downtown is another way that Hickory is creating more housing for its residents. The One North Center project is currently underway across the street from City Hall. The mixed-use building will include commercial space for retail and restaurants on the main floor, with 100 apartment units on the five floors above. With many onsite amenities, this upscale development will be the first of its kind in downtown Hickory. A block away, another project under construction includes a 50-unit apartment complex, further meeting the demand for housing in the city.
Downtown Hickory's central business district has a unique variety of shops, eating establishments, and entertainment venues. Among the retail and restaurants are professional office spaces, such as the corporate headquarters of Transportation Insight, whose offices are in a renovated mill in the city core. The scenic, park-like setting of the CBD has seen recent improvements thanks to a $40 million investment in streetscapes, pedestrian connectors, and the city's Union Square. This investment was possible due to a community bond referendum. As Wood explains, "In 2014, the voters passed a $40 million bond referendum which focused on a number of things. One was building a 10-foot wide, multimodal path downtown that you can walk, bike, or jog on. That has generated a tremendous amount of interest and people are buying property along that path. We took the $40 million and leveraged it and got several grants and now we have about $100 million in improvement projects that we're implementing. There's a lot of activity in the downtown area, and we're excited about all the redevelopments."
The multimodal path system, now in progress, will extend throughout the city. Two projects – the Riverwalk and the City Walk – will connect various neighborhoods in a series of walking and biking trails that are 10 feet wide and fully accessible. These paths will continue along Lake Hickory and the Catawba River, driving other development in this area. Wood reports, "From University, you can go all the way down to Lake Hickory, which is part of the Catawba River chain. There are spurs off into various neighborhoods and a spur that goes out to the airport. All those projects are either under construction or under design and will be bid out shortly. The first piece that goes through the downtown is almost done. We have been making great headway on that." The trail design also includes adding conduit for broadband fiber, another benefit to city residents.
As Hickory continues to grow, the city would like to draw more diverse businesses to the area, which historically has been based in furniture, hosiery, and textiles. They are now targeting pharmaceutical, research and development, and advanced manufacturing industries. "We have the ability to train a workforce," says Wood. "What we are doing with our bond program and quality of life initiatives, that is what will set us apart from other jurisdictions that we're competing with. With the proximity to a larger city, Hickory can easily stand on its own. We've got a lot of things you wouldn't typically find in a city of 40,000. We have a community theater, a symphony and choral society, an art museum, and a science center. We feel like we've got a lot to offer."
With so much diversity and innovation, Hickory has everything required to build a quality life. A life – well crafted.
*All photos courtesy of Chad Austin Inc
AT A GLANCE
Hickory, North Carolina
What: A scenic progressive city; population 40,000
Where: At the foot of the Blue Ridge Mountains, an hour from Charlotte, NC
Website: www.hickorync.gov

Catawba Valley Community College – www.cvcc.edu
Catawba Valley Community College is an accredited comprehensive community college serving Catawba and Alexander counties in North Carolina. Approximately 4,500 students are enrolled in college credit courses and more than 10,000 students are enrolled in short-term and occupational training opportunities. For more information, visit www.cvcc.edu
Lenoir-Rhyne University – lr.edu
Proudly located in Hickory, Lenoir-Rhyne University is a nationally recognized liberal arts university in North Carolina with more than 50 undergraduate majors and more than 30 graduate programs.
We offer a valuable and transformative experience and invite you to become part of the Bear family. Learn more at lr.edu.