Watauga County, North Carolina
Escape to the mountains
Business View Magazine interviews representatives of Watauga County, North Carolina for our focus on Economic Development in U.S. Cities & Counties
Known as a quiet, rural community in the North Carolina Blue Ridge Mountains, Watauga County is seeing renewed growth this year with many Americans on the hunt for a peaceful escape from the big cities. With the Town of Boone as its seat, the appealing county of 55,000 has seen an influx of interest from people in New York, California, Louisiana, and Texas looking for a move to the area. Far from being a 'sleepy' place, however, the county is very active – coveted as a long-time tourist/second home area and ski resort, and home to a 20,000+ student university.
"People are moving here as fast as they can to get out of cities, and I don't see any end in sight to that," says Joe Furman, Watauga County's Director of Economic Development. "Property sales are through the roof. New home construction is back to levels we haven't seen since before the Great Recession. The pandemic has actually caused growth." Rob Hudspeth, Senior Vice President of the Appalachian Regional Healthcare System adds, "These people are wanting to get away, they want to feel safe."
Watauga County's location within the Appalachian Mountain range offers outstanding views, fresh mountain air, and plenty of recreational opportunities thanks to a four-season climate. Tourists and residents alike have plenty of activities nearby, including long hikes along scenic trails, kayaking along the county's two rivers (the New River and the Watauga River), cruising down ski slopes in the winter, and taking in a game of tennis or golf in the summer. These are among the many benefits that have drawn attention to the county throughout the COVID-19 pandemic.
"We actually fared very well during COVID and I think that comes back to a couple of factors," says Wright Tilley, Executive Director of Watauga County Tourism Authority. "One, there's this perception of clean mountain air – we are not a large city-type destination, so we had this perception in the travelling public as being a safe destination. We also saw an uptick in regional travel. Pre-COVID, a large percentage of our visitors were in-state, and so we saw that footprint expand a bit more into a four-to-six-hour radius. There was also a huge increase in the amount of visitation and web traffic from the Atlanta market, for example."
With the increase in tourism came a record ski season this year. "I think that comes from people who were still reluctant to get on airplanes and go out west or go further up north," Tilley says. "We were literally the closest ski destination for people in Florida, Georgia, Alabama, and South Carolina, and so our ski resorts certainly reaped the benefit of that during this last year."
In addition to tourists, Watauga County is also home to many seasonal residents who are looking for an escape from the summer heat of their home states. "They come here for the cool, clean air in the summer, the low humidity," Hudspeth notes. "They arrive here on Memorial Day and stay until the leaves fall off the trees – and then they leave and go back to those warmer climates. They were really grateful during COVID to get away from those urban areas, to feel safer, and socially distance. It was a tremendous benefit for our communities."
Appalachian Regional Healthcare System has been working hard to make significant changes to help support the growth in new residents and tourism. That involves a $126 million investment into improvements at the 60-year-old Watauga Medical Center, which will include an expansion of the campus and a new 48-bed tower as its centerpiece. The Appalachian Regional Healthcare System has also introduced significant investment to the county's other healthcare arenas, including funding for chronic diseases, the regional comprehensive cancer center, diabetes management, and updating their heart and vascular program.
"We spent $10 million on a new heart and vascular facility and hiring new interventional cardiologists," Hudspeth says. "One of the big features of the new clinic is a new 24/7 cath lab. Historically, we only provided catheterizations from eight to five, Monday through Friday, and we transported a lot of patients out on weekends or nights. Now, we have the ability to do that here, as well."
The Healthcare System has also invested millions into a new three-year family residency program in partnership with Mountain Area Health Education Center in Asheville as a way to attract more family practitioners to the area. Millions of dollars are also going to a new Orthopedic and Sports Medicine Center. The center will be a support for residents and visitors who like to make use of Watauga's outdoor recreational activities. "People come here for those reasons and we know that they want to continue to be active, even as they age," Hudspeth says. "We see great opportunity to partner with the College of Health Sciences at Appalachian State in the area of sports mechanics and sports performance." Appalachian Regional Healthcare System, an independent non-profit healthcare organization, is the county's second largest employer and brings in $220 million in revenue.
On the leisure front, Watauga County Community Recreation Center recently opened to add to the recreational opportunities of the area. The 100,000 square-foot, $35 million facility includes a six-lane competition swimming pool, a leisure pool with waterpark, four full-sized gyms for basketball, volleyball and multi-use, a fitness center with weight room, a suspended running track, as well as party rooms and event space. "It's certainly opened up the opportunity for us to go after sports tourism by hosting more youth and senior tournaments in the area," says Tilley. "We created a Boone Area Sports Commission a couple years ago and while we didn't have a whole lot of activity during COVID, that is another growth area for us on the tourism front."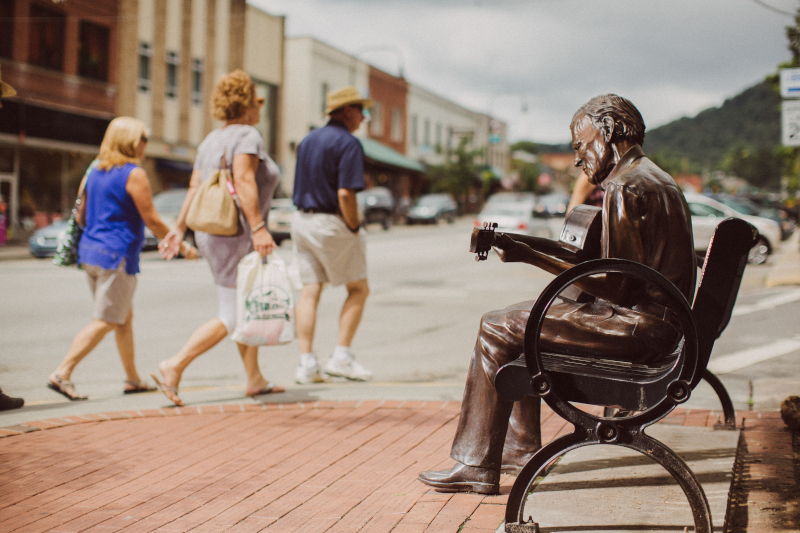 The county is also improving their outdoor recreation opportunities, including adding paddle access on both rivers to ensure the local community and visitors can take advantage of these great natural resources without trespassing on private land.
When it comes to internet and broadband services, Watauga County is working to improve service to the area – which will make it easier for those moving from out of state to continue to do their jobs from their new homes. According to Furman, "It's not finalized yet, but it looks like it may be soon. One of the things that is an allowable expense under the American Rescue Plan dollars that come directly to local governments is broadband. We will be spending a substantial amount on that and we will be partnering with the local electric co-op and the local telephone co-op to greatly expand it."
Harry Davis, Professor of Finance for Appalachian State University Boone campus, emphasizes the importance of new residents being able to continue their professional jobs from Watauga County. He explains, "The per capita income or median household income for Watauga County are both lower than the North Carolina average and that's because we don't have the professional jobs – the finance and accounting and insurance-type jobs. Those people are making more than the median household income here, so as those people move here out of the cities because they can work from home, that will help raise the standard of living here in Watauga County."
Another way the county can do that is through workforce development programs with the high schools and local community college. Davis has a goal for the county to create partnerships that will help train future students for trades like plumbing, electrical, carpentry and construction. He says, "Helping these people get jobs with high skills – that would be the thing I'd like to see in the next three to five years."
While Watauga County is currently lacking available and affordable housing, projects are in the works to help curb that issue. As a rural county there is lots of opportunity for development, they just need developers to come in and build homes. "There's not much room for infill in Boone, but the rest of the county is rural," says Furman. "There are plenty of lots for sale and there is some development currently going on. It seems there's a market for townhouses in rural areas now. They're a little bit less expensive, or can be, than a new house, and there's no yard maintenance that the owners are responsible for."
Housing will remain a top priority for Watauga County looking into the future, as they move to accommodate all those who have discovered their little slice of paradise.
AT A GLANCE
Watauga County, North Carolina
What: A growing rural county; population 55,000
Where: Northwestern North Carolina, on the border of Tennessee
Website: www.wataugacounty.org