Town of Grimsby, Ontario
Friendly by nature
Business View Magazine interviews Jeff Jordan, Mayor Town of Grimsby, Ontario, for our focus on Economic Development in Canadian Towns & Cities
Sustainable growth and improvement of both residential and commercial assets that draw in residents to drive prosperity is the goal of every municipality. For some the pandemic has stymied plans and caused disruptions to that progress, but Grimsby, Ontario has seen growth and investment in leaps and bounds since 2019. In 2022, much of the work and planning is going to bring many developments to fruition, including a state-of-the-art hospital, high school, and much more. All this while still focusing on their roots and consulting with the Mississaugas of the Credit First Nation, as well as investing in the municipality's natural assets, like the waterfront and trail system.
Jeff Jordan, Mayor of Grimsby, boasts, "There are a lot of thrilling things happening and Grimsby certainly is a municipality that people desire to be in… It's quite exciting." Following on the heels of a record-breaking year for development in the town, Grimsby is also celebrating its 100th anniversary in 2022 and they hope to host many wonderful community celebrations throughout the year – dependant on the COVID-19 guidelines in place at the time.
Those events will focus on the town's history, its legacy, and what's ahead for the future. As part of celebrating that history, the town will add to its already large network of historical plaques, add more local art, and create platforms for people to share the local heritage. Those plaques will be in parts of the town, but also on their trails, including the Bruce Trail that travels through the Beamer Valley and over the Forty Mile Creek. It is Canada's oldest and longest continuous marked hiking trail and runs 890 kilometres from Niagara to Tobermory, along the Bruce Peninsula. To connect with residents and visitors, the town plans to engage them in storytelling – asking them to tell their own stories, providing educational opportunities, and utilizing a strong communication plan to make sure that 2022 is one for the history books in many ways.
Grimsby rests between Hamilton and St. Catharines, but is the gateway to the Niagara Escarpment. It was part of the traditional territory of the Mississaugas of the Credit First Nation (who now reside on a reserve near Hagersville, Ontario.) A group of United Empire Loyalists from Great Britain settled on the land in 1790, but Grimsby gained Town status in 1922, so the community and its 28,000 residents are celebrating that milestone. Jordan explains, "Because Grimsby is situated on treaty land with Indigenous people, we are looking into more engagement with the Indigenous community to look at how their history can be fully recognized and acknowledged as a definite part of our heritage fabric. We're very lucky that we have a lot of heritage, both environmental heritage and actually built heritage, to use to our advantage. It makes Grimsby an attractive spot for people to relocate."
After decades of working and lobbying different levels of government, this year the town will break ground on the new state-of-the-art West Lincoln Memorial Hospital that will include both inpatient and outpatient services, a 24-hour emergency department, complex and palliative care, surgery, and a maternal and newborn program, acute inpatient beds, and day surgical services. It will also be equipped with X-ray, mammography, echocardiography, ultrasound, and CT scanning equipment. Jordan says he was born in the hospital and is glad to see it rebuilt. He notes, "It's a true community hospital that serves all of West Niagara. Over 100,000 people are in the catchment area. It's been a long, long fight and innumerable people have worked very hard on this. It's so exciting that a 72-year-old hospital is finally being replaced."
As the town has grown steadily over the last few years, a need for public transportation has increased both within Grimsby and for commuters working in the Greater Toronto and St. Catharines areas. This year, the town is looking forward to announcing plans for a GO Train and bus station which will open transit possibilities for residents from the town to travel as far as Kitchener, Barrie, or Peterborough.
Town Council recently approved amalgamated transit for the Niagara Region, which opens the door for the proposed train station. The town currently has NRT On Demand transit, which is a ride share program that allows users to travel between Grimsby, Lincoln, West Lincoln, Pelham and Wainfleet. It takes residents to the region's major transit hubs, including the St. Catharines and Welland bus terminals and Port Colborne's City Hall. "We're proud to be the number one user of On Demand transit for the seven municipalities that have it," Jordan says. The pilot project was introduced in 2021 and will expand into offering both a route service and On Demand service in 2022.
To really show off the town, the municipality has offered to host a softball tournament as part of Canada's Summer Games this year. The Region of Niagara bid for the Games and municipalities in the region have put forward their facilities to help out. Grimsby has a fourplex baseball diamond at its Southward Community Sports Park that was built in 2017 and that will host the women's softball tournament.
In other recreation news, the town received a $16 million grant from the provincial government for the Peach King Centre to retrofit the community centre with a small fitness facility, a full gym with an indoor walking track, and a redesign of the change rooms at both ends of the arena. It will also offer a rooftop garden area and rooftop amenities. Another cause to celebrate is the completion of a new state-of-the-art high school, the West Niagara Secondary School, with a 750-seat theater on the site. Jordan shares, "The arts community will  especially enjoy the theater space – it's very important to Grimsby, we'll have a venue that will be used all the time, I'm sure."
The new business park has a few anchor tenants and the town also welcomed Laborers' International Union of North America (LiUNA) Local 837.  They've set up a skills training centre in the town on Hunter Road. In other developments, Losani Homes Ltd. is also building a mixed use condominium and retail building called Westbrook on the shores of Lake Erie – on the site of the former Fifth Wheel Truck Stop.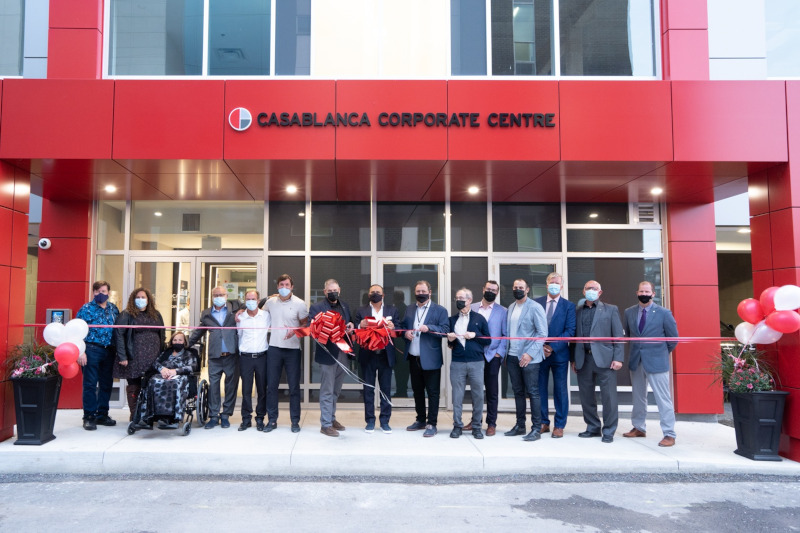 Although the waterfront has had flooding concerns in the past, Grimsby's public works department has worked hard to mitigate and remediate issues and they've gotten ahead of it by working with homeowners; making flooding an issue they hope not to see again. The town recently finished an expansion of both its water and wastewater facilities and added a large reservoir to service both Grimsby and the neighboring municipality of West Lincoln. According to Jordan, "The town is ready for growth. We have areas where we're trying to attract commercial, certainly with the Losani site there is a significant commercial competent and we really look forward to brining in a variety of commercial businesses."
The Niagara area is known worldwide for its wineries and orchards, and 2021 was a good harvest year. With that in mind, the Forty Creek Whiskey distillery just finished remodelling its retail store with the addition of a picnic area for the summer of 2022. Although the pandemic hit the region hard, the community came together and restaurants and businesses were able to say afloat and in many cases prosper. In 2019, there were seven empty storefronts downtown but throughout the pandemic they've been filled. "We have a good community that has supported restaurants with takeout when they can't eat in, so it has been a struggle but it's been a true community effort for people helping other people and shopping local," says Jordan. Grimsby comes equipped with broadband internet and electric vehicle chargers and the town is working toward its Downtown Reimagined project to enhance streetscapes and make the historic core more friendly.
In the future, Jordan is looking forward to the completion of all the beneficial projects and to enjoying those features for the community. He's not about to rest though and wants to replace the pedestrian bridge going over Forty Creek, increase trails to captivate even more families, as well as improve the beach, pier, and transit system. He shares, "The next few years will be busy but, I just look forward to seeing people take more day trips here to the Niagara region from Toronto and the GTA, and an enhanced transit system will certainly allow that. Grimsby is the up and coming place to be."
AT A GLANCE
Town of Grimsby, Ontario
What: A charming historic community; population 28,000
Where: Niagara Region alongside Lake Ontario
Website: www.grimsby.ca
Aborwood Tree Service Inc. – arborwood.ca
PRESERVING OUR NATURAL RESOURCES At Arborwood Tree Service we are dedicated to providing superior customer service. Our great reputation is built on professionalism and customer satisfaction. Your trees are living resources and our certified arborists will help you steward your property ensuring beautiful, healthy trees and shrubs, both now, and for the future.