Where the trains go rushing by – for now
Imagine how frustrated you would feel, if you were waiting hours for a train, and when it did finally arrive, it rumbled right past you without stopping. Now imagine you're an entire town – one that is actually situated on a working rail line that has passenger trains running along its tracks it all day long – but none of those trains ever stop. Welcome to Enfield, Connecticut.

A town of about 45,000, Enfield is situated on the east bank of the Connecticut River, about midway between Hartford and Springfield Massachusetts. Every day, Enfield citizens can witness Amtrak's Northeast Regional and Vermonter lines shuttling back and forth between points north and south. But, unfortunately, those same people can never get on any of those trains to get where they want to go – because Enfield, Connecticut doesn't have a train station. Those trains just rush on by.
And so it is that getting a train station funded, built, and running has been a key focus of Enfield's town's leaders and administrators for many years, because, at present, Enfield commuters who need to travel either north to Springfield or south to Hartford and beyond, must rely either on their own vehicles or on one of the express buses that traverse U.S. 91, the interstate highway that runs down the middle of the Nutmeg State.
But according to Peter Bryanton, Enfield's Acting Assistant Town Manager for Development Services, some significant progress has already been made in that important pursuit. "We've been engaged in the planning of this rail line for ten or twelve years," he reports, "and we're just now getting to the point where it's starting to look like a reality." Bryanton explains that the State of Connecticut has proposed building a commuter rail line, called "The Hartford Line," in conjunction with the existing Amtrak service. "There's a single track now," adds Lee Erdmann, Enfield's Acting Town Manager. "And part of the plan is to put a second track down."
And so, the town has been working with the Connecticut Department of Transportation to bring about a rail station and transit center in the section of town called Thompsonville – an old mill village that used to be dominated by the Bigelow-Sanford Carpet Company. "In the early 1970s, the mill closed and moved to North Carolina," says Bryanton. "And that devastated the village. We're trying to do everything in our power get the station built because we see it as a catalyst for Thompsonville."
But, while some progress has indeed been made, one main stumbling block remains. "Right now," Bryanton says, "there's no actual construction funds allocated for an Enfield station." On the bright side, however, Erdmann expresses confidence that money will be made available at some point in the near future, based on the strong stance the state is taking regarding its mass transit agenda. "Our current governor has made improving the transportation network in Connecticut one of his top priorities," he states optimistically. "He's proposed a hundred billion-dollar, thirty-year program to improve transportation in the state. He's very committed to this; the General Assembly is committed to it. So it's not a question of if it's going to happen; it's just a question of when is it going to happen and when is the federal and state money going to be provided to make it happen."
While getting the trains to serve passengers at a new station is a key part of the plan, Enfield's leaders view the transit center project as more than just a stop on the Hartford Line – as important as that would be. Designs envision a comprehensive, multi-modal entity that will comprise and connect rail service, bus lines, bikes, passenger cars, and pedestrians. One investment that Enfield has already made, and one that would fit perfectly into a multi-modal scheme, is its "Magic Carpet Bus." These two circulator bus lines already connect various parts of the town to one another – historic villages, Town Hall, shopping areas, the local community college, etc. – and could easily be re-routed to include the new train station.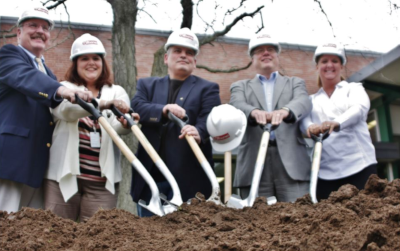 And so, as the planning and lobbying continues, Erdmann expresses the need to ramp up the pressure. "Our point is, it's an opportunity for development in Enfield and we're planning for it. And we're pushing to get our station built as soon as possible, because the start of the commuter rail service is slated for spring of 2018. Right now, you've got six round trips a day on Amtrak. We're soon going to 12 to 15 round trips a day between the Amtrak and the commuter rail service. And it doesn't do us any good if those trains go rumbling through town. We need them to stop."
Meanwhile, while waiting for the station and transit center to materialize, Bryanton talks about some of the other projects the town is pursuing. "In conjunction with the transit center, which happens to be along the Connecticut River, we're also trying to do a riverfront recapture project," he says. "Right now, across the street from where the transit center will be, there's a power plant on about four acres of land that's out of service; it's just chain link and barbed wire. We've been negotiating with our local utility company to get that property, get it cleaned up and then open it up for the public. We're not utilizing our riverfront in the best way that we could. So, we see that as a way to make the area more of a destination."
As an old mill and factory town, Enfield has also seen its share of companies leaving for greener pastures and warmer climes. But Bryanton maintains that the town is "always open for business," and "very much open to retrofit the buildings that are here." For example, some years ago, the Danish toy manufacturer, Lego, which had been one of the town's largest employers, moved both its manufacturing plant and its North American headquarters from Enfield to Juarez, Mexico, taking many jobs with it. Eventually, the company moved its headquarters back to Enfield, but its large distribution warehouse was no longer needed. The good news is that Advance Auto came to town and made the former Lego building its new Northeast Region Distribution Center.
"Just recently," adds Bryanton, "Hallmark Cards decided that they're going to consolidate their operations and move to Kansas City. So that's over a million square feet of space that's going to be open in June. We've already had some people inquire about the space and we're trying to work with them to get them in. So, we're very attuned to what's going on in the market and we're very much into recycling and retrofitting what we have."
Bryanton also reports that Enfield's large commercial retail area, a 600,000 square foot shopping mall, surrounded by seven large plazas with an additional 800,000 square feet of space, "has become dated and is starting to flounder a bit. And so, what we are now focused on is 'what will The Mall become? How are we going to retrofit and repurpose it?' Right now, we have no housing in our retail area. Maybe we should start looking at housing; maybe it needs to be more walkable and livable," he muses. "Those are the kinds of things we're struggling with that will have a huge implication, going forward."
Erdmann notes that Enfield has always been committed to maintaining its infrastructure – not only to help attract new business, but for the ongoing comfort and safety of its citizens. "The town has had a long-time commitment for keeping its roads in good condition, and in past years, on a cycle of every five years, the Town Council would go to the voters and have them pass a ten million-dollar bond issue for reconstructing and refurbishing the roads in town," he says. "In 2014, Council took the unprecedented step of going to the voters and getting them to pass a $60 million bond issue, just for roads. So, for the next five years, 2015-19, the Town is going to spend $12 million each year to bring its roads up to date." The Council also recently asked voters to approve a $36 million bond issue to upgrade the town's sewer plant and bring it up to modern standards. "We're working with a consultant to do a final design," says Erdmann, "and, hopefully, within a couple of years, we'll be in the midst of making those upgrades."
Roger O'Brien is Enfield's Director of Planning. He touts the many amenities and benefits of living in Enfield, Connecticut – even if it doesn't yet have its new train station. "We tend to focus on the challenges that we have, but when you look around, and look at what we do have, you find a little bit of everything – you don't have to go too far," he says, proudly. "There are rural areas in which you see old barns and tobacco fields; there are suburban areas with a range of housing opportunities; there are the urban areas which are around the former factories; there are historic village districts; there's the retail shopping; there are corporate headquarters; and we have a manufacturing base with companies that are expanding. And expanding manufacturing in New England is something that, 20 years ago, nobody ever thought would be possible, again. Three or four miles in one direction and you're in the mountains. But you can also be to Boston in a short time, and you can be in New York City in a short time, and you can be at the Connecticut shore in a short time."
In the end, O'Brien remarks that Enfield is, most importantly, a friendly town with "long roots," and people that go back multiple generations who can still talk about where grandfathers lived and worked and what pond they used to skate on during the cold New England winters. "The thing about Enfield is there's a nice feel to it," he says. "You come into Enfield Town Hall, and people say 'Hello' to you and 'How are you?' and take the time to chat with you. They don't rush by."
And someday soon, when Enfield gets its new train station, those trains won't be rushing by, either.
AT A GLANCE
WHO: Enfield, Connecticut
WHAT: A town of 45,000
WHERE: Northern Connecticut on the east bank of the Connecticut River
WEBSITE: www.enfield-ct.gov

Prudential Retirement – An insurance leader for more than 135 years, Prudential Financial offers innovative ways to manage risk and provide guaranteed retirement income. An integral part of that tradition for the past 88 years, Prudential Retirement delivers retirement plan solutions for public, private, and nonprofit organizations. Its services include state-of-the-art recordkeeping, administrative services, investment and risk management, comprehensive employee communications, and trustee services. Prudential Retirement services nearly 7,800 organizations, with over 4 million participants who have $369 billion in retirement accounts.- www.retire.prudential.com
Travelers Insurance – Travelers is a market leader for public entity property and liability insurance. From cities and counties to water districts and transit authorities, Travelers customers benefit from its decades of service to public entities. Backed by the financial strength of Travelers, public entities can plan their futures with confidence. – www.travelers.com