Woolwich Township, New Jersey
Balance makes perfect
Business View Magazine interviews Craig Frederick, Mayor of Woolwich Township New Jersey, for our focus on Economic Development in U.S. Communities
Named after a district on the River Thames in south-east London, England, site of the Royal Dockyard and Arsenal that made and tested munitions for the British armed forces, the Township of Woolwich, New Jersey looks a far cry from an imposing naval and military town, but it retains that same spirit of a living community built with dignity and intention.
Formed by royal charter in 1767 and incorporated as one of the state's initial 104 townships, Woolwich gave shelter to the passengers of the first English ship to dock on Raccoon Creek, whose banks were foundation for the first European settlement by Swedes and Fins, now known as Swedesboro. These newcomers tended stock and raised grain, fruits, and vegetables – developing farmland which is today some of New Jersey's richest and most productive. Even after all the growth and changes ushered in by urbanization and modernization, Woolwich Township residents still take immense pride in the agricultural character and economy of their beautiful countryside.
"I've been in Woolwich about 20 years and I absolutely fell in love with the rural character of the area," shares Deputy Mayor Dennis Callahan. "New Jersey is a very densely populated state with a lot of sprawl. Twenty years ago, outside of a few major developments that were underway, this was still mostly farmland. Not just Woolwich, but the surrounding townships as well. So, farming is big, but it was even bigger then."
About five years ago, Woolwich made national headlines as the fastest growing town on the northeast coast of the U.S., going from 10,305 residents in 2010 to 12,365 residents in 2016. But even with this rapid pace of change, the community has managed to preserve over 3,000 acres of productive scenic farmland and open space, with a commitment to comprehensive land use planning and growth management for its unique pastures and agricultural fields.
Callahan boasts, "This is a charming area with cute towns, shops, and small-batch wineries. We're also just 25 minutes from where the Phillies and the Eagles play; only 30 minutes from Center City, Philadelphia. We can be in New York in a couple of hours. It's kind of a like an oasis within this very urbanized corridor. Woolwich is a nice place to build a home and build out your dream, while raising a family and sending them to good schools."
The Kingsway Regional School District serves students from five neighboring communities in Gloucester County: East Greenwich Township, South Harrison Township, Swedesboro, Logan Township, and Woolwich Township. The district employs over 400 staff – many of whom are local residents – and partners with local government, businesses, and law enforcement to promote learning and development through community service.
"Due to the influx of young families, we've needed to build a number of schools and put additions on existing schools, so the increase in taxes over the last 15 to 20 years has been pretty steep," Callahan admits. "We've basically, as residents, been footing the bill for a lot of that through increased school taxes and other services. But we're finally at a point where we're putting the infrastructure in place, with a nice pipeline of projects behind that with rateables. Ultimately, we'll find ways to make Woolwich more attractive and affordable from a tax standpoint."
According to Callahan, the next three to five years will be "critical" in executing the plan to stimulate the results of "all that hard work" that preceded his tenure on the township committee. "These projects were many years in the making," he affirms. "We're just here to carry it all through."
With the long-awaited installation of public sewer and water along the Route 322 Corridor, Woolwich Township anticipates a major transformative juncture in its existence. With access from Exit 2 of the New Jersey Turnpike, Route 295, and the Commodore Barry Bridge, the corridor will likely see important highway- and destination-based growth in the not so distant future.
"Dirt is pretty much moving everywhere you can possibly see it," quips Mayor Craig Frederick. "We're experiencing tremendous growth in warehousing as well as planned retail growth on the Route 322 Corridor. We're also in the process of building every type of housing that you can imagine, from condos to townhomes to affordable housing. We're wanting to create a kind of bookend community, for residents coming in who are in their early 20s and those who are towards the end of their career. So, we're building non-gated communities closer to the center of town and small to large single-family homes throughout the town."
Woolwich is a doughnut-shaped township, with a conventional small-town Main Street running through it. Nestled inside the township is the cozy community of Swedesboro, which shares services for police, fire rescue, and parks and recreation with Woolwich. "The borough being in the middle of our township gives the area a kind of downtown feel," Callahan says. "We also have what I would call suburban town centers forming, like the Center Square district, which is where a lot of the homes have been built over the last 20 years in the Weatherby Development. That'll be about 4,200 homes when it's built out. There are some medical buildings, a bank, a retail strip, a liquor store, and a bunch of other service-type businesses. It's where the Shoprite – our township's first supermarket – is currently being built."
By comparison, Route 322 will be a whole other district unto itself. "That'll be a corridor with a huge mix of businesses," Callahan confirms. "If you take 322 further to our west side, which is Stone Meeting House Rd., there's already a finished warehouse construction in terms of the building. They're now starting to configure the inside. If you go a bit further down to Locke Ave., there are two pads where they just poured the foundations. There's eventually going to be a third pad across the street. We recently approved another 214,000-sq-ft warehouse that is just going through the planning stages. Finally, on our east side, there are two proposed, not-yet-broken-ground warehouses. So, all in all, from the east to the west, that's roughly six million square feet of warehousing."
Most of the township is easily accessed by two important highways, Interstate 295 running north-south, and the New Jersey Turnpike, which is the state's major arterial. Given the proximity to these east coast throughways, it's anticipated that the warehousing piece will explode in the area and that development-related impacts like traffic, environment, and aesthetics will need to be taken into account.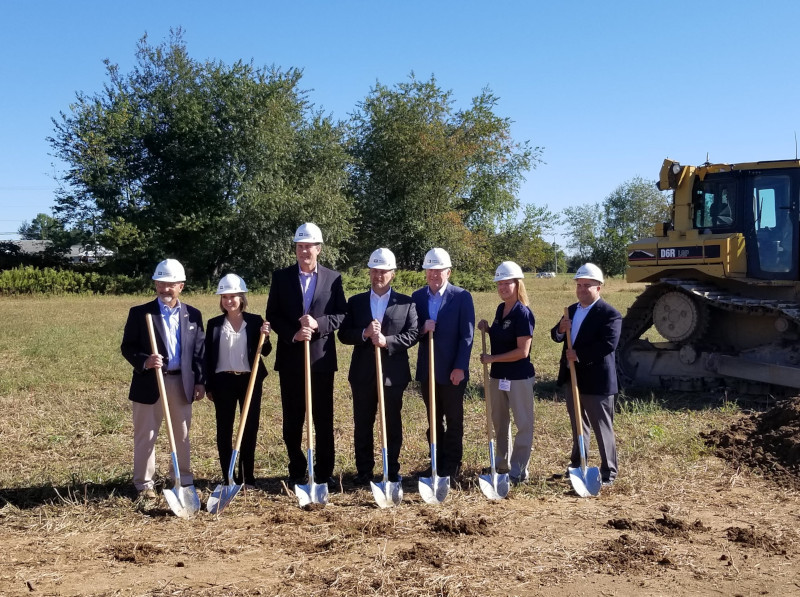 "We're trying to naturally protect our agricultural land and green space while keeping to the strategic vision of our Master Plan," Frederick insists. "With our residential growth expansion, we're also trying to do more of a clustering effect where you can have residential areas in a farmland area. So, instead of having a house on every acre or half-acre, you could do three houses over five or 10 acres. Hopefully that will preserve the natural beauty of the town holistically."
At a 210% growth rate, Woolwich Township could see its population peak at 25,000 by the time it's built out. The challenge will come with striking the right balance of conservation vs. development, without tipping the scale towards a scenario of dense, unnecessary sprawl.
"Right now, we're laying the infrastructure," Frederick explains. "We're creating the foundations for what will either be residential, retail, or commercial. At the same time, we're here to support the farmland, small-town businesses, and local families. Not just in Woolwich but in the neighboring boroughs as well. There are lots of people in our situation with kids all about the same age. We've all kind of grown up together – the adults and the kids – so it's turned into a nice community with a lot of support."
In 2020, Woolwich Township received a $500,000 Green Acres loan to expand Locke Avenue Park, an area Mayor Frederick calls the "sports hub" of the township. Proposals have already been approved to create 2.5 multi-use fields for sports like lacrosse and soccer, in addition to two softball fields, plus a walking path extension to Racoon Creek. The design plans are in keeping with the township's on-going commitment to creating a walkable town center, one that co-exists with sensible green spaces and useful civic places.  Other recreational activities include a new disc golf course and a planned pickle ball complex.
AT A GLANCE
Woolwich Township, New Jersey
What: A charming, proactive rural community; population 13,000
Where: In the heart of South Jersey
Website: www.woolwichtwp.org

Zallie-Somerset Inc – zalliesfreshkitchen.com
The anchor of a significant development in Woolwich Township has begun for Zallie-Somerset Inc. on what will be the newest and one of the largest ShopRite stores in Gloucester County. The store will be the focus of a retail development at the corner of Center Square Road and Auburn Road. ShopRite of Center Square Plaza will total more than 75,000 square feet and offer distinct customer service advantages.
Plans call for ShopRite of Center Square Plaza to open in March 2023. It will include a kitchen to support a full range of prepared and catered food services, reflecting a steady trend over the past decade of guests' interest in ready-to-eat foods. A full-sized Order. Pickup. Deliver. department will enable the store to meet demand for this time-saving amenity that expanded in popularity during the past few years. The store will also include an indoor/outdoor sit-down café, floral and gift department, bakery and other must-haves for modern groceries, truly living up to the title of "supermarket."
Zallie-Somerset Inc., based in Clementon, N.J., is a member of Wakefern Food Corp., the largest retailer-owned cooperative in the country. The company owns and operates 11 ShopRite Supermarkets, with 10 in South Jersey and 1 in Philadelphia.

Dermody Properties – www.Dermody.com
Dermody Properties is a privately-owned real estate investment, development and management firm that specializes in the acquisition and development of logistics real estate in strategic locations for e-commerce fulfillment centers, third-party logistics and distribution customers. For more information, visit www.Dermody.com.