Neenah, Wisconsin
sparkling as clearly as 'running water'
Steeped in historical charm and overflowing with resident-focused growth, Neenah, Wisconsin is flowing towards a bright economic future
On the banks of the Fox River, Little Lake Butte des Morts, and the Badger State's largest inland lake, Lake Winnebago, in east central Wisconsin, sits the city of Neenah; its name, an Anglicization of the Winnebago word for "running water" – "Nįįňą" in the Ho-Chunk dialect. Founded as a village in 1856, and today celebrating its 150th anniversary as a city, Neenah's early growth was closely tied to the running waters of the Fox River, which powered the lumber mills that helped turn the Fox River Valley into a burgeoning paper manufacturing center, and made the Kimberly-Clark Corporation, which opened its first paper mill in Neenah in 1872, a brand known around the world.
Today, Neenah is home to a number of significant paper, steel, consumer product, manufacturing, construction, and service firms, including Kimberly-Clark (K-C), Jewelers Mutual Insurance,and Neenah Paper; the Neenah Foundry, a manufacturer of manhole covers, gratings, and similar items for municipal and construction operations; Essity, a leading global hygiene and health company; the Menasha Corporation, a provider of packaging and supply chain services; Plexus, a developer and manufacturer of electronic product and components; J.J. Keller, an industry leader in safety supplies; Bergstrom Automotive, Wisconsin's largest automotive marketplace; Miron Construction, which provides construction management, design-build, industrial, and general construction services; and Alta Resources, a provider of business process outsourcing.
According to Brad Schmidt, Neenah's Deputy Director of Community Development and Assessment, the city's number-one economic development strategy is to support the local business community, while attracting new businesses that will help complement and diversify its economy. "We find the most 'bang for your buck,' is in working with our local businesses, many of which have been in the city since it incorporated 150 years ago," he states. "These are businesses that the city has formed relationships with and have partnered with in their growth and expansion and adaptation over the years."
"Neenah started out focused on the paper industry; it's what made Neenah and most of the Fox cities here in this part of Wisconsin," Schmidt continues. "Over the last 30 years, the paper industry has declined, seeing a shift to other type of manufacturing and industry. K-C went from selling paper products to consumer goods; Menasha Corporation started off making wooden pails and now is a leading manufacturer of corrugated and plastic packaging; Jewelers Mutual is one of the largest jeweler insurers in the country; Plexus Corporation started off with employees from K-C that spun off to create  a global electronics manufacturing services company. In working with these companies, we've created a symbiotic relationship where their success leads to the success of the city."
In pursuit of its shared goals with the companies that call Neenah home, Schmidt stresses the city's pro-business mindset and its understanding of what they need to survive and thrive. Key in the 21st century is the ability to move goods, resources, and workers within a sustainable and reliable infrastructure. Schmidt explains: "Neenah is strategically located along Interstate 41,. It's a major connector that links Neenah to Milwaukee and Madison and beyond. In addition, the Canadian National Railway, which provides rail access from Minnesota to Chicago. We care about our strategic location and look for ways to improve on that."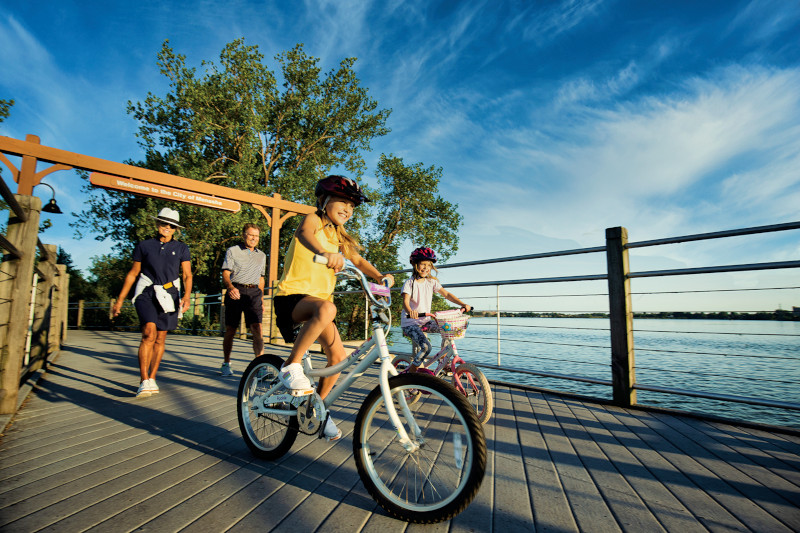 "As we plan for growth in the future, infrastructure is a major component of that," he continues. "We work with utilities to ensure that we have adequate capacity to serve future areas of the city – whether that's for industrial or residential. In 2003, the city purchased 60 acres of land for future manufacturing and industrial development. In doing so, we also installed streets, infrastructure and fiber to accommodate future growth. We take on those projects that spur development and business growth."
During the COVID-19 pandemic, the City of Neenah, like many others across the country, had to confront the potentially damaging ripple effects of closing businesses and attendant job losses. "When COVID hit, we worked with our local and regional partners to see what we could do to provide businesses with the resources they may need," Schmidt recounts. "We created a directory of roughly 400 small businesses within Neenah and began to reach out to them. Are they laying people off? Do they have to close down because of statewide protocols? One of the creative ideas the city implemented — with the lockdowns and prohibitions against going into public spaces such as restaurants — was a modification to a local ordinance that made it easy for local businesses to either expand outside, like in a parking lot, or for downtown businesses, on the sidewalk. This is something that our council supported, and it worked very well. Another effort on our part was to communicate with these businesses to get them the resources they needed. For example,
Winnebago County created a business loan program, but not a lot of businesses knew about it. We wanted to be the conduit between available resources and these businesses."
Also helping to spur Neenah's development and business growth through both good times and bad is Future Neenah, a non-profit, civic organization, originally incorporated in 1983 by some local community members to foster improvements in Neenah's central city district to help make it a more vibrant, appealing, and economically viable destination. "Because of their forethought, downtown Neenah became a launching pad for success," says Sara Hanneman, Assistant Executive Director for Future Neenah.
The nascent group worked to install street-scaping downtown, i.e. benches and lampposts; they recruited new businesses; and they worked with local property owners to obtain master leases. "After they achieved that success in the central city, they had a choice to disband or carry on to encompass the entire community." Luckily for one and all, Future Neenah decided to move ahead.
Today, the organization's portfolio includes economic development, community partnerships, and community events. "We're sort of a cross between a chamber of commerce and a visitor's bureau," Hanneman quips. In 2001, business and property owners in downtown Neenah petitioned the city to create a business improvement district (BID), under the Wisconsin Act 184, wherein municipalities are authorized to create such districts upon the request of local stakeholders. The city-created BID is administered as a cooperative partnership between the City of Neenah and Future Neenah.
Its goal is to protect public and private investments in Downtown Neenah; attract new investment to the District; promote the orderly development and physical maintenance of the District, including implementation of the downtown element of Neenah's 2040 Comprehensive Plan; and to develop, redevelop, maintain, operate, and promote the District efficiently and effectively.
"Downtown Neenah is the historic district. We maintain the central city; we recruit and retain the businesses; we do PR marketing for the central city; we take care to make sure the district is attractive," Hanneman reports. "Downtowns are the heart of any community. One of the things we are blessed to have in our community is local ownership. Sometimes, you have absentee landlords who may not have that vested interest in the community. One hundred percent of our property owners in the central city district live, work, play, and maintain that connection to our community. That is a really big deal for a small downtown like Neenah. If you're recruiting new people to come to the community, they want to go through the downtown to get a feel of what the community's priorities are. If we can give people that feeling, then we've got them locked in."
"We recently completed our downtown master plan that we refer to as Neenah Next," says Schmidt. "Downtown is so important; it's a vibrant downtown; it's seen a lot of growth and transformation over the last several decades and we want to see that continue. The purpose of the plan is to see a future by design and not default. By planning, we can look at how to put the pieces of the puzzle together, continue the vibrancy, protect the historic nature of downtown, increase walkability, and create this regional jewel that attracts businesses, employees, and ultimately people who want to live in this community."
Responding to the needs of the greater Neenah community is another agenda item for both the city and its non-profit partner. "One of the things that Future Neenah specializes in is cultural development," Hanneman relates. "We run the Farmers Market for the community; we run Thursday noon lunch concerts called Out to Lunch; we run Wednesday evening concerts in the park; a very Neenah Christmas; cookie crawls; wine walks; Ultimate Ladies Day. The goal is to introduce the community to something special in their own backyard and also to bring people in from the outside to have that 'wow' moment. A lot of people tell us, for example, that the Farmers Market is not just a place where they go to pick up their food or vegetables, but it's a community gathering place on Saturday mornings. It's a lot of fun here."
Schmidt says that over the last ten to fifteen years, the city has also invested "a considerable amount of time, energy, and resources expanding its trail and bike network." The Loop the Little Lake trail system, a regional effort between three municipalities in the area – the Village of Fox Crossing, the City of Menasha, and Neenah – is a three-mile loop along the Little Lake Butte des Morts and Fox River that includes four trestle bridges over the water. "Neenah has four miles of shore land on Little Lake Butte des Morts, the Fox River, and Lake Winnebago," he shares. "Of those four miles, almost two-and-a-half miles of that is publicly accessible, and much includes trails. So, the pedestrian network that we have here continues to grow and it's something that our residents and businesses care about. It's a great amenity that we have in our community."
Other amenities include 367 acres of developed parkland in the City of Neenah, maintained and operated by its Parks and Recreation Department. These include various historic buildings; the iconic Neenah Lighthouse at Kimberly Point; 7,478 feet of shoreline; two boat launches; one outdoor swimming pool complex; 17 tennis courts; one archery range; eight ball diamonds; two basketball courts; three ice rinks, including the popular downtown Plaza Ice Rink; 16 soccer fields; four volleyball courts; 12 playgrounds; plus trails, fishing decks, sled hills, and various other recreational facilities, most especially, Lake Winnebago, the largest inland lake in the state at seven miles wide and thirty miles long that contains one of the largest walleye fisheries in the country and the largest population of sturgeon in North America.
"In the winter, Lake Winnebago freezes over," says Schmidt. "You can drive your truck out there, cut a six-foot hole in the ice, and spear a sturgeon as tall as your body. People find that fascinating and unique."
Complementing its already extensive public spaces is the city's plan to re-develop and upgrade a 30-acre site on the southern tip of Little Lake Butte des Morts, known as Arrowhead Park, with shoreline restoration; new natural environments for birds, native plants, and insects; plus new public buildings, a multifaceted entertainment area with artwork and active play equipment, and new walking paths and recreational water amenities for its human population. In addition, since the site is adjacent to Downtown Neenah, there is the possibility for the establishment of a mixed-use neighborhood along the perimeter of the park, sometime in the future.
Indeed, both Schmidt and Hanneman agree that new housing construction is a key focus for the city, going forward. "Local businesses' continue to struggle to attract employees," Schmidt maintains, "whether it's a high-end executive at Plexus Corporation or  a welder for a local manufacturer. We are trying to diversify our housing options. Historically Neenah has been mostly single-family residential. Over the last five years, we've seen an increase in multi-family."
"It's been our goal for a long time to have more residential in and near the central city and in the last year, two large residential complexes opened: Solaris on Main and 201 West," Hanneman adds.
"Those two apartment complexes will be creating that 24/7 live, work, play environment so that people can take advantage of the restaurants and coffee shops and retail establishments and all the events that happen in the central city. It also gives residents the opportunity to be on the water and have some great views. We're excited that we have that atmosphere in our central city and can continue to grow going forward."
With its history of innovation, from Kimberly-Clark back in the 19th century, to emerging high technology companies in the 21st, there should be no doubt that economic growth in the City of Neenah is likely to proceed apace. Throw in its low crime rate, its high quality of life, and its abundant recreational amenities and you have a recipe for continued population growth, as well. All in all, for Neenah, Wisconsin, the future looks as bright as running water beneath a noonday sun.
AT A GLANCE
Neenah, Wisconsin
What: A thriving town with dynamic economic projects slated
Where: Winnebago County, Wisconsin
Website: https://www.ci.neenah.wi.us/
Alta Resources – www.altaresources.com
Alta Resources is a global leading provider of business-process outsourcing for many of the world's best-known brands in a variety of industries. Alta helps clients improve and better manage their customer experiences across every touch point, ultimately delivering results that provide sales growth and cost savings.