Alexandria Transit Company (DASH)
Innovation on the move
Business View Magazine interviews representatives of the Alexandria Transit Company (DASH) for our focus on Innovation of Public Transit in U.S. Cities
While it is intimidating for a company to overhaul their business model at any time, doing so in the midst of a global pandemic has the potential to be downright scary. Even more so when running a transit bus company dependent on moving large amounts of people from Point A to Point B, when individuals are being told to socially distance themselves from those outside of their immediate family.
And yet, the Alexandria Transit Co. and their DASH bus network in Alexandria, Virginia are successfully doing just that. After years of planning, they rolled out a new DASH network overnight last September. Martin Barna, DASH Director of Planning & Marketing, shares that it was a historic day for Alexandria. "It was a long time in the making. We started discussing this upgrade to our Alexandria Transit vision plan back in 2018. This new DASH network is the first implementation of that longer term transit vision plan that goes all the way through 2030."
The new network has new route names, route structures, and increased service in key corridors to make the buses much more useful. Barna details, "We have a number of routes running every 15 minutes or better all day, seven days a week. That is a huge change for Alexandria. And it allows people to really count on the buses a lot more."
Prior to the launch of the New DASH Network in September 2021, DASH had been drawing less than 50% of pre-pandemic ridership levels. While those reduced numbers were largely based on the impact of COVID-19, which they had no control over, their controlled response has been impressive. "We're all the way back up to 100% (of pre-COVID ridership), so we are really excited about that," Barna professes. "We've been getting a lot of positive feedback from riders about the new routes and our fare free service. It's been a really great transformation for the community and for DASH to have this new network in place."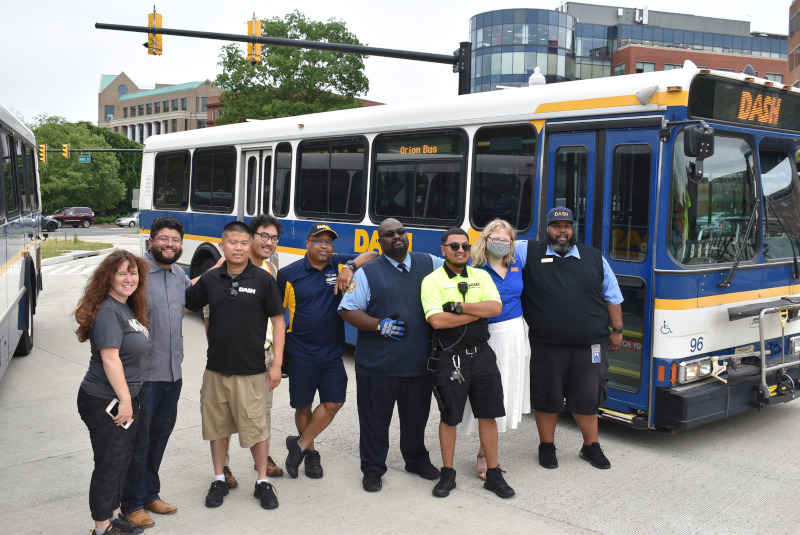 That's right. All of the DASH buses are free to ride. The Alexandria Transit Company applied for and were awarded a state grant and the City Council of Alexandria voted to increase the DASH subsidy to help offset the revenue normally collected from riders, so they are going to be fare-free all the way through 2025 based on that program. "We've really seen historic ridership growth," explains Barna, "which is probably indicative of the improvements we made, but also indicative of the fact that people are getting back to their old travel habits, which is great. People are heading back to work in the office, doing errands, being social, and meeting up with their friends."
General Manager and CEO of DASH Josh Baker admits that their recent successes have not come easily. He notes, "We've had to endure the challenges that everybody is dealing with in regard to staffing, recruitment, and the general labor shortages you're seeing across the board. Our leadership team is actively working to overcome these obstacles. We've been trying every trick in the book. Right now we're offering sign-on bonuses. It is a job seekers market, so making yourself marketable to potential applicants is important."
Being a transit provider means a myriad of licensing challenges. New hires require a significant amount of training and often people will not make it through the entire training process. "So we have to plan for attrition," Baker says. "We've started to overbook ourselves the same way an airplane does. They oversell their seats and expect that a certain number of people won't show up. Unfortunately, that's what we're experiencing, too. It's not only the challenge of getting applicants, but it's also difficult when we get applicants and move them through the hiring process and then they just don't show up on that first day."
Entry level positions for drivers and maintenance workers have been the most difficult positions to fill. According to Barna, "We're leaving no stone unturned. It is vital for us to avoid having it impact our customers in terms of missing trips. So we're really cautious about the amount of service that we're putting out there and making sure we can sustain it."
Fully electrifying their fleet over the next 15 years is another major component of the DASH vision on how best to meet the needs of Alexandria. "We have 14 electric buses now," proclaims Baker. "We have the first four fully electric articulated buses in the region. They are 60-foot buses that our community calls 'bendy buses'. We have been very ambitious in our electrification plans."
There are always things to be learned when doing something that hasn't been done before. "We've had our share of hiccups," confesses Baker. "Largely it seems to be on the charging side, not so much on the bus itself. You would think that charging would be easier to deal with than the actual vehicle, but it seems to be a common theme for chargers to malfunction or go down. They're very sensitive pieces of equipment."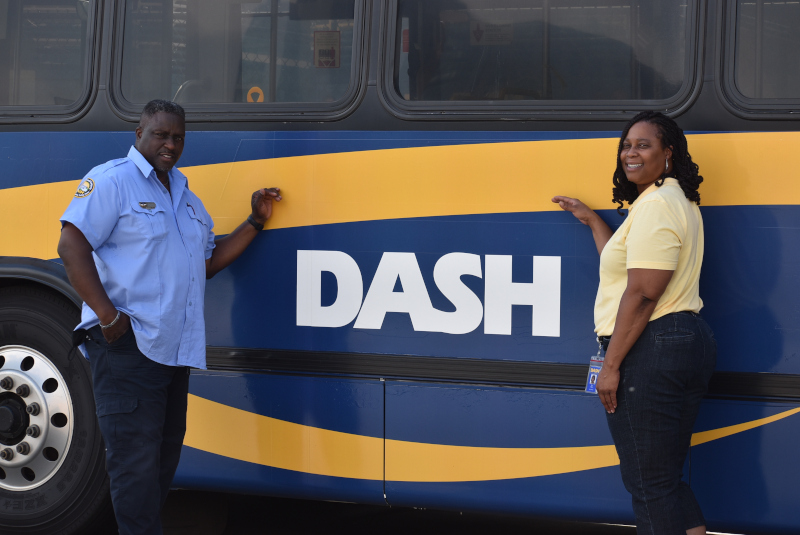 It is exciting to hear Baker and Barna share the Alexandria Transit Company's plans for the future, which include expanding the DASH bus storage facility to house an additional 40 electric buses – work that is already in progress. They plan to have overhead catenary charging systems that the buses will park beneath. It won't be fully enclosed but will have a roof for the charging system. Once buses are parked, the structure will lower an arm to connect to the bus to charge it. They are hopeful to stay on track for the updated facility to be completed over the next couple of years.
While Baker believes that facility is key to their goal of fully electrifying their fleet, he notes, "The other piece we are exploring is how to start building out on-route charging. The City of Alexandria is very much supportive of adding on-route charging and is very ambitious about us going fully electric as quickly as possible."
One of the biggest hurdles for electric buses is coordinating the logistics of bringing the vehicle back during the day to charge it up. All of the 14 electric buses currently owned by DASH have been equipped with the ability to receive a charging cord like you see on an electric car where it's plugged in, but they can also be charged from overhead using a roof rail system that receives a catenary arm. "You might have seen this in some cities where a train has an arm sticking up from it and it touches an electric wire above it," explains Baker. "Think about that in reverse."
When the bus is at a stop, an arm would lower down to touch the roof rails of the bus and provide a quick charge. That would compensate for the electric losses that it's making on its route. If this plan comes to fruition, the buses could run indefinitely, as long as they continue to touch that charger every few trips. "The main limitation on electric bus operations is the battery range," Barna says. "Having the heat on full blast for a whole day significantly decreases the range for the battery, which means that you have to charge the bus more frequently. This is why we're looking at these on-route charging stations. So we don't have to bring the bus back."
While winter operation in Virginia is the biggest challenge, the DASH team is hopeful that there are technological innovations coming down the road that will help increase the overall range of their buses and also address the heating and cooling issues. "We have a very supportive city leadership and our board of directors are very supportive of our vision for electrification of our fleet," Barna says. "We're investing a lot in our facility with the intent that we'll be growing our fleet dramatically over the next 10 to 15 years. We're applying for federal grants that would allow us to really accelerate that over the next three to five years. Our intent is that, by 2035 to 2037, 100% of our fleet will be electric."
That's an aggressive target date. In fact, it is one of the fastest transitions being discussed from transit companies around the country. "We're proud of that," boasts Barna, "and we're making plans and doing our due diligence to make that happen."
AT A GLANCE
Alexandria Transit Company (DASH)
What: Locally owned and operated public transit provider
Where: Alexandria, Virginia
Website: www.dashbus.com