Edmonds, Washington
A charming destination with a community focus
Boasting big city amenities and development on the horizon, Edmonds is poised for further growth
As a suburb of Seattle, the city of Edmonds is a charming community and a destination in its own right. Home to Washington State's first designated Creative District, the community is a treasure trove of artists of all genres, offering performances, visual and literary offerings, and culinary and liquid delights.
Todd Tatum Director of Community Services and Economic Development conveys, "It's a real source of identity for the city of Edmonds. Our depth and breadth of creative know-how and the number of artistic businesses are really incredible."
Edmonds is also a gateway to other popular locations, such as the Olympic Peninsula, which is only a ferry ride away from the city. "People come through Edmonds, and when they see that our identity is marked by innovation and a strong support of local business it becomes very clear that Edmonds is a place that they want to visit in the future. So, we are a gateway to Washington's broader recreational opportunities and also a destination in and of ourselves," Tatum elaborates.
Mayor Mike Nelson describes the city in three words – welcoming, charming and caring.
"We are a city that is constantly putting on events, we have festivals, we have parades, we have car shows. We have folks come from all over and we love having visitors here. Edmonds is charming in the sense that we have very distinct neighborhoods, and our downtown is really well known for its certain character. We have very walkable streets. Our parks department and our community really emphasize beautification. Even though we're a midsize city,when you walk around, you are always running into people you know, and finding yourself in conversations."
As for what makes Edmonds caring, he emphasizes the way the city and the community responded to COVID, stepping up to support small businesses in every way possible provides just one example.
The city created a grant program which was a way for Edmonds businesses to stay afloat while customers stayed at home. Businesses with well-developed sales infrastructure stepped up to help smaller businesses make the transition to online sales. Nelson explains, "We had a lot of retailers that had never sold online before. So, the community had folks who did web design and IT and they helped those businesses make that transition."
The residents of Edmonds were a huge support to the local restaurant industry, taking advantage of carry-out options when the establishments had to be closed.
"You hear people talk about COVID belly. Well, it wasn't because we were sitting around, it was because we were ordering takeout every night," chuckles Mayor Nelson. "But you know, that made a difference. All of our restaurants downtown survived. We can't say that for a lot of our neighboring cities, but that took a community effort. That was because our community cared."
Development Services Director, Susan McLaughlin notes that Edmonds also has a strong environmental ethic. The Puget Sound Bird Fest is one example of how the community honors the natural environment.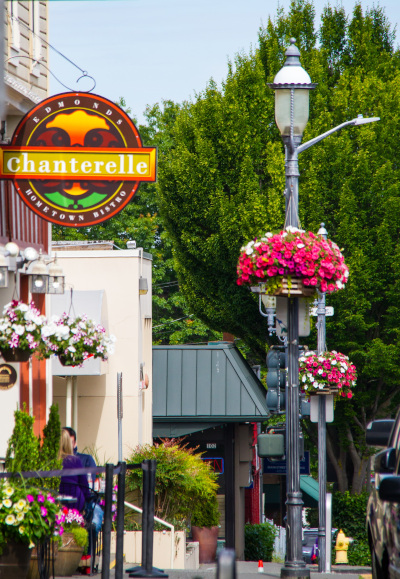 The festival is a celebration of birds and nature that happens each fall, offering presentations by local experts, workshops and demonstrations, and fun activities for all ages. "We have a very strong environmental ethic here with the Puget Sound and other water bodies and forested parkland,"
McLaughlin points out that "We have community members that really care and step up to not only advocate, but to conduct boots on the ground restoration and education with the Audubon Society, Save the Marsh, and the many other advocacy groups that are engaged in our community. So that volunteerism is a foundational element of our culture as well."
Edmonds also has a Climate Action Plan, and a Mayor's Climate Action Committee, which is unique for a city of 43,000. "You don't see every city our size engaging in something that's really of global importance, at the local level," remarks Patrick Doherty, Public Information Specialist for Edmonds.
As for local industry and investment, Doherty suggests that the biggest source of businesses coming into Edmonds are from the Greater Seattle Area.
"It's not the kind of place where a lot of big businesses from far-flung places are landing, but there are a lot of local, national, and international businesses that are based in the Seattle area. These businesses often look to places like Edmonds as they expand or relocate from Seattle. Edmonds sees plenty of entrepreneurs taking their skills from big-box companies and starting something on their own," he says.
"If people come to Edmonds on their site visit to consider where to move to or expand to, they may find office space may not be the cheapest,, but is in the richest environment for themselves, their visitors, their clients, their workers, and they're in a place that is charming, welcoming and is that sort of traditional town."
As a city in a major metropolitan area, Edmonds truly offers the best of both worlds, with Seattle's tech-savvy mindset and education, and the quaint traditional feeling of a smaller community. "It's a walkable small city center, on the sea, with a ferry, a waterfront, and beaches. You feel at home when you come to Edmonds, even if you're not from Edmonds," Doherty says.
Currently, the service sector provides 70% of the jobs in the community, with city government, healthcare, and education the primary sources of employment. Doherty recounts, "Many years ago the community voted to create a hospital district. Since then, Swedish Hospital network has become a great regional hospital and asset to the community. We have been really blessed with that presence, and of course, you can imagine the employment not only directly by the hospital, but all the satellite, medical, lab, and healthcare-related companies that spin around the hospital."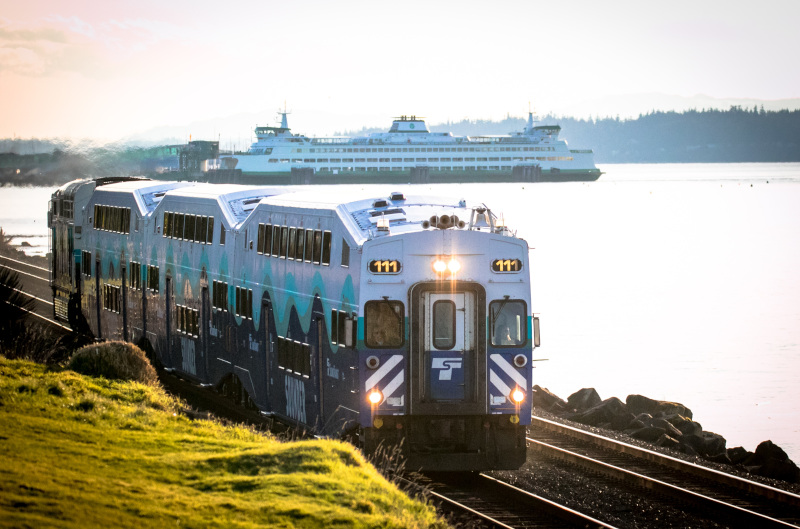 Car dealerships along Highway 99 serve the region and are another source of employment and revenue in the city, as McLaughlin acknowledges, "Dealerships within Edmonds bring visitors, jobs and help to keep a strong tax base."
Both Edmonds College and Shoreline College are valued partners, working with the city to provide a strong workforce. "We used some of our American Rescue Plan Act (ARPA) funds to create a job retraining program, we set aside $600,000 for those grants. Those colleges are participating in that program so that together we can help Edmonds Residents and Businesses who are interested in retraining and exploring different careers," says Nelson.
Edmonds College also has a maker space as part of its Engineering and Technology department which Tatum believes is favorable for the community. "It's an investment in the maker culture, the creative culture. It's a great opportunity for people to come in and learn and expand their maker goals, and learn or hone skills in prototyping, computer aided design, and so many other manufacturing techniques."
Although many of the housing options in the city are single-family homes, the recent rezoning of an area around the Highway 99 corridor has opened up land for higher-density housing, including several apartment buildings. Informally known as Uptown, this neighborhood will have excellent transit options, with planned connections to Lynnwood and Mountlake Terrace, as well as proximity to the many retail and service industry jobs along the route.
The Highway 99 project has been a priority for Mayor Nelson, who describes, "It's probably our most underserved, most underutilized, most diverse part of our city, and yet, it's also used by so many. 40,000 vehicles a day travel through there, it is a state route. We have a revitalization plan in place, it's going to cost probably about $180 plus million. We've already got $40 million committed, and we received $22.5 million this year from the state legislature."
Moving into phase two of the project, a center median is being added, which will be planted to add aesthetic appeal, along with the addition of signage to welcome people into the community. Future plans for this area include widened sidewalks and other road improvements, with a focus on attracting new development. "We anticipate much more of that, more housing, more sense of community. We actually opened up a satellite office, a neighborhood City Hall, up on Highway 99, to offer a variety of services, with the idea that instead of you having to come to the government, the government can come to you. It's been a great success," Nelson asserts.
This project will continue to be a focus for the community in the coming years, accomplished with the same forward-thinking approach that Edmonds brings to every project. "We are taking this time to look at Highway 99, and not just invest in it from a dollar and construction standpoint, but investment in the way the Edmonds does, which is investing in the community, and in the connections with the community, and improving and continuing to build on this idea of connections to the broader community. This part of Highway 99 is as vibrant as everything else that you see here in Edmonds," expresses Tatum.
The mayor adds, "We're planting the seeds, and so my hope is that when we plant the right seeds in the right places, and the right public-private partnerships, in three to five years we're seeing that growing and sprouting to something wonderful."
AT A GLANCE
Edmonds, Washington
What: A charming and vibrant community of 43,000 in the Greater Seattle Area
Where: Snohomish County, Washington
Website: www.edmondswa.gov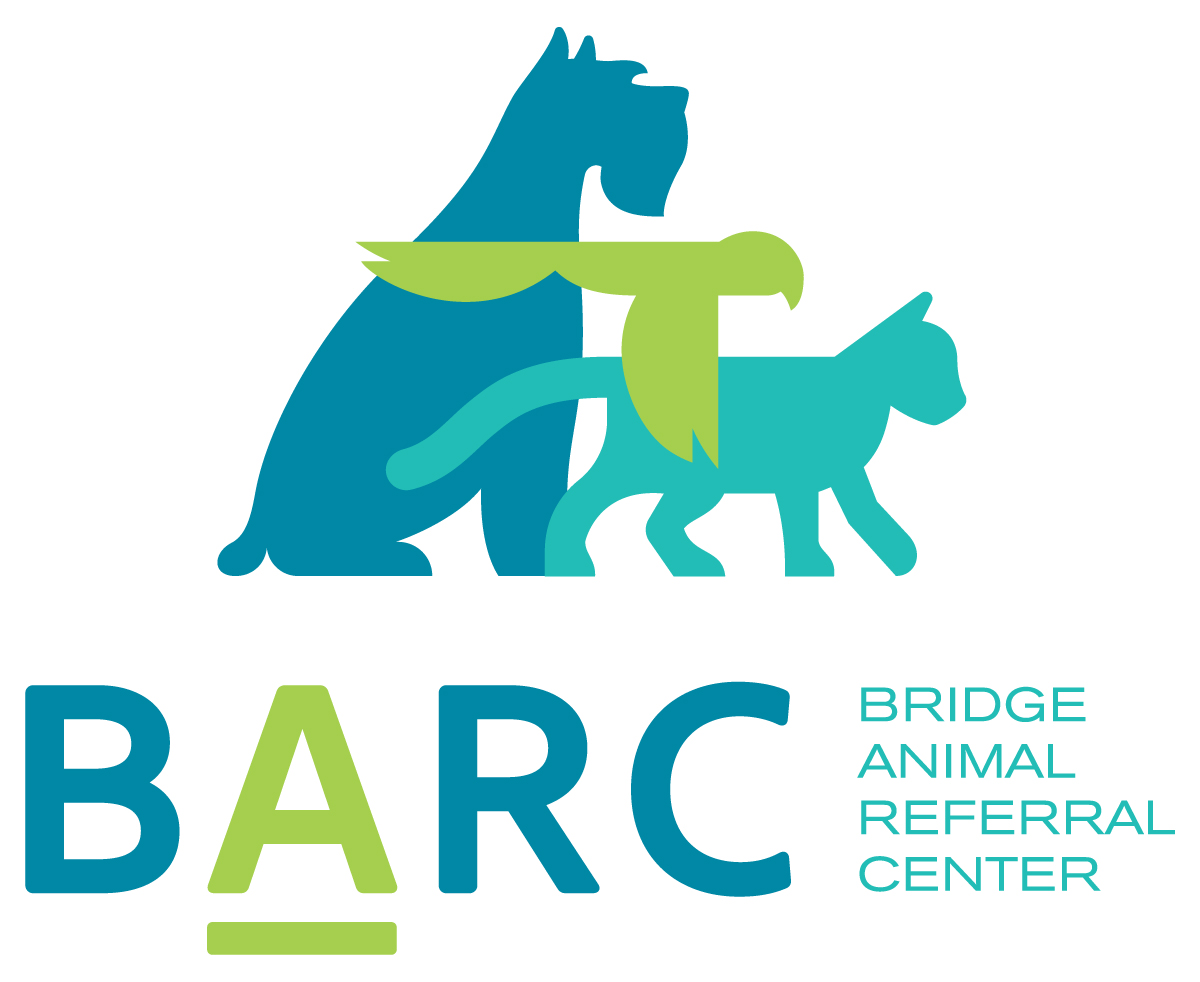 BARC – www.barcseattle.com
Giving back to the community is the driving force behind all the work that Dr. Tripp undertakes
as founder/owner and Veterinary Oncologist with the Bridge Animal Referral Center (BARC) in
Edmonds, Washington.
Located in the Five Corners area of the city, with a beautiful ocean and mountain backdrop
surrounding the dynamic commercially buoyant city of Edmonds, Dr. Tripp has built a respected Veterinary comprehensive cancer care center starting with Oncology that specializes in diagnosis and treatment options to support the veterinary community. Surgery, a 64 Slice CT unit and Internal Medicine, with mobile Ultrasound and Cardiology services have been added to compliment her vision to provide everything needed under one roof for the convenience of the owner and animal.
Beyond the scope of the work that BARC carries out, Dr. Tripp has been community minded since an early age when her mother exposed her to giving back through Rotary. Additionally, her involvement in clinical trials to promote cancer research at a Greater Puget Sound level, has brought broader awareness for the local community of one cancer, one cure.
After obtaining her advanced degree in Veterinary medicine at the University of Missouri, followed by her residency in Oncology at Washington State University, Dr. Tripp decided to open her own business. This matched perfectly with her long-held vision to be a local business owner in the town where she grew up. Opening BARC, was a logical choice and choosing to be privately owned, allowed her the flexibility to make business changes, as needed, quickly and efficiently with the team of professionals she hand-selected.
BARC officially opened with 7 employees in 2015 renting space from another local Veterinarian. After purchasing a building and completing renovations, Dr. Tripp officially moved her practice in April of 2017 to the current location at 8401 Main Street in Edmonds. The practice now has a team of 30 employees.
While the work Dr. Tripp specializes in fulfills her every day, the knowledge she is doing this in the community she was raised in increases her love and pride of Edmonds.
When asked how she would describe the city, Dr. Tripp answers:
"Edmonds is a vibrant, culturally enriching place to live with amazing access to all of the
shops and restaurants that anybody could want. It is such a tight-knit community supporting
one another".
Wibu-Systems USA Inc. – www.wibuusa.com
Wibu-Systems USA is a technology supplier of an award-winning software protection, licensing, and security platform for Independent Software Vendors and embedded system developers. The North American headquarters of the German-based company is located in Edmonds, WA where co-founder, president and CEO, Marcellus Buchheit, resides with his family.