Raulli & Sons
Quality steel fabricators
Business View Magazine interviews Mark Raulli, Co-Owner of Raulli & Sons, as part of our focus on the steel fabrication and erection sector.
Raulli & Sons is a steel fabrication and erection company located in Syracuse, New York. It was established in 1949, but its roots go back to 1920, when Paul Raulli travelled to the United States after World War I, to work with his brothers at an ornamental ironworks and blacksmith shop. "Back then, he was a master of lots of things," says Mark Raulli, the current Co-Owner of Raulli & Sons, and a fourth generation member of the family-owned business. "He fixed washing machines, bicycles, wagons, and made metal tools. In the mid-1920s, he moved to Syracuse and created this business. As time went on, he started making custom ornamental railings, window guards, and other similar products. We incorporated in 1949 and that's when we became Raulli & Sons (the sons being Hugo, Guido, and Joseph). The place where he originally lived was an apartment above our ornamental shop; we have transformed that apartment into offices, but the shop still exists."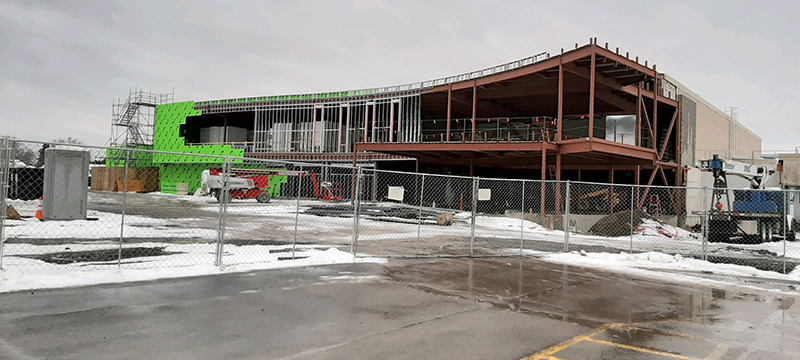 In the 1970s, Raulli & Sons began expanding into the structural steel and miscellaneous metal markets, which, today, represents the largest segment of its business. The company, which has approximately 120 employees, including fabricators, welders, ironworkers, crane operators, and mechanics, operates from three locations: a 40,000-sq.-ft. structural steel fabrication plant; a 15,000-sq.-ft. miscellaneous metal shop; and 6,000-sq.-ft. ornamental shop. The steel plant fabricates an array of structural steel for very diverse customers. "We do schools, hospitals, colleges, and office buildings," says Mark. "We've even done wastewater treatment plants, and we've done quite a bit of military work at Fort Drum, near Watertown, NY – hangars and barracks. We even did their air traffic control tower."
Mark notes that one of the company's competitive advantages lies in its twin certifications from the American Institute of Steel Construction (AISC). "We have the fabricator's certification, and the advanced erector's certification," he explains. "A lot of jobs are complicated and require those documents. So that whittles down the number of companies that can bid for them." In fact, the company does very little marketing. Because of its reputation and its AISC certifications, Raulli & Sons is very sought after and gets many calls to bid on work in New York State and beyond.
In a continuing effort to achieve greater efficiencies, Mark reports that the company is having a new Peddinghaus drill line installed in November to replace an old beam punchline. "It will be more efficient and faster," he says. "A beam punch has limited thickness that it can go through; a drill line can pretty much drill through anything." In addition, the new drill line will produce more steel, creating an opportunity to streamline production processes and open up the availability to take on more business. Other recent improvements include a new plasma table at the miscellaneous steel fabrication shop that will allow for greater flexibility and precision in some of the firm's ornamental iron products. Meanwhile, ongoing evaluations of the company's fleet of cranes, trucks, and other equipment help keep everything in top condition.
"And, hopefully, next year, we'll be expanding our office," Mark shares. "We're landlocked; we have a road, a parking lot, and another business behind us; then we have our fabrication shop on the other side. But we need more space, so we are expanding up – we're building a second floor over our main office. We're going to cut a hole in the roof and build a two-story structure. Up is the only way we can go."
As is typical with companies involved in construction and skilled trades, one of Raulli & Sons' challenges is finding replacements for an aging workforce. "I would say, in the next five years, we could see a good amount of people retiring and then, in the next ten years, we could see a large amount of people retiring," Mark reveals. "So, we're trying to find people now. Before COVID hit, we were trying to work with a welding program in the Syracuse city schools that they started a couple of years ago. When we do hire people, who don't have the needed experience, we train them here. Our foremen are very experienced; 25 years of service is not unusual. So, new employees learn a lot pretty quickly. We try to set them up with the right crew to get the experience they need and to learn from the older guys."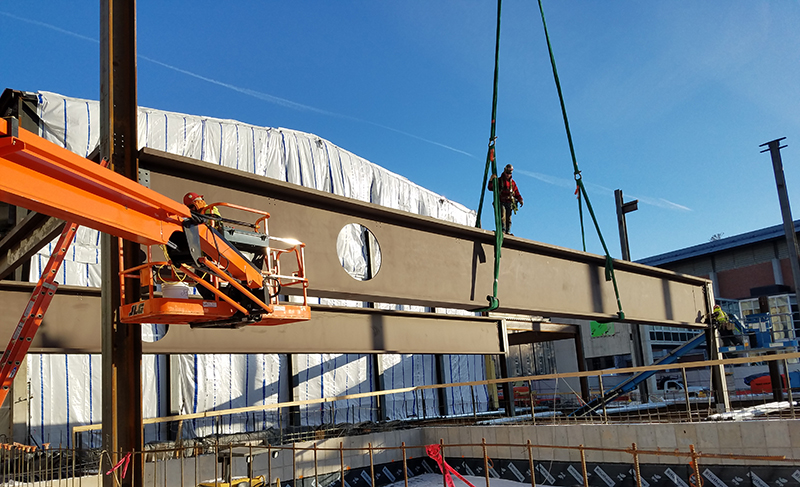 Once a new recruit joins the team, he or she can expect to be well taken care of. Raulli & Sons offers an excellent benefits package, which includes an Employee Stock Ownership Program (ESOP), and employees often partake in several events throughout the year, including hockey and baseball games, golf outings, ice cream socials, and cookouts. During the COVID-19 pandemic, when a third of the company's employees decided not to work, they stayed on the payroll, and nobody was laid off. "We care about our employees and try to take care of them the best we can," Mark states. "That's a testament to how long they stay. Our employees are our most important resource. If we didn't have them, we wouldn't be where we are."
Just as important to the company are its suppliers and the general contractors it works with, some of whom have relationships with Raulli & Sons that span decades. "Our main steel supplier is a company that I've known since I was a little kid – Interstate Steel Sales from Buffalo," Mark notes. "And we're still doing work with them."
But perhaps most important to Raulli & Sons are its customers for whom the company has provided quality work since 1949. "We try to be fair to our customers and we don't play games when we get jobs," says Mark, in conclusion. "We try to do the right thing – to deliver on time and to collaborate to make jobs as successful as possible."
AT A GLANCE
Raulli & Sons
WHAT: A steel fabrication and erection company
WHERE: Syracuse, New York
WEBSITE: www.raulliandsons.com