Spruce Homes
High-End custom homes designs that put the client first
With tailor-made options available, every design taste is satisfied with Spruce Homes
Design tastes can vary and for every client, there is always a style that may help define them. Enabling the personality of every client to shine through in their new home is the job that Saskatoon, Saskatchewan-based custom home builder Spruce Homes bases their business model on. Putting their well-earned reputation, proven expertise, skill, and enthusiasm into every new project, Spruce Homes is in the business of creating meticulously designed homes that are as unique as their individual clients.
"(Our homes) are really client-motivated," says Spruce Homes owner Brad Blair. "We try to blend different design styles so that when our clients walk into their home, it screams the personality of our clients and the house is really unique to them.
"I always say that we want our houses to have personality, we don't want them to be bland. But we also don't want somebody to walk down the street and be like 'Oh, Spruce Homes built that house."
Blair and his wife started Spruce Homes in 2016, and in those early years, the company was focused on flipping houses. From there, they expanded into infill construction, which involves tearing down older, unusable homes in established neighborhoods and replacing them with a new build.
"The opportunity for infill construction came mainly because we were flipping houses," Blair recalls. "When you're working in that world, you're working in those older, established neighborhoods on older houses that need some major repair work, and those two worlds just collided."
Soon they had people asking to build new homes using floor plans they had used in the past and to help select finishes like tile, flooring, paint colors, and more.
"So that turned us from like a spec builder to a semi-custom builder and then from there it morphed over the next couple of years to complete customs," Blair says. "Then we started to go outside of infill neighborhoods and into building acreages and have built a couple of houses in new developments."
Today, the company focuses its efforts on large-scale renovations – a nod to where they started, says Blair, as well as full custom homes from scratch. They work hand-in-hand with clients to do everything from lot selection and floor plan creation to interior design.
Each project design is different and catered to the client's unique wants, needs, and styles. They start by having clients research inspiration they are attracted to and then they discuss what it is about those photos the clients like.
"You can see a photo that somebody likes, but they might not like everything in the photo, they might just like a couple of things," Blair explains. "So it's important to understand what they're actually drawn to and understand that there's not necessarily one style that you have to stay within. If someone is drawn to a farmhouse feel, that doesn't mean that they also can't have modern elements or mid-century elements, or anything else.
"It's understanding what they're drawn to and why and then it's our job to blend those together throughout the house to make sure that the final design is cohesive and makes sense to them. One of the things that we've always strived for is not to have our own style, but to simply be a facilitator to make it all come together."
One of Spruce Homes' current projects is an infill home where the clients are partial to three different design styles – modern, mountain rustic, and a bit of farmhouse. They've taken those three different styles and turned them into a cohesive design that suits their client's tastes.
"The exterior of the house gives that mountain rustic kind of vibe with dark green siding and wood shake elements, but it brings a modern flair with white trim to lighten it up," Blair describes. "On the inside, there's more modern elements in the railing and the cabinetry, but then it's subtly honed down with built-in arches around the fireplace."
All of the design elements are done in-house by Kaitlyn Blair, the company's interior designer. She takes the time to understand each client's style and then presents them with options that fit the look they're going for.
"For example, if you wanted to look at light fixtures for your house, you would have tens of thousands of options. She will narrow those tens of thousands of options to maybe three per room and then clients are choosing between three instead of choosing between thousands," Blair explains. "And she does that through the whole home whether it's flooring, tile, windows, doors, light fixtures, plumbing, the whole nine yards. It makes the process way easier and way more stress-free for the clients."
The whole design process takes about four full, non-consecutive days and clients have the option to be as involved as they want.
"What we try to do is take the stress out of the design process. The custom home building takes way more time and energy than you think it does. We put all of the burdens onto our shoulders and make it easier and more fun for clients," Blair says. "The process isn't the same for everybody. We have some people that come to us and want no part of the design at all. It just doesn't interest them. And we've also worked with clients on the complete opposite where they really do love it and want to be part of the entire process. Most people are kind of in the middle."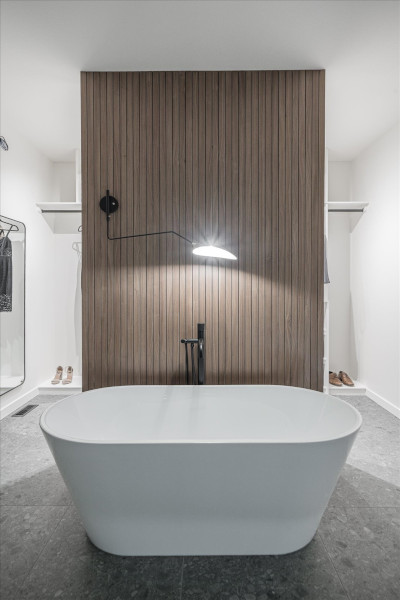 Spruce Homes' process and quality are widely recognized, with the company being honored three years in a row with the Saskatoon and Region Home Builders Association Award for Housing Excellence for both whole home and interior design. And while Blair says he doesn't put much stock into awards, he does recognize that achieving them is a nod to the quality of work his team is doing.
"Those awards really speak to everybody on staff, our sub-trades, everybody, so I do expect that we will get more in the future," he says. "My expectation is that we build amazing houses and we do it well. So my expectation is there will be more to come and that only speaks to the quality that we expect from all of our people and what they provide."
While Blair has high standards for his team, he prides himself on creating a positive working atmosphere for all of his staff and subcontractors by being flexible, but also demanding respect on-site.
"If people are difficult to deal with, they don't stay on staff, or if it's a sub-trade, they just don't get any work from us," he says. "When you step on site, I don't care if you're a sub-trade or on our staff, I want you to come to work and I want you to do a good job. I don't want you to be working around people you don't want to be around so you're just hurrying through things. That's how things get missed and quality gets sacrificed."
Spruce Homes also maintains its high quality through good old-fashioned loyalty. Blair uses the same vendors, suppliers, and sub-trades over and over on all of the company's projects. He relies on the services of places like Flow Tech Mechanical for plumbing and mechanical work, Warman Home Centre for building materials, Flooring Superstore for flooring and tile, and Mirage Woodworks for cabinetry.
That loyalty paid off for Spruce Homes when the COVID-19 pandemic hit in March 2020. Building supplies that were once readily available were now taking weeks, if not months to arrive. But Spruce Homes' connections with its partners ensured that their homes were at the top of the list once supply and labor became available.
"My beliefs are that by being loyal to the people that do good for us, they will do good in return. Over the last couple years as pricing went crazy and labor shortages were all over the place, we were always the first in line to get work done," Blair recalls. "Our sub-trades and our vendors always made sure that, within their control, they got to our project. When everyone else had projects that were on hold because they couldn't get the labor there, ours were able to continue on because we had those solid, loyal relationships."
Thanks to their loyalty, quality, and unique design offerings, Spruce Homes has managed to grow rapidly over the past half-decade. Looking at the next five years, Blair isn't looking to explode with even more growth. He's set his sights on maintaining their current workflow while moving into projects the company finds most fulfilling.
"We want to do more custom builds," he says. "I would like to increase the ratio of new construction we do over renovations. We just enjoy those more. There's more flexibility. You have more control over the project, and that's more fun sometimes. So that's really our focus. We're just trying to change the ratio of the type of work that we bring in."
AT A GLANCE
Spruce Homes
What: A custom home builder that caters to clients' unique needs
Where: Saskatoon, Saskatchewan, Canada
Website: www.sprucehomes.ca
Buildertrend – www.buildertrend.com
Buildertrend offers a construction management platform that is the foundation of the residential construction industry
Managing the many competing priorities for construction professionals can be an ongoing struggle. Keeping track of costs, estimates, materials and stages of construction development requires a system that is not only efficient but is easy to use and automated. Buildertrend has recognized this industry need and provides a platform that is proving to represent the industry gold standard for construction management.
Based out of Omaha, Nebraska, Buildertrend traces its roots back 17 years. What started as a small company founded by three friends with a vision to create project management software for residential contractors has now changed the way the world builds. Today, Buildertrend is the industry standard, outstripping the competition. In fact, Buildertrend has teamed up with some of its top competitors to provide an unparalleled full construction project management platform utilized by over 1 million construction professionals in over 100 countries.
Buildertrend has evolved to include options that simplify, expedite and organize key information and financial materials to free up contractors to get down to the business of building rather than chasing limitless documents. Buildertrend's platform manages the whole business from scheduling, invoicing, and accounts using the latest QuickBooks integration, through every phase from pre- to post-construction.
With loyal clients, including leading property developer, Spruce Homes who have used Buildertrend's leading platform for all of their high-end residential developments, the proof is in the results. Spruce Homes continues to utilize the leading features built into Buildertrend's construction management platform to carry out work that is first-rate, on schedule, and finished on time by consolidating its business needs into one, simple-to-operate, convenient, and very efficient software platform.
Empowering construction professionals to stop mistakes before they happen, Buildertrend allows for document storage that is all in one place and easy to access.
With Buildertrend, contractors and construction professionals can also expect to see improved lead management. The platform helps to continuously build teams' pipeline for future home building or remodeling projects, eases in ordering materials, and creates more efficient job sites with the business end taken care of through Buildertrend's sophisticated and leading technology platform.
With further integrations planned, including the upcoming additions of an app marketplace (where builders can integrate with commonly used tools) and an expanded line of financial services, the sky's the limit for Buildertrend's construction client base.
Buildertrend brings peace of mind and levels of efficiency that are unmatched in the industry, laying the software foundation from which building projects take flight for its loyal clients and the many clients set to unlock its limitless technology potential.