Cochrane, Alberta
Alberta's fastest growing municipality
Offering the perfect blend of small-town community charm and modern amenities with growth on the horizon
Resting at the foothills of the Canadian Rockies, Cochrane, Alberta offers a picture-perfect example of a mid-sized city in western Canada, with its scenic landscape, historic downtown, and charming atmosphere. Located only 20 minutes from Calgary, Cochrane is close to big city amenities, including an international airport. Originally a small ranching community, the town was established in 1881, and today is home to close to 35,000 people and growing.
Mayor Jeff Genung describes, "It's all about location, location, location, here in Cochrane. We're nestled in the Bow River Valley, it's a beautiful setting, with the mountains in the background, the river flowing through, the railway, and there are two provincial highways that intersect in the heart of our community. It's situated just perfectly."
As the fastest-growing municipality in Alberta, and the 11th fastest in Canada, Cochrane has a very robust business sector, with Chief Administrative Officer Mike Derricott reporting 2,000 active business licenses.
He shares, "Throughout the pandemic, we anticipated things slowing down in our community. But they didn't. Growth continued in our development sector, but also, in our business sector. We're really benefiting from what I would describe also as a growing diversification of our economic industries."
With Spray Lake Sawmills and other resource-based industries as some of the core economic engines in the community, Derricott suggests that Cochrane is focused on growing the tech industry, with key players like Garmin Canada at the forefront. The recent completion of the Station, Cochrane's transit hub and innovation center, brings not only a link to transportation options, but also a visitors' center, a business development center, and a business incubator site.
"We're going to be beginning some programming to incubate and grow tech-related innovation in our community. We are really excited about that opportunity and how we can continue to highlight Cochrane as a great place to do business," Derricott says.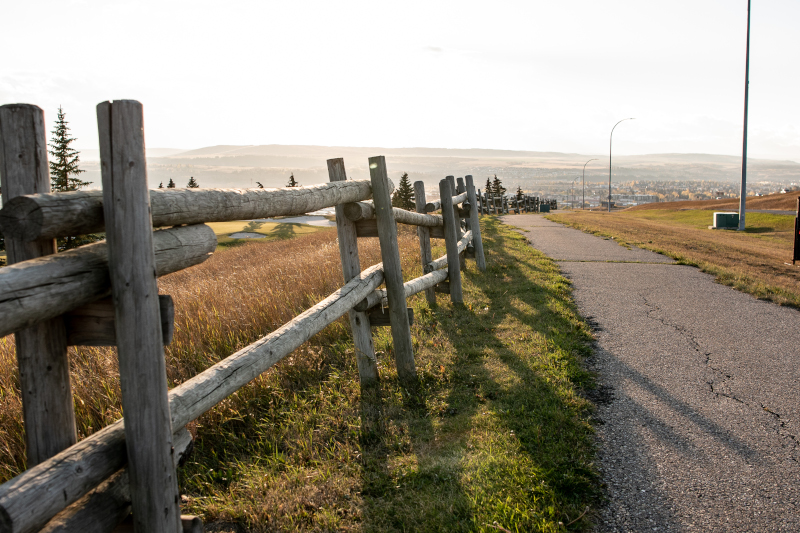 Jim Rooney, Managing Director of Garmin Canada explains that they have been part of the Cochrane community since 1998, launching their first product for Nike in 2000. "We've been on the forefront of that industry, and over time we built a customer base of Nike, Adidas, Timex, Polar, and others, to build sports technology that went all over the world," he recounts.
"When we started the business, Cochrane was home to approximately 10,000 people, and we employed just a handful. Now, Cochrane has grown, and we've grown to almost 200 people here working for Garmin, who acquired us in 2006."
With a focus on outdoor fitness products, Garmin takes advantage of Cochrane's rich surroundings to assess its products, and this also extends to residents, who are able to interact with products before they go to market. "Every day, we have people coming in from the community to help us test our products. They get to be part of the whole process. We've got a really engaged town and population out there that likes to get outdoors and use things and it's such a synergistic relationship between us, the town, and community," Rooney says. Garmin also sponsors the track at the Spray Lakes Sawmills Centre and uses the pool and other facilities for product testing.
This cohesive relationship between business and community fits in well with Cochrane Council's most recent strategic plan, which highlights the idea of building a complete community. "Part of that takes what we describe as intentional partnerships of a variety of natures. There are intergovernmental partnerships with us and entities like the province or our neighboring rural jurisdiction, Rocky View County. There are social partnerships with groups like Bike Cochrane and other non-profit entities that ensure that we have a community that is cared for and full of activities and has the services that we want to see," Derricott elaborates.
"We also have really important relationships on the business side of things." He notes that the town is forming partnerships with the business community to ensure a vibrant local economy, adding, "As a local government entity, we feel most successful when we're making connections between people and groups that are really making it happen. We see ourselves as facilitators in that space, helping to create and maintain an environment where people can come in and do the kind of work that we're seeing out of Garmin and some of the other private entities in our community."
Cochrane has also introduced a new land use bylaw, with the intention of making Cochrane, even more, business-friendly. Maintaining the unique heritage of the town is another area of focus, one that is extended to both business and residential development.
"We really believe that we have an obligation to establish, support, and maintain our unique heritage and identity in our community," says Derricott. Through what Cochrane has coined "Western Heritage Guidelines," developers are encouraged to incorporate some of Cochrane's distinctive character in their plans.
He adds, "That was developed through some extensive consultation and connection with our community. We're really proud of that and excited to see how that will help us maintain our unique character, which is a challenge as we grow and mature, and change. It wasn't that long ago that we were a small town of 10,000 people, and now we're 35,000 people. We know we can't do that alone. We need the private sector, the not-for-profit sector, and the government all working together to accomplish that."
With fast growth comes new challenges, as Mayor Genung acknowledges, "I've always referred to them as good problems. Growth brings the challenges of infrastructure, obviously. Council identified our road network as one of the key priorities early on in our term. The Council prior to us had established the network for the new bridge, which we had the privilege of opening a couple of years back. The Jack Tennant Memorial Bridge connects one half of our community to the other across the Bow River. That was pretty influential in establishing a better road network, but also philosophically connecting communities, which is one of our priorities."
The new bridge was a $53 million project which was paid for primarily by new growth and grants, without relying on the tax base. Genung says Cochrane has started another major undertaking, the Highway 1A improvements project.
"With COVID and some of the grant opportunities the province presented, we were able to do our own Highway 1A project, which is currently underway. We've had long lineups of vehicles, trying to traverse those networks, and so we're twinning the highway right through our community," he expresses. This project is a $28 million investment, which includes upgrades to make navigating the roads easier for drivers, as well as a three-meter wide paved trail through the community.
"We always have a vision to not only make it easier for people to drive through our community but walk, cycle, run, whatever. We're quite proud of the trail network that we have," boasts the Mayor. Cochrane is also investing in flood mitigation efforts, with two projects completed this year, and more in the plans.
Looking to the future, Cochrane will continue to focus on its strategic priorities, the first of which is identity. "We're being quite deliberate in not being engulfed by the City of Calgary. We're trying to be very intentional, creating a real sense of arrival when you reach Cochrane," says Genung.
The second priority is protecting and nurturing open spaces and natural areas as the town grows. "Where we are situated, we feel we have a responsibility to be quite deliberate in how we protect and enhance where we live so that we can pass this space on to future generations," he asserts.
Ensuring a livable community is another area of concentration, along with a vibrant economy.
"We want to create an atmosphere where the modern economy can thrive, and Garmin really embodies that, in my view," remarks Genung. "We really want to grow that tech industry here so other corporations will look at Cochrane and see us as a home for their growing and thriving business."
The final area of focus is connectivity, which takes a multi-faceted approach. "Connectivity speaks to all of the trails, the highway infrastructure, and connections with people. We want Cochrane to be easy to get through if you're traveling, but also, we want to make sure that people take a look around when they're touring through this region. We really want to make Cochrane someplace that they'd like to stop and take a look at." "We are intentionally designing and building our community to be an exceptional place to live, work, and play.
AT A GLANCE
Cochrane, Alberta
What: A fast-growing community with a focus on attracting tech companies.
Where: Alberta, Canada
Website: www.cochrane.ca

BURNSWEST – www.burnswest.com
Set in the stunning foothills of the Rocky Mountains, the picturesque new community of Greystone boasts Cochrane's most desirable amenities within minutes, and offers endless opportunities to build a home with modern convenience, be part of the town's economic growth, and engage with your community to find adventure or relaxation.