Paso Robles Tank, Inc.
Adapting to a 'crazy time'
Business View Magazine interviews Shane Wombles, President of Paso Robles Tank, for our focus on the Domestic Tank Construction and Fabrication Sector
Paso Robles Tank, Inc., is a full service tank contractor that designs, fabricates, erects and coats both carbon and stainless steel storage tanks across the United States. Projects include everything from a 50,000 cubic foot, low-pressure gas holder for the City of San Jose, California, to two 7.9 million gallon welded steel reservoirs for the Orange County Water District in California. Like many companies, Paso Robles Tank saw activity nearly grind to a halt at the beginning of the COVID-19 pandemic. But soon people realized that work had to continue, and Paso Robles Tank was ready to meet their needs.
"I think for a while there, probably three to six months, everything was kind of delayed just because people didn't know what happened, they didn't know how to react, what this was going to bring, if it was going to be an issue for them to have to continue with projects, and whether they would get support from inspection companies," recalls Shane Wombles, President of Paso Robles Tank. "But the world continued for the essential services — and providing potable water or petroleum products tanks is an essential service. So, even in this crazy time we live in, we still have to move things and people still need potable water, and wastewater still has to be dealt with, and not everyone can just live off the grid so to speak."
The pandemic has created new challenges for Paso Robles Tank. Work spaces had to be reconfigured and tools were cleaned more often. Lead times for supplies increased and quarantine protocols, after potential COVID-19 exposures, left fewer employees to get jobs done. But safety has always been paramount for the company, so they simply added new protocols to an already robust system. They also found ways to keep spirits up and refocus efforts to adapt in a changing environment. The result is a company that's not only surviving the pandemic but is poised for substantial growth in the years to come.
The firm has two facilities in California — Paso Robles and Hemet — as well as one in Sparks, Nevada that's dedicated strictly to stainless steel tanks. It has a total of about 300 employees, roughly the same number prior to the pandemic. In fact, a lot of those employees have been working overtime. "Obviously, it's affected us in the fact that we've had employees staying home like everyone else," Wombles acknowledges. "They caught COVID outside work, or their wife has COVID, or their kid has COVID; it's affected us like the rest of the world, so we have to roll with the punches."
That has meant setting up stations to check the temperature and general wellness of anyone who enters each facility. It has also meant random COVID-19 tests for employees, both to stop any potential outbreaks before they start and provide everyone with peace of mind that the situation is being monitored. Early on, employees who were able to work remotely did so. In the meantime, offices were expanded and reorganized to put more space between people, making a safer environment for when they returned. New hand washing and hand sanitizing stations were installed. High-touch surfaces and items were sanitized multiple times a day.
Implementing all those changes wasn't easy. "It's definitely been a financial strain on the company," Wombles admits. "Having to pay for it all, including wages for people off work. It's required a lot of overhead. That's probably the biggest thing, people not realizing how much overhead it takes to support and still be there for the employees and take care of the company at the same time in this pandemic." Operations, through no fault of the company, were affected as well. Certain niche items became more difficult to obtain. Products that are available can take twice or even three times as long to arrive on site once they're ordered. And the cost of some materials, such as steel plate, has increased more than 50 percent in the last few months.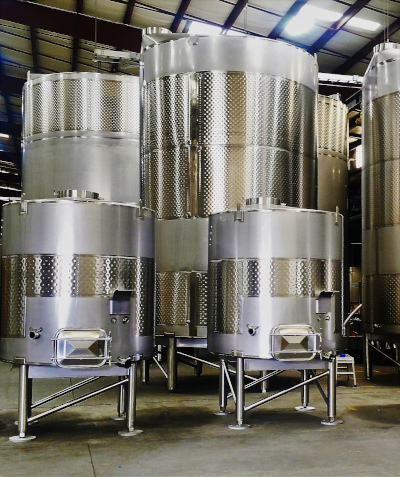 But Paso Robles Tank, being considered an essential business, found ways to continue with creativity and ingenuity. Materials from one site were moved to another where they were in short supply until stock could be replenished. Suppliers with longstanding relationships, such as Kloeckner Metals, American Metals, PDM Steel Service Centers, Brown Strauss Steel, Patton's Metal Working Solutions, California Metal and Supply, B&B Surplus, and Tnemec stepped up to help Paso Robles Tank meet demand. "Tnemec has always treated us well," Wombles reports. "We've had a long, outstanding relationship with them. They've always done a great job of supporting us and supplying us materials as needed, quickly. And when we're in a pinch, they've always gone above and beyond what we've asked them to do in order to make things happen for us."
Paso Robles Tank is also investing money in its own facilities so the company can provide more services. The stainless steel department in Paso Robles, California, has been expanded. New equipment, such as a large press brake machine, will allow the company to form its own, specialized roof panels, making it more cost competitive. The Hemet, California, facility now has a heat treat oven so parts can be stress relieved on site. Another recent investment came in the form of new field tools. Employees are now using brand new equipment. Everything from hand tools and welders to generators and man lifts were upgraded. "It's a bit of a morale booster for them to see that we're also investing back, we're investing even more money during this hard time into field tooling, to make their jobs a little bit easier as well," Wombles says.
While demand has picked back up on the public side, it has stalled on the private side. "As far as the private sector, things are almost non-existent right now," Wombles explains. "That's not just due to COVID, that was due to the OPEC oil wars, and that's due to just the not knowing what's going to happen with the administration and what direction it was going and the price of oil." That uncertainty has forced other companies in the industry who had been primarily focused on the private side to shift their focus to the public market. And Paso Robles Tank sees an opportunity in that turn away from the private sector.
"We've made some changes to personnel, we've repositioned and brought in some employees to better serve us chasing some industrial or private sector work," Wombles reports. "So although there's less of it, we're making a push to get a stronger foothold in that industry." That shift in personnel is part of a strategy to reach a goal of doubling the company's size in the next three to five years. But that's not the only goal for Paso Robles Tank moving forward. "It's to continue to strive for safety," Wombles shares. "To be a leader in the industry. Not accepting what the standard is but just going above and beyond it, just making sure that all of our employees go home safely every single day and they're able to continue to have a great life at home. That would be number one."
AT A GLANCE
Paso Robles Tank
What: A full-service aboveground storage tank contractor
Where: Paso Robles, CA; Hemet, CA; Sparks, NV
Website: www.pasoroblestank.com