Cooperative Energy Futures
Spurring the solar revolution
Business View Magazine interviews Timothy DenHerder-Thomas, General Manager of Cooperative Energy Futures, for our focus on the U.S. Solar Energy Industry
Solar generation was 3% of U.S. electricity in 2020, and the Energy Information Agency (EIA) projects this share will reach 20% by 2050. The agency notes that increases in small-scale solar, particularly in the commercial and residential sectors, drove much of the early growth in U.S. solar electricity, accounting for 68% of total U.S. solar electricity net generation in 2011.
Cooperative Energy Futures has been at the frontline of these advances in solar power, helping drive community-level awareness and adoption, and spurring a grassroots-level solar revolution.
But for CEF, it has been a long road to seeing such levels of solar adoption, as Timothy DenHerder-Thomas, General Manager at CEF, recounts. "We've been around for ten years, but we are still very much a startup. We are not just launching a business but in some ways at the forefront of launching a different business model, which comes with a distinct set of challenges. We are figuring out exactly how this industry will work while navigating the dramatic legislative and market changes that are happening in the energy sector right now."
Founded in 2009, CEF is a community solar energy cooperative based in Minneapolis and serving communities across Minnesota. It is on a mission to empower communities across Minnesota to build energy democracy through solutions that are 'clean, local, and ours'. One such solution, which is at the heart of the organization's daily operations, is solar gardens.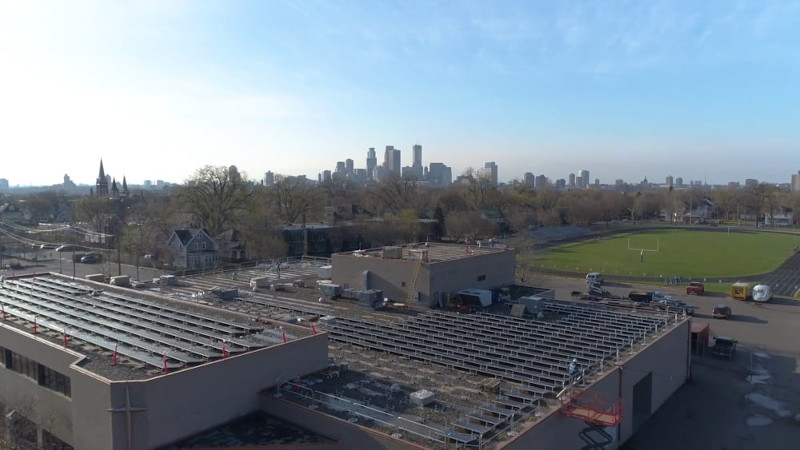 "Solar gardens are solar arrays owned and operated by communities that sell power to local utilities, returning benefits to members in energy bill rebates," explains DenHerder-Thomas. Solar gardens work like other cooperative projects. First, CEF leases farmland or commercial roofing space and installs a solar array. Next, community members subscribe to a percentage of solar from available arrays to cover their monthly or annual electricity usage. At the end of every month, each subscriber gets a credit against their utility bill based on the electricity created by their share of the solar garden.
While solar gardens have a proven business model, gaining adoption in local communities is not without its fair share of challenges. "There are some barriers to achieving higher levels of coverage," says DenHerder-Thomas. "A fundamental one is how financing and the federal investment infrastructure for renewable energy work, requiring ownership and financing by large third parties with a lot of tax liability, is making it much harder for smaller entities to participate. Securing installation sites is another issue because of growing competition to secure good ground-mount sites coupled with hesitance from commercial building owners to make a 25-year commitment to lease their roof, even if they don't have to make an upfront investment."
DenHerder-Thomas adds that utility policies also hamper solar gardens because utilities are opposed to third parties and community-based groups developing energy sources that compete with their monopolies. "One last issue I'll mention is community adoption," he says. "Some people don't understand the long-term benefits of solar, while others just don't believe solar is for them."
CEF is overcoming these challenges through engagement with stakeholders at every process level, including conducting outreach programs with partners like Community Power and Minnesota Interfaith Power and Light, both energy justice-focused nonprofits, to onboard more community members.
CEF currently has nine employees and a little over 1,000 members, comprising individuals and households in affordable housing, manufactured housing, rural, and rental communities. "All our projects are developed to fit each community and meet its energy needs," shares DenHerder-Thomas. "We've done some projects in partnership with local governments and communities of worship, providing hyperlocal options right in community backyards that members can subscribe to if eligible."
CEF's hyperlocal approach is creating a network effect at a grassroots level, where some community members subscribe and spread the news, bringing in more community members and helping entrench the project in the community.
Cooperative Energy Futures has eight community solar gardens in operation, serving around seven hundred members collectively. They include Shiloh Temple International Ministries (204kW), City of Edina (664kW), Clark's Grove (332kW), Pax Christi /Eden Prairie (216kW), Saint Cloud (1.3MW), Ramp A Parking Lot (1.3MW), Waseca (1MW), and Faribault (1.3MW). "We're in the process of developing another six community solar gardens," says DenHerder-Thomas, "and this year, we're starting solar for affordable housing, installing solar panels on the roofs of around 75 multifamily, affordable houses."
CEF contracts local solar installation companies to complete all the installation works. "We collaborate with companies like Cedar Creek Energy, Apadana Solar Technologies, and Go Solar, all of whom handle most of our installation," says DenHerder-Thomas.
While building and commissioning solar garden projects can seem like the difficult part of CEF's work, the real work is community outreach, which, as DenHerder-Thomas admits, takes more than just knocking on people's front doors. He notes, "People typically do not understand how solar gardens work or how they can benefit from subscribing. What has helped is partnering with community-based organizations and doing a lot of our outreach through them. For something unfamiliar, an existing relationship and a trusted messenger will be way more effective than somebody you don't know advertising something that sounds too good to be true."
However, the COVID-19 pandemic slowed down outreach efforts that were previously in-person gatherings and meetings with partner organizations and their members. According to DenHerder-Thomas, "We had to do a lot of virtual meetings, especially when following up with individuals who expressed interest, to walk them through their eligibility, sign up steps, and helping them understand how it will impact their utility bill."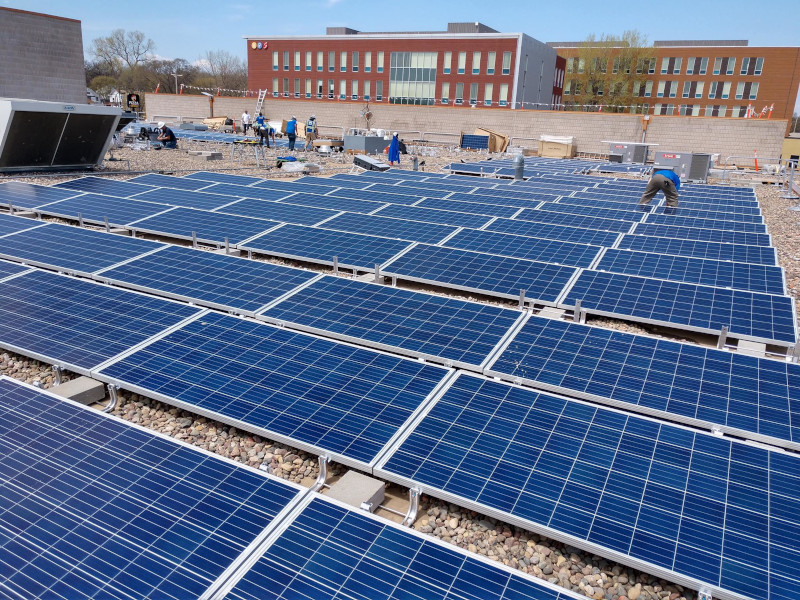 Although the pandemic slowed down community outreach efforts, CEF is optimistic that this was just a temporary setback, with the sector poised for a massive rebound over the next few years. "In January of 2016, there were 37 megawatts of solar installed in the state, meaning from the beginning of the solar industry in the 1960s through January 2016, only 37 megawatts of solar had been installed," asserts DenHerder-Thomas. "Since January 2016, we've installed about 1,000 megawatts, indicating a massive inflection point that signaled the transition from hobbyist installations to becoming a meaningful and significant part of state energy generation."
While aware of the economic and legislative challenges facing widespread solar adoption, DenHerder-Thomas sees this outcome as inevitable. "We have passed an inflection point where solar and other renewables will soon become the cheapest energy available – wind has already passed this mark, and utility companies are aware of it."
Innovation and market forces are bringing this future closer, but DenHerder-Thomas points to another factor accelerating solar adoption. "Another important transition happening in the state and around the country is a growing awareness of why energy equity is important. For quite some time, the message was we need to build more solar. It did not matter who it was for or who benefited. For example, for a long time in Minnesota, 86% of so-called community solar was serving large commercial and industrial customers, a common trend in the other parts of the country. While this made sense from a business perspective; it's a lot easier to develop renewable energy for corporations, municipalities, and utilities, it made it difficult for people to understand renewable energy and whether it's something that's accessible to them."
DenHerder-Thomas sees policy as the key to unlocking solar energy for the masses, especially in an industry that is not open to competition and controlled by monopolies. He acknowledges, "We need policies that support the development of renewable energy in a way that is broadly accessible, equitable, and benefits everyone in the community."
In this more equitable future, DenHerder-Thomas sees several positive developments which will help further entrench solar as a primary energy source for more Minnesotans. "In the next three to five years, we'll see more business activity around solar and more equity in the industry," he says. "I also foresee better integration of solar and batteries that will contribute to community resilience and the emergence of microgrids connected to district heating and cooling where neighborhoods can start managing their energy collectively. The biggest change we'll see, however, is a transition in how people and communities understand solar and want to be a part of it."
AT A GLANCE
Cooperative Energy Futures (CEF)
What: A community solar energy cooperative
Where: Based in Minneapolis, Minnesota
Website: www.cooperativeenergyfutures.com
greenpenny – https://www.greenpenny.com/
Greenpenny is a virtual and carbon-neutral bank on a mission to finance a sustainable tomorrow. Its parent company, northeast Iowa's Decorah Bank & Trust Co., is family and employee-owned and has a decades-long commitment to positive environmental practices.
Greenpenny was launched in mid-2020 to enable big change by inspiring the use of clean energy. Money deposited in greenpenny is secure, earns interest, and is only used to finance renewable energy systems or carbon-reducing projects, starting with solar.
Customers access easy-to-use, hi-tech online and mobile banking platforms, yet greenpenny bankers are just a phone call or chat away for extra care. And no ATM fees worldwide – ever! Deposit services are FDIC-insured and available for people and businesses across the nation.
In addition to solar financing and deposit services, the bank offers loans for geothermal and battery storage systems and GreenCHOICE Mortgages® for energy-efficient home improvements. As part of the Global Alliance for Banking on Values and a member of 1% for the Planet®, greenpenny understands working together can be a powerful source in solving the world's climate problem. They deliver by developing real financial solutions that make economic sense and protect Mother Earth.
Learn more at greenpenny.com.