Kasselman Solar
On a solid growth trajectory
Business View Magazine interviews Steve Kasselman, CEO of Kasselman Solar, for our focus on the U.S. Renewable Energy Sector
The Solar Energy Industries Association (SEIA) reports that the United States now has 126.1 GW of solar capacity installed nationwide, up from just 0.34 GW in 2008. This staggering growth represents a 30 percent year-over-year growth trend that is only gaining more momentum.
Riding on this growth is the solar energy sector, a nascent industry that today employs almost a quarter of a million workers who have cumulatively installed close to 3.5 million solar energy systems nationwide.
Within these ranks is Kasselman Solar, a NABCEP-certified solar installer based in Menands, New York. The company is experiencing tremendous growth as the demand for solar in the state grows, something founder and CEO Steve Kasselman sees as an indication of a broader shift in the economy towards sustainable energy sources.
He believes that what we are seeing now is but the tip of the iceberg and that, over the next decade, what is now a trickle may very well become a flood of renewable energy sweeping over the energy sector. "Kasselman Solar is an offshoot of Kasselman Electric, one of the largest electrical contractors in the state and currently in its 70th year of operation," says Kasselman. "In 2014, while VP at Kasselman Electric, I saw the need to introduce solar energy systems as a product because I understood that was the direction the market was taking. Since Kasselman Electric's structure could not accommodate solar, I left and started Kasselman Solar as an adjunct to the main company."
The central premise behind starting Kasselman Solar was the rapid growth in residential solar primarily founded on solar leasing arrangements. Kasselman saw an opportunity to come in and help homeowners install solar systems that they would own outright, which has become the niche the company now dominates. He notes, "I knew that with this business model, we could drive higher value to New York State homeowners who needed solar most."
At its founding, Kasselman Solar's primary market was commercial solar installations but has since drifted towards the residential market. Among the firm's more notable commercial solar installation clients are Albany International Airport, State University of New York University at Albany, and the New York Department of Environmental Conservation.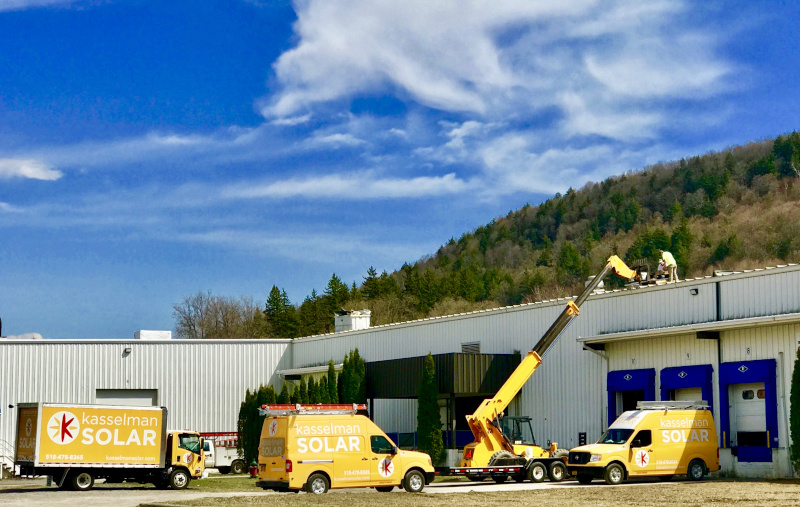 The company's services include feasibility studies, solar equipment, installation, and monitoring. As one of the few companies in the state that manages the entire breadth of the solar installation cycle, Kasselman Solar can undertake large complex projects, from roof mount systems to ground mount systems, leveraging its talented in-house engineering team.
Kasselman Solar employs a strong team of 75 people, although this number is growing by the day and may top 150 by the end of the third quarter of 2022, according to Allison Pepe, Chief Operating Officer at Kasselman Solar."Our team is growing fast because we keep everything in-house," she says. "As demand grows, we plan to keep everything in-house and avoid outsourcing, to maintain that small company feel for our employees and our customers."
As the company expands, it is attracting experienced workers from the solar sector, a factor Kasselman attributes to its focus on honesty. "We attract some of the best workers in the state because we focus on earning trust the old-fashioned way. We tell the truth about what we are trying to do as a company; helping people transition to a more dependable, sustainable, and planet-friendly energy source," explains Kasselman.
David Tagliaferro, Director of Operations & Engineering at Kasselman Solar, shares why he joined Kasselman Solar. "The solar industry is replete with misinformation about solar, how it works, and what it will do for you. It is like a solar gold rush. As a solar industry veteran, it was nice to know Kasselman Solar wants to tell the truth, be transparent with clients, and give them the right thing. Solar is a significant investment for homeowners, the largest they will make besides their house, at a comparable level to a kitchen remodel. At Kasselman, we truthfully explain to people what they are getting into, and that's the right way to sell solar."
That commitment to honesty and building credibility through transparency is one of the reasons behind the company's rapid growth. It is also a key reason all staff members have bought into its mission of selling based on the truth about solar.
Kasselman Solar operates out of its administrative headquarters in Menands, NY but maintains a satellite office in Poughkeepsie, NY that serves the company's southern New York installations. Maintaining an office came in handy for the company during COVID because of the supply chain issues that kicked off delays in supplies. For Kasselman, maintaining high inventory at a warehouse is now a prerequisite for the solar industry. "There's currently a saying in the solar industry that goes, if it's not in your warehouse, it does not exist," he says, "That's why we currently maintain the largest inventory in the history of our company."
Pepe sheds more light on this matter. "Such a high inventory is the opposite of what we would do, especially from a financial standpoint," she says. "But doing so is necessary when riding what we call the 'solarcoaster', where things can change at the drop of a dime. We must be prepared to ensure we have the products our clients want to buy despite the risk of holding so much inventory."
From a broader perspective, supply uncertainty indicates the disruptive nature of the industry, which may not yet have the robust structures that other mature industries have to cushion them from occasional shocks. "As a nascent industry, solar is more susceptible to factors like regulatory policy changes and labor shortages. These are the main reasons as a company, we are working at building resilience so we can continue operating at the same high level despite shifting market dynamics," explains Kasselman.
Over the years, Kasselman Solar has shifted to residential solar installations for financial, strategic, and moral reasons, all of which align with its founder's ethos. "The cost of living has increased significantly due to inflation and a sharp rise in energy cost," Kasselman says. "So, we are focused on providing relief to homeowners at this point and will shift back to commercial when the conditions for households improve."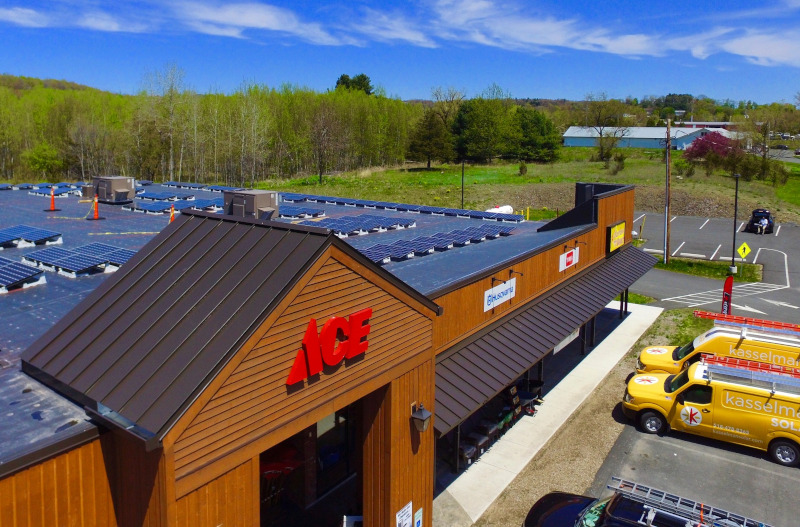 Besides installing solar arrays, Kasselman Solar also installs battery systems that continue to evolve and improve as innovative technologies emerge. One such technology is a MicroGrid solar system. According to Kasselman, "In this system, the solar array charges your battery while at the same time the battery is discharging and powering your home. So, in a prolonged outage, the battery can continuously charge and discharge as long as the solar arrays are getting sunshine."
The company hopes that such advances in battery systems will help phase out diesel-powered backup generators and replace them with solar-powered batteries, eliminating the cost of fuel and costly generator maintenance for customers.
With such advances looming on the horizon, Kasselman Solar is positioning itself for more growth built on relationships, trust, and truth. For Pepe, the company's future involves continuing to do what is good for the environment and being a hero for the customer in making energy more affordable for them.
Kasselman has his own insights, sharing, "What I'm most excited about is that despite uncertain economic times, solar will remain one of the best investments people can make. I am also excited that New York State has taken the most aggressive climate stance in the country, which places the solar industry in the state on a solid growth trajectory."
Tagliaferro wraps it up with a more expansive perspective. "We're in the middle of an energy transformation. The world is going electric – from vehicles to homes to heating. We are right in the middle of it and making history. The world is turning into the future before our eyes, which is amazing."
AT A GLANCE
Kasselman Solar
What: A fast-growing NABCEP-certified solar installer
Where: HQ in Menands, New York
Website: www.kasselmansolar.com
BayWa r.e. Solar Systems LLC (US Distribution) – http://solar-distribution.com/
At BayWa r.e. we r.e.think energy — how it is produced, stored and can be best used to enable the global renewable energy transition that is essential to the future of our planet. We are a leading global developer, service supplier, distributor and solutions provider and have brought over 4.5 GW of energy online and manage over 10 GW of assets. We are also an Independent Power Producer with an expanding energy trading business. BayWa r.e. works with businesses worldwide to provide tailored renewable solutions. Operating 100% carbon neutral, we are also committed to our own sustainability journey. Our shareholders are BayWa AG, a $23.5 billion global business, and Energy Infrastructure Partners, a leader in energy infrastructure investment. BayWa r.e. Solar Systems LLC is a leading U.S. distributor of top-tier solar and energy storage components and systems.
For more information, visit http://solar-distribution.com.