JD Stairs
Enhancing architecture, one design at a time
Business View Magazine interviews Jonathan Webster, CEO of JD Stairs, for our focus on Growth in the Nevada Construction Industry
JD Stairs' products don't just take you to the next floor, they take stairs to a whole new level. The metal and wood artisans out of Las Vegas, Nevada, produce architectural marvels carefully designed and crafted to turn a custom home into a piece of art.
"We do all kinds of wood and metal products. In addition to one-of-a-kind stairways, we build custom entry doors, gates, and fencing, we also do a lot of landscape features like Gabion walls and planters. We do cladding, whether it be rusted or hot rolled steel or painted," says Jonathan Webster, CEO and co owner of JD Stairs. "We look at custom homes and add features that not a lot of companies would be willing to tackle."
The company's motto is "enhancing architecture, one design at a time" and they do that by turning handcrafted metal, wood, and glass into beautiful, functional designs for high-end custom homes.
JD Stairs was established in 2005, but the roots of this family-owned business were planted more than a decade before. Originally from Calgary, Alberta, Jonathan's father relocated his family, including six of his seven children, to Las Vegas in 1990 to try his hand at construction in a warmer climate.
"My dad was originally a framer – he was framing houses and he was tired of trying to work in the snow all winter long, which in Canada seems to be nine months of the year," Jonathan recalls. "In Calgary, we had heard some ads that Vegas was booming and looking for qualified tradesmen. At that point in time, it was the fastest growing city in the United States. So, he loaded up a weeks worth of clothes and came down to see if he could find work, and sure enough he found it. Then he drove back, loaded us all in the car, and we moved from Calgary to Las Vegas."
Jonathan's father framed for a few years and eventually landed a job with a company called Titan Stairs, installing handrails. "From the time I was 10 years old on, I've been exposed to the stair industry," Jonathan says. "My brothers and I would be out on weekends and evenings helping my dad do stairs." It became a true family affair, with four out of five brothers, Jonathan's mother, and his father all working at Titan. Jonathan learned a lot during that time and, together with one of his brothers, decided to take that knowledge one step further and open their own company. The family still works together today, with four of Jonathan's brothers and his mother all employed at JD Stairs.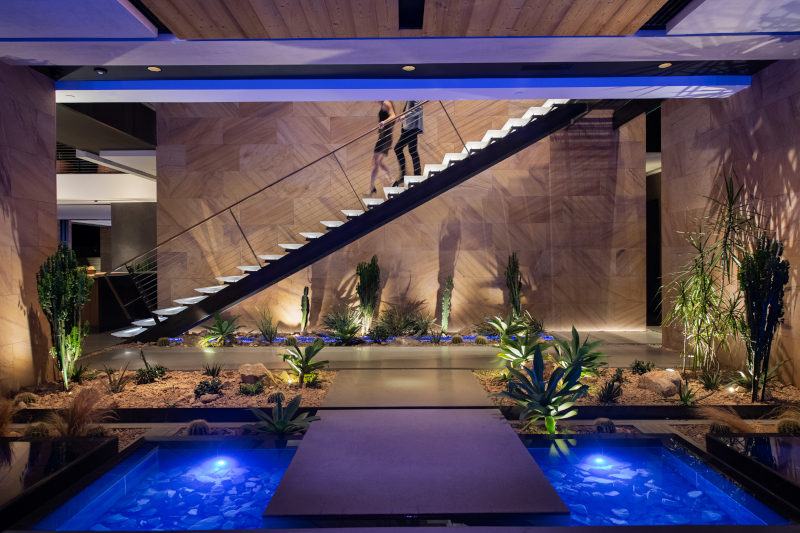 Though it began as a builder of wood stairs and rails, JD Stairs has progressed significantly since its inception. "A major evolution of the company came when we decided we were going to learn how to weld," Jonathan says. "Shortly after we started our own gig, there were lots of people calling and asking us to do welding. We had never welded before, but it seemed like a lot of handrails were going in that direction, so in true entrepreneurship format, we accepted a welding job even though we had no idea what we were doing." They went out and bought welding equipment and learned the skill through trial and error. "We put a lot of time and effort into figuring out how to do it, and from that point on, welding has been a huge part of our business," Jonathan says.
Currently, the company's projects are 80-85 percent metal work and 15-20 percent woodwork all done out of the company's 38,000 square-foot facility in Las Vegas. "It's really a beautiful office," Jonathan says. "We designed and installed glass walls and barn doors on all the offices, a custom cantilever floating stairway, a 6′ wide pivot entry door and a modern, louvered trellis system. It's a really a high-class looking facility with lots of space."
Housed in the facility is the company's constantly improving fabrication equipment. What was once done by hand about five years ago can now be done more streamlined and efficiently through the use of various machinery. This includes a CNC plasma and laser for cutting, a press break and shear for doing metal forming, a CNC router for wood cutting, and a molder and gang rip saw to help make custom moldings
Jonathan reports, "Just before Christmas we installed a robotic welder, which fits right beside our laser and allows our laser operator to hit a button and have the robot come over and weld parts together as he pulls them off the laser. "Ro-Bob (as we call him) has been a star employee ever since he joined our team and has yet to call in sick." JD Stairs has also started to invest in its own finishing equipment, like a spray booth, sandblast booth and a metalizer. "The metalizer is basically liquid galvanizing but in a spray, so you don't actually have to send it out and have somebody dip it. You can just spray it on," Jonathan explains. "It super heats the zinc wire into liquid and then sprays it directly into the steel."
JD Stairs also has a great working relationship with vendors like Curtis Steel & Coast Aluminum Supply to source its metal, as well as CTI: Autobody Tools and Industrial Supply for its paint supplies.
When it comes to JD Stairs' 100 employees, the ones that aren't family members are still treated like they are. The company is dedicated to providing its staff with the utmost respect and warmth, making sure to celebrate birthdays, babies, cultural celebrations, and special life events. Employees are treated to regular incentive contests for the opportunity to win cash and prizes, and sometimes just a fun game of basketball to lighten the mood. Those who join the company are offered perks like paid vacations, paid holidays, health care, dental, vision, company vehicles, and gas cards. They also all have a direct line to the boss.
"One thing I've learned and been grateful for is knowing what I can do better as a leader, and a big part of that is to listen," Jonathan admits. "Most of the best ideas we have come from people within the company. Any good management will tell you that if you listen to your people, you'll find solutions to most of your problems."
Quarterly meetings are held with team leaders to hear ideas, and they chose 10 to 15 of the best ones to implement within the next 90 days. "We do a 90-day sprint and then in 90 days we gather together again to see how we did and if we need to change course at all," Jonathan says. "Most of the best changes that we've made for the company have come from that." They also hold a monthly "all hands-on deck" meeting, which is open to all employees. Staff are invited to share anything, raise issues and have their say. "It's been a huge benefit to make sure that everybody communicates across divisions and departments and works together," Jonathan adds.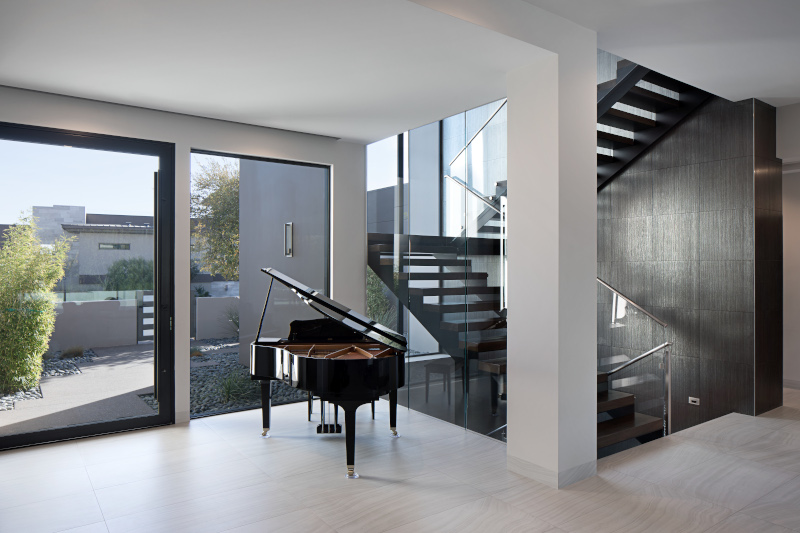 New hires are offered extensive training and become part of a two-person team that includes a lead and an apprentice. According to Jonathan, "This way we always have someone in training on the install end of our company. We've had times where someone will go their separate way or wants to start their own business, or whatever, but for two years prior, he's had an apprentice working with him."
The training example is just one of the ways that JD Stairs is constantly looking one step ahead. Forward-thinking has allowed them to stay successful through both a recession and a pandemic. While the COVID-19 impact brought price hikes and shortages galore, JD Stairs is ahead of the curve, anticipating their needs well in advance to ensure they always have enough product on hand to meet customers' needs. "We have good relationships with our vendors, and we are able to forecast our next three months use, so we always keep three months of supply on hand," says Braeden Smith, the company's Purchasing Manager.
The team at JD Stairs will continue to plan ahead as they move forward into an uncertain future. "With interest rates going up and housing prices being high and the cost of materials being high, it seems like there has to be a slowdown, and I assume that is coming," Jonathan notes. "We're a bit nervous, but we went through that in '08 and we found ways to improve. And part of purchasing new machinery is to allow us different revenue streams to supply different products if and when we need to if the economy takes a downturn. We've grown since 2010 and have not had one down year, so I see that continuing. We have really great people and if you provide a service that sells a solution, you can always find clients."
AT A GLANCE
JD Stairs
What: Metal and wood artisans specializing in custom stairs, railings, and gates
Where: Las Vegas, Nevada
Website: www.jdstairs.com