Stiebel Eltron
Simply the best
Business View Magazine interviews Frank Stiebel, President and Co-Owner of Stiebel Eltron, as part of our focus on energy/solar in the commercial sector.
Stiebel Eltron recently threw a big party in Germany to celebrate what would have been its founder, Dr. Theodore Stiebel's, 125th birthday – an amazing event for a company that continues to reach milestones in water heater innovation. It all began in 1924, when Dr. Stiebel started a business to manufacture his revolutionary immersion water heaters. More than 90 years later, the family-owned company is a household name in Europe, known for the engineering and manufacturing excellence of products such as tankless electric water heaters, solar thermal equipment, and heat pump water heaters. The company's long-time philosophy "make it right, then keep making it better" still holds true, and is the reason that clients, suppliers, employees, and industry friends around the globe describe Stiebel Eltron as "simply the best."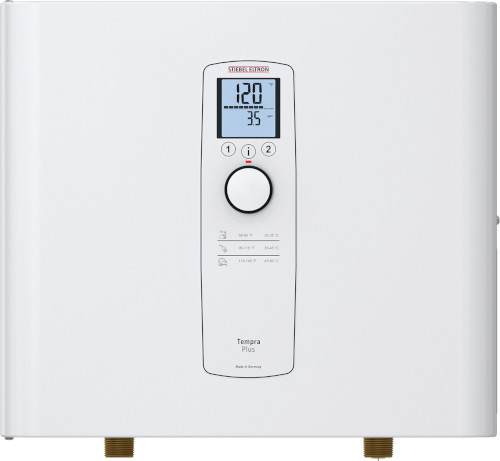 The company employs approximately 3,000 people worldwide, with manufacturing plants in Holzminden, Germany; Eschwege, Germany; Slovakia, Thailand, and China. Western Hemisphere operations are based in West Hatfield, Massachusetts, where Stiebel Eltron maintains a sales, service, distribution, and spare parts facility. The company has been in North America since 1980, and currently has 30 employees in the U.S. division.
In a recent conversation with Business View Magazine, Frank Stiebel – President & Co-owner of Stiebel Eltron, and Chris Wetherby, the company's Head of Solar Renewables, brought us up to speed on what's new and notable in the water heating industry. The following is an edited transcript of that interview.
BVM: How are renewable energies, such as solar, impacting your company's product line?
Stiebel: "The market for thermal solar products has been pretty much the same for the last two or three years. We have a lot of other products we're focusing on more because the solar thermal market seems to be stagnating. There's a big difference between solar thermal and photovoltaics. Just to clarify, we are just in the solar thermal arena, we are not involved in solar PV. I think there's still a sizeable market in California with tens of thousands of solar thermal systems getting installed each year, but the market has shrunk in the rest of the country. We only sold a few hundred solar storage tanks in the U.S. last year."
Wetherby: "Stiebel Eltron, at this point, is using a lot of water heating technologies. Thermal solar is one of them, but it's not the largest at this moment. We continue to offer a full line of water heating products and are able to integrate the majority of them into any kind of project where our array is required. Ten years ago, there were a lot of statewide programs to promote solar thermal and PV and I think the utility companies contributed a fair amount of money into the rebate pot, but solar thermal didn't take off as much as they'd like. So, now the federal programs are declining; scheduled to phase out by 2021. It's interesting, in 2012, I went to the National Renewable Energy Laboratory in Boulder, Colorado, which is owned by the federal government but staffed by outside contractors. In the entire complex, which is quite state-of-the-art from a building science standpoint – solar, wind power, biofuels – there is no demonstrated solar thermal technology, which is quite strange. We call it solar thermal because we're transferring the heat of the sun to water or glycol, and then using it to heat either domestic hot water or fluids for space heating"
Stiebel: "Domestic hot water heat pumps, which we also manufacture, are replacing solar thermal. Gas-fired water heaters are also maintaining market share in certain areas because the price is so cheap. Sixty percent of the market is gas. We don't sell gas appliances, only electrical appliances. The gas units are moving away from tank style to instantaneous, and then from instantaneous to condensing instantaneous – that's the latest trend – which is the highest efficiency gas unit. On the electric side, you have the domestic hot water heat pumps that we manufacture – as do other companies, like A. O. Smith, Rheem, and Bradford White, and we anticipate that market for domestic hot water heat pumps will grow dramatically over the next few years."
BVM: Are consumers becoming more demanding with regard to 'smart' features and design?
Wetherby: "Educating consumers about efficiency and/or renewable aspects of energy consumption is an ongoing thing, especially, with the trends toward automation and integration with customers' smart phones and computers. Even though it's a bit of overkill for water heating. We did make a color change on our tankless, whole-house water heaters, and that is quite an aesthetic improvement. It's appliance white and fits in anywhere – a simple change but I think it will be quite effective."
Stiebel: "A lot of companies already have an app where you can log into your water heater and change the temperature on your smart phone. We are working on it; it's not something you'd use very often, but it's something we must offer if we want to sell those kinds of appliances. At the end of the day, it's a cylinder that you have in your garage or your basement, but they do come in different colors, and there's a control panel on all the units. The quality of the product, the reliability, and the reputation of the brand are very important. Nowadays, people can go online and read product reviews; with the consumer so much more informed, if you don't have a very good product, you're not going to sell anything. People go online, find our product, and buy it through the online channels, including major retailers like homedepot.com, amazon.com, and lowes.com."
BVM: Do you supply to residential and commercial customers?
Stiebel: "The point-of-use tankless units that are 1.8 kW to 12 kW are for commercial, such as office buildings, where you need hot water for hand washing. The 12kW to 36kW point-of-use are mostly for whole-house residential applications. We also make 58 and 80 gallon heat pump water heaters and 95 percent of those go into homes or apartment buildings. Most of our tankless hot water heaters are made in our plant in Germany. Demand has been strong and we're keeping up with production but it has been a challenge at times.
"We are also making small tank-type water heaters for point-of-use applications – 2.5, 4, and 6 gallons – that are selling very briskly. We sometimes have trouble keeping up with the demand for those. In our U.S. operations, we do final assembly on some products, and marketing sales. We also have a service center, a call center, with six employees that take calls all day long. We're providing a lot of information to our customers. And we get units returned and we refurbish units, here, as well."
Wetherby: "We distribute throughout North, South, and Central America, and the Caribbean from this location. Products that are ordered from our plants in Germany or Thailand for South America are shipped there directly, not from our U.S. facility."
BVM: Do you have any new products coming out in the U.S.?
Stiebel: "We're working on a line of air to water heat pumps for space heating and water heating applications. It's a brand new product for the U.S. – a mono-block unit that sits outside like a central air unit and is connected to the house through glycol lines going into the home and back out to the heat pump. It's used for space heating and cooling, as well as domestic hot water. The emitters would be radiant floor heat or high-efficiency, wall-mounted radiators, not interacting with baseboard heating; basically, high-efficiency liquid space heating and air handling.
"These air-to-water heat pumps are a lot more energy efficient and cost saving for consumers. They will be competing with the split heat pumps but at a slightly higher price point and better durability. They are designed for harsh winters and will operate down to a pretty low temperature, compared to mini-splits, and still maintain a high coefficient of performance. We have been manufacturing them in Germany for a long time and selling them in other parts of the world, now we're going to be selling them to U.S. markets by the summer of 2020."
BVM: What are some important points people should know about Stiebel Eltron?
Wetherby: I have been helping out in the tech service department and it's been an eye-opener. Our units rarely, if ever, leak and the parts can be replaced very easily by anyone. So many products today are disposable, but we haven't gone in that direction. Stiebel Eltron products last a long time and can be repaired and keep on going. One of the unique features of our solar tanks is they have cleanout ports. Over the years, people in different parts of the country, Montana especially, have told us they just love these tanks because no other water tank manufacturer has a cleanout port."
Stiebel: "For North America, in the next five years, I believe we will be a strong #2 in tankless electric water heaters. The market for domestic hot water heat pumps will grow dramatically and we will be probably #4 in that market. We also manufacture and sell electric space heaters, which is a growing business for us, and we sell hand dryers, so we are present in a lot of different markets. We make quality products that are well engineered, energy efficient, and long lasting."
AT A GLANCE
WHO: Stiebel Eltron
WHAT: Global producer of water heaters and solar thermal products
WHERE: North & South American operations based in West Hatfield, Massachusetts
WEBSITE: www.stiebel-eltron-usa.com