The Texas Oil & Natural Gas Sector
A report on the industry
Submitted by TXOGA (Texas Oil & Gas Association)
There is an old adage that says, "Never confuse activity with accomplishment."  In the case of modern energy, overwhelming facts confirm amazing results benefitting American consumers.
The U.S. oil and natural gas industry is the nation's leading investor in pioneering emission-reducing technologies and, as a result, the U.S. leads the world in reducing energy-related carbon dioxide emissions and Americans are breathing the cleanest air in decades. This accomplishment is driven by unmatched innovation and investment by the U.S. oil and natural gas industry. Oil and natural gas companies are investing in enhanced efficiencies in operations, development of shale gas, cleaner fuels, alternative energy sources like wind and solar, technologies that capture, use and store carbon dioxide, and cogeneration, which reduces emissions by capturing heat and gases produced by industrial processes to produce electricity.
And these investments are working. Thanks to expanded use of natural gas in power generation, energy-related carbon dioxide emissions in the U.S. are near 20-year lows. Methane emissions rates were down nearly 70% in five of the nation's largest oil and natural gas producing regions between 2011 and 2019, according to data from EPA and EIA. Additionally, the Texas Railroad Commission recently reported that as of May of 2021, less than 1% of all natural gas produced in Texas is flared.
Real progress has been the result of open dialogue and collaboration, a spirit the oil and natural gas industry has embraced through several multibillion-dollar initiatives to protect and improve the climate. Eighty-three energy companies are part of the Environmental Partnership, whose members are reducing methane emissions by sharing best practices, investing in low-emission equipment and world-class emission control systems, and using advanced technologies like optical gas imaging cameras and drones to detect and repair leaks. In Texas, more than 40 oil and natural gas companies formed the Texas Methane and Flaring Coalition to share best practices and develop recommendations with the goal of reducing emissions and ending routine flaring as early as 2030. These ideas are tangible and will have a real, beneficial impact.
Several of the world's largest oil and natural gas companies participate in the Oil and Gas Climate Initiative (OGCI), whose members collectively invest about $7 billion every year in low-carbon solutions and research and development. In addition to investments by its individual member companies, OGCI maintains a billion-dollar fund that invests in innovative startups whose solutions lower the carbon footprints of the energy and industrial sectors.
Oil and natural gas companies are also pioneering breakthrough technologies to capture, store and reuse carbon dioxide. ExxonMobil recently announced a $100 billion proposal for a carbon capture and storage (CCS) project in Houston with the goal of sequestering 100 million metric tons of CO2 per year once it is fully online.
Advances in water recycling and reuse are also having a positive impact on the environment and our natural resources. Valero, for example, has mastered a way to treat wastewater from its Three Rivers Refinery and recycle it for reuse on its irrigation farm that produces 3,000 bales of hay a year, helping local ranchers and ultimately our food supply.
By harnessing its resources and collaborating with public and private sector partners, the U.S. oil and natural gas industry is making an unmatched contribution to global efforts to protect and improve the environment. At the same time, the United States is helping to improve air quality and the human condition around the world by sustainably producing and responsibly exporting liquified natural gas (LNG), providing the affordable, reliable energy that is essential for clean, safe and healthy communities.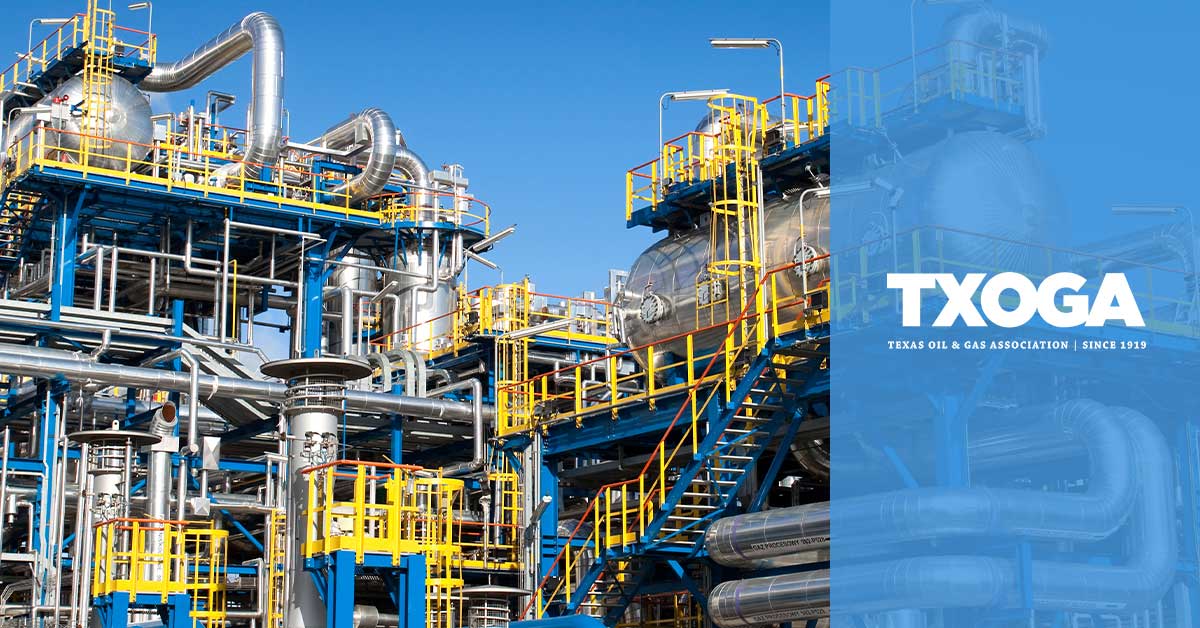 Closer to home, beyond cementing our energy security, the Texas oil and natural gas industry is keeping communities safe and healthy, while anchoring the Texas economy. During the COVID-19 pandemic, for example, the need for products made from oil and natural gas skyrocketed. Nearly every in-demand product we need to be safe, to save lives and to power our economy – from face shields and hand sanitizers to high-speed internet connections and computers – is made possible by oil and natural gas.
Even before the pandemic, 96% of products we use every day like pharmaceuticals, electronics, cosmetics and clothing are made from oil and natural gas. There is no substitute for oil and natural gas in our lives or for our economy.
As challenging as 2020 was, the Texas oil and natural gas industry paid $13.9 billion in state and local taxes and state royalties – funds that directly support Texas schools, teachers, roads, infrastructure and essential services. This total equates to about $38 million a day that are put to work for every Texan.
Our state's Economic Stabilization Fund (commonly known as the Rainy Day Fund), the Permanent School Fund (PSF), and the Permanent University Fund (PUF) are funded almost exclusively with taxes and state royalties paid by the oil and natural gas industry. Last year, the PUF received $771 million and the PSF received $942 million. The Rainy Day Fund received $1.66 billion from oil and natural gas taxes, bringing the balance to more than $10 billion.
Beyond tax dollars and royalty payments, the Texas oil and natural gas industry is investing untold time, talent and treasure in Texas schools and their students and teachers through innovative education programs and productive partnerships aimed at providing a state-of-the-art education for the next generation of Texans.
Girls Talk Tech (GTT), for example, is an innovative program created by a group of passionate women in ConocoPhillips Information Technology (IT). Formalized in 2018, the program's mission is to educate, encourage and empower young women to embrace technology for the future. GTT's key programs include panel discussions at schools, an annual GTT Fest, the IT Summer Program, the High School Ambassador Program and participation in STEM-related camps and after-school programs.
The CITGO Innovation Academy for Engineering, Environmental & Marine Science at Moody High School in Corpus Christi creates a rigorous four-year college preparatory program that includes upper-level engineering, mathematics and science courses, with the goal of graduating students who are college or career ready.
The Texas A&M-Chevron Engineering Academies, available at four two-year colleges in Texas, allow students to remain close to home for the first two years of their studies while putting them on a path toward a four-year engineering degree from Texas A&M University. The program, which was seeded by a $5 million gift from Chevron, has been lauded not only for its potential impact on underserved communities and the number of STEM degrees awarded in our state, but also for the affordability it offers many first-generation college students. The program has also expanded to include several more two-year colleges and brought on additional industry partners.
Developing the oil and natural gas workforce benefits the entire State of Texas because every direct job in the industry creates three additional jobs elsewhere in the economy.
Through ingenuity, innovation and investment, the oil and natural gas industry is demonstrating that it can meet the world's energy needs while innovating technologies – and developing future talent – that will advance continued climate progress. American energy producers are accomplishing great things for our people, our country and our world. Stay tuned, more amazing results to come.
AT A GLANCE
Texas Oil & Gas Association (TXOGA)
What: A statewide trade association representing every facet of the Texas oil and natural gas industry
Where: Based in Austin, Texas
Website: www.txoga.org