The Acterra Group
Complete energy services
Business View Magazine interviews Tad Christopher Cooper, President of the Acterra Group, as part of our focus on America's transportation sector.
The Acterra Group, Inc., a multi-faceted, energy services and consulting company, is based in Marion, Iowa, with branch offices in western and northeast Iowa, Wisconsin, Illinois, Texas, and Colorado. Tad C. Cooper, President of the Acterra Group, says that his grandfather started the family firm back in 1958, working on fuel pumps, followed by his father who took it over in 1976. "My father was very entrepreneurial, and figured out, early on, that diversification was important," he recounts. "So, every time he saw an opportunity, he formed another business."
Today, the Acterra Group, which has grown both organically and by acquisition over the years, is comprised of several divisions: The Petroleum Division is a full-service distributor, installer, and constructor of petroleum equipment systems, carrying all major lines of petroleum and oil-related equipment. Its services include: fleet fueling and fluid management, bulk chemical and fuel storage, retail fueling and convenience stores, aviation fueling systems, alternative fuels, construction and equipment systems for fuel oil related emergency and standby power systems, and fuel spill response.
The Electrical Services Division provides complete electrical services for industrial, residential, and commercial use, including emergency power and backup power systems, and solar and wind energy projects; the Tank & Silo Division manufactures, sells, and installs tanks and silos for storage needs in the agricultural, commercial, aviation, and petroleum industries;  the Commercial Development Division provides full-service contracting services for energy, industrial, office, and housing projects; the Lely Aircon Wind Turbines Division distributes small wind turbines manufactured in Germany; and the Federal Services Division provides construction, repair, and maintenance services for a variety of government fueling installations.
Acterra has about 60 employees and its customers range across the west and Midwest from Portland, Oregon to Canton, Ohio, and all points in between. In addition to actively marketing its services via direct sales, digital marketing, and trade shows, the company also maintains long-term relationships with major general contractors who have five-year, federal maintenance contracts. "Our Government Services Division, which is all fuel equipment related, has grown significantly," Cooper notes. "A lot of dollars have been moved to the Department of Defense, so it will be the biggest part of our business. We're gearing up for quite a bit of work out in western Iowa and eastern Nebraska at some Air Force facilities, where the Missouri River flooded. The work is all fuel-related – repair and maintenance to underground tank systems. The bases are very large, so that's probably going to take over a year to bring them back to what they originally were before the floods."
"The aviation fueling business is also starting to be a bigger part of our business," Cooper adds. "Our job there is to go and build new fueling systems. We recently built one up in Sturgis, South Dakota and we've worked in Illinois, Colorado, and Iowa. We manufacture the tanks, here in our factory, and then we ship them out to where they're going, and then my crews set those tanks and finish those systems.
"Also, we've been working with a large bio-diesel company that has gotten into the retail distribution of bio-diesel next to their own plants. We just built a facility in Illinois that should come online in the next week or two. That's underground tank systems for bio-diesel and retail fuel dispensers on top – mainly for truck traffic that comes through and around the plant. That one customer is looking to roll this out among all their plants, and then, possibly, other locations across the country depending on how the first one goes."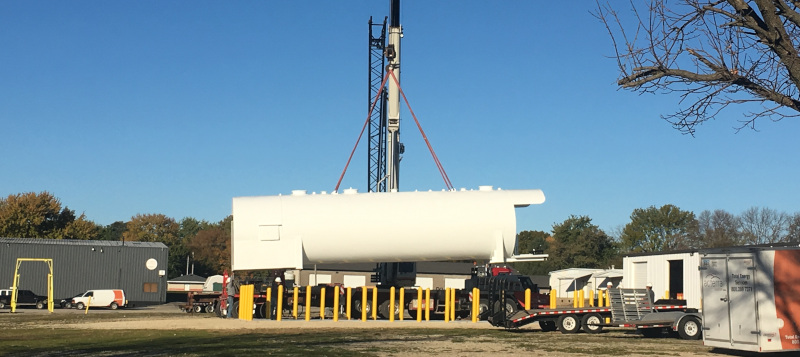 One of Cooper's challenges, and one that he shares, these days, with many companies in many sectors, is finding enough skilled workers – especially in a rapidly changing business environment. "Most of the time, I can't find a person in areas that we're in that has ten years' experience doing what we do," he laments. "The business of working on a gasoline pump, today, is significantly different than it was 20 years ago because that same technician, today, is not just working on the fuel-related equipment – he's also a network engineer; he's working on networking systems that are connected to point of sale systems that are all connected to the internet. Then you add being out in the field, in the cold, in the dead of night, trying to get a fuel sensor to talk to a point of sale system out in the middle of nowhere. That's a difficult person to find. We have them, but we need more. So, training is a never-ending situation. There's always a new product to train on; there's always a new certification to get."
The good news, though, is that over the last year, Cooper says that the Group has revamped its recruiting process and increased its wage scales to attract better employees – and it seems to be showing results. "We're seeing quite a few more applicants in the last three months," he reports. "I'm not sure if the market is starting to loosen a bit or not, but I'm amazed at how many more applicants we've seen in the last 90 days, than all of last year."
As business continues to grow for this 61-year-old, family-owned company, Cooper affirms that the Acterra Group will always be devoted to its workers and its customers. "We're a small, family business and we try to take care of our employees," he states. "My father was always adamant that the people who worked here were his extended family, and our success has been due to the great staff we have had over all of these years. And we're customer driven. The most important thing is to keep their operations up and running. We know that in the fuel business, if they're not pumping fuel they're not happy. So, we try very hard to keep them happy."
AT A GLANCE
WHO: The Acterra Group
WHAT: A multi-faceted, energy services and consulting company
WHERE: Marion, Iowa
WEBSITE: www.acterragroup.com