Santa Clara, California
The center of what's possible
Business View Magazine interviews representatives from Santa Clara, California, as part of our focus on best practices of American cities.
Located in the southern part of the San Francisco Bay Area ("South Bay"), 45 miles south of San Francisco and surrounded by Cupertino, San José and Sunnyvale, the City of Santa Clara, California was founded in 1777, with the establishment of Mission Santa Clara de Asís, named for Saint Clare of Assisi, and the eighth of 21 California missions. By the 1850s, the hamlet of Santa Clara began to take shape as a recognizable small town. As it grew, it was supported by a variety of manufacturing, seed and fruit industries. One of the earliest manufacturing businesses in Santa Clara was Wampach Tannery, established in 1849. Its fine leather products were sent to the eastern U.S. states as well as Europe, until it was torn down in 1953. Another major employer was Pacific Manufacturing Company. Established in 1874, it became the largest wood products supplier on the Pacific Coast, supplying quality lumber, mill work, sashes, doors and moldings, as well as coffins and caskets. That business closed in 1960.
The South Bay became famous for its acre-upon-acre of flower and vegetable seed farms. J. M. Kimberlin and Co. was the first seed company to establish in Santa Clara in 1875, and it eventually became the largest seed grower on the Pacific Coast. The abundant fruit crops that Santa Clara orchards produced were either shipped fresh, dried, or canned. Levi A. Gould, a Santa Clara orchardist, shipped the state's first carload of fresh fruit east in 1869, shortly after the transcontinental railroad was completed. Block Fruit Packing Company, established in 1878 on Gould's orchard land, became renowned for the pears and cherries it packed and shipped to the East Coast. Pratt-Low Preserving Company, established in 1905, sent canned apricots, pears, peaches, cherries and plums to all parts of the United States, England and Asia. During harvest season, 300 to 400 women and men were employed in the handling, sorting and canning process.
As the 19th century came to a close, more and more people arrived seeking the mild climate and job opportunities of the Santa Clara area. By 1906, the population of the city had grown to nearly 5,000. It remained fairly stable and did not increase greatly until after World War II, when the city outgrew its 19th century boundaries and expanded to open lands north and west of the original city limits. A new product, the semiconductor chip, was developed in the 1950s, and the resulting electronics industry, based on the silicon chip, gobbled up the remaining orchard land and changed the agricultural nature of Santa Clara and the Santa Clara Valley forever. In response to the changing local economy, on July 23, 1896,  Santa Clara strategically began operating a public electric utility company. Today, Santa Clara is a prosperous and progressive city of 130,000, with much to offer residents, businesses and visitors alike.
"One of the greatest assets the city has for both our residents and our businesses is Silicon Valley Power," says Manuel Pineda, Assistant City Manager & Chief Electric Utility Officer. "Regarding the power we provide to our residents, for approximately the last two years, all the power is greenhouse gas-free – no emissions associated with it. And we're not only able to be sustainable, when you look at our residential rates, they're about 49 percent lower than PG&E (Pacific Gas & Electric provides natural gas and electric power to most of the northern two-thirds of California.) So, we're able to provide less expensive, more sustainable power that's also more reliable."
"We're the data center capital of Silicon Valley, and part of that is because of Silicon Valley Power," Pineda continues. "Right now, we have approximately 48 data centers within Santa Clara, which considering the size of our city is very significant. We have 12 other ones that are either under construction, approved, or in the process for consideration. And a key reason that they want to be in Santa Clara is because Silicon Valley Power's rates are 25-39 percent lower than the adjacent jurisdictions under PG&E."
Pineda adds that the city also has a number of other sustainability programs. "We have entered into a multi-million dollar partnership with our adjacent jurisdictions to be able to provide electric vehicle infrastructure for our residents and businesses," he reports. "Just recently, we adopted a 'green' fleet for the entire city and we're in the process of developing the charging infrastructure as we start purchasing fully-electric vehicles. And we have over $12 million that we're going to dedicate to programs for the reduction of greenhouse gas emissions. That's an incredible amount of money that we set aside just for that purpose."
Santa Clara is home to many Silicon Valley businesses such as the Intel Corporation, the world's second largest and second highest valued semiconductor chip manufacturer, Applied Materials, Nvidia, AMD, Avaya and McAfee. It is also home to many smaller technology companies and, according to City Manager Deanna Santana, the city is committed to helping them prosper, as well. "There are a few businesses in the Silicon Valley that are worker-owned," she explains, "and we are going to be one of the very few California cities to be assigning public funds for the promotion of worker cooperatives. The City Council just appropriated $100,000 for a strategy to strengthen those small businesses, as well as to introduce a more equitable and inclusive model from an economic development standpoint. So, next January, we will be rolling out some initiatives for the worker cooperative model and other opportunities. That's one thing that distinguishes the City of Santa Clara in terms of its inclusiveness and the way it is helping to build a stronger business climate for businesses."
Andrew Crabtree, Santa Clara's Director of Community Development, notes that job growth in the region is accelerating the demand for housing and he asserts that the City is serious about addressing those needs: "We have, at present, about 4,000 housing units under construction; over 5,000 units that have gone through a planning entitlement process and are working on their building permits; and another, almost, 11,000 units in the planning application process. We have about 1,000 affordable units in the process, as well. And we're working on specific plans in our long-range plan program that would add additional residential capacity. If you add it all up, we're looking at, at the upper end, around 30,000 housing units. A lot of this housing is in the form of new neighborhoods in areas that were previously in low-density, industrial use that are being converted over. And they're fairly high density – mid-rise to even high-rise structures; 7-20 story buildings are being proposed, which is a significant evolution in this region, which has traditionally been a low-density environment. Also, when we think about housing, it's not just about numbers; we think a lot about place-making, making sure we have good parks, mixed-use, ground-level retail, shopping streets, and things like that, that will support a future community in those areas."
Meanwhile, a major new development is Related Santa Clara, a 9.2 million-square-foot project that will sit on about 240 acres that once served as a landfill, near Levi's Stadium and the Santa Clara Convention Center. When complete, the mixed-use development is envisioned to be a multi-phase project with 5.4 million square feet of office space; 1.5 million square feet of retail, restaurants and entertainment uses; 700 hotel rooms; as many as 1,680 residential units; and a 30-acre public park.
"The first phase of the project is approximately one million square feet," notes Assistant City Manager Ruth Shikada. "And we anticipate that will break ground in the second quarter of 2020. The first phase of the Related Santa Clara project will include retail, office, a residential component and a hotel; it will take about three years to build out. Right on the heels of the start of Phase 1 construction will be the second phase of the project, which will be about three million square feet of retail, entertainment, a hotel and additional residential, as well. We're looking at building a city within a city. The project has the attributes of being across the street from Levi's Stadium (home of the NFL's San Francisco 49ers) and also across the creek from our convention center. It is really a transformative project that's going to pull people from all over the South Bay area and the region."
As the once small "Mission City" of Santa Clara continues to grow and mature, Santana reminds one and all that the city's known as 'The Center of What's Possible.' "And we are a mighty city that lives that motto," she says, in conclusion. "We have a professional sports team, a convention center, an amusement park; we have undergraduate and advanced educational institutions, and our own municipal electricity. We are a large Silicon Valley city that continues to innovate on a global level on the world stage and yet, we are still very much a community that has a small town feel."
And all of it is possible.
AT A GLANCE
WHO: Santa Clara, California
WHAT: A city of 130,000
WHERE: In the San Francisco Bay Area, 45 miles south of San Francisco
WEBSITE: www.santaclaraca.gov
Intel – Intel.com/California
Advancing an Ecosystem of Innovation in Santa Clara 
The world of computing has changed. Computing has evolved beyond traditional clients and servers and is distributed into all things – from smart devices and computers, to the network and the cloud. At the center of this world of smart, connected computing and disruptive technologies – the ones that are moving the world forward – you'll find Intel.  
We predict that by 2020, there could be as many as 200 billion "smart devices" in operation around the world, resulting in an explosive growth in the amount of data generated.1 Mining that data for insights that can help solve some of the world's most challenging problems, requires faster and more powerful computing, storage and networking technologies. Silicon solutions are driving these innovations, and many of these innovations are happening in Santa Clara, California, home to Intel's global headquarters. 
Since 1970, when we purchased our first piece of property – a 26-acre pear orchard on the corner of Coffin Road and Central Expressway, Intel has called Santa Clara home. Today, Intel's 6,700 Santa Clara-based employees span functions like engineering, design, research and development, and software engineering, as well as several corporate functions, including sales and marketing, legal, supply chain, human resources, and more. The site is also home to the Intel Museum, which showcases five decades of Intel innovations, as well as a world-class, energy-efficient data center.  
We are proud that our presence in Santa Clara has helped to grow an ecosystem of innovation here. Our global investment organization, Intel Capital, is based in Santa Clara, and invests across a broad spectrum of technology innovation to encourage the creation of the technologies of tomorrow including AI, the data center, the Internet of Things, autonomous driving, semiconductor manufacturing, security, diversity, and more. Each year, Intel spends millions with Santa Clara-based businesses, and we've seen companies we buy from set-up operations in Santa Clara and invest in our community. 
Our success in Santa Clara would not be possible without a strong partnership with the City of Santa Clara and our shared focus on environmental sustainability, community engagement, and transparency. From investing in water conservation and restoration, to encouraging and inspiring Santa Clara youth to consider careers in science, technology, engineering, and math, we're excited for the future. We hope you'll join us. 
Silicon Valley Power – www.siliconvalleypower.com
Connecting the Center of What's Possible 
Silicon Valley Power is the City of Santa Clara's community owned electric utility.  We are the only full service, vertically integrated utility in Silicon Valley owning generation, transmission, distribution and dark fiber assets.  Silicon Valley Power not only powers what is possible but can connect you to the speed of innovation through our dark fiber enterprise network, known as Fiber Connect. 
Silicon Valley Power's Fiber Connect provides scalable bandwidth and high-speed connectivity through its dark fiber infrastructure.  With over 150 cable miles of fiber backbone, businesses can bypass the time, cost and inconvenience of building fiber backbone, and almost immediately access the benefits of an ultra-high speed fiber optic connection.  Access to a fiber optic connection means businesses can simultaneously receive high-speed internet access, Voice over Internet Protocol (VoIP) including voice, fax and voice messaging and video services.  Customers of SVP Fiber Connect include data centers, telecom providers, schools and other various businesses.   
With the on-going development of virtual "cloud" computing, broadband services, social networking, and the internet-of-things, Silicon Valley Power's Fiber Connect supports those needs and can increase your communication services to market!  
To learn more, please visit our websites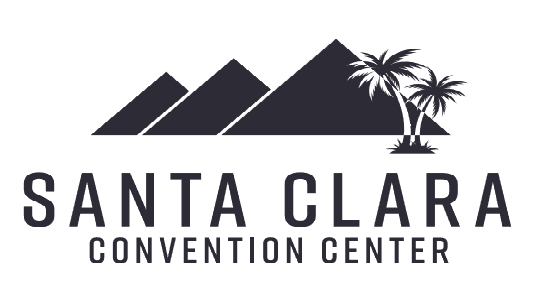 Santa Clara Convention Center – www.santaclaraconventioncenter.com
Built in 1986, the Santa Clara Convention Center, located in northern Santa Clara, California, is one of the largest meeting and convention facilities in Silicon Valley, with 262,000 square feet of meeting space. The Center is in the same complex as the Hyatt Regency Santa Clara and the Santa Clara TechMart conference center, and adjacent to the VTA Great America light rail station, Levi's Stadium, and across the street from the Great America theme park. 
The Santa Clara Convention Center is owned by The City of Santa Clara and managed by Spectra, the venue management company that serves over 300 clients throughout the United States and Canada. The Center's customize-able floor plans and multitude of in-house services can accommodate any type of convention, trade-show, meeting, or wedding, and its dedicated staff make the planning process stress-free.  
In addition, the Center partners with local hotels and vendors to provide its guests with the best options for lodging, food, entertainment, and event or meeting planning, and its in-house catering service utilizes locally-grown and fresh ingredients to ensure that every event is full of flavor. 
The Santa Clara Convention Center has been recognized among the top 14 centers in the U.S. by the readers of Association Meetings Magazine – one of only two centers in California, so awarded. 
California's Great America – www.cagreatamerica.com
California's Great America is a 100-acre theme and waterpark open March through December, and located in Santa Clara, Calif. As Northern California's premier amusement park, featuring thrill rides, live entertainment, and the South Bay Shores waterpark, California's Great America is the top destination for thrill-seekers and families alike. 
Kaiser Permanente Santa Clara – kp.org/santaclara
At Kaiser Permanente Santa Clara, members and patients are at the heart of everything we do. We're dedicated to helping you live a happier, healthier life. For primary care, urgent care or specialty care, our locations offer a variety of services to help you get the care you need.