Omaha Marine Center
Navigating the waters
Business View Magazine interviews Paul Davis, Owner of Omaha Marine Center, for our focus on the North American Recreational Boating Industry
It's a sure fact that the pandemic has affected retail businesses across every sector, including the boating industry. Supply has slumped and demand has risen, leading to unique scenarios for local marine dealers like Omaha Marine Center in Nebraska.
The company has two locations, highlighted by a retail center housed near downtown Omaha. The headquarters includes two showrooms that total more than 22,000 square feet, including repair and sales departments. In addition, a 30,000 square-foot warehouse would normally display a large number of boats for sale (pre-pandemic). The other location is a boating experience center that also houses storage, service, a pro shop, and restaurant.
Paul Davis is a second-generation owner of the business, having purchased it from his father in 2000. Originally started in 1980, the company has been thriving in Omaha for 42 years. Davis shares, "My father worked in the industry for several years and had moved his family to Wisconsin for another job in the industry. But when an opportunity to own a franchise opened up back in Nebraska, he moved the family back there. He started with three other partners and then over time became the sole owner."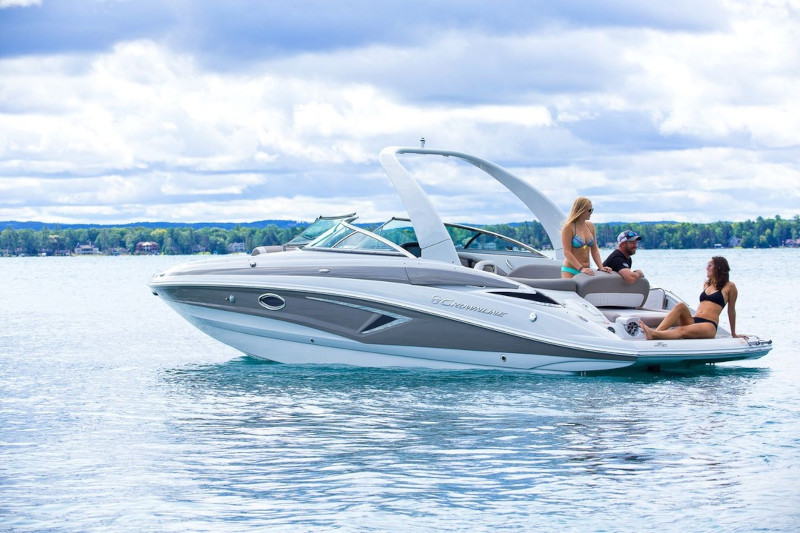 The last two years have marked a decided change in the retail boating industry
National media attention has often focused on the shortage of automobiles since the effects of the pandemic first began shutting down the global supply chain. But the boating industry has been just as severely impacted by supply shortages. Omaha Marine Center could not keep boats in their showroom the last couple of years because of the high demand and low supply. Even kayaks and inflatables were difficult to keep in stock.
"We receive two to three loads of boats each week, but the difference is that these boats are now all sold when they arrive," Davis says. Market dynamics have forced customers to pre-buy boats, sight unseen. The lead time from a new purchase to delivery now ranges anywhere from 16 weeks to eight months and longer, up from six to eight weeks before COVID.
Parts, including motors and propellers, are also in high demand and low supply. Many motors are backordered by 18 months or more. According to Davis, some new boats are shipped without a propeller, forcing customers to wait further to enjoy their new purchase. Others add an aftermarket propeller, even if it is not an ideal fit for the make and model purchased. Most customers understand that Omaha Marine Center has no control over product delivery or the supply chain in general, but as Davis notes, "It can be hard for someone who has spent $50,000 or more to wait longer for their boat than anticipated." Parts deliveries are often delayed as well.
Not surprisingly the consignment/used boat business has been red hot since spring 2020. This has forced Omaha Marine to become aggressive in buying used boats to add to its inventory. Davis can't remember a time last year when he had more than six used boats in stock and available for sale at any given time. "It doesn't matter if it is docks, lifts, toys, water skis… all of these items will sell in the market right now," he says.
While Omaha Marine does sell new and used boats online, high demand in the local market has allowed the company to thrive by selling largely to local customers alone. Davis confirms, "Right now, we don't have to go beyond our local market because of the short supply."
Nebraska offers a unique brand of lakes
Most lakes throughout Nebraska are man-made with sand pit bottoms, which leads to boating limitations that are not required in other parts of the country. Davis estimates there are several hundred lakes within 150 miles of Omaha. The lake sizes vary in size from five to 400 acres and may be bordered by lots ranging in value from $5,000 to $500,000. These small lakes are often stocked for fishing and are accessed from private entrances or launches. Horsepower, boat speed and size, motor restrictions are common and every lake has its own guidelines to follow. "We buy back a few boats every year when customers realize the one they purchased isn't a fit for their lake," Davis admits.
It is common for Omaha Marine to sell not just a boat, but motor and trailer packages as well. Given the types of lakes in the local market it is advantageous for a customer to have their own trailer that is "customized" as best as possible to the boat make and model. Some lakes will require private trailers to help prevent the spread of invasive species that has made its way to local lakes from northern states and Canadian provinces.
Buying trends
Customers are willing to pay for quality, which is why Omaha Marine sells top brands such as Sea Ray, Bayliner, Crestliner, and all Godfrey pontoons from Sweetwater and AquaPatio to Monaco and Crownline. Many local lakes are considered ski or wakeboard lakes, while others are ideal for cruising or pontoons. Taking the time to work with each customer and discovering their needs, preferences and budget is a big part of the customer service process that Omaha Marine offers. "These manufacturers have seen us through years of many industry changes," Davis says, referring to his family's long history as a strong dealer relationship with many brands. "Today's boats can create bigger and better wakes and have much different layouts, using many new materials."
Building a customer-focused team
The Omaha Marine team currently includes 20 full-time employees which will grow by three to five seasonal experts during the busy spring and summer seasons. Davis participated in an effective hiring campaign over the winter which helped to bring in new professionals that replaced a handful that left because of retirement or family factors. Turnover is generally low, with many employees having been with the company for multiple years.
When it comes to hiring, candidates are required to be knowledgeable, technical professionals who have a strong background in the boating industry, when possible. While Omaha Marine has a strong supply of technicians, Davis acknowledges they could always use more, as finding team members with in-depth mechanical knowledge can be very difficult.
Staying on top of industry trends requires ongoing in-house training that Omaha Marine provides its team members. Much of that is handled online, however, each boat manufacturer has its own programs which require onsite training at specific sites around the country. Davis says many of his colleagues attend these programs to ensure they remain certified with that manufacturer.
Employees also make a difference in the way Omaha Marine is branded around the community. While the winter of 2020-21 saw no boat shows or industry events because of COVID, Davis and his team invested in the Omaha and Lincoln shows that returned last winter. Needless to say, there was pent-up demand with a two-and-a-half hour wait for the public to get into the Omaha show on a Saturday this winter. Omaha Marine even sold 90 percent of the boats it displayed at the show, which before COVID would have been unimaginable.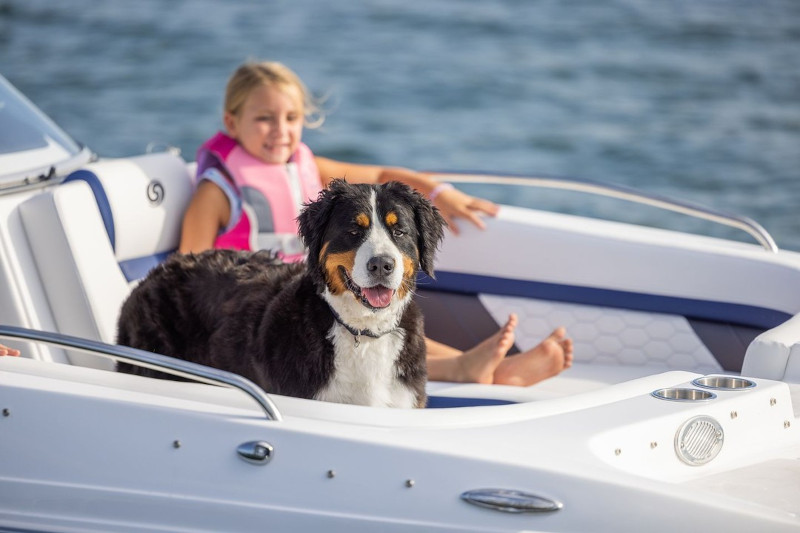 The future looks bright
The pandemic may have already accelerated what the future of the boat industry will be like. While customers previously may have needed seven to ten visits to Omaha Marine before deciding on a purchase, now it's closer to three visits, in part because of the inventory issues. Regardless, Davis and his team provide customers with the information they need to make a buying decision – from understanding the features to learning how to drive a boat. "We'll take them out on a private lake and show them how to maneuver," he says with a laugh.
Davis's goal is to continue Omaha Marine's growth path upward. While sales have remained healthy in the two years since the pandemic, getting boat and parts supplies to a more predictable level will be important for the company's stability. Nevertheless, service remains the most important differentiator that this distinguished retailer offers its customers. Davis confirms, "Whatever experiences or education they want, we can help provide."
AT A GLANCE
Omaha Marine Center
WHAT: A growing new and pre-owned boat dealer and parts supplier
WHERE: Omaha, Nebraska
WEBSITE: www.omahamarinecenter.com