Austin Subaru
For the love of driving
Business View Magazine interviews Genny Hardeman Hill, Owner of Austin Subaru, and GM Chris Hudson, for our focus on Growth in the U.S. Auto Industry
Continental Automotive Group is a family-owned organization that traces its history back to 1966. Continental started with Austin's only Mercedes Benz dealership, as well as stores selling Jaguar, MG, Austin Marina, Triumph, Alfa Romeo, and Toyota. It was not until the mid-'70s that the Hardeman family became owners instead of customers – and from that moment on they have been firmly focused on Austin, Texas as a home, and Continental Automotive Group as part of the backbone.
In 1996, the Continental Automotive Group acquired Austin Subaru. Today they run Infiniti, Subaru, Mercedes, Audi, Honda, and Chrysler Dodge Ram dealerships. The Hardemans love cars and know how to choose quality – Subaru was a great fit.
"When we moved to our new location in 2017, this was the largest Subaru dealership in the country," says the franchise owner Genny Hardeman Hill. Austin Subaru covers five acres, has more than 30,000 feet in the service department and the same again in the building. The dealership employs some 180 people and is a key part of the Continental Automotive Group.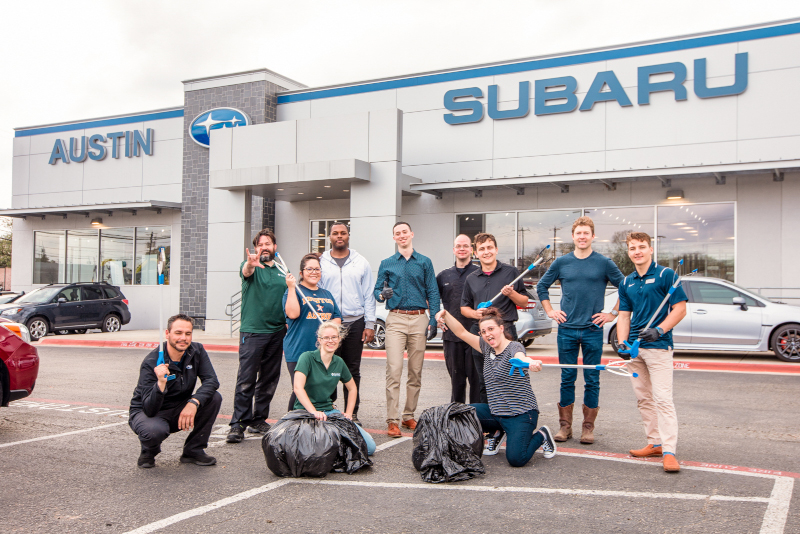 Subaru may not have had the largest market share in North America over the years, but it certainly has created a loyal following – with tough-built, off-road-ready, yet family-friendly vehicles that Subaru promotes on the idea of love. "We believe in the marketing that comes from Subaru itself, and Subaru is focused on love," explains Chris Hudson, General Manager of Austin Subaru. "They are all about love, promise, and standing behind their product and proving it. It is not just a marketing campaign or a slogan, it is a culture that they have built right into everything they do."
"Their brand is focused on it being a lifestyle," Hill adds, "which certainly works well in Austin where we have a lot of adventurous and outdoorsy type of people."
Alan Bethke, Subaru's Senior Vice President of Marketing, has explained that "love" comes in many forms – love of the product, love of the brand, and love of what Subaru means – allowing the brand to capture what that concept of love means to different segments of consumers.
But even love took a hit when the pandemic struck, and things looked dire at the beginning – when sales were down and the idea that most of us would need a car seemed to be in question. The team at Austin Subaru took this as a moment to re-evaluate who they are, what they are, and how they do business. It is this decision that has helped them to emerge from the last couple of years stronger than ever.
"Things started changing in March of 2020 and we had no idea how it was going to go," Hudson muses. "Every manufacturer decided to slow down production, which seemed like the right thing to do, but sales jumped when summer hit. Then there were parts shortages and supply chain issues that have changed the way we operate. Right from the beginning of the pandemic, we decided to change our thinking behind what we do. That is when we introduced what we call our "transformational mission," which turned out to be perfect timing because at that point it was a very helpful way of looking at things given the amount of uncertainty in everyone's lives – both customers and our team."
The Austin Subaru mission became all about changing the perspective and changing the conversation to focus on the goals and desires of each person as an individual. When everyone was filled with uncertainty, Austin Subaru was taking a step back and asking everyone from the technician in the bay to the person who walked through the door – what are your hopes and dreams for being here, for buying the car, for life?
"We tried to build relationships a little differently," explains Hudson, "and things were a little bit more important in that area at that time. Everybody was needing a little different attention in different places and so that's what we did. It made such a difference that we've carried it on right through to today."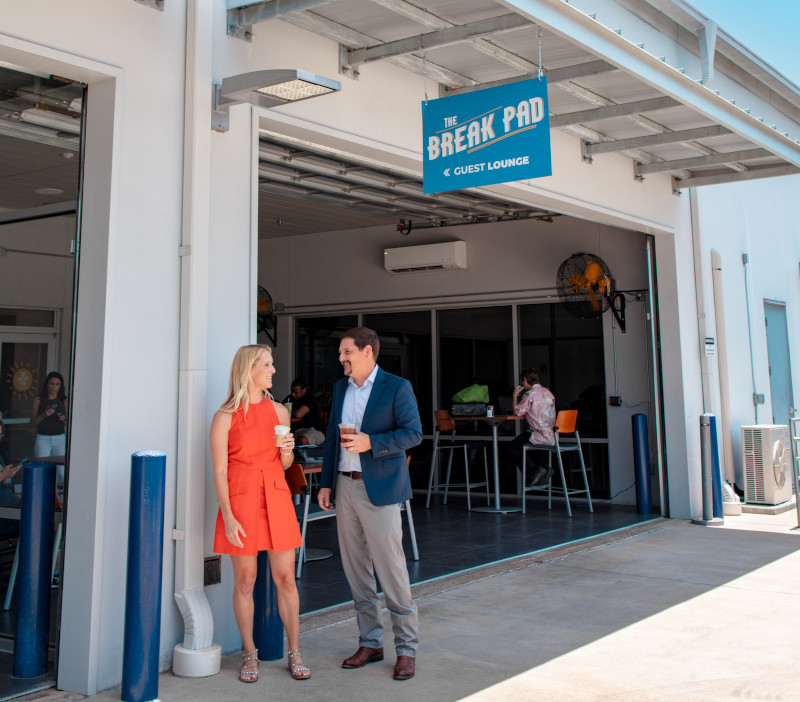 Another shift that began during the pandemic – one that remains to be seen how much impact it will have on the industry – is digital retailing. Rather than face to face, a large percentage of Austin Subaru's transactions were done by phone and online, which in turn meant new software and training. The ratio of new car to used car sales also changed. Where it used to be about .7 used car sales for every new car sale, now it is more one to one. Part of this can be attributed to the shortage of new automobiles coming off the line – sometimes it just seems more effective and easier to source used vehicles.
"At the height of the shortage, we were looking in our service bays for vehicles we could sell," Hudson admits, "and even buying them from the side of the road. We were even searching through Craigslist. Being customer and relationship-focused, we were trying to use all avenues to fulfill the need."
The focus on staff helps create a team that goes the extra mile. During COVID, Austin Subaru made the decision not to let anyone go. They also worked to make a workplace atmosphere that was fun and happy. Subaru offers various training for all levels of employees and the Austin Subaru staff were encouraged to take advantage of any programs that they could.
"Our technicians take both online and off-site training," says Hudson, "and I am pretty proud of the fact that we have the largest number of master technicians in the country, which also means that they have completed all of the Subaru training. We have a great retention rate with some staff having been with us for over 30 years. The longest within Continental Automotive is a technician at the Mercedes dealership who has been there over 50 years."
Being so family-focused, and rooted in the history and culture of Austin, the Austin Subaru dealership takes community service very seriously. There is very little conventional marketing done. Instead, they work on goodwill and spend that money on worthy causes. Last year this amounted to $1.4 million. As a result of its ongoing contributions, Austin Subaru has become an integral part of the Austin community – and has built trust with people throughout the area. This all comes back to the focus on transformational relationships that weaves its way through every aspect of the business.
"I'll give you an example of how forward-thinking and focusing on the relationship has changed the way we do one particular thing," says Hudson. "We have hired a videography team for the service department. While our technician is looking at your car, and you're waiting in the customer lounge, you will receive a text message with a video of the multi-point inspection highlighting all the areas of concern. That way you see in real-time what the technician thinks might need fixing or need to be replaced soon. That has been incredibly well-received."
Hill acknowledges, "We have had some inventory challenges and some other difficulties in the last couple of years, just like everyone else. But we have a lot of that figured out now, and we are looking forward to continued growth."
"Growth not just in sales," Hudson adds, "but also in intellectual capital. We continue to add different elements that are based upon growing or individual talent. We have the Leadership Academy that has book clubs – everyone is carrying around a book these days – mentor/mentee relationships, seminars, conventions, training… we are constantly trying to improve everything about Austin Subaru."
All that work and innovative thinking is paying off, as the Austin Subaru team continues to please its growing roster of new and long-time satisfied customers.
AT A GLANCE
Austin Subaru
What: A popular Subaru dealership in the Continental Automotive Group
Where: Austin, Texas
Website: www.austinsubaru.com