Merchants Moving and Storage
The professional movers
Business View Magazine interviews Jennifer Eastman, President of Merchants Moving and Storage, as part of our focus on the moving and storage industry.
As a woman-owned, fourth-generation company, Merchants Moving and Storage of Racine, Wisconsin, has already beaten the odds. It's rare that family-owned businesses make it past the third generation, so how does majority owner, and first female president, Jennifer Eastman, credit making it into the fourth?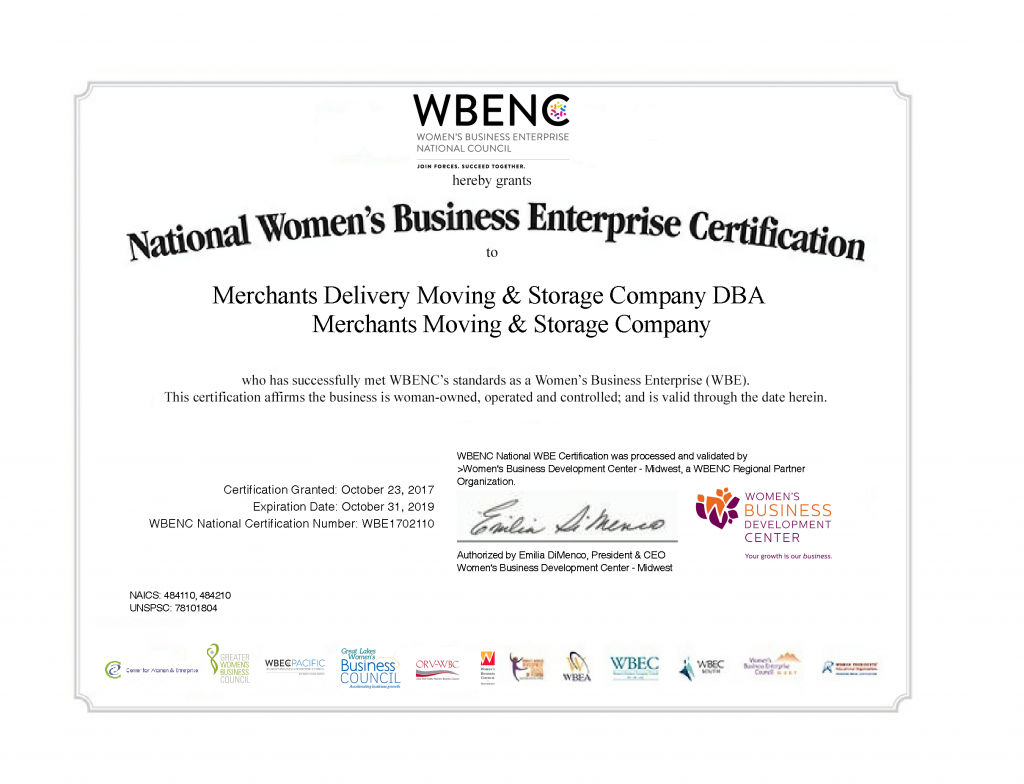 "Part of that is luck," she admits. "But my father was a great leader, and I'd been fortunate to work with him for many, many years before becoming President. Family businesses can be very challenging. There can be disadvantages. When it comes to innovation, changes, risk-taking, the farther you get away from the original entrepreneur, the one who had the passion for it, that's harder, too. One of our long standing clients is SC Johnson, right down the street from us. I think they're a great role model for transitioning of generations. They're fifth generation and quite successful at what they do."
Founded by Eastman's great-grandfather in 1922, the company started delivering packages for the local    merchants in town, evolved into local moving, and then over-the-road moving. Today, Merchants Moving and Storage operates all its own trucks and remains staunchly independent – not affiliated with any national van line. Primarily focusing on interstate moving across the U.S. and Canada, the company has expanded into warehousing, including warehousing household goods, general storage, and office moving, while still offering local moving in the Racine area.
"Our 'why' is that we are helping people during a very stressful transition in their life," Eastman explains. "Emotions are high and it's overwhelming. We have your goods from A to B. There's no detour for us. We've packed and loaded at the house, and we're driving it to the next destination. There are times we'll actually get there before the family will."
"We're always looking at ways to do things better," she adds. "Innovation — especially in this industry that is very, very old — is something we're all looking at. How do we keep high-quality, high-touch customer service, while keeping the costs down, dealing with regulations and new electronic logs laws, and truck driver shortages? One of the benefits of being a smaller company is that once you've identified those things, you can move faster than a large corporation. For example, a couple of years ago we invested in a good website. We really wanted to make sure we had a good web presence out there and that's been very helpful for us.
"This is a relationship business that we're in, so a lot of our marketing is face-to-face, meeting people, belonging to organizations. So, we're very involved in our community. That's really been very important to me and my family, but also to our employees, as well. We really feel that we can give back. When there was a water crisis in Flint, Michigan, I got a call from my police chief, who had received a lot of donations of water. Would we be able to help to transport it up to Flint? It was a great day for me to know that I had the resources to help. When we can make a difference like that, those are great days, and important part of who we are at Merchants."
Now boasting 75 employees, all trained through its own Merchants University Training Program, Merchants Moving and Storage would rather find a mover with the right personality and turn them into truckers, rather than to start with truckers and teach them about moving. "We will rarely hire somebody with a CDL (Commercial Driver's License)," Eastman notes. "You'll rarely see a CDL driver driving freight move over into the moving world. They're almost like two different jobs or careers. With moving, it's much more physical, there's more people contact, and you really have to like people and make a difference in their life."
Moving can be very labor intensive, and injuries happen. In 2013, Merchants Moving and Storage started a program called MoveWell that puts safety and work injuries together with wellness. "We've been very successful with our program," Eastman remarks, "helping our employees when they do get injured, helping them navigate through the medical system and having the best resources available to them. We have a nurse that comes to our facility, part-time, to help with the challenges, and we have really seen a change in our work injury frequencies and the severity."
Another way to focus on what the company does best is to get out of the trucking "business." "We're doing long-term tractor leases through Penske, and allowing them to take over the maintenance, and that's been a helpful game-changer here," she states. "It's allowed us to update our equipment and to know we don't have to be the experts in that. If we have breakdowns on the road, they take care of that; they're able to cover and handle that, and get us back on the road as fast as they can. It's been a couple of years and it's been a real good partnership for us."
What's on the horizon for this legacy moving company? "With Foxconn (the multinational electronics contract manufacturing company) coming to this area, there will be 10,000-plus new jobs," Eastman exclaims, "so it will be an exciting time to be positioned here in this part of the country."
Check out this handpicked feature on The I.C.E. Service Group, Inc. – Safe and Responsible.
AT A GLANCE
WHO: Merchants Moving and Storage
WHAT: A fourth-generation moving and warehousing company
WHERE: Racine, Wisconsin
WEBSITE: www.merchants-moving.com